Best Resorts & Hotels in Durango, Colorado
Posted by Ryan Poppe on Thursday, September 2, 2021 at 9:29 AM
By Ryan Poppe / September 2, 2021
Comment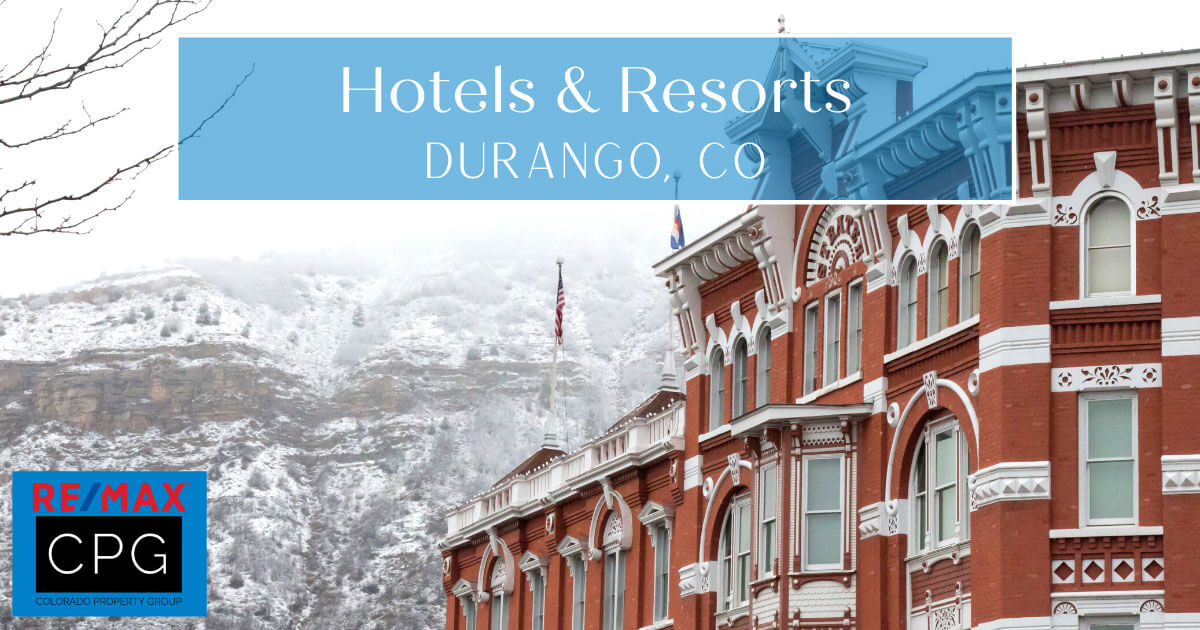 The city of Durango, Colorado, is home to almost 20,000 residents who enjoy the beautiful scenery and enviable proximity to world-class skiing. The majestic mountains and serene rivers draw visitors from across the world to Durango and the ski resort area homes. As such, resorts and hotels are abundant throughout the area. Whether travelers are in the mood for pampering or just looking for a rustic basecamp to return to after a day of outdoor fun, Durango has something for everyone. Read on to learn about the best hotels, resorts, and bed & breakfast retreats in Durango, Colorado.
Top Hotels in Durango
From posh inns to historic hideaways, there is a hotel to exceed any expectations here in Durango. These hotels have become known as some of the best hotels in Durango by the people who come to explore the wilds of Colorado.
Strater Hotel
Strater Hotel Amenities
Pet-Friendly Rooms
3 Restaurants & Bars
Free WiFi
Room Service
Free Passes to Fitness Center
Since its construction in 1887, the iconic Strater Hotel has been bringing people overnight comfort and easy access to the best of the city. There are more than 88 Victorian-style suites at the landmark Strater Hotel, located just two blocks away from the Durango & Silverton Narrow Gauge Railroad depot.
This storied hotel pays meticulous attention to the Old West details. Guests can choose from three sizes and styles of rooms.
Feeling like eating out? The Mahogany Grille is a steak house like no other. Even all-season locals book tables here to experience the farm-to-table dishes and enjoy fine wines.
Looking for something casual? The Diamond Belle Saloon boasts staff adorned in period dress, and the piano-style bar offers cold beer and finger foods. The Office Spiritorium features hand-crafted cocktails, fine meat and cheese plates, and an impressive selection of obscure spirits.
Strater Hotel Additional Information
Phone: 1-800-247-4431
Rates: Start at $135 Nightly
The Rochester Hotel
The Rochester Hotel Amenities
Free WiFi
Free Summer Concert Series
Bar w/ Live Entertainment
Pet-Friendly Rooms
Garden Access
Two Electric Vehicle Car Stations
Constructed in 1892, the historic Rochester Hotel is one of the oldest in Durango. Once a 33-room boarding house, The Rochester is now a luxury hotel with 15 spacious king and double-queen rooms.
Guests will find many luxury comforts and amenities during their stay here, including unique decor in every room. Sip natural wine in the garden, socialize in the lounge, or attend the free Summer Concert Series, available to hotel guests and Durango locals.
The Rochester has some pet-friendly rooms, so call ahead to reserve one at this dog-friendly destination in Durango.
The Rochester Hotel Additional Information
Phone: 970-764-0035
Rates: Start at $279 per night
The General Palmer Hotel
The General Palmer Hotel Amenities
Freshly Baked Muffins
Teddy Bears on Each Bed
Free WiFi and Cable
Locally Roasted Coffee
Concierge Service
As one of Durango's most prestigious historic hotels, The General Palmer Hotel is appropriately named after its founder General William Jackson Palmer. This unique lodging option is noted as the only Historical Four-Diamond Hotel within Southwest Colorado.
The history of Durango comes to life in this hotel. The Victorian-era decor invites guests to take a step back in time, while modern amenities and luxe furnishings provide top-of-the-line comfort.
The General Palmer Hotel is located within walking distance of all the restaurants and attractions in the Historic Downtown Durango neighborhood. The hotel is directly next door to the Narrow Guage Railroad, which provides the easiest access to Pike's Peak.
The General Palmer Hotel Additional Information
Phone: 970- 247-4747
Rates: Start at $250 Nightly
Popular Durango Resorts
After a day of exploring the wilderness, hitting the slopes, or shopping in the luxury boutiques in town, many visitors are looking for a massage, a good meal, or a luxurious dip in a hot tub. Durango's top resorts bring forth those opportunities and much more. Here are a few of the best resort options in town.
Purgatory Resort
Purgatory Resort Amenities
Heated Outdoor Pool & Hot Tub
Fitness Center
Free WiFi
Ski-in/Ski-out
Full Kitchen or Kitchenette
Private Deck
Discover ski-in, ski-out vacation rentals with excellent amenities at Purgatory Resort. The lodging unit types range between one and five bedrooms. Penthouse units deliver a completely unparalleled stay. This vibrant village features many magnificent views complemented by dozens of restaurants and shops just a few miles from the resort. Purgatory Resort also boasts a day spa that is beloved by locals and guests alike.
Purgatory Resort Additional Information
Phone: 970-247-9000
Rates: Contact resort for rates and availability
Club Wyndham
Club Wyndham Amenities
Resort Activities Program
Fitness Center
Free Wi-Fi
Full Kitchen
Private Balcony
Laundry Facilities
Soothing hot tubs, dreamy accommodations, and stunning views await at Club Wyndham, a luxury resort nestled at the foothills of the San Juan National Forest. As one of the top hotels in the Animas River Valley, the views from every room range from snow-capped mountains, striking canyons, and smooth-flowing rivers. Hiking trails nearby are open year-round. The various waterways make for exceptional kayaking, canoeing, and shallow-water fishing. During winter, the trails become a playground for snowshoeing and snowmobiling.
Club Wyndham Additional Information
Phone: 970- 385-9815
Rates: Start at $140 Nightly
Inns and Bed & Breakfasts in Durango
Many Durango visitors opt for a bed and breakfast to enjoy a more personalized and home-like vacation. Here are some of the best Durango B&Bs and inns to book with on the next visit.
Nobody's Inn
Nobody's Inn Amenities
Apartment-style Accommodations
Personalized Service
Free City Parking Permit
Indoor Bike and Ski Storage
Looking for a room with a unique style? Discover one of the city's most eclectic places to stay at Nobody's Inn, a one-of-a-kind getaway with antique accents and historical mementos. This fully restored 120-year-old building has stood strong since 1885, and the rooms here are rather large. Equipped with full kitchens, central air, and sparkling bathrooms, this is a great home base for exploring the community. There are only four rooms here, and the owners have a strict no-smoking and no pet policy to make sure that everyone's comfort levels are met.
Nobody's Inn Additional Information
Phone: 970-759-2158
Rates: Start at $99 Nightly
Adventure Inn Durango
Adventure Inn Durango Amenities
Free Wi-Fi
Continental breakfast
Deals with nearby businesses
The Adventure Inn Durango is a top choice among families who are traveling to the area to enjoy all that Durango has to offer. This is an affordable, family-owned motel, and the owners go above and beyond to personalize the stay of each guest who books a room at their property. Their rooms are spacious and functional, and guests enjoy free Wi-Fi as well as a light continental breakfast each morning. The hotel often has package deals available with nearby businesses that allow its guests to maximize their time in Durango.
Adventure Inn Durango Additional Information
Phone: 970-247-4042
Rates: Start at $119 Nightly
Country Sunshine Bed & Breakfast
Country Sunshine Bed & Breakfast Amenities
Gourmet Breakfast is Included
Outdoor Hot Tub
Free Cookies Daily
Complimentary WiFi
All-Inclusive Packages Available
Fitness Center
Situated among the homes in Animas Valley, the Country Sunshine Bed & Breakfast is a hit with travelers from across the globe. Experience Rocky Mountain bliss in any one of the six unique guest quarters. Each unit features antique furnishings. Some have jetted tubs, while others are technology-free zones that remove distractions. The Country Sunshine Bed & Breakfast staff offers amazing service that caters to the guest's every whim, and what more can one ask of a luxury Durango B&B?
Country Sunshine Bed & Breakfast Additional Information
Phone: 970-247-2853
Rates: Start at $80 Nightly
Antlers on the Creek Bed & Breakfast Inn
Antlers on the Creek Bed & Breakfast Inn Amenities
iPad Docking Stations
Free WiFi
Free Parking
Breakfast Included
Antlers on the Creek Bed & Breakfast Inn offers every guest the comforts of a luxury home. The owner and operator live on-site, so any needs one has during their stay are quickly met. Book a stay here early, as Antlers is highly regarded in the community as one of the best places to stay in Durango year after year.
Antlers on the Creek Bed & Breakfast Inn Additional Information
Phone: 970-259-1565
Rates: Start at $179 Nightly
Heading to The Wild West of Durango?
If a vacation to Durango is in the works, don't miss the chance to stay at any of these cozy accommodations known for hospitality and classy service. Whether a bed and breakfast, resort, or hotel are preferred, these top picks won't disappoint.
If Durango sounds like the perfect place for you, contact Colorado Property Group of RE/MAX with Durango Homes for Sale at (970) 946-0601 to get in touch with a Durango real estate agent and get ready to call this beautiful mountain town home.