Buying Durango Vrbo & Airbnb Rentals: 4 Best Neighborhoods for Short-Term Rentals
Posted by Ryan Poppe on Tuesday, July 18, 2023 at 2:17:11 PM
By Ryan Poppe / July 18, 2023
Comment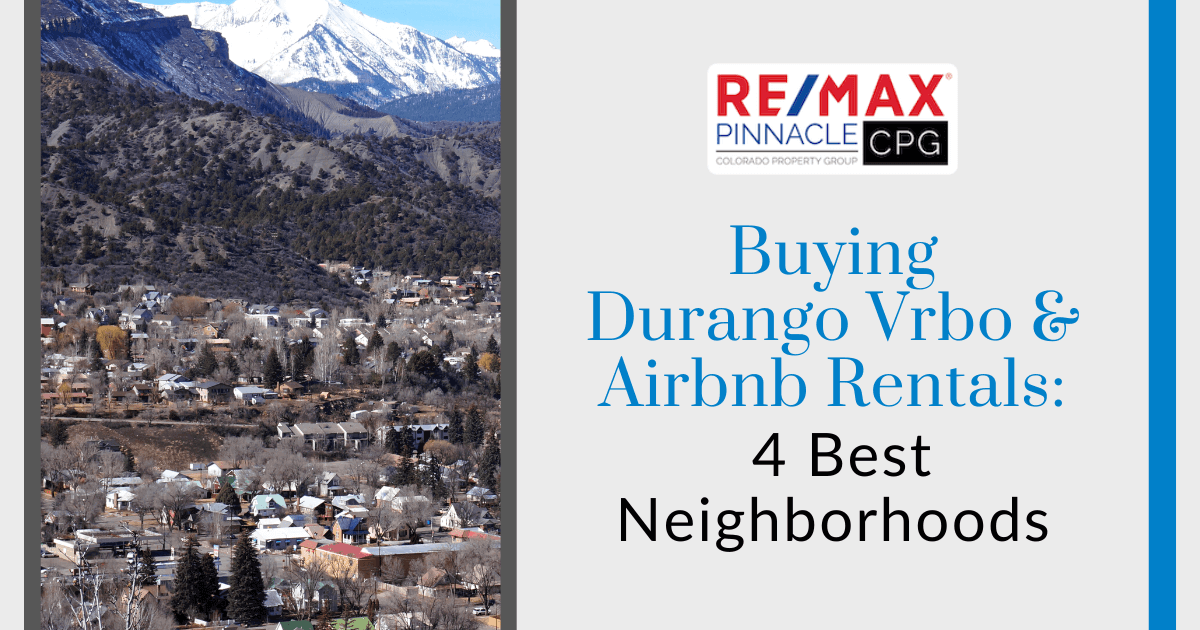 The idyllic mountain town of Durango, Colorado, presents a thriving opportunity for those ready to invest in the real estate market and become Airbnb or VRBO hosts. With its breathtaking landscapes, a rich blend of historic charm and modern amenities, and an increasingly active tourism sector, Durango's short-term rental properties offer prospective lucrative returns for investors. From the lively downtown district to the serene outskirts with stunning mountain views, here's what to know about the best Durango neighborhoods for buying VRBO and Airbnb rentals.
Historic Downtown
Historic Downtown Durango is where most of the town's action takes place. It has unique and eclectic shops, great restaurants, and most of the city's major annual events. Everything in the downtown area is within walking distance of the residential homes on the neighborhood's eastern edge, making it one of the top choices for places to buy a house to rent as a VRBO or AirBnB investment.
Homes for sale in Historic Downtown range from single-family homes to low-rise condos. However, this area of town is zoned as an Established Neighborhood 1 (EN-1) under Durango's city regulations, meaning there's a limit of 22 short-term vacation rental properties in the neighborhood.
There's always a waiting list to buy a home downtown, so an investor must understand Durango's rental rules and regulations, go through the permitting process, and then wait. A home can still be rented long-term for rental income, but the buyer may wait until it's their turn on the list to do short-term vacation rentals.
The neighborhood already has a farmstand with fresh produce available during the growing season and a community park with a playground. Twin Buttes should become one of the most desirable master-planned communities in Durango to own a home in the coming years.
Ferringway Condos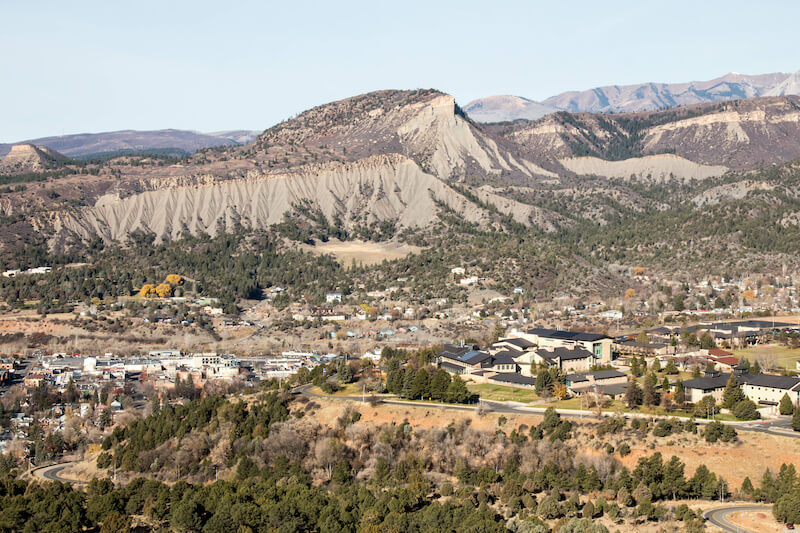 Ferringway Condos offers visitors three-star short-term rentals on a nightly, weekly, or monthly basis. The condos are the only nightly and extended stay fully furnished rentals in Durango and are just one and a half miles from the center of town and the train station.
Ferringway Condos is just a 10-minute walk from Hillcrest Golf Club and 1.3 miles from Durango and the Silverton Narrow Gauge Railroad and Museum. Guests also enjoy proximity to local ski resorts.
Some amenities include:
Clubhouse
Free on-site parking
Outdoor pool, hot tub, and sauna
Full kitchen, washer and dryer, and wood-burning fireplace
Suites and rooms with a loft
AC and central heating
Wi-Fi
Some units include a balcony. A business center is available for business travelers.
One-bedroom units are 725 square feet. Two-story lofts are 930 square feet, and deluxe two-bedroom units are 1,145 square feet with a six-person maximum capacity.
Hillcrest Estates
Hillcrest Estates is on the east side of Durango, close to Fort Lewis College. This neighborhood is zoned as an Established Neighborhood 6 (EN-6), meaning there's a cap on the number of short-term rental homes permitted here. Buyers will have to go through the permitting process and then go on a waitlist before putting the property on VRBO or AirBnB.
This quiet neighborhood with tree-lined streets and well-kept sidewalks contains properties built between 1983 and 2010. Some homes for sale in Hillcrest Estates have spectacular views, which can make them even more desirable as short-term rentals.
The Hillcrest Golf Club could be a significant draw for people who want a stay-and-play vacation in Durango during the warmer months. The neighborhood is just minutes from the Chapman Hill Ice Rink and Ski Area during winter.
Nearby parks, tennis courts, and biking trails are easily accessible from Hillcrest Estates. If a buyer doesn't mind going on the short-term rental waitlist, this neighborhood could be a good investment opportunity.
Animas City
Animas City was first annexed to Durango, Colorado, in 1847. Residents and visitors enjoy flocking here to meet friends and family or enjoy a leisurely float on the river. Animas City Park is near the 32nd Street Bridge and offers a beautiful open green space to play, picnic, and relax outdoors.
While many homes in Animas City are older, there has been an increase in remodels and new construction as of late. Durango has plenty to offer, including a newly remodeled grocery store, Durango Brewing, and much more. Short-term rentals must be permitted by the city in specific zones and cannot be used to rent to guests for more than 30 days.
Older homes in Animas City were built starting in 1901, and today, the neighborhood is still popular thanks to its proximity to the local park and the Animas River. This neighborhood is north of downtown Durango, just two and a half miles from the city limits.
Animas City Theatre hosts live music, plays, and other shows for residents of Durango and the surrounding areas, plus the occasional feature film showing.
Ready to Become an Airbnb or VRBO Host in Durango?
Durango's collection of vibrant neighborhoods provides a wealth of opportunities for Airbnb and VRBO hosts. However, regardless of the community chosen, an understanding of local regulations, a thorough evaluation of property conditions, and comprehensive market research are vital to ensure a successful venture. By doing so, investors can tap into Durango's burgeoning short-term rental market, promising a blend of healthy returns and an exciting lifestyle to its temporary residents. Prospects look promising, as Durango continues to charm visitors with its scenic beauty, outdoor adventures, and welcoming local community.
Durango Airbnb & Vrbo Resources
Durango/SW Colorado Vacation Rental Regulations & FAQs - Coming Soon!