Best Lakes in Durango: Durango Lakes Recreation Guide
Posted by Ryan Poppe on Tuesday, October 27, 2020 at 8:53 AM
By Ryan Poppe / October 27, 2020
Comment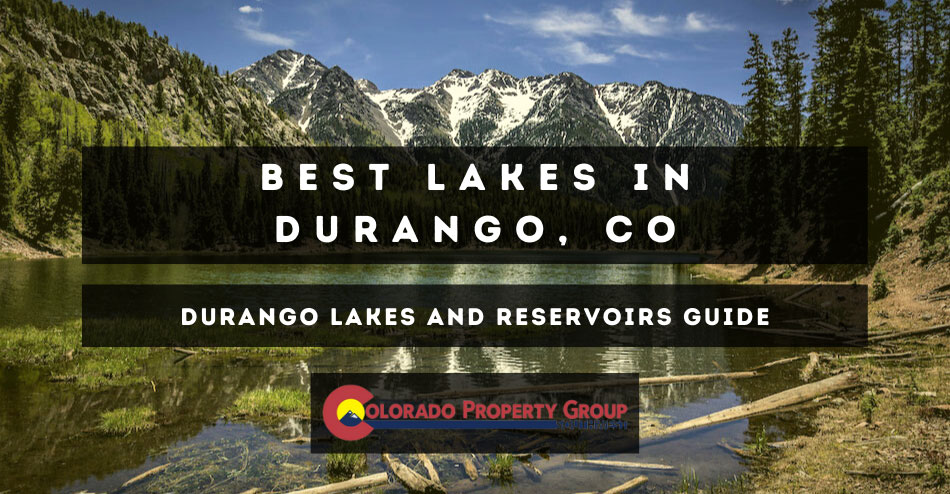 No matter the season, heading out to the lake is a great form of recreation. Whether going ice skating or ice fishing during the winter, or boating during the summer, there is always something to do on the water in these abundant lakes. Throughout the state of Colorado, there are more than 4,000 lakes, and Durango is located near some of the best. If you love relaxing at the lake during the summer, here are the lakes in Durango you need to visit.
The Ice Lakes
The Ice Lakes Amenities
Great for hikers who want to test their skill then cool down after
Nearby campsites to make an overnight trip out of your adventure
Parking locations available pre-hike
The Ice Lakes are located about an hour north of Durango, close to Silverton. The Ice Lakes are made up of three separate lakes: Ice Lake, Island Lake, and Fuller Lake. The Ice Lakes are accessible by a challenging hike, including a climb the equivalent of two Empire State Buildings stacked on top of each other. The hike to see all three lakes is around 11 miles round trip and begins at an elevation of 9,840 feet and climbs up to 12,609 feet at Fuller Lake.
This hike is rated strenuous, and hikers should plan their day to allow plenty of time to hike in and out during daylight hours and to avoid afternoon thunderstorms, which are common in the mountains in the summer. Altitude sickness is a real risk when hiking to the Ice Lakes, so take precautions. While daunting, the hike is worth the time and effort to see the picturesque blue water surrounded by mountainous terrain.
Vallecito Reservoir
Vallecito Reservoir Amenities
Accessible by car
12 miles of shoreline
Natural art installations
Good for fishing, boating, and camping
In the middle of San Juan Forest 12 miles from Durango lies Vallecito Reservoir. Named for the Spanish word for "little valley," this body of water is nearly 8,000 feet above sea level and has approximately 12 miles of shoreline for fishing, camping, and boating. The reservoir is accessible by car, lending itself to visitors of all ages and abilities. Restaurants, cabins and hand-carved tree sculptures surround the lake. The natural art installation is the brain-child of local sculptor Chad Haspels. It was created in memory of the first responders and volunteers who fought the Missionary Ridge Fire of 2002.
Lake Nighthorse
Lake Nighthorse Amenities
Stocked with many species of fish
5,500-acre lake
Season passes available
Stocked lake for fishing
Events put on by local businesses
Lake Nighthorse Recreation Area is located a short drive of about four miles southwest of downtown Durango. Lake Nighthorse was constructed by the Bureau of Reclamation as part of the Animas La Plata Project. The lake is approximately 1,500 acres, and the entire reservoir area is approximately 5,500 acres. Lake Nighthorse is a day-use recreation area with a swimming beach and access for both motorized and non-motorized watercraft. Lake Nighthorse is stocked with a variety of fish including rainbow trout, brown trout, and kokanee salmon. The lake is also the home to white and flannelmouth suckers, fathead minnows, Johnny darters, and crayfish. There is a daily fee for entry to Lake Nighthorse, but season passes are also available for purchase. The city of Durango also partners with local businesses to provide activities and programs to visitors.
Highland Mary Lakes
Highland Mary Lakes Amenities
Series of seven lakes
Accessible over a multi-day hike
Scenic six-mile hike
Continental Divide Trail
Views of the Grenadier Range
In the high alpine tundra of the Weminuche Wilderness are the Highland Mary Lakes, a group of seven lakes near Silverton, Colorado. The high alpine tundra contains no trees and is ordinarily only accessible via a multi-day hike. However, day hikers willing to take on the challenge of about six miles can see three of the Highland Mary Lakes in the alpine tundra. The trail winds through a forest, a meadow, and by scenic waterfalls. There are two paths to reach the lakes—either an out-and-back or a loop. Hikers who choose to hike the loop path will follow a segment of the Continental Divide Trail and be rewarded with views of Grenadier Range.
Emerald Lake
Emerald Lake Amenities
Three-mile hike
Park shuttle
Four other lakes nearby
Hallett Peak and Flattop Mountain in view from lake
Emerald Lake is located near Denver, about eight hours from Durango in the Rocky Mountain National Park. The 3-mile hike to the lake is easy and extremely popular, so consider utilizing the free park shuttle during the busy tourist season or start hiking early in the day to beat the rush. On the way to the lake, watch for the cutoff for Bear Lake (a short detour), and hike by Nymph Lake, Dream Lake, and Lake Haiyaha. A portion of the path is paved and during the summer months, hikers will be able to see a wide variety of wildflowers along the path. Emerald Lake rests at an elevation of over 10,000 feet. After reaching the lake, both Hallett Peak and Flattop Mountain will be in sight. The Tyndall Glacier supplies the water source for a waterfall between the two mountains.
Spud Lake
Spud Lake Amenities
Three-mile hike
30 miles from Durango
Potato Mountain nearby
Views of Twilight Peaks
Cross-country skiing during winter
Picnicking and camping sites near lake
For those who don't mind a moderate hike, the three-mile hike to Spud Lake is a great choice. A 30-mile drive from Durango, this trail is fairly easy and good for beginners. Along the way, there are several beaver ponds. Spud Lake, also known as Potato Lake, is located at the base of Potato Mountain, which rises 11,871 feet directly over the water. The Twilight Peaks are located to the east and climb to nearly 13,000 feet. Spud Lake is accessible year-round, either by foot in the summer or early autumn, or by cross-country skiing in the winter and early spring. The lake is surrounded by places to picnic, fish, and camp.
Get On the Water
Durango, Colorado is located within an easy drive to several lakes and bodies of water. From a day-use recreation area accessible by car to a full-day hike to an alpine tundra or through one of Durango's parks, you'll find many opportunities to get your feet wet. Whether you are interested in group activities or a solitary hike, you'll find it as you explore the multitude of lakes and bodies of water near Durango. With the abundance of waterfront properties and homes with fishing access, the water in Durango might be just outside your front door.
If Durango sounds like the perfect place for you, contact Colorado Property Group of RE/MAX with Durango Homes for Sale at (970) 946-0601 to get in touch with a Durango real estate agent and get ready to call this beautiful mountain town home.