Best Master-Planned Neighborhoods in Durango, CO
Posted by Ryan Poppe on Friday, February 19, 2021 at 2:24 PM
By Ryan Poppe / February 19, 2021
Comment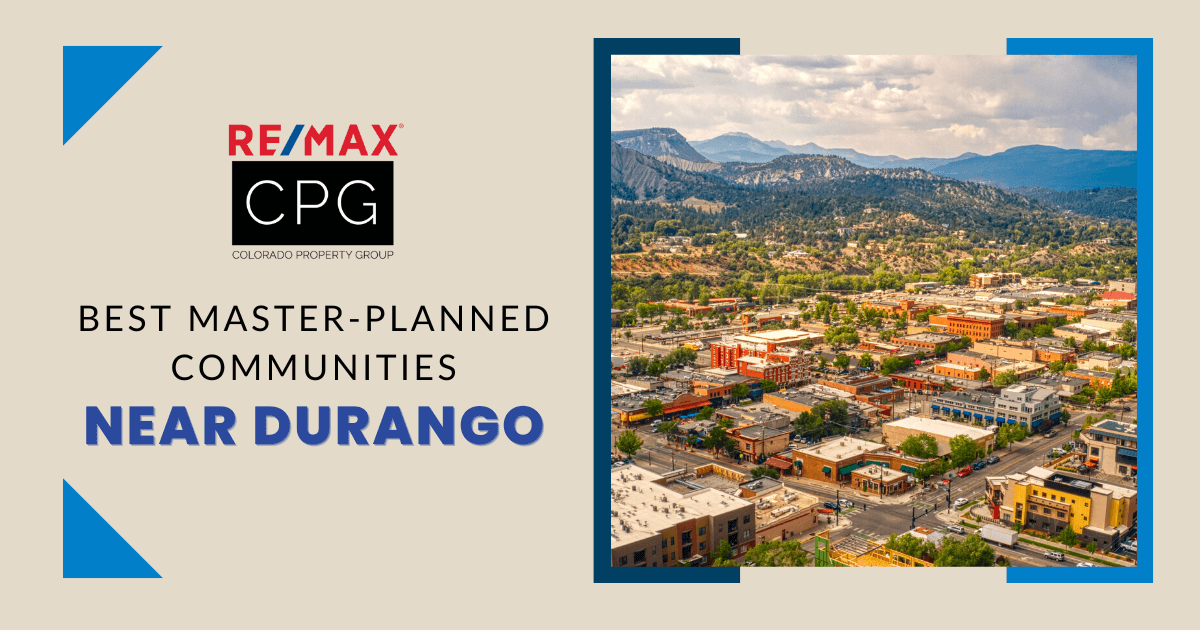 Best Master-Planned Neighborhoods in Durango: Durango, CO Community Living Guide
With a population of around 20,000, Durango is a historic mountain town in the Southwest region of Colorado. From its humble beginnings as a gold and silver mining area in 1881, Durango is now known for its incredible quality of life. Residents enjoy a number of outdoor activities throughout the year.
At 6,512 feet above sea level, Durango is 1,232 feet higher than Denver! Anyone who loves mountain biking, kayaking, hiking, white water rafting, hunting, golfing, or fishing will be ecstatic to become a resident in Durango. Add in the fact that Durango has over 300 days of sunshine and features big-city amenities, it is quickly becoming the best area to live in Colorado. Durango is well-known for its master-planned communities, which keep residents together and make sure everyone's needs are met for years to come. Here are some of the best master-planned communities in Durango.
Twin Buttes
Twin Buttes Amenities
Seasonal events like live music, farm stands, and bike races
Over 14 miles of mountain biking and hiking trails
Farm-to-table living
Many homes powered by solar energy
Anyone who wears their hiking shoes or mountain biking gear more than their other clothes is certain to love Twin Buttes. This master-planned community features more miles of trails than roads in the area. Located just two miles from downtown, Twin Buttes offers residents the ability to get on the trails more often without having to load up gear in the car. Instead, they can begin their journey from their front door.
The sun sets between peaks and evergreens every day, which makes for beautiful photos and memories for all. Neighbors can be found outdoors enjoying the mountain air most of the day. With parks and live concerts, the community comes together often to enjoy the moment.
Twin Buttes also features a community fruit and vegetable garden. Flowers and other items are available at the Farm Stand throughout the year. A babbling brook and pond give all residents an area to dip their toes in the water on a hot summer day.
This master-planning community has schools for students to attend. All residents gain access to the internet through a 1 GB fiber optic cable. Homes in this master-planned community resemble log cabins, which is fitting for the surrounding environment. Lots are available for purchase.
Three Springs
Three Springs Amenities
Over 300 acres of parks and open space for residents
Immediate access to the SMART 160 trail
Vibrant business district for new and established business owners
Linked with public transportation options for quick and easy travel
The Three Springs master-planned community combines the best aspects of "traditional" neighborhoods with sustainable plans for the future. The entire community is built around a love for the arts and nature. Small details like leaf improvements on the sidewalk and colorful street signs show residents that creativity is embraced at every corner.
The idea for this community is to live, work, and play all in one area. Public transportation efficiently links with Three Springs, which makes it simple for residents to get to other areas in Southwest Colorado.
Three Springs is still moving through all three phases of its development plan, which means improvements are still on the way. The business district already offers numerous personal, banking, and health services to residents. Bars and more restaurants are expected to open in the near future. Schools will be available for children to attend once phase three is complete.
Homes in Three Springs have a median home value of $460,000.
Trimble Crossing
Trimble Crossing Amenities
All landscaping, maintenance, and winter snow plowing are covered with an HOA fee
Multiple ponds and water features
Gourmet market for fine foods and wines
Semi-private Dalton Ranch Golf Course is available for residents
While some master-planned communities are designed to welcome hundreds (if not thousands) of residents, Trimble Crossing is designed to be a luxurious and exclusive master-planned community. Only 64 luxury homes are planned, and with easy access to Highway 550, Trimble Crossing is the best place to live in Durango for those who want to combine convenience with elegance.
The community features multiple ponds and breathtaking views of rich red rocks. Landscaping is completed around the community throughout the year. With a $315 monthly HOA fee, residents at Trimble Crossing have yard maintenance, landscaping, winter snow plowing (even up to their front doors), and building maintenance completed for them.
To add to the life of luxury and convenience, residents can gather everything they need at The Shops at Trimble Crossing. Future plans for the community include restaurants and office space. The median home value is currently $810,000.
Trimble Crossing Hotspots
Trimble Crossing Shopping
The Shops at Trimble Crossing
River Valley
Trimble Crossing Amenities
Exceptional fishing at a private piece of the Florida River, which runs through the neighborhood
Gorgeous views of the La Plata and San Juan mountains all the way to Wolf Creek
Conveniently located between Durango Airport and Historic Downtown Durango
200 acres of trails in residents' backyards
Only 15 minutes from Historic Downtown Durango is River Valley, a 500-acre, master-planned community that aims to provide residents with the best homes and most breathtaking views. The Florida River flows through the middle of the community, perfect for residents to set up a picnic and unwind for a while.
This Durango gated community features over 200 acres of trails that are perfect for a range of outdoor activities. The stunning views that residents see today will remain uninterrupted in the future, as River Valley's master plan includes preserving as many of the acres as possible.
Residents pay the lowest HOA fees and water fees in River Valley than any other communities in the area. Furthermore, residents have access to high-speed 4G LTE Internet. With six home interiors and exteriors to choose from, residents can build their perfect villa-style home. Lots with homes start at $1.5 million.
Edgemont Highlands
Edgemont Highlands Amenities
Private 1.5-mile stretch of The Florida River
Volunteer-run community garden accessible by all residents
Community lodge with monthly events
Edgemont Highlands is a 500-acre, master-planned community located just five minutes from downtown Durango. This community features two sub communities within itself, The Elements and The Overlook.
The Elements is a townhome community with 32 luxurious townhomes that will be built over the next several years. No detail has been overlooked at The Elements. Granite slab countertops, wood floors, stainless steel appliances, and windows that allow plenty of natural sunlight are just some of the best features The Elements offers. These townhomes rarely come on the market, which makes this sub community incredibly exclusive.
The Overlook has yet to be developed, which makes it the perfect opportunity for residents who want to secure their dream Colorado home at record-low prices. Dropped by 15 percent, parcels at The Overlook start at just $123,250. Both sub communities have access to the same wonderful features, including mountain biking trails, the Florida River, ponds, and hiking trails. The nighttime views are too stunning for any camera to ever capture.
Discover Durango's Best Master-Planned Communities
Each of these master-planned communities offers residents the ability to own a piece of Colorado. The views, access to outdoor adventures, and historic downtown Durango right around the corner allows residents to be close to the modern conveniences they need. With each of these master-planned communities planning to expand more in the future, residents will have all they ever need to live the life they have already dreamed of right in their own neighborhood.
If Durango sounds like the perfect place for you, contact Colorado Property Group of RE/MAX with Durango Homes for Sale at (970) 946-0601 to get in touch with a Durango real estate agent and get ready to call this beautiful mountain town home.