5 Best Downtown Durango Neighborhoods: Live Near Historic Downtown Durango
Posted by Ryan Poppe on Wednesday, December 28, 2022 at 12:30:36 PM
By Ryan Poppe / December 28, 2022
Comment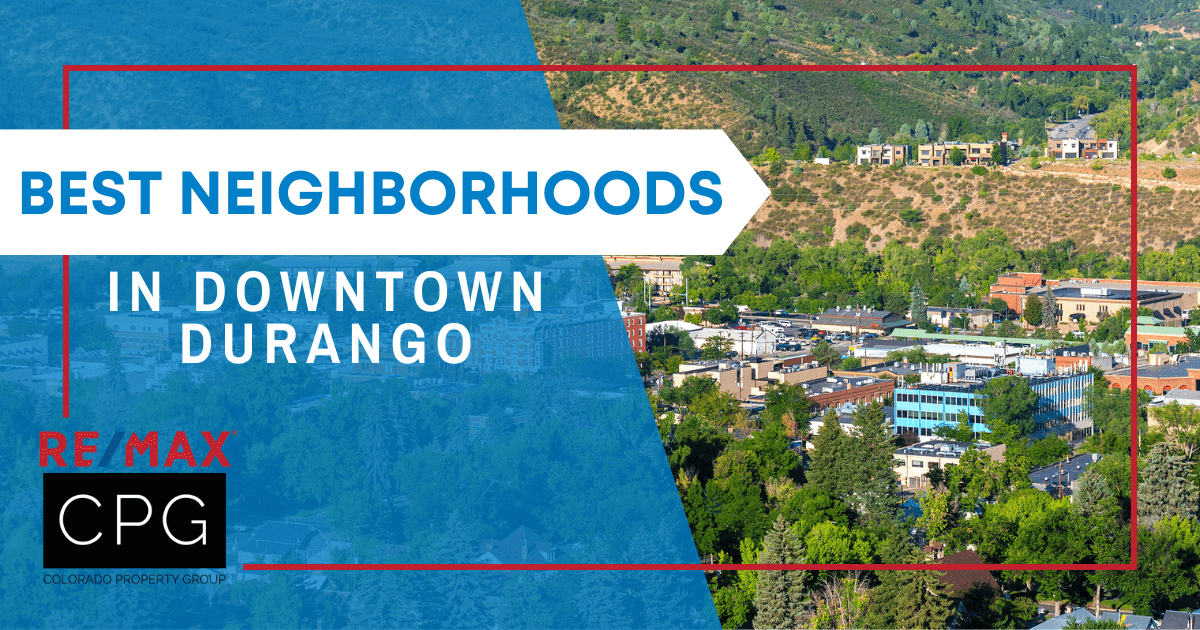 The city of Durango remains a tourist hot spot and an incredible place to call home in southern Colorado. When newcomers move here, deciding which neighborhood they want to live in can be challenging, as there are many excellent options. Do they want easy access to Durango trails outside their back door? Would they prefer a low-maintenance townhome on the hillside? How close do they want to live to restaurants or the city's best shopping and nightlife? While there are many amazing choices when picking where to live in this historic mountain town, here are five of the best neighborhoods near downtown Durango to explore.
Crestview
The Crestview neighborhood is on the Animas River's west side, just a short distance uphill from downtown. Crestview is on the edge of the mountains, and many homes have spectacular views of the valley and river below. Some even have great views of Perins Peak.
Many homes for sale in Crestview list in the $500,000 range, while properties with more elevation and better views begin around $1 million. Most properties are single-family detached homes. There are many ranch-style and bungalow-style homes in the neighborhood, and even a few newer modern-style homes.
Multiple trails take off from the neighborhood, leading to Overend Mountain Park or Hogsback Mountain. These are multi-use dirt trails suitable for hiking and horseback riding. Plus, Crestview is just across the river from downtown, so residents can easily ride a bike or even walk to enjoy some window shopping or award-winning dining venues.
Crestview Amenities
Crestview Park
Overend Mountain Park Trailhead
Durango Botanic Gardens
PRIMI Pasta & Wine Bar
Animas City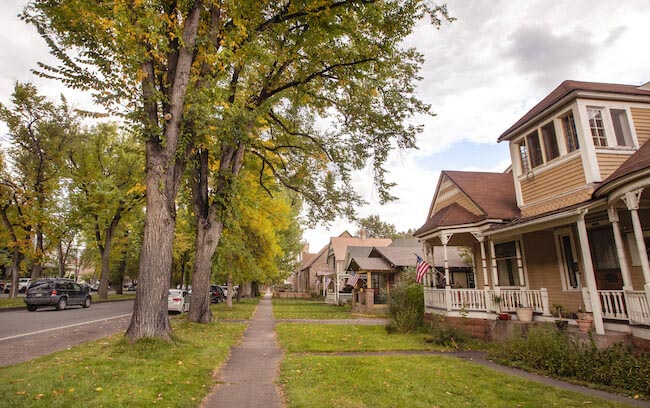 Animas City is north of downtown Durango, primarily on the west side of the Animas River. The neighborhood's southern boundary is roughly where North Main and East 15th intersect and runs to the northern edge of the city limits.
Animas City is a historic part of Durango; most homes here were built between 1880 and 1970. Many of the older homes have been restored and are well-maintained, adding to the "frontier-style" charm of the community. With such a lengthy building timespan, many architectural styles are available. Depending on location and features, homes for sale in Animas City range between approximately $800,000 and $3 million.
Needham Elementary School, Miller Middle School, and Durango High School are all conveniently located in Animas City. Several parks are available for recreation, and a trail runs along the west side of the Animas River.
A couple of footbridges cross the river into the Riverview neighborhood. Main Avenue continues through the area and offers convenient shopping, dining, and banking access. It's also easy to locate Durango public transportation options anywhere in Animas City.
Animas City Amenities
Animas City Theatre
Animas City Park
Animas Museum
Animas River Beer Garden
Riverview
The Riverview neighborhood is in the north-central part of Durango, on the opposite side of the river from Animas City. The architectural styles in Riverview are varied, as many homes here were built between the 19th and early 20th centuries. There's a bit of everything, from log cabins with impressive stonework to simple bungalows. Prices can range from approximately $750,000 to about $3 million, depending on size, location, and the views the property provides.
Golfers will appreciate living so close to Hillcrest Golf Club in Riverview. Additionally, Riverview Elementary is centrally located in the neighborhood. Residents can grow organic vegetables at the Ohana Kuleana Community Garden next to the elementary school.
The Chapman Hill Ice Rink and Ski Area is a popular hot spot in Durango during winter. There are a few small restaurants and shops along the north end of Florida Street in Riverview, but for the most part, residents have to either cross the river to Animas City or drive south to downtown for major shopping, dining, or nightlife.
Riverview Amenities
Riverview Elementary School
Hillcrest Golf Club
Chapman Hill Ice Rink and Ski Area
Ohana Kuleana Community Garden
Hillcrest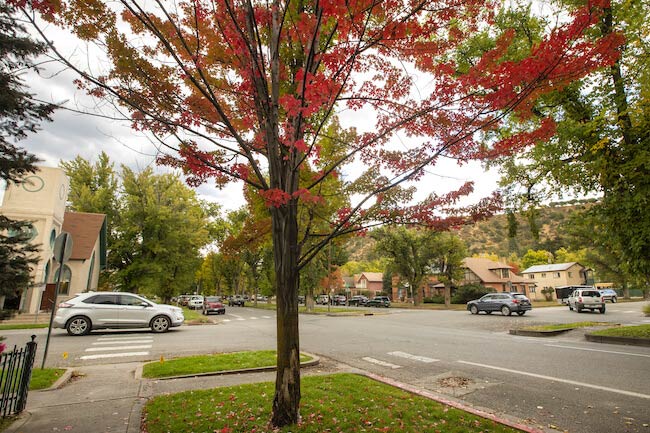 Hillcrest is east of downtown Durango, up on the plateau, offering fantastic views of the Hillcrest Golf Club below. Hillcrest Drive is off Goeglein Gulch Road, just northeast of Fort Lewis College. A much newer neighborhood compared to others in Durango, Hillcrest was built by several developers in the 1980s using a range of architectural styles.
Almost every single-family home in Hillcrest is unique, with lot sizes ranging from 1/3 to 3/4 of an acre. There are also a limited number of condos and townhomes. Homes for sale in Hillcrest typically range from around $300,000 to $1.5 million.
Students who live in Hillcrest typically attend Park Elementary, Escalante Middle School, and Durango High School. The neighborhood is also just a short bike ride from Fort Lewis College.
Almost all homes in Hillcrest have landscaped yards, and the Hillcrest Property Owners Association ensures that the neighborhood remains a beautiful place to live. The subdivision is entirely residential, so residents must travel into downtown for shopping or dining.
Hillcrest Amenities
Mix of property types available
Newer Durango neighborhood
Hillcrest Property Owners Association
Elementary, middle, and high school
Skyridge
Skyridge is also east of downtown Durango, on property originally part of the historic Jenkins Ranch. Jenkins Ranch Road runs through the neighborhood until it terminates at the Skyline Trailhead.
Homes in Skyridge consist of single-family homes, condos, and a few townhomes. Like Hillcrest, this is a newer subdivision with a range of more modern home styles. Prices can range from the $300,000s to over $1 million. The neighborhood is accessed on College Road, just north of Fort Lewis College.
Jenkins Ranch Park is a significant feature of the Skyridge neighborhood, with tennis and pickleball courts, a children's playground, a covered picnic pavilion, a dog park, and grassy fields to enjoy. Public transportation is available from College Road at the entrance to the neighborhood. Skyridge is also just a short drive or bike ride from the Hillcrest Golf Club.
The views of the La Plata Mountains are stunning from many of the homes in Skyridge, and the neighborhood is just a short drive from all the shopping, dining, and nightlife hot spots that downtown Durango offers.
Skyridge Amenities
Jenkins Ranch Park
Mix of property types available
Public transportation access
Incredible views
Mountain Living in Historic Durango
Durango is rich in Colorado history; some of its neighborhoods have been around for over a century. Because Durango is a small town, easy access to downtown is essential for many moving to the area. Fortunately, some great communities are all within a short drive.
If Durango sounds like the perfect place for you, contact Colorado Property Group of RE/MAX with Durango Homes for Sale at (970) 946-0601 to get in touch with a Durango real estate agent and get ready to call this beautiful mountain town home.