Best Neighborhoods in Durango: Durango, CO Community Living Guide
Posted by Ryan Poppe on Tuesday, October 13, 2020 at 9:27 AM
By Ryan Poppe / October 13, 2020
Comment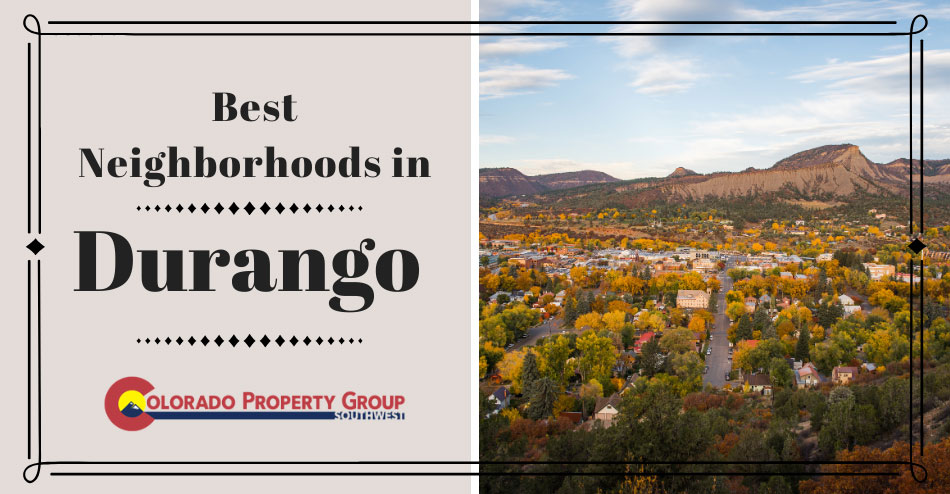 Located at the foot of the San Juan Mountains, the small city of Durango, Colorado, offers a unique variety of natural beauty, cultural attractions, and historical sites. With just over 19,000 residents, Durango is the ideal destination for those who want to enjoy the wonders of the western United States without visiting more densely populated areas. Durango is located only 20 miles from the New Mexico border, which creates easy access to cities like Aztec and Bloomfield, NM. Discover the following best neighborhoods in Durango for adventure-seekers or relocating individuals.
Falls Creek
Falls Creek Amenities
Beautiful Scenery
Mountains on all sides
Nature lovers paradise
Quiet & Peaceful area
Overlooking the gorgeous Animas Valley, the Falls Creek neighborhood can be found North of central Durango. With an ample supply of one-acre lots, the Falls Creek neighborhood is the perfect place to call home within range of all the attractions that Durango has to offer. On top of the 100 acres that are dedicated to new builds, Falls Creek boasts an 840-acre common terrain that allows residents to appreciate the surrounding landscapes. The stunning space even features a 40-acre lake where residents can easily fish or ice skate.
Falls Creek provides numerous amenities, including a horse stable, pasture, and energizing hiking trails. With access to National Forest land, Falls Creek residents can trek to the eastern rim and take in the spectacular view of the Animas Valley.
Three Springs
Three Springs Amenities
Nature Lovers Paradise
Quiet & Peaceful Area
Outdoor Movie Nights
Miles of trails & mountains
Parks and Wetlands Areas
Community Events
Centrally located near downtown Durango, Three Springs is a unique neighborhood that was carefully planned to optimize environmental conservation, in order to fulfill a vision of improved water savings, energy efficiency, air quality, and similarly "green" benefits. In fact, Three Springs is the first Durango neighborhood to establish and follow a Sustainable Development Program. Its "green houses" use 33% less energy than the average American home.
Situated on a 681-acre plot, the Three Springs neighborhood allows residents easy access to green spaces as well as strategically placed commercial establishments. Built to accommodate pedestrians, cars, and bikes, this area is well-connected to public transportation lines. Numerous schools, parks, and restaurants can also be found within walking distance. Now 20 years in the making, the Three Springs community has been conceived to work in harmony with its surrounding environment while offering residents a high quality of life.
Edgemont Highlands
Edgemont Highlands Amenities
The best of Colorado Mountain living
5 miles from downtown Durango
10 miles of private hiking and walking trails
Access to the National Forest
Quiet Sanctuary
Nature Lovers Paradise
For those seeking a more remote getaway to call home, Edgemont Highlands may be the perfect fit. Situated 15 minutes east of downtown Durango, this friendly neighborhood provides a quiet retreat to its residents. Edgemont Highlands has been a successful housing development since 2005, and it continues to offer new construction opportunities.
Equipped with a community lodge where members can host neighborhood or private events, Edgemont Highlands is an excellent choice for those who love to entertain but desire tranquility in nature. In fact, joining this community will allow people to discover a multitude of hiking trails in their own back yard. Edgemont Highlands is composed of over 500 acres, with 200 acres solely devoted to open green space ready to be enjoyed. Become one with the diverse ecosystem that surrounds this blossoming community through outdoor activities like fishing, birdwatching, hiking, and snowshoeing in winter.
Edgemont Highlands Hotspots
Historic Downtown
Historic Downtown Amenities
Near New Mexico Border
Railroad Museum
Powerhouse Science Center
Weekly Farmers Market
Mountain Community
Moving to Durango's Historic Downtown provides a rich cultural and social experience for newcomers. They can uncover an abundance of entertaining attractions, delicious restaurants, and community activities just a short walk away from Historic Downtown. With a wide variety of unique attractions found in the heart of Durango such as the local farmer's market, the Durango Arts Center, and the Railroad Museum, residents and visitors can take advantage of all that this enchanting Colorado city has to offer. With a variety of great condos for sale in the area, residents can live right next to their favorite spots.
Historic Downtown Hotspots
Consider These Durango Neighborhoods
With the stunning Rocky Mountains as a backdrop, Durango is a one-of-a-kind destination for those in search of a welcoming community to build their future. Consider the gorgeous setting of Falls Creek, where residents can revel in the beauty of the Animas Valley while fishing, boating, or hiking. Three Springs is the ideal destination to enjoy an environmentally conscious, self-contained community near downtown. Alternatively, discover the seclusion of Edgemont Highlands, which provides quick access to beautiful trails and a plethora of outdoor activities. Finally, living in Durango's Historic Downtown is an excellent way to enjoy all the unique attractions the city has to offer. Durango's friendly community is ready to welcome you home.
If Durango sounds like the perfect place for you, contact Colorado Property Group of RE/MAX with Durango Homes for Sale at (970) 946-0601 to get in touch with a Durango real estate agent and get ready to call this beautiful mountain town home.