8 Best Neighborhoods Near Lake Nighthorse: Where to Live Around Lake Nighthorse
Posted by Ryan Poppe on Tuesday, November 29, 2022 at 9:15:54 AM
By Ryan Poppe / November 29, 2022
Comment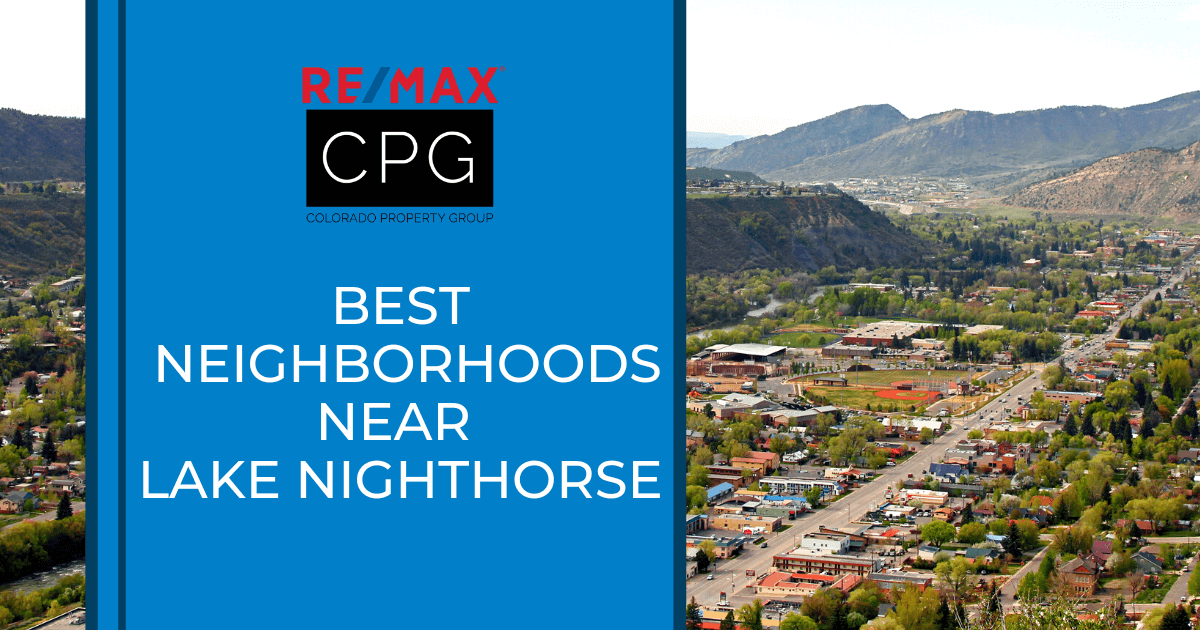 Few things are better than standing on top of a mountain peak in Colorado, and it can be even better when you look down and seeing a glistening, pristine body of water. Just five miles from the city of Durango, that body of water is Lake Nighthorse. Not only is it gorgeous, but it also provides a myriad of public recreational activities every April through November.
If you love lake life and are visiting or moving to Durango, you're in luck. Durango has several communities that combine peaceful mountain living with the ease and convenience of being a short distance to Lake Nighthorse, one of the most active lakes in this corner of Colorado.
Trappers Crossing
Almost all of the homes in Trappers Crossing overlook the La Plata Mountains, and many also have a clear view of Lake Nighthorse, only a five-minute drive away. Trappers Crossing is an excellent choice for those looking to make Durango their long-term home and build their property, with several large, heavily treed lots available just 10 minutes southwest of the city.
The Durango Hot Springs Resort & Spa, one of Durango's best resorts, is where Trappers Crossing residents go to rejuvenate on special occasions. The resort came under new ownership in 2019, and with this change of hands came nearly two dozen new soaking pools and upgraded saunas to give guests a top-tier relaxing experience.
There are always some sweet treats just around the corner from Trappers Crossing at the Animas Chocolate Company. The shop takes a holistic "bean to bar" approach to sourcing and creating its chocolate, opting to use only the finest ingredients and processes. The cafe in town not only sells its goodies and a selection of beverages but also gives patrons the unique opportunity to watch the chocolate being made in the kitchen.
Trappers Crossing Amenities
Lake Nighthorse views
Large, treed lots ranging from 7–35 acres
Greenbelt in the community
Horses permitted
Low HOA fees
Shenandoah
Adjacent to Trappers Crossing, Shenandoah lets residents enjoy the best of the Durango area from 800 feet above. Homes for sale in Shenandoah sit on anywhere from two to 30-plus acres and generally feature at least 2,500 square feet of living space.
Shenandoah residents include those who live here both full-time and part-time, as well as a host of farm animals that roam the corrals and wildlife that frequent the open fields. Lake Nighthorse is five miles from the community's entrance and is one of several lakes close to the Shenandoah area.
Mesa Verde National Park is just 35 miles away, making for a culturally rich day trip experience. The park, a UNESCO World Heritage Site, is one of the world's most famous and well-preserved archaeology sites. It attracts thousands of visitors from all over to explore its numerous trails and cliff dwellings that keep the area's significant history alive.
You can also head to the Sky Ute Casino Resort, only a few miles from Shenandoah, and try to win big at the slot machines, poker rooms, or blackjack tables. The casino resort is open 24/7, perfect for everything from stopping by after work to enjoying a fun late night out with friends or celebrating a special occasion over breakfast.
Shenandoah Amenities
Lots of scenic open space with a mixture of expansive meadows and thick forest
Most lots with horse stables or open pastures
Well-maintained paved roads
Home of Dolly, the "wandering llama"
Rafter J
The Rafter J community began as a love story between the original property's owners, Alice and Jake Brown. The two owned a cattle ranch on the 2,000-acre parcel of land, and Alice hung a 'J' from one of the rafters in her home to honor her husband. Eventually, the Browns subdivided their land and built the community that still stands today. Rafter J added dozens of homes and paved roads to the neighborhood between 1970 and 2010.
Although it's technically just outside city limits, Rafter J is a short 15 minutes from downtown Durango with a drive up scenic Wildcat Canyon. Property this close to downtown, particularly in this community where lots are generally three-plus acres in size, is highly coveted.
There's no better place to curl up with a good book than under Ponderosa pines, and luckily, Maria's Bookstore is just a few miles from the homes for sale in Rafter J. Maria's Bookstore has plenty of books in every genre. Avid readers can pick them up in physical or audiobook format.
Rafter J is also close to Albertsons grocery store, one of the best places for locals to get essentials and goodies. Albertsons also has an attached pharmacy, making it a true one-stop shop for all your needs.
Rafter J Amenities
6 miles (less than 10 minutes) to Lake Nighthorse
Quick access to several popular trails, including Smelter Mountain
8 miles to Lake Durango
Central water
Active HOA
Many lots with ponds
Cedar Ridge Estates
As a master-planned community, Cedar Ridge Estates features pristine new construction homes in Durango. This neighborhood, located only five miles from Lake Nighthorse, is populated with modern, new-construction, multi-story townhomes with garages. The community's final phase was completed in 2022.
The Sweaty Buddha Hot Yoga Studio holds classes for almost a dozen types of yoga, and participants of all skill and experience levels are welcome. Additionally, The Sweaty Buddha frequently hosts retreats ideal for large groups to enjoy.
Nearby, the Powerhouse Science Center & Tinker Lab is open to kids of all ages who want to learn about the world. As an interactive museum, it features curated exhibits to teach visitors about everything from music to physics to fossils.
Cedar Ridge Estates Amenities
Choose from two- and three-bedroom floor plans
Unobstructed mountain views
Close to Fort Lewis College
Attached garages
Direct trail access
Bus stop just outside the community
Twin Buttes
Twin Buttes is a neighborhood that started from one man's commitment to beating his friends in a cross-country ski competition. Edward Pauls, a mechanical engineer, sought a way to get in shape for the big race and ultimately invented the NordicTrack exercise equipment brand. After selling the company, the Pauls family turned their attention toward purchasing real estate, which involved acquiring over 200 acres and creating the Twin Buttes development.
Less than 15 minutes from Lake Nighthorse, Twin Buttes is a network of trails and mountains dotted with high-end homes and plenty of vacant lots. Homes in Twin Buttes are head-turners, and homebuyers can build custom homes with the help of some of Durango's renowned architecture firms.
Residents of Twin Buttes not only like to live and play on the land but also enjoy eating what it produces, too. The Twin Buttes Farm Stand is buzzing every June through October when locals pick up fresh fruits, vegetables, and meat cuts from animals raised in town.
The historic Tram City Park and Playground lets residents learn about the town's important history rooted in the railroad. Tram City Park, now a historical and recreational site, was once used to carry coal across the West. The playground serves as a meeting spot for residents to come together to play, share meals at the picnic tables, and enjoy the great Durango outdoors.
Twin Buttes Amenities
14 miles of hiking and mountain biking trails
Very close to Animas High School
1GB fiber optic internet
Close to Durango Adventures and Zipline Tours
Babbling brooks run through the neighborhood
Downtown Durango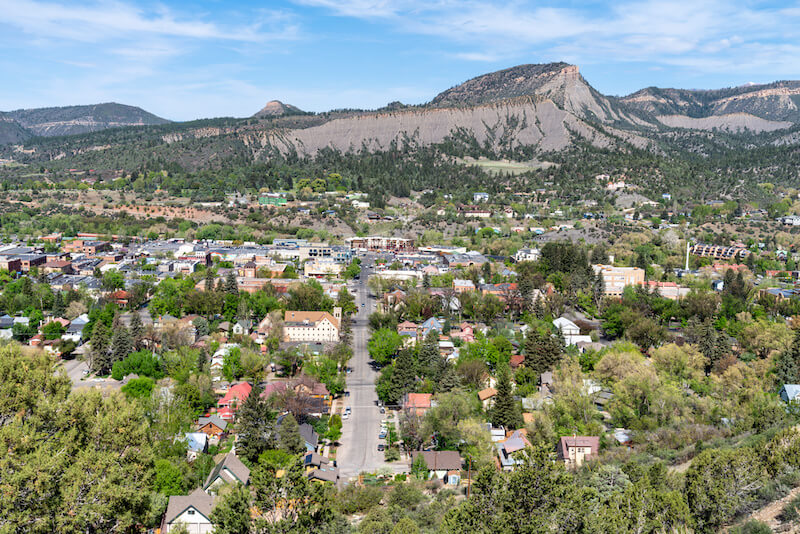 Downtown Durango, just over 10 minutes north of Lake Nighthorse, is a hub of activity 365 days a year. It's easily accessible from most other neighborhoods in the area and offers amenities, including city parks and quick access to dining and entertainment options. Downtown Durango has homes in a variety of sizes, floor plans, and price points, including a nice sprinkling of well-preserved historic homes.
Animas Trading Company keeps the town dressed in its western best. As an independent boutique, Animas Trading Company sells Bohemian earthy-style clothes and jewelry that are locally sourced and unique. It also sells plenty of novelty decor that'll spruce up any Durango home.
In true Western fashion, El Moro Tavern was once the scene of a shootout between a sheriff and some delinquent poker players. The smoke has since cleared, and the tavern still slings fine food and drinks to Durango residents. Staples like burgers and slow-roasted ribs are always on the menu, along with a couple dozen beer types.
Downtown Durango Amenities
Animas City Park
Durango & Silverton Narrow Gauge Railroad and Museum
Jeep tours
Main Avenue Trolley
Dozens of restaurants, bars, and breweries
Durango West
The Durango West community, 10 miles north of and 1,100 feet higher than Durango proper, is split into two adjacent neighborhoods: Durango West I and Durango West II. They sit on opposite sides of the road but share amenities and services, including central water and snow plowing. Homes for sale in Durango West encompass various styles, from new construction to condos and mobile homes, typically at slightly lower prices than in other Durango-area neighborhoods.
The Kennebec Cafe is a little Mediterranean oasis right down the street. The cozy spot serves seafood and steak dishes and, of course, fresh pasta entrées complete with wine. The Kennebec Cafe also has an Airbnb on the property, so patrons can make a whole night out of their meal.
When residents want to spend time at a home away from home, Blue Lake Ranch Bed & Breakfast is just down Highway 140. This rustic country inn has all the fixings of a classic B&B, including a fireplace, hot tub, and king-size bed. This spot is excellent for a romantic getaway, but it's also large enough to handle weddings, reunions, and other significant events and gatherings.
Durango West Amenities
School bus stop
Hiking trails
Large park and playground
Basketball and tennis courts
Snow removal
Close to Hesperus Ski Area
Hesperus
It's easy to miss Heserpus because of its small size, but locals know it is one of Durango's prime spots for winter outdoor activities. The community is best known for its ski area, but living here has plenty of unique perks. Lots tend to be quite large, with some up to 140 acres in size. Homes for sale in Hesperus are about 20 minutes from Lake Nighthorse and 15 from downtown Durango.
Hesperus Ski Area, a small resort well-loved by locals, is the place to be all winter. The ski area has 26 runs, and most are lit for night skiing. Patrons can also fly down the Hesperus mountainside in snow tubes day or night, and there's an excellent lodge onsite when it's time to warm up with hot chocolate.
Hunting is a favorite pastime for Coloradans and an essential part of managing the state's wildlife population. Highlands Unlimited operates hunting camps in the San Juan Mountains for expeditions to track big game under the supervision of an expert guide. In addition to hunting and fishing trips, Highlands Unlimited offers a range of tours that involve exploring the mountains on horseback and roughing it under the stars like the pioneers.
Hesperus Amenities
San Juan National Forest
Camping
Year-round hiking
Skiing
Close to Durango
Living the Lake Nighthorse Life
It's no surprise that Lake Nighthorse is one of the primary draws to living in Durango. Endless fun on the water in the form of Durango's best water recreation activities is always just minutes away when you live in one of the lake's surrounding communities.
If Durango sounds like the perfect place for you, contact Colorado Property Group of RE/MAX with Durango Homes for Sale at (970) 946-0601 to get in touch with a Durango real estate agent and get ready to call this beautiful mountain town home.