5 Outdoor Activities You Can Do Every Day in Durango West 1 & 2: Nature Near Your Neighborhood
Posted by Ryan Poppe on Thursday, May 11, 2023 at 2:22:21 PM
By Ryan Poppe / May 11, 2023
Comment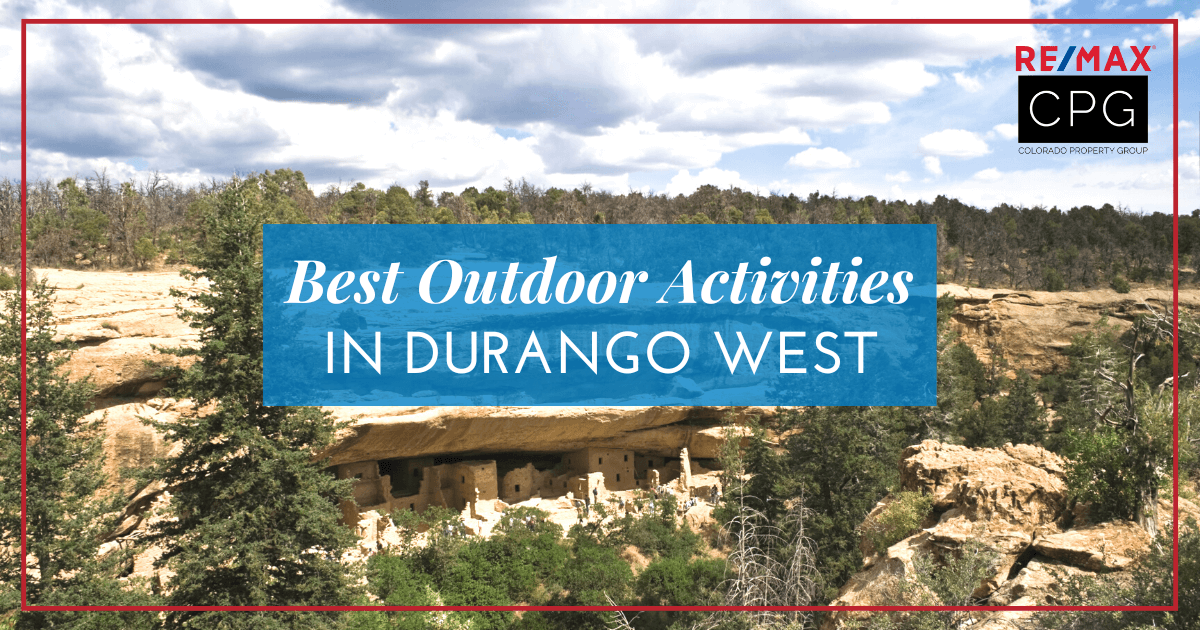 The subdivision of Durango West in Durango, CO, offers a perfect location for those seeking adventure and outdoor activities. Surrounded by the San Juan National Forest, Durango West is located in the southernmost reaches of the Rocky Mountains, providing easy access to all the things to do in Durango—especially to the various outdoor activities, including hiking, mountain biking, skiing, snowboarding, and fishing. Whether you are an avid outdoor enthusiast or just looking for a way to enjoy the fresh mountain air, the homes in Durango West offer access to endless opportunities for exploration and recreation.
Hesperus Ski Area
Colorado is known for its great ski country, and Durango West 1 & 2 are no exception. The Hesperus Ski Area is located four miles west of the subdivision, along the Navajo Trail (State Highway 160), and if you're not living in Hesperus, Durango West is the perfect home base from which to access the ski area. This is an excellent area for skiing and snowboarding or learning to do so. Plus, there's a family tubing hill for those with small children or those who aren't quite ready to hit the slopes on a pair of skis.
There are 13 ski runs at Hesperus, featuring a vertical drop of 680 feet from the top of the mountain. There are 13 ski runs to choose from. About half of them are expert level, 20% are intermediate level, and 30% of the runs are beginner level. The ski area has a double chair lift, ski and snowboard rentals, and a snack bar at the base. People aged five and up who want to learn to ski or snowboard can take individual ski lessons.
Visitors can find the Marmot Hill tubing area on the east side of the lower mountain. It has multiple lanes for families to enjoy tubing and even race with each other on their way down the hill.
Explore Perins Peak State Wildlife Area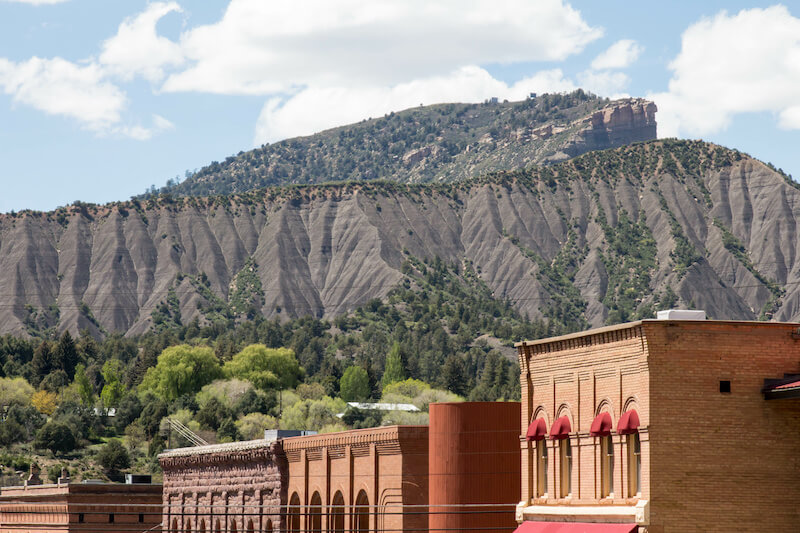 Perins Peak State Wildlife Area is practically next door to the Durango luxury homes and gated community homes of Durango West 1 & 2. This expansive and beautiful forested area offers exciting opportunities for hiking, rock climbing, in-season hunting, wildlife viewing, and other activities.
Experienced hikers can drive into Durango and find the Perins Peak Trailhead near Perins Vista Drive. It's a challenging seven-mile round-trip hike to the top of Perins Peak, but no one who makes the climb ever regrets the view! Raptors, songbirds, and great horned owls are just some of the birds that avid birdwatchers can view in the wildlife area.
Hunters can camp inside the wildlife area during the deer and elk hunting seasons. Wildlife in the area that is managed through controlled hunts include deer, elk, and black bears. There are also wild turkeys, blue grouse, rabbits, and squirrels.
Rock climbers enjoy tackling the abyss cliffs in Perins Peak. The southeast side of the ridge that is closest to the Twin Buttes neighborhood is a series of 50-foot cliffs. The northwestern side of the ridge offers more challenging climbing routes.
Experience the Magic of Mesa Verde National Park
Durango is just 28 miles east of one of the most magical national parks in the United States. Mesa Verde National Park is a 52,000-acre refuge established by Congress in 1906. The park is home to many awe-inspiring cliff dwellings established by the Pueblo people centuries ago. Note that visitors must purchase a vehicle pass at the park entrance, and there are some size restrictions on vehicles to be aware of. An annual vehicle pass can be purchased for $55 for those who plan to make several trips here to explore.
Visitors can either take a self-guided tour through some of Mesa Verde's most popular spots or purchase tickets for a guided tour from May through October. Hike to the Spruce Tree House to catch the views of one of the largest cliff dwellings in the park. Camping out to stargaze is a fantastic experience, and the Morefield Campground rarely fills up. There are tons of great hiking trails in Durango, but hiking through the many marked trails in Mesa Verde National Park provides stunning views of the Four Corners region in an unspoiled wilderness area. The Pueblos and other tribes from the area also offer cultural dances and demonstrations.
Durango Dog Ranch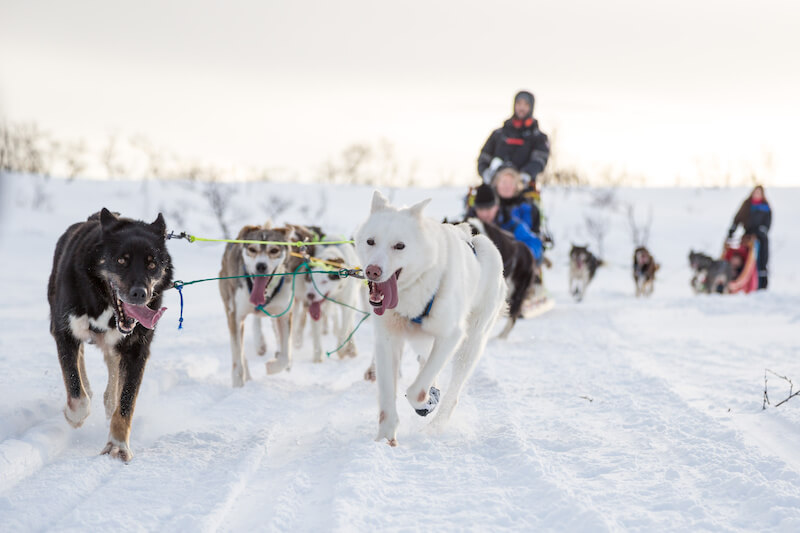 Anyone who has ever dreamed of exploring the sport of dog mushing can get started in Durango! The Durango Dog Ranch will help you begin learning the sport and eventually head out into the wilderness on a guided tour with your own dog sled.
There are three different dog mushing tours available:
Intro to mushing: $195
Half-day tour: $400
Full-day tour: $695
The intro to mushing tour is a family-friendly outing where people can learn the basics of dog sledding. Two people are allowed per sled, and a child is $50 extra. The half-day tour heads into the San Juan Mountains and is suitable for families with teens or anyone seeking an outdoor winter adventure.
The full-day tour requires a person to be in excellent physical shape. This guided tour leads deep into the national forest; each sled can only have one adult. It is a seven-hour round trip of mushing into the wild, and the owners prefer that someone has previous experience dog sledding before attempting this adventure. Durango Dog Ranch is a family-owned and operated business that has been leading dog sledding tours into the wild for around three decades.
Lake Nighthorse
Lake Nighthorse is just 12 miles away from the Durango West 1 & 2 subdivisions. This beautiful reservoir opens for boating, fishing, hiking, and other recreational activities each year in April. Motorized boats are allowed on the water starting on May 15.
When towing a boat to Lake Nighthorse, visitors must stop at the entrance for an inspection and possible decontamination to keep invasive species out of the lake. There is an excellent turnaround and parking available near the boat dock. The lake has Kokanee salmon, rainbow trout, and brown trout. This is one of only a few dozen Colorado locations where anglers can catch salmon.
The lake also has a popular swimming beach and the Wibit Aqua Park. This floating playground has water slides, climbing walls, and other obstacles for families to enjoy while cooling off in summer. Life jackets are provided and required to use the Aqua Park, and lifeguards are on duty. The beach and the aqua park are usually open from May through September.
There's always an abundance of things to do at Lake Nighthorse, which is also popular with non-motorized types of water recreation. The waters are calm enough along the shores that standup paddleboarding is possible. There are kayak and canoe rentals at the swimming beach, and people are welcome to bring their own personal watercraft.
Durango West 1 & 2: Access the Great Outdoors
The Durango West subdivision—one of the best Durango neighborhoods near Lake Nighthorse—is an ideal destination for anyone looking to enjoy the great outdoors. With its proximity to the San Juan National Forest and many outdoor activities, Durango West provides something for everyone. From hiking and mountain biking in the summer to skiing and snowboarding in the winter, there is always something to do in this beautiful mountain community. So, pack your bags, grab your gear, and prepare for an unforgettable Durango West adventure!
If Durango sounds like the perfect place for you, contact Colorado Property Group of RE/MAX with Durango Homes for Sale at (970) 946-0601 to get in touch with a Durango real estate agent and get ready to call this beautiful mountain town home.