Best Places to Live Near Durango, CO: Enjoy the Best Towns Near Durango
Posted by Ryan Poppe on Thursday, February 16, 2023 at 9:04 AM
By Ryan Poppe / February 16, 2023
Comment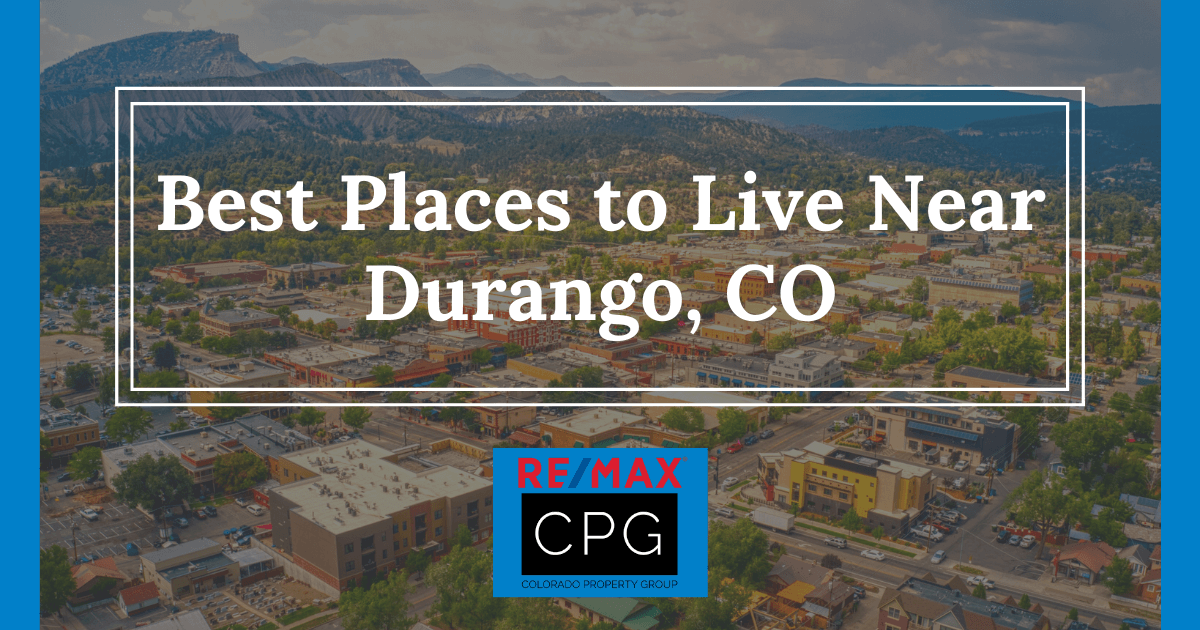 Well-known as a tourist destination, the city of Durango has a year-round population of about 19,000 people. While skiing and other winter sports are passions of residents and visitors alike, the city's height of the tourism season is during the summer.
However, it's not just Durango residents that have access to all these activities. With the mountains and stately Ponderosa pines as backdrops, there are many towns near Durango, Colorado, where people can enjoy hiking trails, biking, river rafting, camping, and horseback riding. Those planning to move to Durango or the surrounding area should consider the following five best places near Durango to call home.
Bayfield
Bayfield Amenities
RV park
Park
Riverfront
Highway access
Lakes nearby
The town of Bayfield is home to 2,640 residents, 18 miles east of Durango and adjacent to two million acres of San Juan National Forest. The community was named for its founder, W.A. Bay. Bayfield was established in 1898 and is known locally as the "Heart of the Pine River Valley." The community was built on a foundation of agriculture, developing as a hub for local farms to get supplies and come to market.
Today, Bayfield serves as a suburb of Durango, where residents enjoy costs lower than Durango's cost of living. Bayfield includes a small historic district featuring buildings from its past, as well as a few boutiques and eateries. Popular recreational pursuits in the Bayfield area include camping, horseback riding, and fishing. It is a favorite of fly-fishing enthusiasts.
Homes for sale in Bayfield typically range between $300,000 and $850,000, though some larger homes can go for more than $1 million. Most homes have at least three bedrooms and two bathrooms.
Bayfield Hotspots
Bayfield Shopping
The Grocery Store at Bayfield
Village Junction Antiques
Caswell Trading Company
The Good Ol' Days Antiques
Bayfield Nightlife
The Billy Goat Saloon
Bottom Shelf Brewery
Bayfield Cafés
Brenda's Old West Café
The Coffee Merchant
Baked
Bayfield Restaurants
Eepa's Pizzeria
Hong's Garden Chinese Restaurant
Chavelo's Mexican Restaurant
Mill Street Bistro
The Pine Cone
Ignacio
Ignacio Amenities
River
Park
Casino
Boating
Fishing
Library
Ignacio has a population of 1,259, covering less than 0.3 square miles. The town serves as the headquarters of the Southern Ute Indian Reservation. It is home to the Navajo State Park as well as the Sky Ute Casino and Sky Ute Fairgrounds. The community has preserved its history with the Southern Ute Cultural Center and Museum.
The Navajo State Park contains the Navajo Reservoir, which extends 20 miles south into the state of New Mexico. The park opened in 1964 and is enjoyed by boaters and campers all year long. The massive reservoir offers 15,000 surface acres of water recreation for sailors, power boaters, and houseboat owners. About 3,000 acres of the lake are on the Colorado side, with the rest in New Mexico.
Visitors are able to rent boats at the park's marina. The park's campgrounds consist of 138 individual campsites, most open year-round. Anglers can expect to catch large- and small-mouth bass, northern pike, bluegill, crappie, trout, and catfish from the reservoir.
Ignacio real estate is made up of single-family homes that range between $250,000 and $1 million. Most homes are at least 1,000 square feet, but some can reach over 4,000.
Ignacio Hotspots
Ignacio Shopping
Waci-ci Trading Company
FarmersFresh Market and Deli
Ignacio Floral & Gifts
Roots Natural Foods
Mom's Hidden Closet
Mancos
Mancos Amenities
Parks
Creek
Camping
Mountains
Artist community
Community festivals
Mancos is situated at the base of Mesa Verde National Park. It lies within Montezuma County, about 28 miles west of Durango. Mancos is surrounded by mountains, making it a perfect site for outdoor recreational enthusiasts.
Founded in 1894, the community was developed not far from where early Spanish explorers first navigated the crossing of the Mancos River. Once considered to be in the running for the county seat of Montezuma County, it continues to serve as a commercial center for the eastern portion of the county.
The area is dotted with archeological sites, including small village remains. It is thought that the earliest Mancos Valley residents withdrew to the cliff dwellings on Mesa Verde. Several Mancos buildings from the turn of the century are listed on the state or national register of historic places, including the 1909 Mancos High School and the 1910 Mancos Opera House.
Despite the distance between the towns, the growth of Durango has spread to Mancos, creating the town's art colony. The community also holds several festivals or events each year.
Prices for homes for sale in Mancos typically fall between $350,000 and $1 million. Most homes have at least two bedrooms and three bathrooms, though the largest can have five or more bedrooms.
Mancos Hotspots
Mancos Shopping
P & D Grocery
Zuma Natural Foods
Custom Calligraphy & Frame
Kilgore American Indian Art
Mancos Nightlife
Columbine Bar
Mancos Brewing Company
Fenceline Cider
Mancos Cafés
Absolute Bakery & Café
Fahrenheit Coffee Roasters
Green Table Café
Mancos Restaurants
Chavolo's Mexican Restaurant
Metate Room
Hesperus
Hesperus Amenities
Rivers nearby
Mountains nearby
Skiing nearby
Hesperus is an unincorporated community of about 2,200 residents, about 11 miles west of Durango on State Highway 160. It is located on the way to the city of Cortez and Mesa Verde. Hesperus lies about 17 miles east of Mancos. The nearby Hesperus Mountain is both the community's namesake and a local attraction. A U.S. post office has been in operation in Hesperus since 1891.
The Hesperus Ski Area is a favorite resort among locals, offering the largest night skiing in all of Southwest Colorado. Its popularity is also driven by its affordable lift tickets and variety of terrain, catering to the beginner and the expert. Also in the area for ski enthusiasts is the Chapman Hill Ski Area, about 12 miles away, and Purgatory Mountain Resort, about 38 miles from Hesperus.
Homes for sale in Hesperus generally list for between $500,000 and $1 million, but the most luxurious houses can go for well into the millions. These pricier homes come with plenty of living space, too—up to over 10,000 square feet in some cases.
Silverton
Silverton Amenities
RV camping grounds
Museum
Skiing nearby
Historic District
Rafting nearby
The tiny town of Silverton serves as the county seat of San Juan County. It derives its name from its former status as a silver mining camp, an area that is now almost entirely designated as a National Historic Landmark District.
Silverton was historically linked to Durango through the Silverton Narrow Gauge Railroad, now a National Historic Landmark. Because it is no longer a mining area, the town's economy now relies heavily on tourism, local construction, and pollution remediation.
The community's appeal as a tourist destination took a leap in 2002, when Silverton Mountain opened near the town. Due to its draw as a tourist spot, the small town is home to several tour companies and guides, focused on adventures such as zip lining and river rafting. Additionally, the town is home to the Durango & Silverton Narrow Gauge Museum, housing historic rail and railway equipment.
Prices for Silverton real estate typically start in the $300,000s and stretch up to just past $1 million. Most homes have at least three bedrooms and 1,000 square feet of living space.
Silverton Hotspots
Silverton Shopping
Fetch's Mining & Mercantile
Route 550 Gifts
Great Divide Co
Silverton Soapbox
Storyteller Indian Store
Silverton Nightlife
Golden Block Brewery
Last Dollar Saloon
Avalanche Brewing Company
O'Bannon's Irish Pub
Silverton Cafés
Coffee Bear
Kendall Mountain Café
Silverton Restaurants
Handlebars Food & Saloon
The Eureka Station
Thee Pitts Again
The Pickle Barrel Restaurant
Discover the Best Towns Near Durango
Despite their size, many of the towns near Durango, Colorado, have successfully reinvented their economies based on year-round tourism. Residents and tourists alike are drawn to the area for the multitude of outdoor activities available, from horseback riding and river rafting to skiing and hiking.
These destinations are also often rich in history and the region's Western heritage, with several containing historic districts and museums to preserve the community's history. Thanks to all these towns have to offer, there are plenty of excellent choices for those who want to live near Durango and enjoy all the things to do in the area.
If Durango sounds like the perfect place for you, contact Colorado Property Group of RE/MAX with Durango Homes for Sale at (970) 946-0601 to get in touch with a Durango real estate agent and get ready to call this beautiful mountain town home.