Iconic Restaurants in Durango, CO: Durango Dining Guide
Posted by Ryan Poppe on Wednesday, June 2, 2021 at 6:50 AM
By Ryan Poppe / June 2, 2021
Comment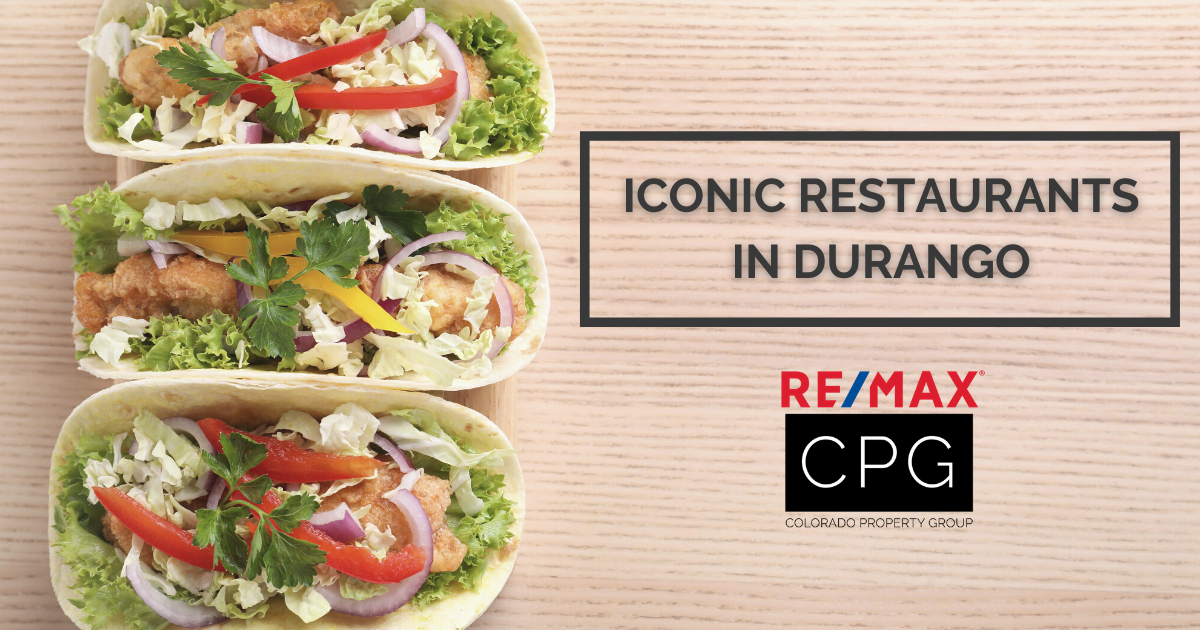 Durango certainly has many things to offer its residents, but one of the best things about this area is its food scene. Regardless of the cuisine one's craving, they're sure to find at least one—if not more—restaurants that tempt their tastebuds to come back for more. With so many wonderful spots to choose from, it can be difficult to know where to start. Whether you're looking for a night on the town or delivery for your Durango condo or new construction home, any of these iconic restaurants in Durango is sure to please.
Steamworks Brewing Company
Popular Dishes at Steamworks Brewing Company
Cajun Dusted Popcorn Shrimp
Smokey Brisket Dip Sandwich
Guacamole Burger
Maui Waui Pizza
Cold Smoked Strip Steak
Six Cheese Mac
Steamworks Brewing Company perfectly combines Southwestern dishes, mouthwatering pizzas, and some of the best beer in Durango. All brewed on-site, the rotating selection of brewed beers keeps locals coming back for more. Combined with the large selection of dishes with meat, vegetarian, and gluten-free options, everyone in the group can find something to munch on.
As free peanuts are available to all patrons, the restaurant is quick to remind guests with peanut allergies that this may not be a suitable place to visit. Because there is a fan system running, shell particles will be kicked into the air, and shells tend to be on the floor.
Steamworks Brewing Company Additional Information
Oscar's Cafe
Popular Dishes at Oscar's Cafe
Cinnamon Rolls
Southwest Breakfast Burrito
Buttermilk Pancakes
Oscar's Southwest Chile Verde and Cheese
Verde Breakfast
Durango Burger Melt
Oscar's Cafe is a staple in Durango and has been for over 40 years. Voted Best Breakfast, Top Ten Best Chile Verde, and Top Eight Best Cinnamon Rolls in the state, any visit to Oscar's Cafe will be satisfying. The family-owned business only features freshly baked and made-to-order dishes. Better still, this 50s style diner has enough free parking for all guests.
Some of Oscar's Cafe's patrons have been coming in for breakfast every day since the doors first opened, and first-time visitors can never go wrong with the long list of Oscar's favorites. However, the restaurant is only open until 2 p.m. each day, and seats fill up fast. Be sure to arrive early to enjoy a delicious meal.
Oscar's Cafe Additional Information
Ken and Sue's
Popular Dishes at Ken and Sue's
Smoked Salmon Flatbread
Grilled Mahi-Mahi
Pistachio Nut Crusted Grouper
Grilled Pork Medallions
Grilled Filet Mignon
Molten Chocolate Cake
Ken and Sue's offers wonderful food at affordable prices. The founders, Ken and Sue, have recently planned their retirement after 22 years of dedication to the community. However, this American bistro's diverse dishes and premium cocktails are still just as good as ever.
This bistro is perfect for anyone looking to celebrate or spend an intimate evening out. Between the dim lights and the candles, the ambiance is perfect for a date night. However, there's no reason not to go to Ken and Sue's if any visitor is ready to bite into perfectly prepared meat, seafood, and Asian-inspired dishes.
Ken and Sue's Additional Information
Hours: Tues–Thurs 5–9 p.m., Fri–Sat 4–9 p.m., Closed Sun–Mon
Fired Up Pizzeria
Popular Dishes at Fired Up Pizzeria
Roasted Stuffed Mushrooms
Salmon Goat Cheese Artisan Sandwich
Margherita Pizza
Great Greek Pizza
Roasted Garlic Sausage Pesto Pizza
Bacon Green Chile Pizza
Fired Up Pizzeria is slinging up authentic Neapolitan pizza. The 100% authentic wood fire oven perfectly cooks every pizza, every time at 900 degrees. Only the highest-quality imported and local ingredients create appetizers, sandwiches, and desserts. Specialty cocktails are offered alongside beers and wines to pair with the pizzeria's offerings.
The family-run business is dedicated to making every individual's visit memorable. From the moment a party is seated, friendly faces and a cocktail list greet them. Guests can choose from perfectly paired pizza options or build their own. While the pizza is the main reason to visit, the appetizers and handhelds are just as appetizing. Whatever dish or pizza one chooses at Fired Up Pizzeria, they will not be disappointed.
Fired Up Pizzeria Additional Information
El Moro Tavern
Popular Dishes at El Moro Tavern
Scotch Egg
Smoked Tomato Chicken Sandwich
Dry Aged Pork Chop
Caribbean Jerk Lamb Shank
Pasta & Prawns
Seared Scallops
El Moro Tavern is home to the site of "Durango's Strangest Shootout" from 1906. The restaurant has created an entire film on the incident, which can be watched for free on their website. This former saloon has been renovated with a Victorian steampunk aesthetic and features an extensive menu. In-house mixologists craft tantalizing cocktails that are just enjoyable to watch being made as they are to drink.
Every dish that comes from the kitchen looks almost too good to eat—the keyword being "almost." Meat dishes are cooked to perfection and practically melt once they hit the taste buds. Every dish is perfectly balanced to create a mini symphony in each bite. Despite once being a saloon, the dishes and ambiance whisk patrons off to another world.
El Moro Tavern Additional Information
Hours: Mon–Fri 11 a.m.–10 p.m., Sat–Sun 9 a.m.–10 p.m.
Carver Brewing Company
Popular Dishes at Carver Brewing Company
Bavarian Pretzel
Rodeo Burger
Four Corners Steak
Vegetarian Meatloaf
Chile Chicken Verde
Warm Skillet Cookie
Carver Brewing Co was established in 1986, making it the first brewery established in the four corners region after Prohibition ended. Beer and fresh bread are made on-site to ensure patrons have the freshest bites and even better beers. In 2007, Carver Brewing Co became the first 100% wind-powered brewery and restaurant in Durango. Since then, the brewery also now runs on solar electric energy.
Guests will love the vast array of dishes available while they enjoy their beers. The brewmasters are always available to make recommendations about what dishes pair best with each beer type. Some of the beers are always on the menu, while others are rotating brews, which never seem to last long enough!
Carver Brewing Company Additional Information
Hours: Mon, Thurs, & Sun 11 a.m.–9 p.m.; Fri–Sat 11 a.m.–10 p.m.; Closed Tues–Wed
Derailed Pour House
Popular Dishes at Derailed Pour House
Pour House Poppers
Derailed Tacos (Pork, Chicken, Vegetarian)
DPH Smoked Pulled Pork Sandwich
The DPH Cuban Sandwich
Jalapeño Popper Burger
Cheddar Bacon Burger
One step inside Derailed Pour House, and anyone can see the love and passion that goes into the drinks and food. All juices are squeezed fresh, ice is hand-carved, and all syrups are made in-house every day. Yes, the staff truly does hand carve the ice because they believe it makes every drink taste better.
In its 11 years, the pour house has focused on keeping prices as affordable as possible. The highest-quality ingredients are used in every dish, and vegetarian and gluten-free options are available. Combined with a daily happy hour that includes specials on drinks and happy-hour-only appetizers, it's easy to see why many locals love this pour house.
Derailed Pour House Additional Information
Hours: Tues–Fri 4–10 p.m., Sat–Sun 3–10 p.m., Closed Mon
Rice Monkeys
Popular Dishes at Rice Monkeys
Basic Rolls (ex. California and Veggie)
Specialty Rolls (ex. Crunchy Mango and Flaming Dragon)
Vermicelli Bowls
Rice Bowls
Rice Noodle Bowls
Sashimi Plate
Rice Monkeys is a casual Asian bistro that offers dine-in and take-out. Classic dishes are given a fresh approach to create healthy and creative food. The team is proud of its ability to provide friendly service in a fast, efficient environment. The chefs have worked at top-rated kitchens across the country and brought their attention to detail to Durango.
The quality of the sashimi and perfectly rolled sushi is what keeps locals coming back for more. House-made broths for the rice noodle bowls separate Rice Monkeys from many other Asian bistros in the state. The restaurant makes sure every single ingredient is at peak freshness daily.
Rice Monkeys Additional Information
Hours: 11 a.m.–3 p.m., 5–8:30 p.m.
Zia Taqueria
Popular Dishes at Zia Taqueria
Chicken Enchiladas
Chile Rellenos
Ceviche Tostada
Carnitas
Shrimp Al Albanil
Home-Made Tamales
Zia Taqueria perfectly blends traditional Mexican recipes with the American palate. Each dish can be completely customized to meet an individual's desired level of spiciness. Salsa is made from scratch each day to pair with house-made chips. Each day features a new special, which keeps locals coming back for more.
Aside from the delicious food, the service is what sets Zia Taqueria apart from other restaurants in the area. Those who aren't sure what certain dishes are never have to worry about asking; staff members are more than happy to explain what items are and help guests customize their meals. Additionally, the restaurant is partly solar-powered and allows guests to track real-time solar output during their meals.
Zia Taqueria Additional Information
Get a Taste of Durango
Each iconic restaurant in Durango truly has something to offer that separates it from the others. To say one of these restaurants is better than the other is nearly impossible. The quality of service and dedication to creating the best dishes possible is at the core of every restaurant on this list. Whether one is looking for a brewery, international cuisine, or a show while waiting for their drink, they will find it right in Durango. The community drives the passion for these restaurants and their staff, which has quite a bit to say about living in the area itself.
If Durango sounds like the perfect place for you, contact Colorado Property Group of RE/MAX with Durango Homes for Sale at (970) 946-0601 to get in touch with a Durango real estate agent and get ready to call this beautiful mountain town home.