Best Shopping in Durango: Durango, CO Shopping Guide
Posted by Ryan Poppe on Tuesday, June 8, 2021 at 10:30 AM
By Ryan Poppe / June 8, 2021
Comment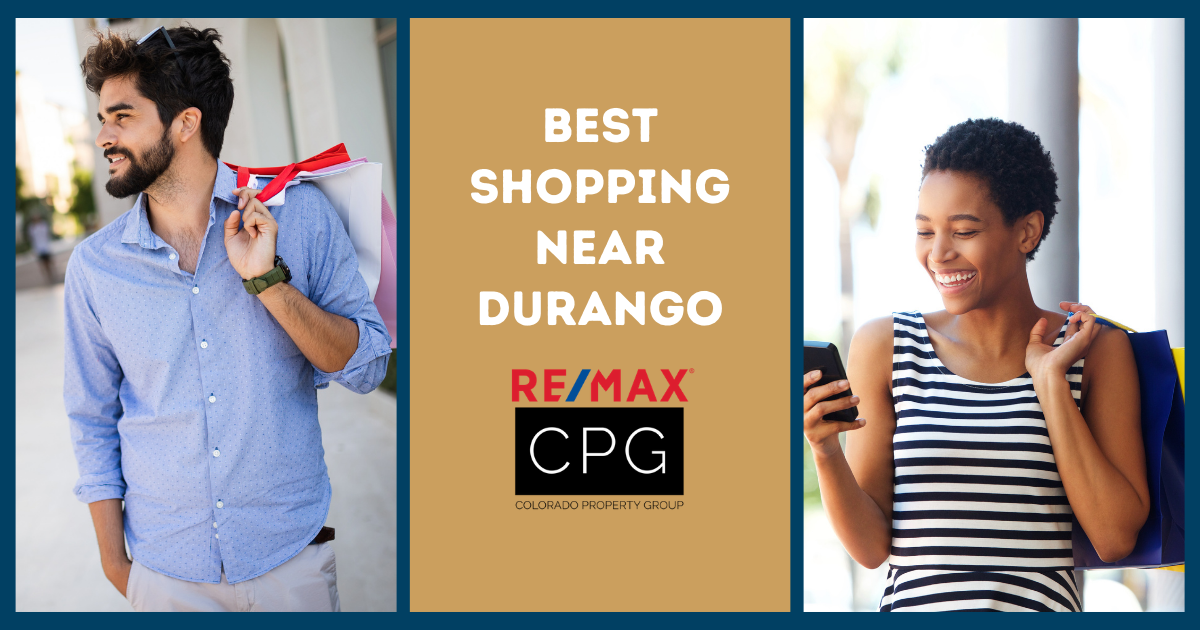 Whether one is visiting the Durango community for the first time or has lived in the area their whole life, there is always a shopping option available. Currently, over 500 stores exist in the Durango area. More open each year, allowing everyone to keep shopping until they drop and find new goods. It's easy to decorate one's Durango townhome with the products from local Durango shops! For those who aren't quite sure where to start, check out the best shopping areas in Durango outlined below.
Durango Mall
Durango Mall Shops
JC Penney
Pier 1 Imports
Bed Bath & Beyond
Zumiez
Sears
Boot Barn
Hours: Mon–Fri 10 a.m.–8 p.m., Sat 10 a.m.–7 p.m., Sun 11 a.m.–6 p.m.
The Durango Mall has over 20 stores for visitors to enjoy all year long. The small and intimate space is great for slowly strolling with friends and family or having a small date night. Over 1,100 parking spots are available for visitors to use free of charge.
Located in the same complex is Durango Stadium 9, an Allen Theatre always showing Hollywood's latest releases. In addition to stores and a movie theater, visitors can enjoy a small food court. Free samples are often available.
The Durango Mall is located conveniently at the 550/160 corridor. It's only one mile south of downtown Durango, making it easy to include on any visit to downtown. Because the mall is so conveniently located, both residents and tourists can easily find the building.
The mall is enclosed and features a range of international brands, national stores, and local boutiques. Visitors are sure to find exactly what they're looking for when gift shopping or everyday browsing right at Durango Mall.
Main Mall
Main Mall Shops
Dolce Women's Clothing
Pine Needle Mountaineering
Durango Furniture and Mattress
Guild House Games
Hours: Mon–Fri 9 a.m.–10 p.m., Sat 8 a.m.–10 p.m., Sun 8 a.m.–3 p.m.
Main Mall is based in a historic building in the heart of downtown Durango. Visitors can appreciate the architecture of the building while visiting a few local boutiques and restaurants. Because the mall has multiple levels, guests can truly take in the architecture from numerous heights and see details that aren't visible from the ground floor. There are even a few offices headquartered in the space.
The owners of Main Mall typically participate in whatever events are occurring in downtown Durango. Holidays and other special events allow the mall to light up with even more personality than it has on its own. When the mall is filled with lights and flowers, it's a sight that shouldn't be missed.
After a trip to Main Mall, visitors can easily step outside and appreciate all downtown has to offer. The Toh-Atin, Sorrel Sky, and Azul art galleries can be visited just by walking a perimeter around the block, and the Durango Welcome Center is right across the street.
Durango Town Plaza
Durango Town Plaza Shops
Oscar's Café
Mail Room & Copy Center
City Market
Papa Murphy's Pizza
Art Supply House & Custom Framing
Open Shutter Gallery
Hours: Mon–Sat 9 a.m.–8 p.m., Sun Noon–5 p.m.
Durango Town Plaza is the area's one-stop shop for any errand one needs to complete. The open-air shopping plaza has numerous free parking spots that can easily be accessed from any store. Tasty dining, everyday shopping, party supplies, coffee, antiques, handmade gifts, and more are all available for visitors and residents to access, either in the plaza itself or on Main Avenue, a street or two over, where a wide variety of niche stores and specialty boutiques thrive.
The Durango Town Plaza is a local hot spot, and one might be hard-pressed to find someone they don't know while shopping. Neighbors, coworkers, and friends are bound to run into one another at some point in time when they visit Durango Town Plaza.
The plaza has some stores that are open seven days a week. However, each business is permitted to have its own operating hours.
Find Everything Durango Has to Offer
When it comes to shopping destinations, it may be true that Durango isn't the Twin Cities or New York. However, Durango has what some other large cities and shopping-bucket-list areas don't have: history and character. The Native American culture throughout the city is grand and beautifully displayed. The number of boutiques far outnumber the same international and national brands one can shop at online.
When one shops in Durango, they gain access to products and artwork that cannot be bought elsewhere. Those who love the unique and extraordinary and are searching for items worthy of the most luxurious homes in Durango will find them all right here. With Durango's many other appealing qualities, there is no other area like this small mountain city in Colorado. It comes as no surprise that many who visit for the weekend soon turn into new residents in the community.
If Durango sounds like the perfect place for you, contact Colorado Property Group of RE/MAX with Durango Homes for Sale at (970) 946-0601 to get in touch with a Durango real estate agent and get ready to call this beautiful mountain town home.