Best Ski Resorts Near Durango: Southern Colorado Ski Resorts
Posted by Ryan Poppe on Thursday, May 18, 2023 at 9:25 AM
By Ryan Poppe / May 18, 2023
Comment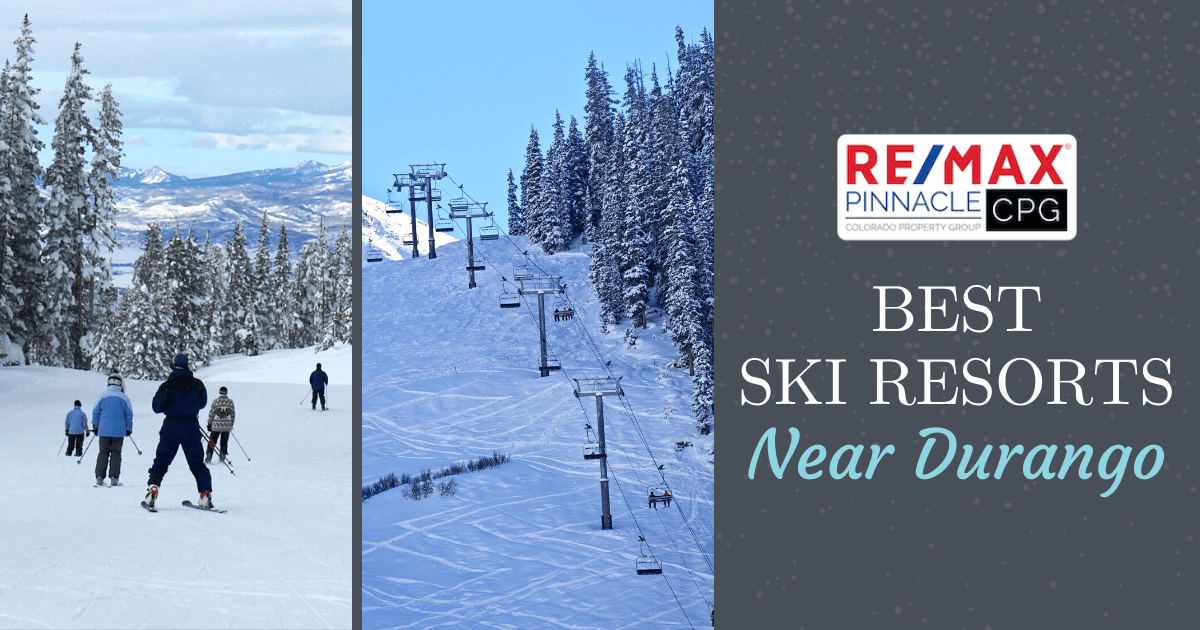 Nestled in the heart of the magnificent San Juan Mountains, Durango is a paradise for outdoor enthusiasts and adventure seekers. The Durango area has no shortage of ski resorts, where thrilling runs, pristine snow, and a warm, welcoming atmosphere combine to create unforgettable memories. From family-friendly resorts with gentle slopes to challenging terrain parks for advanced riders, there are ski-in / ski-out homes for everyone looking to call southern Colorado home.
Hesperus Ski Area (Hesperus, CO)
Address: 9848 Highway 160, Hesperus, CO 81326
Dates open: January through March
Other offerings and additional services: Equipment rentals, ski, and snowboard lessons, SnoKatz Kids Lesson Program
Located just a short drive from the city of Durango, Hesperus Ski Area offers visitors a memorable time on the slopes with its 26 trails just waiting to be challenged. Along with heading down snow-covered trails for regular skiing, visitors can enjoy the fun and excitement of snow tubing in one of the multiple lanes on Marmot Hill.
Hesperus Ski Area resides on 160 acres with a summit elevation of 8,888 feet and experiences an annual snowfall of 150 inches. The terrain types include powder, moguls, and groomers. Along with skiing and tubing, Hesperus offers the largest operation for night skiing. Before heading to the slopes or after a run down the mountain, visitors can also refuel their energy at the snack bar.
Purgatory Ski Resort (Durango, CO)
Address: 1 Skier Pl, Durango, CO 81301
Dates open: Resort is open year-round; winter skiing dates vary due to snowfall (generally, the ski season runs from mid-November through April 30)
Other offerings and additional services: group and private lessons, Power Kids program, Purgatory Snowcat Adventures, Adaptive Sports Program
Located 30 miles from downtown Durango, the area of Purgatory Ski Resort offers plenty of action on the slopes. Visitors have their pick of more than 100 ski and snowboard trails and 12 chairlifts to get them to the San Juan Mountains for a bout on the snow.
Purgatory Resort boasts seven amazing terrain parks, snowcat skiing and over 1,600 acres of skiable terrain that whizzes one through unmatched scenery. Equipment and gear rentals are available in Purgatory Lodge, as well as restaurants, shops, lap pools, a private lounge, game room and the relaxing Woodhouse Day Spa.
Enjoy the panoramic views and scenery while riding on the lift, then choose your activity for the day. At Purgatory, there's a lot to choose from, including snowmobiling, alpenglow snowshoeing, Nordic skiing, ice climbing, tubing, horse-drawn sleigh rides, and more.
During the summer, Purgatory has action-driven activities for all ages. Just a few of the fun-filled, exciting options include a leisurely and breezy ride on the Alpine Slide, a trek on a mountain bike, experiencing breathtaking twists and turns on the Inferno Mountain Coaster, where you control the speed, or canoeing or kayaking on Twilight Lake. The resort also offers plenty of comfort and convenience with an indoor pool, outdoor pool, exercise facility, shuttle service, dining, and more.
Telluride Ski Resort (Mountain Village, CO)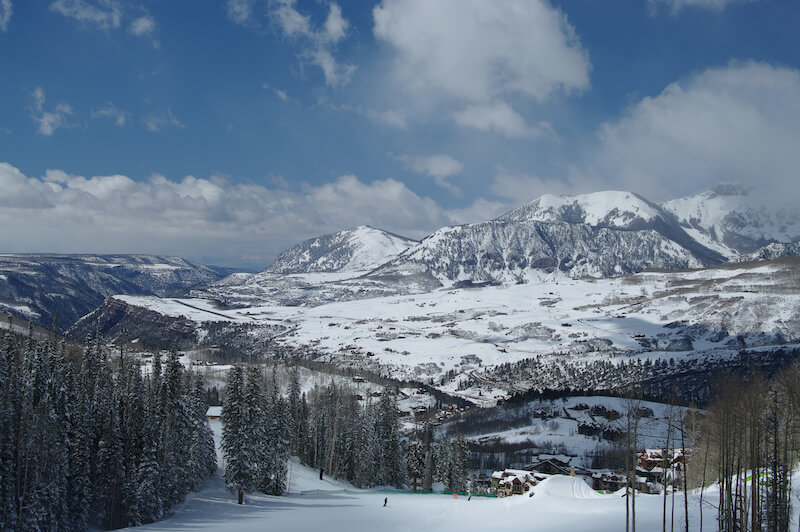 Address: 565 Mountain Village Blvd, Telluride, CO 81435
Dates open: The resort is open year-round. The winter skiing season generally runs from November 26 through April 2.
Other offerings and additional services: guided activities; ski buddy services; adaptive equipment rentals; Nordic skis, ice skates, snowshoes, and sled rentals; lockers; ski valet; Telluride Adaptive Sports Program; Telluride Ski and Snowboard School; private, adult, and children's group lessons; Cubs Camp Nursery
The Telluride Ski Resort is touted as one of the most picturesque destinations where views of the San Juan Mountains are in every direction. The area is known for having ample snow and an excellent lift system to accommodate skiing, snowshoeing, and snowboarding enthusiasts. Along with spectacular views, the terrain at Telluride provides even more opportunities to explore the many trails and options for all levels and abilities.
Telluride has 125 trails—the longest run being 4.6 miles—2000 skiable acres for beginners, intermediate, and experts, and 18 lifts for fast and efficient transport. Those who want to add a little adventure and exploration to the day can take advantage of the hike-to-terrain experience using a combination of the lift plus hiking from 5 to 30 minutes.
During the off-season, after clean-up and summer preparation of the resort, the mountain reopens for public use at your own risk, as no resort services or Ski Patrol personnel will be on site until the winter skiing season for the resort officially begins again.
Wolf Creek Ski Area (Pagosa Springs, CO)
Address: city of Pagosa Springs, CO 81147
Dates open: Beginning of November through the beginning of April
Other offerings and additional services: group and private lessons, ski and snowboard rentals, children's programs, special clinics and programs, ski school, and scheduled events
Wolf Creek Ski Area has been serving the needs of snow enthusiasts since 1939. The ski area is located in the San Juan/Rio Grande National Forest and is a goldmine of snow and a lot of powder for skiers. When taking on the mountain trails, the terrain is friendly to everyone, with gently sloping and expansive green runs allowing plenty of room for beginners. Advanced skiers and snowboarders have challenging terrain to test their skills, from chutes and bowls to glades and ridges.
Family-owned and operated, Wolf Creek Ski Area is known as a destination that makes each ski day memorable with its abundance of snow, diverse terrain, and its high-speed and rolling conveyor lift systems.
Kendall Mountain Recreation Area
Address: 1 Kendall Pl, Silverton, CO 81433
Dates open: Generally December through early April.
Other offerings and additional services: Ice rink, community center, Nordic trails
Kendall Mountain Recreation Area is a small ski resort offering quaint charm and great slopes at an affordable price. Located in Silverton, Colorado, Kendall Mountain features an ice skating rink, a terrain park, a pocket ski zone, groomed trails, and multiple tree runs with up to 240 feet of vertical down slopes. Sledding and snowshoeing are also popular here, and equipment rentals are available at the base of the mountain.
Other popular events throughout the season include the Kendall Mountain Community Ski Race Series, where adventurers of all ages are invited to participate for trophies and prizes. The holidays bring about skiing with Santa, and there are two-night skiing events scheduled, one of which occurs during the Snowscape Winter Carnival.
Silverton Mountain Ski Area
Address: 6226 State Hwy 110, Silverton, CO 81433
Dates open: Late November through early April
Other offerings and additional services: Guided skiing, heli-skiing, mountain rental, trails
More than 400 inches of annual snowfall, Silverton Mountain Ski Area is designed only for advanced and expert riders. Challenging and somewhat intimidating even for experienced slopers, there are no groomed trails or defined runs, which is why many guests here opt for a guided skiing experience—especially the first few visits—at Silverton Mountain. There is only one chairlift, which gives easy access to the trailheads.
Speaking of easy trail access, Silverton Mountain has an impressive heli-ski program with both single and package drops, allowing skiers to explore 22,000 acres of typically off-limits terrain. Due to the mountain's risks, skiers must have shovels, probes and an avalanche beacon before embarking, and rentals are available. Liability releases are also required. Those hosting private events can privately rent the entire mountain out.
Skiers Can't Go Wrong in Southern Colorado
The ski resorts near Durango offer an unparalleled winter experience that combines thrilling slopes, breathtaking scenery, and a warm mountain-town atmosphere. Whether you're a seasoned skier or a beginner eager to learn, these resorts cater to all skill levels, ensuring that everyone can enjoy the snowy wonders of the San Juan Mountains. So, pack your gear, embrace the adventure, and head to Durango, where exhilaration and natural beauty await at every snowy peak.