5 Best Southwestern Colorado Ski Towns: Where to Invest in a Ski Resort Home
Posted by Ryan Poppe on Thursday, April 6, 2023 at 2:05:45 PM
By Ryan Poppe / April 6, 2023
Comment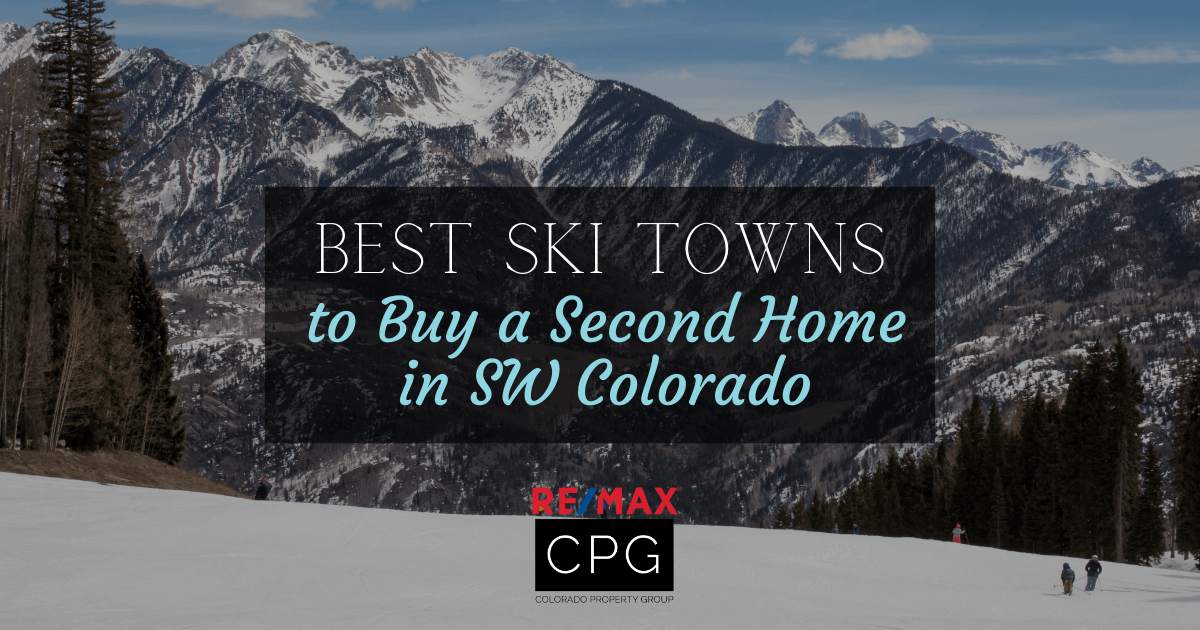 Colorado is home to dozens of ski resorts, making it an ideal place to live for avid skiers. Ski-in / ski-out real estate in Colorado's southwestern corner offers access to several resorts that are among the best skiing locations in the state. Ski homes in these areas can provide a more secluded and overall quieter place to live that offers convenient access to local ski resorts as well as year-round activities and amenities.
Durango Ski Area: Purgatory Resort
Purgatory Resort in the San Juan Mountains offers a great mix of steep slopes and more open terrain with stunning mountain views. The resort features five terrain parks, 92 trails, 11 ski lifts, and a skiable area of 1,525 acres. Purgatory Resort homes get more than 21 inches of snow per year, providing plenty of opportunities to hit the slopes.
The pristine powder available throughout the season is one of the best reasons to buy a ski-in / ski-home in Purgatory, but it is by no means the only one. This small mountain community also has a few local amenities for year-round residents to enjoy, including rides on the Cascade Canyon Express, hiking on Elbert Creek Trailhead, and dining at Olde Schoolhouse Cafe. Other outdoor activities are available in Purgatory, including horse-drawn sleigh rides and ice climbing.
What kinds of homes are located near Purgatory Resort? Ski-in/ski-out homes in the area are mainly condos and townhomes. These range from studios with 350 square feet of space to luxury penthouse condos with four bedrooms and over 2,500 square feet of space. Prices for homes near Purgatory Resort range from around $210,000 to upwards of $1,600,000. A few single-family houses are also located just a few minutes down Highway 550. These spacious homes tend to have over 4,000 square feet of space and cost over $2,000,000.
Other Amenities
The Nugget Mountain Bar
Needles Country Store
Cliffside Ski and Sport
Durango Nordic Center
The Lift at Cascade
Buck's Livery-Bear's Ranch
Marathon Gas Station
Pagosa Springs: Wolf Creek Resort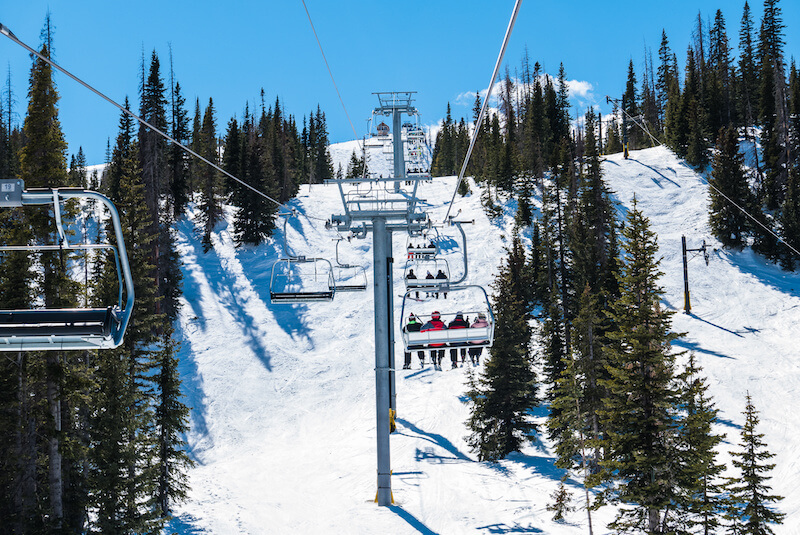 Wolf Creek Resort in Pagosa Springs, located in the San Juan Mountains, offers tons of snow with an average of 465 inches per year. The resort includes 77 trails covering 1,600 acres through the mountains. From gentle slopes for beginners to steep chutes through the trees for experts, Wolf Creek Resort has trails for all ski levels. The resort features many amenities for skiers. Other local amenities that can be enjoyed by those who have homes in Pagosa Springs include Meander Riverside Eatery, River Center Park, and Mountain Pizza and Taproom.
The immediate area surrounding Wolf Creek Resort is mainly wilderness and campgrounds. Homes can be found about 25 miles away along winding U.S. Route 160 in the heart of Pagosa Springs. The town has a few condo and townhome communities. Single-family houses with beautiful mountain views are also scattered throughout this part of town. These include existing homes and new construction homes.
Single-family houses in Pagosa Springs have an average of three bedrooms. Houses range from around 1,200 square feet to over 2,500 square feet. Condos and townhomes have an average of two bedrooms and around 1,000 square feet of space. Prices range from around $260,000 for condos and townhomes to $1,450,000 and up for new construction houses.
Other Amenities
Island Breeze
Junction
Mary Fisher Park
Pagosa Springs Town Park
Alley House Grille
The Rose
Root House Coffee and Shop
San Juan Historical Museum
Downtown Durango: Chapman Hill
Chapman Hill offers a great place to ski while being close to dining, shopping, and many other amenities in the downtown area. This municipal ski area provides a small terrain park for skiing each winter. Chapman Hill also offers a ton of convenience for residents living in homes in Durango who can hit the slopes without having to wait in long lines. The park also offers snowboarding and ice skating in winter and roller skating in summer. The downtown area has several amenities to enjoy, including PRIMI Pasta and Wine Bar, Riverfront Park, and the Durango Arts Center. Hillcrest Golf Club is also located nearby.
Homes in downtown Durango include condos and townhomes. These have an average of two bedrooms and roughly 1,000 square feet of living space. Condo and townhome prices range from around $340,000 to $430,000. Single-family houses can be found right outside the heart of downtown, mainly along Florida Road. These houses have an average of three bedrooms and over 2,500 square feet of living space. Prices for single-family houses range from just under $1,000,000 to around $3,000,000.
Other Amenities
Mesa Island Park
Carver Brewing Co.
Oscar's Cafe
Laura's Artisan
Schneider Park
The Powerhouse Science Center
Balcony Bar and Grill
Ore House
Hesperus: Hesperus Ski Area
Hesperus Ski Area offers a charming place to hit the slopes, especially for nighttime skiing. Located roughly 11 miles west of Durango, Hesperus has a summit of 8,880 feet and features 26 runs for all skill levels. Most of the skiable area is lit up for a thrilling nighttime skiing experience. Skiers ride a wooden double chairlift to the top of the hill. Hesperus Ski Area also has snow tubing available. The Town of Hesperus is geographically smaller than Durango but has a lot to offer. Outdoor activities and amenities include Durango Adventures and Zipline Tours and Overend Mountain Park Trailhead. The main part of town offers shopping and dining amenities, including Kennebec Cafe and City Market.
Hesperus has single-family houses ranging from cozy cabins to sprawling estates. Most are located along State Highway 140, which runs through the center of town. Some single-family houses in Hesperus have three to four bedrooms and around 2,000 square feet of space. Other houses have four or more bedrooms and up to 12,000 square feet of space on 175 acres of land. Home prices in Hesperus range from around $380,000 for smaller homes to around $30,000,000 for luxury estates.
Other Amenities
Perins Peak State Wildlife Area
HTR Durango Campground
Zia Taqueria
Durango Joe's
Durango Doughworks
La Plata County Fairgrounds
Silverton: Kendall Mountain and Silverton Mountain
Silverton Mountain provides an exciting place to ski from great heights, while Kendall Mountain offers skiing in the historic mining town of Silverton. Silverton Mountain has the distinction of being North America's highest and steepest ski area, with a peak of 13,487 feet. It has 26,819 skiable acres, with all trails designed for advanced and expert skiers. Kendall Mountain offers skiing for beginner and intermediate skill levels. It's a much smaller ski area than Silverton Mountain, with just four trails and a few tree runs. Local amenities available to those with homes in Silverton include Silverton City Park, Durango Silverton Railroad, and Golden Block Brewery.
Silverton offers easy access to both ski areas. Kendall Mountain is located right near the downtown area. Silverton Mountain is just a few miles away on State Highway 110. Silverton is filled with single-family houses, most of which are found in the main part of town. Houses range from those with two bedrooms and just over 1,000 square feet of space to those with four bedrooms and 10,500 square feet of space. Home prices in Silverton range from around $375,000 for some homes to just under $2,000,000 for luxury options.
Other Amenities
Kendall Mountain Cafe
Avalanche Brewing Company
High Noon Hamburgers
Old Town Square
Silverton Train Store
Coffee Bear
Ski Homes Galore in Southwestern Colorado
From condos with convenient ski access to sprawling estates near ski resorts, Southwestern Colorado offers diverse ski homes. Whether homebuyers are looking for a penthouse with stunning mountain views or an equestrian estate to call their own, this area of the state is filled with options. Homebuyers can hit the slopes in these less crowded ski areas anytime during ski season, while warmer weather offers plenty of chances to explore the mountains on foot and enjoy other outdoor activities and local amenities.