Durango, CO Walking & Hiking Trails
Posted by Ryan Poppe on Thursday, July 15, 2021 at 8:19 AM
By Ryan Poppe / July 15, 2021
Comment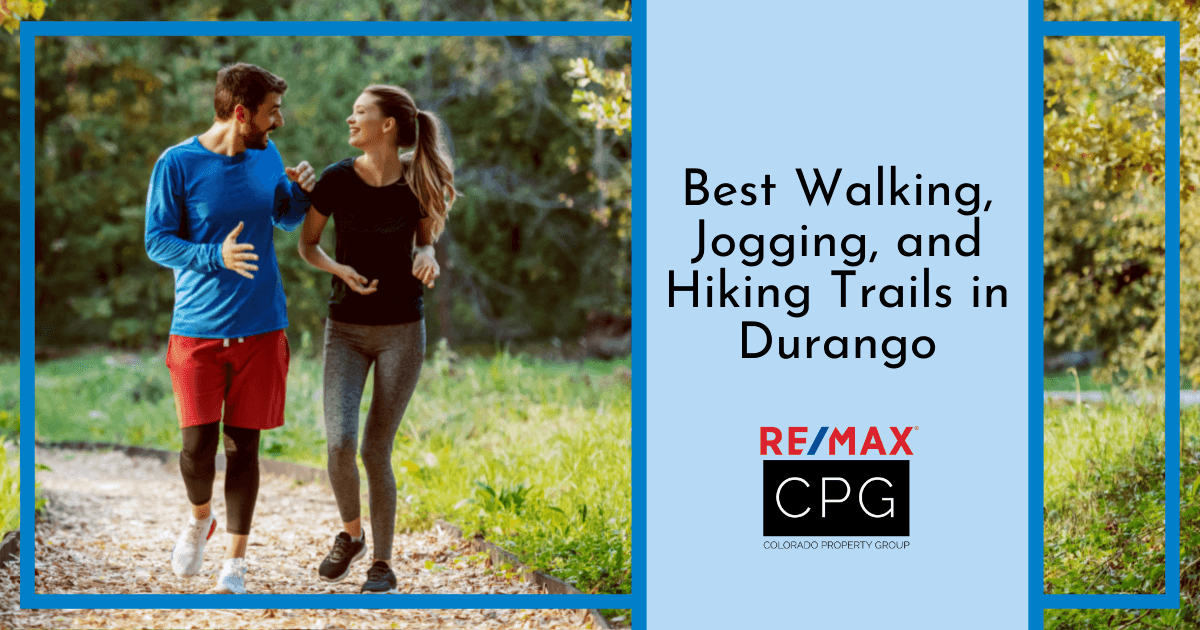 Known for being a desirable mountain community, almost all of the homes in Durango are havens for outdoor recreation. Those who enjoy jogging, walking, and hiking along established trails will not have to trek far to find a path suitable for their needs. From easy hikes to steep inclines to mountain summits, there are trails that everyone can enjoy in this beloved ski town. Read on to learn about the exciting jogging, hiking, and biking trails around Durango, Colorado.
Colorado Trail at Junction Creek
Just five miles outside of the Historic Downtown neighborhood, runners and hikers can hit the head of the Colorado Trail at Junction Creek. As part of the Lower Colorado Trail System, the experience ranges from moderate to fairly difficult, depending on the season. In all, there are just over 4 miles of accessible trails that intertwine and loop in several areas to allow for both short and long outings.
This is by far one of the top trails in the region, with picturesque scenery and wildlife present throughout all seasons. In summer, there are shallow pools. Spring brings about green leaves that transition to golden hues in the fall. Of course, the winter snow makes the trail a cool spot for snowshoeing and backwoods skiing. Pets are welcome to meander the trail with their owners, but all off-leash pets must be responsive to vocal commands.
Goulding Creek Trail
Goulding Creek Trail is an out-and-back trail that's just over 6.8 miles long. While it's rated as moderate, those who hike and jog here might protest due to the challenges along the first mile and a half, which has 32 switchbacks with steep gains. However, once past the gate, the terrain balances into a lovely meadow filled with wildflowers.
Primarily used for biking, jogging, and hiking, there is an elevation gain of 2,200 feet through forests of Aspens and other native trees. Those who want a greater challenge than the initial phase can hike east at the gate to get an impressive view of Glacier. Head north from there (it's off trail) along the ridge and soak in Needles, Electra Lake, and Engineer Mountain views.
Depending on the route chosen, it could take several hours to hike Goulding Creek Trail, and starting early is recommended during warmer months. Locals recommend bringing hiking poles and extra water along with a hat to shade the eyes on the way up.
Raider Ridge Overlook Trail
Anyone who likes running and biking on trails that dole out difficulty will appreciate the single-track Raiders Ridge Overlook Trail. Those ready to put in some effort have two primary options to get to the goal of seeing spectacular views from the ridge. Many consider hiking this trail to be one of the best outdoor activities in Durango.
From the north side of the Horse Gulch Trail System, take Skyline Trail up to the Extended Ridge Trail. From the eastern portion, take Horse Gulch Roach until you reach Wilke's Way, where trekkers will face a gradual exchange to more moderate terrain. However, there are a few sandstone chunks that might pose complications for beginners.
Raider Ridge Overlook is just one segment of the Horse Gulch Trail System. The layout permits for up and down sections from one to two miles, and many cyclists and joggers opt to take the full route for a maximum challenge.
Animas Mountain Trail
To explore six miles of Durango wilderness close to the city center, put those feet in gear towards the Animas Mountain Trail. Best traversed between March and early October, this dog-friendly excursion's trailhead starts just off Main Street in Durango at 4th Avenue and 32nd Street. Centrally located Durango condos enjoy especially convenient access to this trail.
The initial stages are fairly tough, but hikers know the rewarding views of Hermosa and the Animas Valley community are well worth the effort. The trail allows pets to come along with owners. Bring plenty of water for each hiker and pet, as it can get rather hot on the open areas along the main trail.
Signage is generous throughout the trek, making it easy to navigate. It should be noted that the park is subject to protective closures for certain species during breeding seasons and migrations from December through mid-April.
8 Bells Trail
While hikers and runners take advantage of the short 8 Bells Trail, it's most popular with cyclists. The trail is just under half a mile, and the switchback provides access to the Ella Vita, Hogsback, Brown's Ridge, and other short single-tracks on Overend Mountain. Access 8 Bells from Perin's Gulch to take advantage of this exceptional training set of trails better known by locals as the Test Tracks.
Fast, fun, and flowy, this downtown spot has a bit of something for everyone, ranging from easy and short to more engaging and precarious for those on bikes or tackling the mountain during snowdrifts. Those up for the unexpected will want to take advantage of the 8 Bells Trail and all the glorious pathways accessible via the route.
Animas River Trail
Those looking for a fairly long experience along a paved surface will appreciate the Animas River Trail. It provides a solid experience for hikers and runners of all skill levels, and this rail trail is a highlight of Durango's overall trail system. In fact, the Animas River Trail is a central hub of transportation for much of the community. This area also occasionally has Durango fishing access homes for sale.
With 7 miles of pathways, the trail provides easy access to numerous other surface trails, the Durango Recreation Center, the library, several parks, and natural spaces. The true beauty of the trail for transportation is that much of the best of the community's assets are accessible without even having to cross a single trafficked street.
There are also numerous outfitters for those wanting to get on the waters for fishing or a sunset cruise on a rental boat, raft, or kayak. Perfect for avid outdoor enthusiasts and the everyday commuter, don't miss the Animas River Trail on a visit to Durango!
Craving the Great Outdoors? Fall in Love With Nature in Durango, Colorado
Between the lush scenery, impressive wildlife, and abundance of trails for hikers, bikers, joggers, and those just wanting to take their pups on a mountainside stroll, Durango has some of the best hiking, jogging, and walking trails in the city. Dreamy natural attractions await anyone who is moving to Durango, Colorado.
If Durango sounds like the perfect place for you, contact Colorado Property Group of RE/MAX with Durango Homes for Sale at (970) 946-0601 to get in touch with a Durango real estate agent and get ready to call this beautiful mountain town home.