Purgatory Resort Real Estate: Buying in Your Gateway to Mountain Magic
Posted by Ryan Poppe on Wednesday, May 24, 2023 at 2:21:23 PM
By Ryan Poppe / May 24, 2023
Comment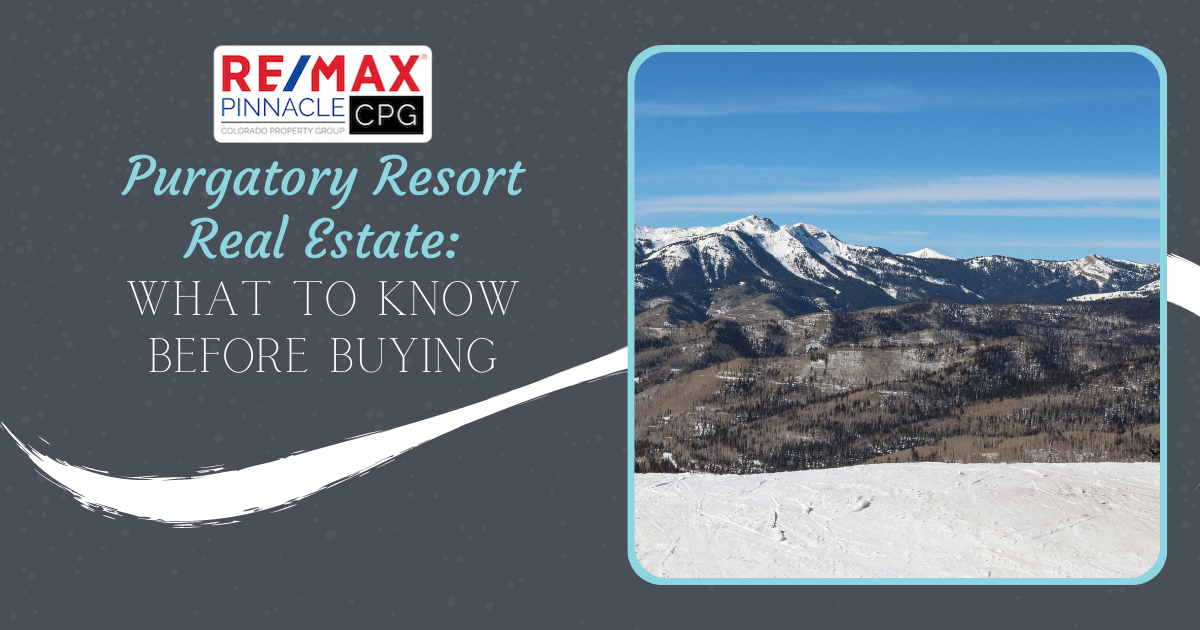 If you're considering buying real estate near Purgatory Resort, you're about to embark on an exciting journey. Nestled amidst the stunning San Juan Mountains of Colorado, Purgatory Resort offers a captivating combination of natural beauty and exhilarating outdoor activities with no shortage of perks for home seekers. If you're in the market for ski-in / ski-out real estate, there are a few reasons the Purgatory Resort area should remain at the top of your list of potential locales.
Year-Round Activities Abound
The area of Purgatory Resort is known as one of the best skiing locations in and around Durango, with activities available all throughout the year. The resort offers more than 1,500 skiable areas with 11 chairlifts, five terrain parks, and trails for all ski levels. Paradise Terrain Park's slope-style course challenges expert skiers, while Pinkerton Starter Park provides lower slopes for beginners. Pitchfork Terrain Garden and Divine Comedy have trails for intermediate and advanced skiers. The resort offers other winter activities, including snowcat dining at 9,000 feet, snowshoe tours, snowcat scenic tours, and snowmobiling.
Although Purgatory Resort is famed for its winter activities, it also offers year-round adventures. The resort has 92 trails to explore on foot in spring, summer, and fall, while enjoying picturesque mountain views. The Inferno Mountain Coaster is a thrill ride that's typically open throughout the year. Purgatory Bike Park offers more than 400 miles of dirt tracks through the San Juan Mountains for an exciting mountain biking experience. Purgatory Resort also has an alpine slide for ages three and up that's open from June through October. Other summer activities include go-kart racing and scenic chairlift rides. Those living near Purgatory Resort have a convenient way to enjoy all the outdoor activities the area has to offer in all seasons.
Proximity to Durango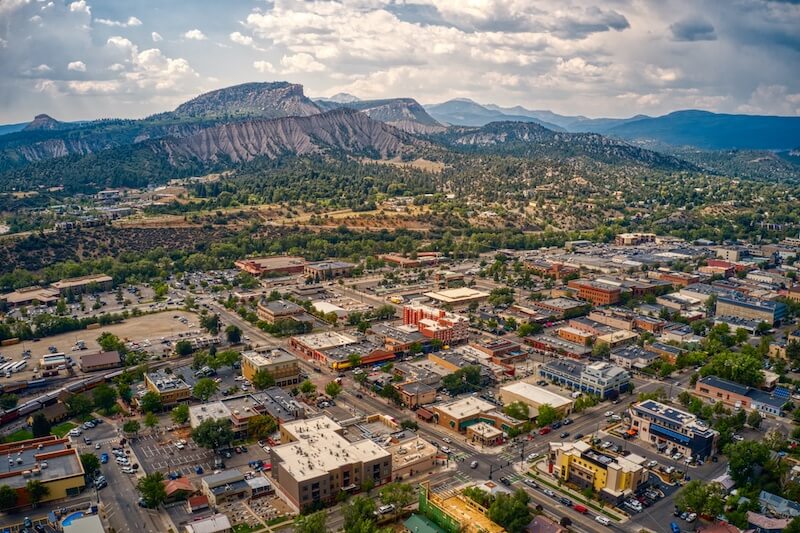 Living near Purgatory Resort gives residents the best of both worlds since they're a short drive away from the city of Durango, but their immediate surroundings have more of a rural feel. Purgatory Resort is just 25 miles north of Durango, a city filled with historic sites and tons of amenities. This proximity to downtown Durango provides easy access to shopping, dining, and several other activities. The downtown area is also a National Historic District with art galleries, antique shops, craft stores, and other shops. Those living near Purgatory Resort can also come here for groceries, pet supplies, clothing, hardware, and other household items.
Durango offers several dining options, from fine dining to coffee shops. Some restaurants have outdoor seating and pet-friendly patios, so guests can enjoy scenic views while dining. Durango's trendy North Main area also has many restaurants and nightlife spots. Residents can ride the historic Durango and Silverton Narrow Gauge Railroad for a scenic tour of the area. Durango Botanic Gardens offers a place to stroll through themed gardens filled with vibrant flowers and lush greenery, such as the Literary Garden, Gabbro Wind Garden, and Rosie the Riveter Rose Garden. Other activities and amenities in Durango include the Animas River Trail and Greenway, Durango Art Center, and one of the best parks in Durango, Oxbow Park and Preserve.
Ability to Explore the San Juan National Forest
Purchasing real estate close to Purgatory Resort means being near the scenic San Juan National Forest. The forest ranges from alpine mountains to high-desert mesas, giving visitors different terrains to explore. Back roads and trails provide areas to go hiking, take scenic drives, or go mountain biking. The Colorado Trail stretches from Durango to Denver for 88 miles, with rugged areas to navigate, while the San Juan Skyway offers 232 miles of stunning views throughout the year.
Chimney Rock National Monument provides a chance to see an ancient Pueblo community and archeological site. San Juan National Forest has many other exciting activities, including mountain climbing. Visitors can also go sport climbing in the Durango Area, ice climbing in the Pagosa Area, and alpine rock climbing in Lizard Head Peak and Wilderness.
The forest has several places to fish, including lakes, ponds, streams, and rivers. The Hermosa Wilderness area provides a remote spot for fishing, horseback riding, hiking, and other activities. Other water activities the forest offers include waterskiing, motorized boating, kayaking, and canoeing. Winter activities include snowmobiling, snowboarding, and snowshoeing. Several campgrounds and other camping sites are available for those who want to stay overnight in the forest. These include RV and designated campgrounds with amenities and dispersed camping spots for a more rugged experience.
Top Tourist Destination in Colorado
Living near Purgatory Resort puts residents in the top tourist spot in the state. In fact, Durango has been ranked Colorado's number one tourist destination. More than 500,000 visitors come here annually for skiing and other activities. The Durango area offers beautiful natural surroundings, tons of outdoor activities, and historic places to explore. It's not just the attractions and amenities that draw so many visitors to the area. Durango focuses on Responsible Tourism, which helps improve the quality of life for residents and makes the city a great place for visitors.
Practicing Responsible Tourism involves making sure visitors have positive experiences and addressing any negative effects of tourism on the area. This type of tourism also means creating and improving economic opportunities for communities, which makes Durango a better place to live. Other aspects of Responsible Tourism include finding ways to conserve the area's cultural heritage and natural surroundings, boosting social welfare, and showing respect for human rights. Durango businesses and residents work together to create an equitable and inclusive environment for locals, workers, and visitors alike. This commitment to improvement ensures that visitors have positive, memorable experiences during vacations and residents have a high-quality place to call home.
You Can't Go Wrong Near Purgatory
Whether you're seeking a mountain getaway, an investment property, or a place to call home, the opportunities near Purgatory Resort are boundless. Embrace the beauty of the San Juan Mountains and seize the chance to create unforgettable memories in this remarkable corner of Colorado. Remember to continue to research the area, assess your personal goals, and consult with a real estate professional to assist you in purchasing your dream home in southern Colorado.