Durango Driving Tips: How to Navigate the Mountains of Durango, CO
Posted by Ryan Poppe on Wednesday, April 14, 2021 at 11:50 AM
By Ryan Poppe / April 14, 2021
Comment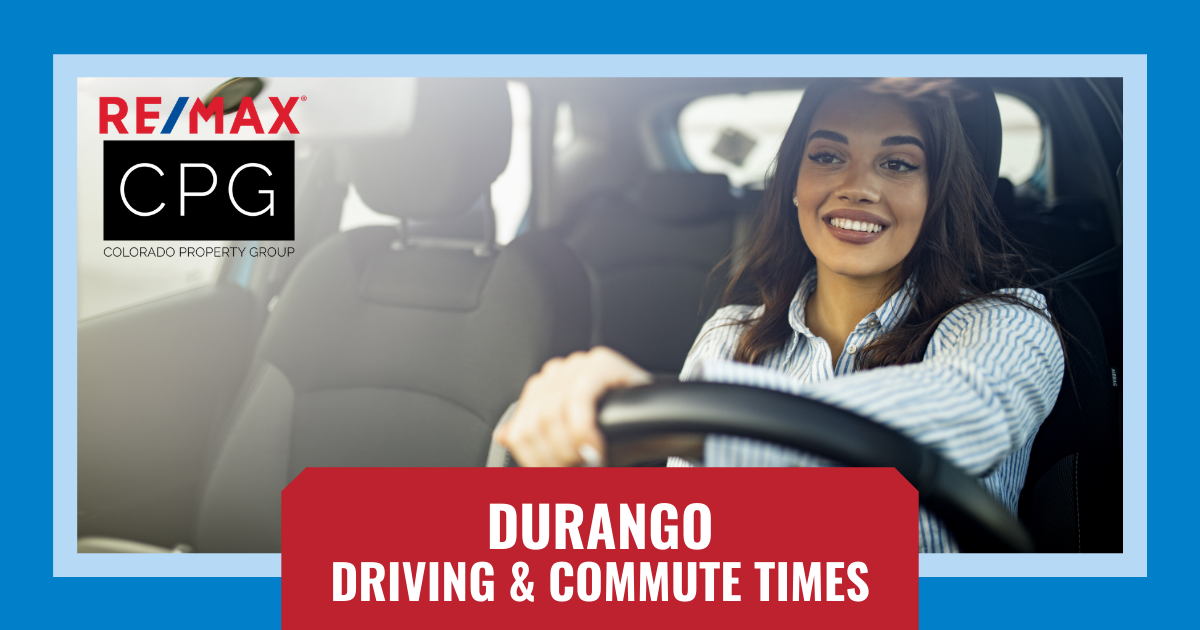 Durango is a Colorado city located in the southwest portion of the state. It is the county seat, and largest municipality, of La Plata County. With about 19,000 residents, Durango does not have heavy traffic like many larger urban areas. Still, the city has busy times that can lead to heavy congestion, particularly on Durango's south side.
Durango's Main Avenue is a National Registered Historic District running through downtown. Today, it is overflowing with shops, bistros, galleries, clubs, and other places of business, including historic hotels. As a popular destination within the city, traffic in the area can get heavy, particularly during the tourist season. When you aren't utilizing Durango transit, here's what you should know about driving and commute times in the city.
Get to Know Your Major Durango Roads
The major highways serving Durango are U.S. Highway 160 and U.S. Highway 550.
U.S. Highway 550, also referred to as the San Juan Skyway, runs primarily north-south through Durango. It is considered a spur of U.S. Highway 50 and extends from Bernalillo, New Mexico, through Durango to Montrose, Colorado. The section extending from Silverton, lying just north of Durango, to Ouray is known as the "million-dollar highway." There is conflicting local lore over whether the nickname stems from the cost to construct it or the million-dollar views that make it a popular drive for tourists.
U.S. Highway 160 runs across southern Colorado to provide transport for the heavy volume of commerce flowing through the Four Corners area, where Colorado, Utah, Arizona, and New Mexico meet. The highway intersects with U.S. Highway 550 in south Durango at the bottom of Farmington Hill. The intersection carries about 34,000 vehicles every day, including more than 1,700 freight trucks. A long-delayed $100 million highway project to revamp the intersection was given new life in 2020 and represents the largest highway project ever undertaken in the region.
Other major roadways serving Durango include the short north-south State Highway 3, which is confined almost entirely to the southern part of the city. It begins at the 160/550 intersection, then travels north along the Animas River's eastern bank for less than two miles. It meanders in and out of the city before ending at Santa Rita Drive.
A prominent surface street within Durango is Main Avenue, the historic district that offers many of downtown Durango's restaurants and retail establishments.
What to Expect When Driving in Durango
Despite its size, Durango still sees its share of traffic during morning and evening commuting hours. The summer tourism season adds to the congestion.
With all La Plata County's major roads running through Durango, growth outside of the city also impacts traffic flow. Major infrastructure planning began in the 1980s in anticipation of the impact that growth in the surrounding areas and the city itself would have on traffic.
Durango's traffic also stems from its topography, limiting the number of major roadways catering to those who wish to get from one side of the city to the other. Main Avenue is a popular surface street in Durango, which has led to multiple road projects in recent years to ease traffic, including a focus on intersections and traffic light synchronization.
Planning a route through the city that utilizes Durango's east side near Fort Lewis College is considered the best way to avoid downtown traffic congestion. In addition to projects to improve traffic flow, the city is considering increasing its bus service's frequency and geographical reach.
Parking in Durango
The City of Durango provides several options for those seeking a parking spot in its central business district. The city operates about 1,000 metered, on-street parking spaces in the area, including 30-minute, three-hour, and 10-hour meters.
Parking fees are in effect Monday through Friday from 8 a.m. until 6 p.m., excluding holidays. Meters accept coins or cards.
In addition to metered on-street parking, the business district features 350 permit parking spaces at four off-street parking lots. These lots are available from 7 a.m. to 5 p.m. and require a pre-purchased permit. Parking in these lots after 5 p.m. on weekdays, Saturdays, Sundays, and holidays are free to the public.
No on-street parking is allowed in the district between 2 a.m. and 5 a.m., including metered and non-metered spots. Violators are subject to having their vehicles towed at the owner's expense. If overnight parking is required, motorists can opt to park in any of the municipal parking areas.
Other Helpful Things to Know About Driving in Durango
While roadways around Durango reward motorists with breathtaking views, driving in Colorado is not without its challenges. Preparing for changing weather conditions and anticipating heavy traffic areas go a long way.
While tires with good tread are needed throughout most of the state, there are backcountry roads requiring a 4x4 vehicle with high clearance.
Driving at high altitudes can affect not only the driver but also the vehicle's engine, diminishing acceleration and climbing power. SUVs, crossovers, and trucks, as well as turbo-charged vehicles, do exceptionally well.
Another thing to keep in mind is that high altitudes leave both vehicles and occupants in need of additional water, so be sure to pack extra. Combined with extreme heat, high altitudes can quickly overheat an engine.
While it may be known for its open spaces and panoramic views, Colorado also sees heavy traffic during tourist season, particularly near attractions. Narrow roadways, due to terrain, can add to the congestion.
Stay alert for animals, particularly at night. Use your high beams when needed.
An emergency roadside kit is a necessity, particularly since cell phone service becomes spotty in the mountains. If traveling during the winter months, be aware of active code 15 alerts, which signal the need for extra vehicle preparation, including tire chains and traction devices.
Discover Durango
Durango may not have the large-scale traffic jams and long commutes of larger urban areas, but there are still important things to keep in mind when driving in and through the city.
Like most metro areas, the heaviest traffic occurs during morning and afternoon commute times. In particular, Durango sees heavy traffic volumes at the intersection of U.S. and state highways on the city's south end. Traffic can also be heavy at times along the city's Main Avenue through Durango's central business district. Driving in Durango and the surrounding area requires preparedness for fast-changing weather conditions, the unpredictability of wildlife crossing roadways, and higher altitudes.
If you're a visitor, just moved to Durango, or are a longtime resident, the extra caution is worth the scenery. Whether you're on the waterfront, near a hiking trail, or in a downtown Durango condo exploring things to do in the city, you can take a moment to breathe the fresh air and take it all in before you get in the car.
If Durango sounds like the perfect place for you, contact Colorado Property Group of RE/MAX with Durango Homes for Sale at (970) 946-0601 to get in touch with a Durango real estate agent and get ready to call this beautiful mountain town home.