Best Parks in Durango: Durango Parks & Recreation Guide
Posted by Ryan Poppe on Wednesday, December 14, 2022 at 10:15 AM
By Ryan Poppe / December 14, 2022
Comment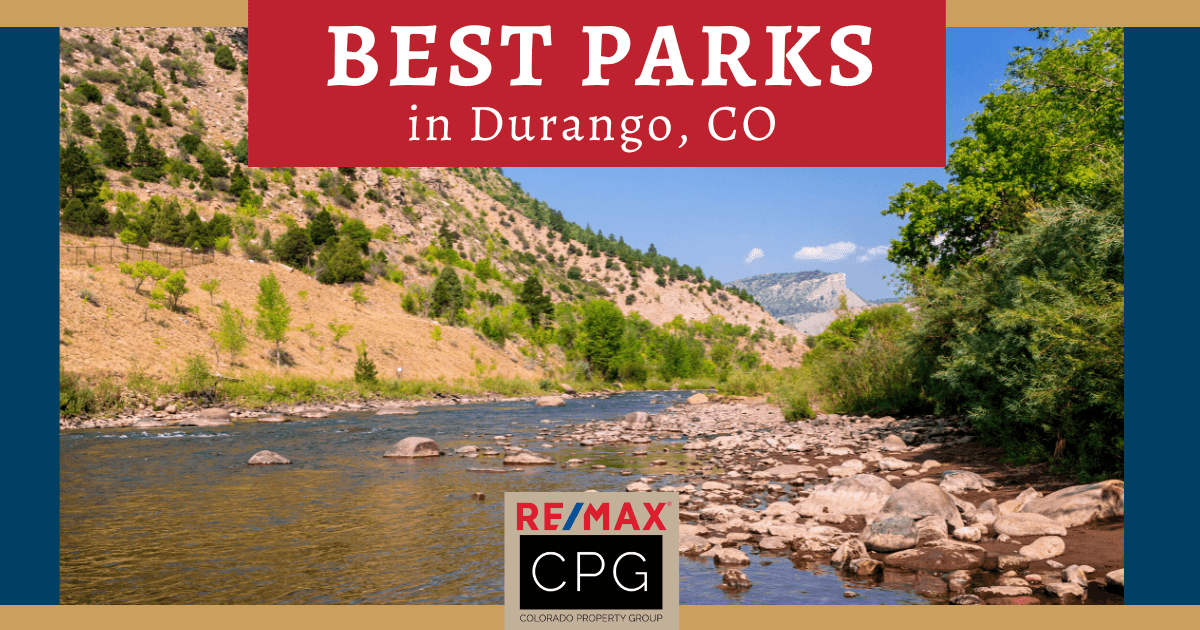 There's a reason that the city of Durango is home to countless outdoor enthusiasts. Mountains, lakes, impressive parks, and a sense of connection with nature and community draws people to this scenic town. However, Durango parks are a highlight for people with a sense of adventure, and the city has no shortage of pristine parks, trails, and natural areas. The following locations are some top-rated parks in Durango, Colorado.
Schneider Park
Schneider Park Amenities
Animas River Trail
Fishing area
Picnic area
Skate park
Address: Schneider Park, 950 Roosa Ave, Durango, CO 81301
As one of the largest recreational spots in the city, Schneider Park is a very popular destination. People spend time here as they take a break from hiking the Animas River Trail, and some use it as an access point to the trail. Located near the Animas Crossing condos, Schneider Park is a great place to enjoy picnics at sheltered tables. For those who don't live in a home with fishing access, this seven-acre park offers easy river access and shoreline fishing for those looking to reel one in.
There is a lovely grassy area for impromptu kickball or Frisbee games and a sizable playground that kids can enjoy. What truly sets Schneider Park apart from other Durango parks is the skate park on the premises. Boarders and skaters can work on their skills within the park's pools, ramps, and rails.
Durango Off-Leash Dog Park
Durango Off-Leash Dog Park Amenities
Animas River Trail
Six square miles of land
River access
Near dog-friendly hotels
Address: Durango Off-Leash Dog Park, US-160 & Hwy 550, Durango, CO 81301
The Durango Off-Leash Dog Park has a bit of everything that makes both dogs and their owners happy. Six spacious miles of open space for running and playing awaits adjacent to Smelter Mountain, just across the river from Parkside Terrace townhomes.
Pups can wander the Animas River Trail before diving into the riverside access at the park proper. Amid the off-leash zone, there are stands with bags and receptacles for disposal. There are even bathrooms for pet owners, too. Overall, visitors will likely meet some great people and super-friendly pets at the Durango Off-Leash Dog Park.
Oxbow Park & Preserve
Oxbow Park & Preserve Amenities
Natural surface trail
River access
Pedestrian and bicycle access
Address: Oxbow Park & Preserve, 500 Animas View Dr, Durango, CO 81301
Oxbow Park & Preserve is an 44-acre nature preserve north of Durango and near Elktown townhomes, with almost two miles of trails along the Animas River. Divided into two distinct areas, Oxbow has deemed 38 acres as a natural preserve that is undeveloped to remain a home for wildlife and for conservation purposes. The other six acres are dedicated to providing visitors with river access and the park's amazing facilities.
Along the riverfront, more than 85 bird species have been identified in addition to numerous mammals, including foxes and deer. Near the fishing sites, great blue herons, bald eagles, and other large birds are frequently spotted. Oxbow Preserve is the place to go for those looking for a place to embrace nature's spoils in a peaceful setting.
Whitewater Park
Whitewater Park Amenities
Animas River Trail
Fishing area
Restrooms
River access
Address: Whitewater Park, Durango, CO 81301
Those who love adventure flock to the seven-acre Whitewater Park in the midst of the Durango wilds, yet still close to the downtown area. Visitors come here to access the whitewater rapids for boating and rafting thrills, and rentals are available on site. Guests are welcome to bring their own boats, kayaks, and rafts to the site.
This Durango park also offers ample fishing spots with easy riverside sandy beaches, and there are grassy spots perfect for catching lunch, enjoying sunshine, and playing in the cooling waters. Easy access to the Animas River Trail makes it popular with hikers in the area, and residents also appreciate that there are bathrooms at this stopping point.
Animas City Park
Animas City Park Amenities
Animas River Trail
Hard surface trail
Picnic tables
Playground
Address: Animas City Park, East 32nd Street, Durango, CO 81301
While just over an acre in size, Animas City Park is beloved by residents as one of the best parks in Durango, CO. It's centrally located near Animas City, between the Animas River Trail and the river itself, so it boasts easy creekside access for those looking to enjoy the refreshing waters. The trail is hard-surfaced, making it a perfect place to meander in nature. Bikers, joggers, and rollerbladers frequently take advantage of this path.
The lovely grassy space boasts several picnic tables and a sheltered pavilion right in front of a large playground with dedicated swing sets. Tall coniferous trees offer ample shade to the lawn, making it an excellent place for visitors to spend sunny days staying cool. Those who love the great outdoors amid a serene environment praise Animas City Park as the 'go-to' place in Durango.
Hesperus Peace Park
Hesperus Peace Park Amenities
Paved trails
Green space
Sitting area
Address: Hesperus Peace Park, Durango, CO 81301
Conveniently located on the Fort Lewis College Campus near Ferringway condos, Hesperus Peace Park undoubtedly offers some of the best views of any park in the community. Concrete paths surrounded by trees, plants, and stones lead to a courtyard.
Because it is situated in such a peaceful and serene environment, Hesperus Peace Park is often the site of art demonstrations, readings, and special speaking engagements. Dedicated in 2006, this park quickly elevated into a favorite place for study, meditation, and reflection with locals and students.
Great Durango Parks and More Are Why Many People Call Here Home
The outdoor recreation in Durango is one of the most prized aspects of this mountain community. Numerous parks and recreational areas for everyone to explore are spread across the city and beyond, which is why nature lovers from across the nation embrace the Durango lifestyle. Beyond parks, great skiing, good work opportunities, and friendly people await those considering a move to Durango.
If Durango sounds like the perfect place for you, contact Colorado Property Group of RE/MAX with Durango Homes for Sale at (970) 946-0601 to get in touch with a Durango real estate agent and get ready to call this beautiful mountain town home.