Durango: Colorado's Dog-Friendliest Town
Posted by Ryan Poppe on Wednesday, May 12, 2021 at 7:50 AM
By Ryan Poppe / May 12, 2021
Comment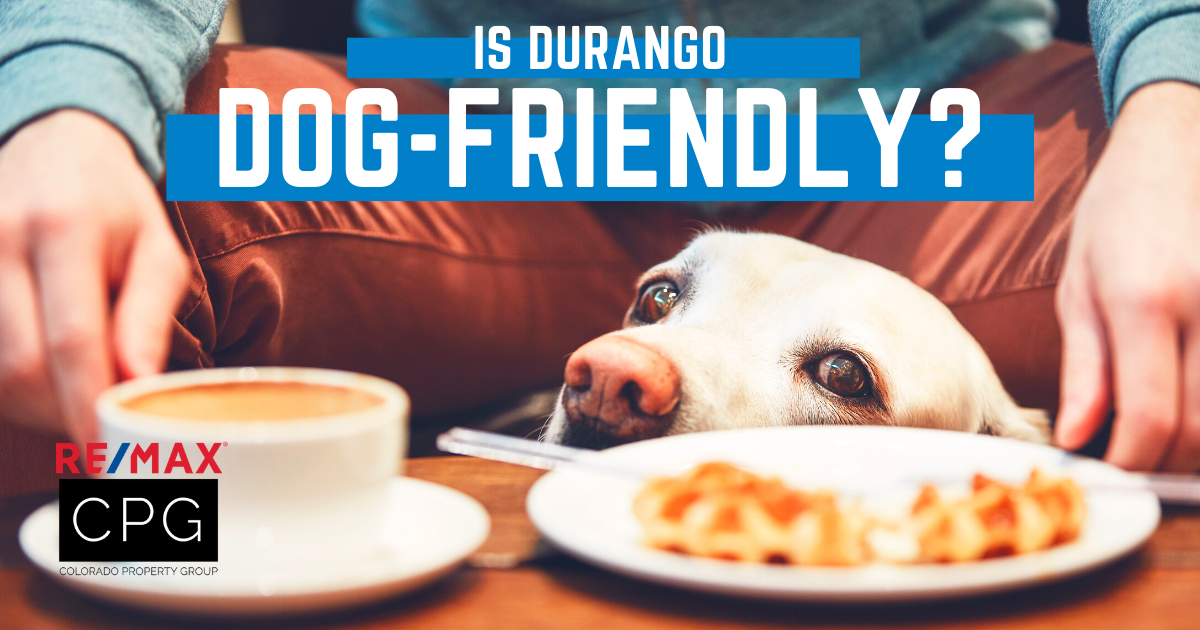 Durango, Colorado, seems to offer the ultimate in small-town, comfortable living. With only around 17,000 people, it is definitely a place to get to know your neighbors. However, the community has experienced more than 9% in population growth in the last decade, indicating a fairly inviting place to call home.
Potential residents with furry friends should know the region is known for plenty of outdoor spaces away from Durango's townhomes and new construction homes. Here are a few things you should know about dog-friendly amenities in Durango, Colorado, before coming for a visit or moving here with your dog.
Dog-Friendly Activities in Durango
Just like humans, dogs sometimes enjoy different things. However, while some dogs prefer relaxing inside, most dogs want at least some time outdoors. That is why most dog-friendly activities will involve wide open spaces and lots of new smells.
Durango offers several campgrounds and RV resorts that are pet-friendly and provide perfect locations for bonding and spending a few days in the fresh air. Pets and their owners will love visiting these grounds. The following options all mandate leashes and owners to clean up after their dogs. They also bar aggressive pets.
United Campground of Durango charges about $28 for entry plus a fee for pets. They allow big dogs and two pets per group. However, pets must remain attended to and on a leash at all times. Pets are also not allowed around public buildings or people-centered areas like pools or tent grounds.
Durango KOA offers great views of the majestic San Juan Mountains, with areas for fishing, horseback riding, and more. Plenty of pet owners love hiking the area with their dogs. While jeep tours are available, dogs must be kept on a short leash whenever not inside a vehicle.
The Durango Riverside Resort and RV Park offers several options for outdoor fun in Durango. There are areas for tents and RVs, as well as several rental cabins. Dogs are allowed on the grounds as long as they remain on a leash. The grounds also expect owners to clean up any messes.
Dog Parks & Trails in Durango
Hiking is a great way to combine fresh air, scenic views, and exercise. While pets may not enjoy the beautiful mountains in the same lush colors as humans, they get more enjoyment from the many scents closer to the ground. In fact, hiking trails can be one of the most thrilling and exciting bonding experiences for pets and owners. There several hiking trails and parks in the area that are open to four-legged travelers.
The Animas River Trail is one of the many trails across the nation created by removing railroad tracks. Take a stroll with your pooch alongside the Animas River and enjoy the calming water and nature sounds. Pets must remain on a leash, and owners must clean any messes.
Colorado Trail to Gudy's Rest is another walking path that follows a river. This is a perfect route for new dog hikers, as it's heavily trafficked and difficult to get lost. The area is well maintained, and the trail isn't too challenging or steep. However, it can be rated as a moderate trail due to its length.
Owners of dogs who love to romp and play will love the Durango Dog Park. The grounds consist of a six-square-mile area of open space near Smelter Mountain. The location is easy to reach as well, right near downtown Durango. Water-loving dogs can jump right into the Animas River and frolic until their owners are tired.
Dog-Friendly Restaurants in Durango
As befitting Durango's reputation as a community of outdoor types, it has many pet-friendly restaurants in the area. In fact, there are almost 20 locations that are happy to allow your dog to sit with you at outdoor tables. Of course, these establishments require you to keep your dog attended and on a leash. They also don't allow aggressive pets, and owners must clean any waste immediately.
A great place for best buds and suds, SKA Brewing Company has a wide selection of craft beers and national brands. Dogs are allowed in the Bier Garden and patio areas, which include tables, umbrellas, and food service. Lovers of brews of another type will enjoy Starbucks Coffee. In addition to great coffee and sandwiches, the restaurant offers the famous Puppuccino for pooches.
Another coffee café, Durango Joe's Coffee, allows pets to sit at the outdoor tables. Durango Joe's offers a unique variety of coffee flavors like white chocolate-macadamia nut latte. Speaking of cafés, Dandelion Cafe focuses on bringing farm-fresh ingredients to customers through quick meals like salads or sandwiches. The cafe also offers more sturdy eats like Alaskan-baked cod and braised short rib.
Meat-lovers will enjoy the Serious Texas Bar-B-Q for smoked meats and sausages. While the smells may drive them wild, dogs are allowed at a limited number of tables. T's Smokehouse and Grill focuses on Creole cuisine, offering po'boy sandwiches, chicken platters, and seafood. Furry friends are welcome to join diners at a select number of outdoor seats.
Dog-Friendly Shopping in Durango
While indoor shopping might not be considered fun for many pets, other animals love experiencing any new environment. Some pets don't care where they are, as long as they are with their owners. Luckily, there are a few pet-friendly shopping options within the downtown community.
After playing in the downtown dog park, many owners take their pet to Dirty Paws Dog Wash before riding home. That way, the pet can have their fun, but the car seats can stay clean. Several small shops downtown also allow pets, including Maria's Bookshop, the Durango Welcome Center, and Gardenswartz Sporting Goods.
Finally, treat yourself and your pet at Rocky Mountain Chocolate Factory. They have a great assortment of chocolates, edible arrangements, caramel apples, and more. Best of all, while chocolate is poisonous to dogs, you can relieve any guilt by offering your canine a delicious non-chocolate dipped dog treat.
Pet-Friendly Lodging in Durango
While this may not be a challenge for residents of Durango, visitors with dogs will need a pet-friendly place to stay. Best Western Durango Inn and Suites has rooms as affordable as $54 before the pet fee. For an additional $20 per night, dogs and cats of any size are welcome to spend the night. They even have treats at the front desk and an area for pet relief.
Comfort Inn and Suites Durango is another option. For about $59 before the pet fee, owners can stay with up to two pets no more than about 85 pounds each.
Purgatory Village by Purgatory Resort is another unique option. As a resort, pets under 50 pounds can stay in the lodge rooms. The front desk offers treats, and there are plenty of outdoor grassy areas. Lodges start at $474 per night, plus a pet fee.
At the luxury end, the Leland House & Rochester Hotel allows up to two pets in a few specialized rooms for $199. Pet charges are $20 per night, and well-behaved animals may be left in the rooms for an hour or less. They also offer pet treats and an area for pet relief.
Discover Durango with Your Best Friend
If your pet shows you unconditional love, why not return the favor? Selecting a community with lots of opportunities for shared experiences can help you and your pup bond. With a rugged outdoor spirit, Durango is a great place for you and your dog.
If Durango sounds like the perfect place for you, contact Colorado Property Group of RE/MAX with Durango Homes for Sale at (970) 946-0601 to get in touch with a Durango real estate agent and get ready to call this beautiful mountain town home.