Fun Facts About Durango: Durango, CO Facts and Trivia
Posted by Ryan Poppe on Friday, February 12, 2021 at 8:17 AM
By Ryan Poppe / February 12, 2021
Comment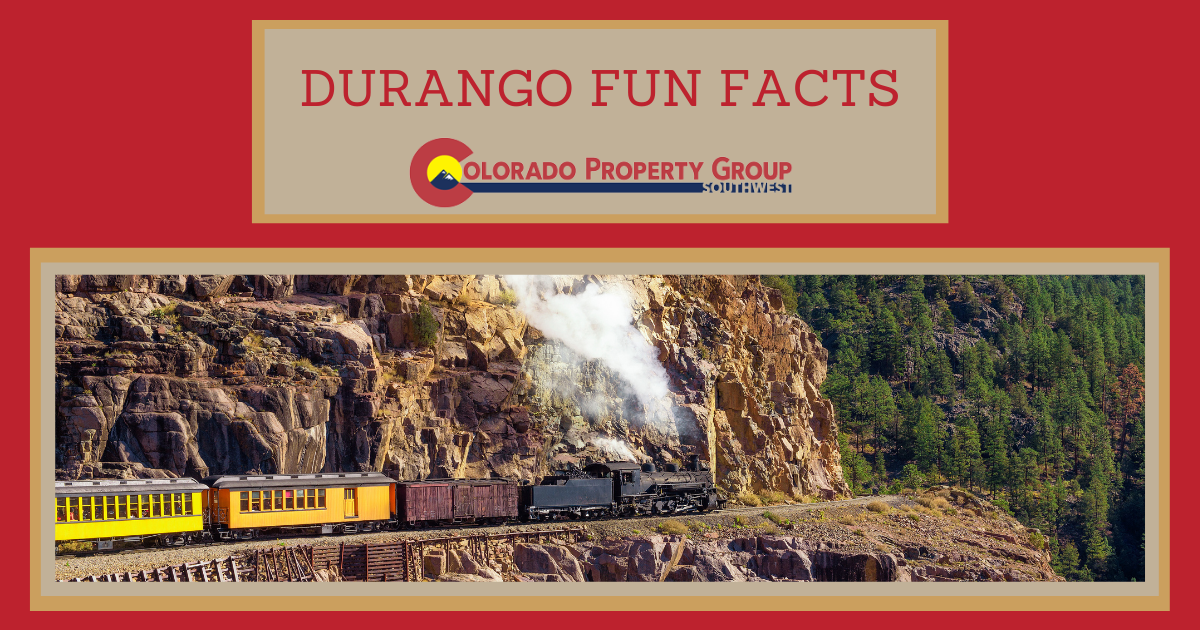 A small city in Southwest Colorado, Durango sits north of the New Mexico border. With a population of fewer than 20,000 people, Durango has a small-town feel, but it attracts visitors from all over the world for its scenic views, relaxing hot springs, rich history, and more restaurants per capita than anywhere else in the United States. For those planning a visit or move to Durango, here are some fun facts about Durango to keep you entertained on the journey.
Durango Has Hot Springs
The hot springs near Durango give its visitors the chance to soak in warm, mineral-rich water while basking in the gorgeous views of the Rocky Mountains and watching the snow fall. When people are ready to relax and enjoy a scenic experience, they can check out the following hot springs in and around Durango.
Durango Hot Springs
Located seven miles north of downtown Durango, Durango Hot Springs offers spa services and lodging in addition to day passes to the springs. The resort features 15 natural hot spring mineral pools, eight private cedar soaking tubs, a mineral hot springs rain tower, and a large swimming pool. After they have finished soaking, visitors can try the dry Finnish sauna, a cold plunge, or schedule some spa services.
Pinkerton Hot Springs
These hot springs are just outside Durango on the side of Highway 550. The Pinkerton Hot Springs were rerouted by a transportation project in 2001, which left several colorful rocks exposed. While there are no soaking pools at this free location, visitors can touch the water, hike, and enjoy the natural beauty of the area, which was home to a hot springs resort and spa about 100 years ago.
Overlook Hot Springs Spa
Located in Pagosa Springs, the Overlook Hot Springs Spa is about an hour drive from Durango and is open seven days a week. The spa pipes hot springs water into a variety of man-made pools, and visitors can choose between the courtyard tub, rooftop soaking, or a private couples soak. A relaxing afternoon can be enhanced with a massage or other spa services before exploring historic downtown Pagosa Springs.
Durango Was Originally Inhabited by the Southern Ute Tribe
The original inhabitants of the area, the Ute people were part of a large tribe that extended through the modern-day areas of Wyoming, Utah, Arizona, and New Mexico. The Ute used the area's natural resources for their survival, and they were able to turn a seemingly simple plant like the yucca into ropes, baskets, shoes, sleeping mats, and other items. They also turned willows and sumac into baskets and used pitch to make them watertight.
The Ute people ate chokecherry, wild raspberries, gooseberries, and buffalo berries raw, but they also extracted their juices, made them into cakes, added their seeds to soups, or brewed them into tea. The members of this tribe also used medicinal plants such as the bear root or osha to make compresses and ointments.
Owned by the Ute tribe and examining the history and culture of the area's original inhabitants, the Southern Ute Cultural Center and Museum is located 30 minutes from Durango in Ignacio.
Durango is Home to the Oldest Working Steam-Powered AC Power Plant
Built in 1892, this plant allowed the little mountain town of Durango to have streetlights long before some big cities in the East. Now, the old power plant hosts Powerhouse, the area's largest interactive science center. Ideal for anyone who likes science, the Powerhouse boasts the following offerings:
Exhibit Gallery: Explore 6,000 square feet of historic power equipment and interactive displays.
Makerlab: Get the chance to work with high-end workshop equipment while meeting other makers in the area.
Toddler Time: Come by on Wednesdays and give your toddler a fun introduction to science.
Carver Brewing Plaza: Enjoy a drink, watch the river flow by, or come by on Thursdays for trivia night.
Camp Discover: Learn about botany, robotics, 3D printing, and other science topics in this camp for ages three to 16.
Field Trips: Let the museum set up a field trip for a school, youth group, science club, or other groups.
Science Career Ladder: Learn through this education and employment program for high school and college students.
Sudden Science: Spark your imagination through this outreach program for youth.
Durango Has More Restaurants Per Capita Than San Francisco
With more restaurants per capita than San Francisco, Durango offers unparalleled dining experiences. Whether someone wants gourmet fare, hamburgers, international foods, or vegan delights, they can choose from many options in this city.
Many of the area's restaurants are conveniently located in downtown Durango along the city's river walk, allowing for easy strolls through the area reading menus and looking for choices. Although restaurants are always subject to change, people may want to explore American fare and craft brews at places like T's Smokehouse and Grill, James Ranch Grill, or the Derailed Pour House. These restaurants offer a variety of dining environments, from cozy indoor eating in pub-like atmospheres to spacious outdoor patios where guests can bask in the sunny skies of the Rocky Mountains.
For fine dining, Eolus Bar and Dining, Ore House, or Seasons of Durango are all tasty options — people can find chefs from around the world cooking in these kitchens. Those who prefer to save a little money while indulging in great tastes can treat themselves to crêpes at Michael's Corner, order a taco combo at Zia Taquería, or relax in the 50s-style ambiance of Oscar's Café. Those who prefer more worldly flavors can try sushi at Rice Monkeys, Mediterranean fare at the Dandelion Café, or Tibetan food at Himalayan Kitchen. This is just a small smattering of the potential options available in Durango, and of course, people can always stay home and order in delivery.
Discover Durango
In Durango, people have access to some of the best views in the world, as well as countless amenities and things to do. People can access larger towns in New Mexico easily as needed, or they can reach ski slopes, hot springs, and other tourist destinations quickly. When people are hungry, they get to choose between all types of restaurants.
Durango offers a range of architectural styles, from turn-of-the-century properties to brand-new spaces and waterfront homes designed to complement the area's surrounding beauty.
If Durango sounds like the perfect place for you, contact Colorado Property Group of RE/MAX with Durango Homes for Sale at (970) 946-0601 to get in touch with a Durango real estate agent and get ready to call this beautiful mountain town home.