4 Most Horse-Friendly Neighborhoods in Durango
Posted by Ryan Poppe on Thursday, January 6, 2022 at 9:40 AM
By Ryan Poppe / January 6, 2022
Comment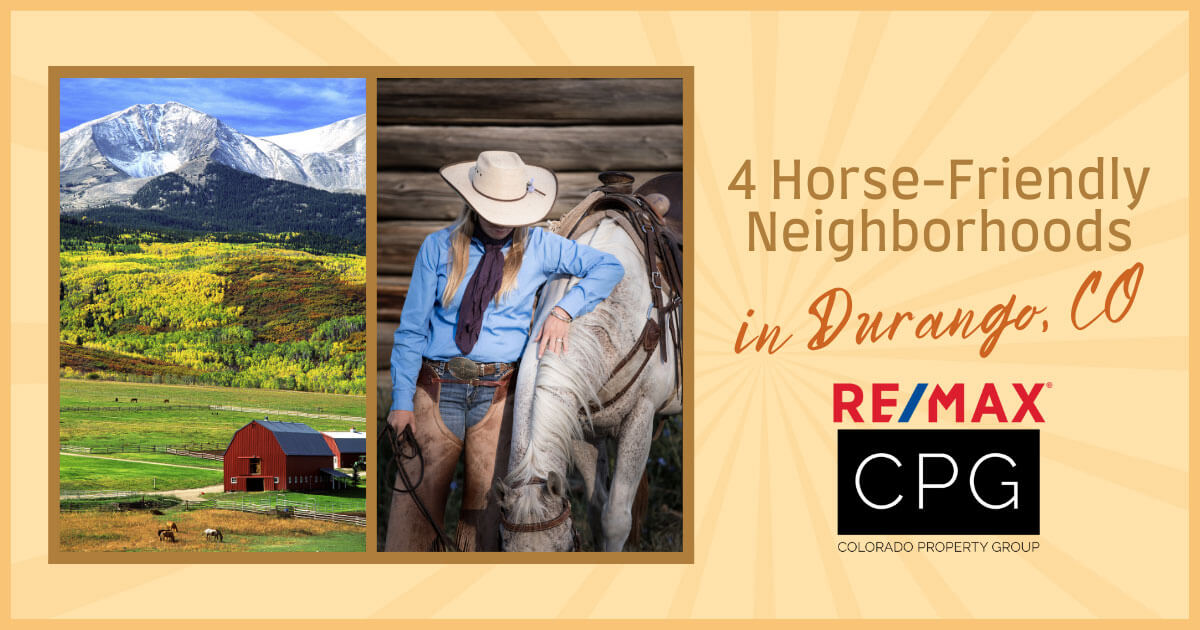 Residents of Durango enjoy some of the mildest winters in Colorado, although it does get plenty of snow between December and March each year. So, it's no surprise that outdoor activities in this community take center stage year-round. Thanks to large property lots and a favorable climate, there are a lot of homeowners in Durango who are also horse owners. The area provides plenty of places to ride and enjoy an equestrian or Western lifestyle. Looking for the perfect Durango horse property? Read on to discover four horse-friendly Durango neighborhoods.
Ptarmigan Farms
Ptarmigan Farms is a development just to the north-northeast of the city of Durango, near the oxbow curves in the Animas River. There are 14 lots in the development. Most lots with homes and barns are approximately 6 to 9 acres in size, and it has a few 35-acre lots that are still undeveloped. Spacious lots of this size give homeowners plenty of room to build a stall or run-in shed for their horses and let their horses graze and exercise. The properties are primarily for grazing, and there are no natural trees in the area.
A very short road leads into Ptarmigan Farms, and there is a mandatory Homeowners Association (HOA), but solely for the maintenance of the road. No manufactured homes are allowed in the subdivision, so all the existing homes are custom. Properties with developed homes in this subdivision are typically priced between $600,000 and $1.5 million. Ptarmigan Farms homes are serviced by city water but have individual septic systems.
A ridge in the southern part of the subdivision blocks the view of Durango, so it truly feels like Ptarmigan Farms is "out in the country." Most of the properties in Ptarmigan Farms have direct access to water, which is essential for livestock owners.
Shenandoah
The Shenandoah subdivision is located south and west of Durango, to the west of beautiful Lake Nighthorse. It's about a 12-minute drive from downtown Durango. Shenandoah has approximately 150 lots in the subdivision, with a minimum size of 3 acres. Some lots have 5 to 7 acres, and there are even a few 35-acre lots. Some lots have just a few trees, while others are heavily forested.
Horses are allowed on some lots in Shenandoah, so long as the lots meet minimum acreage requirements. Depending on where the lots are situated, the properties either have views of Lake Nighthorse or La Plata Mountain. There are some water features such as ponds in Shenandoah, although the Lake Durango Water Authority owns the water rights. A Homeowners Association sets architectural guidelines for new home development in Shenandoah, and no manufactured homes are allowed. With plenty of acreage available on the lots, plus timber and grazing, Shenandoah is a great Durango subdivision for horse owners.
Homes for sale in Shenandoah generally range from the $600s to $2.5 million. Buyers can sometimes purchase undeveloped lots for as little as $150,000 for some smaller ones, up to $2.5 million for larger lots with many acres.
El Rancho Florida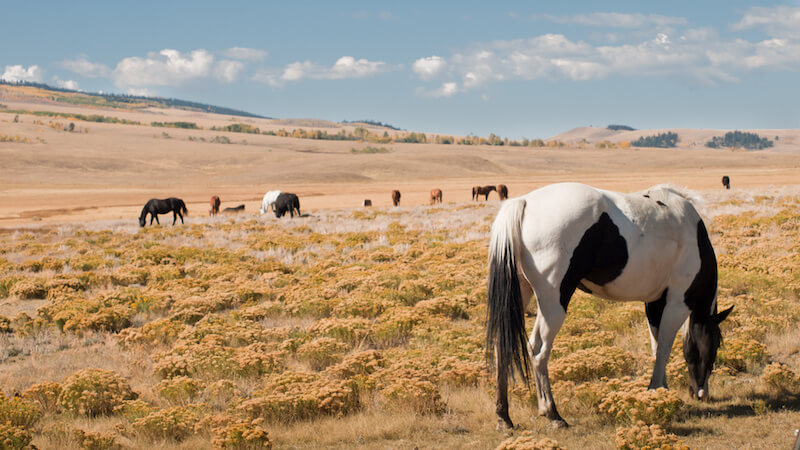 Parts of the classic film Butch Cassidy and the Sundance Kid were filmed in the area of this subdivision (there were no homes here at the time in 1969). El Rancho Florida has 141 three-acre lots in it, which are just large enough for homeowners to make any necessary home improvements before buying a horse. The subdivision is a mix of mobile, modular, and traditional homes.
Most of the lots in El Rancho Florida have views of the mountains. The subdivision is located about 20 minutes southeast of Durango on mostly paved roads. The roads within El Rancho Florida are all gravel. The lovely Florida River runs through the western end of the subdivision, and there is a nice community picnic area near a pond. The Animas Animals vet clinic is located just two minutes away from the subdivision, making vet checks easy and accessible for horse owners. Well on Wheels is also located near the subdivision; it delivers potable water to stock tanks and cisterns for livestock owners.
Undeveloped lots in El Rancho Florida can usually be purchased for $80,000 to $130,000. Mobile and modular homes are typically in the $150,000 to $250,000 range, while traditional El Rancho Florida homes generally start at $270,000. There is a mandatory Homeowners Association, and some manufactured homes are allowed here.
The Meadows
The three-acre irrigated lots in The Meadows subdivision of Durango are perfect for horse owners. Located about 20 acres southeast of Durango, The Meadows has 22 lots ideally located just a mile and a half from the local elementary school. The Meadows was mostly pastureland before being zoned as a residential subdivision in the 1990s. There were no original trees here, but the homeowners have planted many new ones over the years.
Deer, foxes, and wild turkeys are frequent visitors in this rural subdivision. The mandatory Homeowners Association maintains the gravel roads. A number of the properties have barns and stock corrals built on them. Most of the lots have excellent views of the La Plata mountains. Kindness Animal Hospital, a veterinary clinic that treats horses and most other rural animals, is just two minutes away from the subdivision.
Undeveloped lots in the Meadows are typically priced between $100,000 and $175,000. Lots with existing homes for sale in The Meadows, on the other hand, are usually priced between $325,000 and $600,000. Each home requires its own well and individual septic system.
Durango, CO is a Horse-Friendly Community
The large property lots in the Durango area make this an ideal community for buyers that want to own one or more horses. The rural setting and affordable developments, compared to many other areas in Colorado, have made Durango a go-to location for people wanting a modest-paced, simpler life. The idyllic views of the La Plata mountains and easy access to water make this community even more enticing for horse lovers.