Modern Mountain Homes in Durango: 5 Neighborhoods With Mountain Modern Homes
Posted by Ryan Poppe on Wednesday, March 15, 2023 at 10:31 AM
By Ryan Poppe / March 15, 2023
Comment
Located at the foothills of the Rocky Mountains close to the New Mexico border, Durango, Colorado, is a quintessential mountain town surrounded by natural beauty. It's home to some of the best mountain modern architecture in the Rockies. This style combines natural and manufactured elements to create homes that are comfortable, contemporary, and tailored to mountain living.
Homebuyers moving to Durango who are interested in mountain modern architecture are in luck thanks to the five locations featured below. Owning one of these architectural jewels provides homeowners with the perfect mountain retreat, as most homes have luxury features, state-of-the-art amenities, and easy access to the outdoors.
Before we reveal where to find mountain modern homes in Durango, let's look at the unique characteristics of mountain modern architecture that make these homes so attractive.
What Is Mountain Modern Architecture?
New construction properties always pop up in mountain towns—like the bounty of new construction homes in Durango—but just because they're new doesn't mean they're mountain modern homes.
When we talk about mountain modern homes, we're referring to a distinct architectural style that blends natural elements such as wood and stone with man-made materials like concrete and steel.
The idea is to create a high-end mountain estate that feels like an extension of the outdoors while also providing modern amenities and luxuries. To achieve this, mountain modern architecture often features open floor plans, high ceilings, neutral textures, and floor-to-ceiling windows that bathe the interior in natural light. Some prioritize sustainability and energy efficiency, using materials like cellulose insulation, solar panels, and low-flow toilets to reduce their environmental footprints.
Furthermore, exterior façades often exhibit sleek lines and sharp edges, showcasing industrial materials like steel and wrought iron. Rustic accents like pine and cedarwood are added to soften the effect, while natural colors such as brown, beige, and white give mountain modern homes a timeless feel. These elements combine to create a high-end aesthetic that melds into the mountain atmosphere seamlessly.
When considering a certain area, It's always recommended to learn about popular architectural styles before buying. Now that we've looked at mountain modern architecture, let's look at five of the best places to find mountain modern homes in Durango.
Two Dogs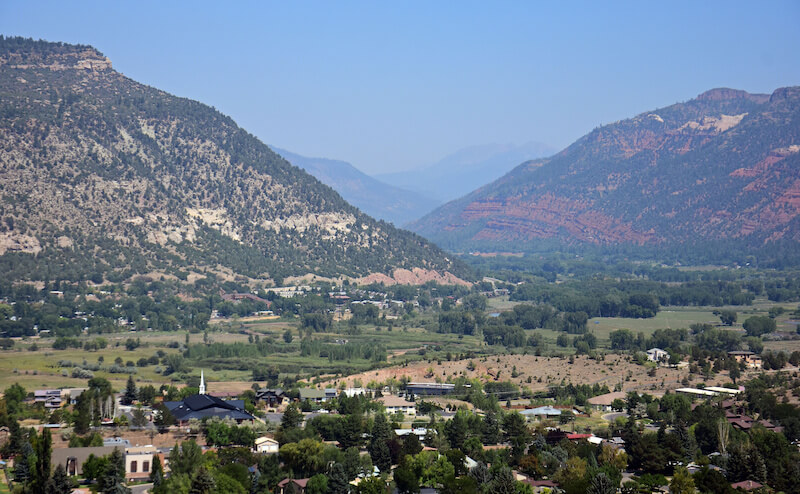 Two Dogs is a gated community near Electra Lake and Hermosa Cliffs, about 25 miles north of Durango's historic downtown. The subdivision has approximately 25 lots, each ranging in size between three to 10 acres, with ponderosa and aspen pines providing a scenic backdrop. Here, mountain modern homes are built to take advantage of the mountain vistas. Sometimes called "log estates," they showcase a mix of natural stone walls, wood siding, and concrete accents. Inside, mountain modern décor emphasizes comfort and convenience, with large living areas, spacious kitchens, and giant windows. Entire walls are often devoted to locally-sourced wood in striped patterns, with vaulted ceilings soaring overhead.
Vacant lots range in price from $500,000 to $800,000, while homes in Two Dogs are typically listed between $2 million and $10 million. Residents have year-round access to world-class skiing, mountain biking, and fly fishing. San Juan National Forest serves as the community's outdoor playground, while Glacier Golf Club is nearby. Million Dollar Highway is the subdivision's main thoroughfare, providing access to mountain-inspired attractions north and south of Two Dogs. The highway boasts some of the most spectacular mountain scenery in the country; stops along the way include shops, restaurants, and entertainment venues like Olde Schoolhouse Saloon, Cliffside Ski & Sport, and Needles Country Store.
Two Dogs Amenities
Elbert Creek Trailhead
Castle Rock Peak
Black Diamond Lodge
The Nugget Mountain Bar
Durango Mountain Camp
Backcountry Gourmet
Engineer Mountain
Shenandoah
Shenandoah is a mountain modern community located about 15 minutes southwest of Downtown Durango. Shenandoah Road, Shenandoah Terrace, and Colonial Drive are some of the main streets that make up the community, providing mountain modern homes situated near the La Plata Mountains and all the things to do at Lake Nighthorse. Homes in the subdivision sit on expansive lots, ranging from three to 20 acres, and boast large windows, wood accents, and an abundance of stone. High ceilings, grand fireplaces, and wood-paneled walls create a mountain-modern atmosphere. Some windows offer views of nearby pastures with grazing horses and tranquil ponds, while others open to mountain vistas with far-reaching views.
Mountain modern homes for sale in Shenandoah list from $600,000 to $2.4 million, while vacant lots list from $150,000 to more than $1 million. Residents can access top-rated mountain biking trails, disc golf courses, fishing spots, and mountain-inspired attractions like Animas River Rafting, Smelter Mountain, and Hesperus Ski Area. Nearby shopping, dining, and entertainment can be found in Downtown Durango, with ample nightlife options at Derailed Pour House, Diamond Belle Saloon, and the 11th Street Station food truck park.
Shenandoah Amenities
Durango Zipline
Basin Mountain
Perins Peak
Lightner Creek Campground
Durango Natural Foods Co-op
Walmart Supercenter
Ska Brewing Company
Twilight Cabins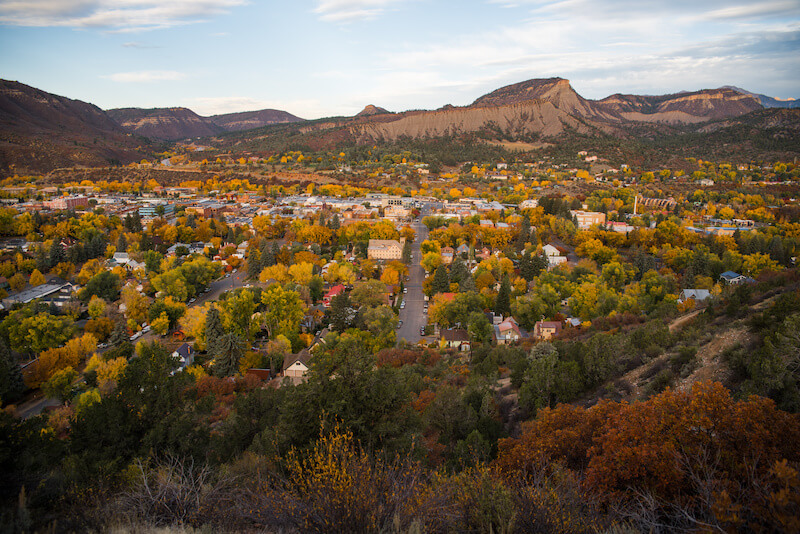 Nestled in the serene hills of Tacoma Village, just 30 minutes away from Downtown Durango, is Twilight Cabins: a quiet subdivision of mountain modern homes. Properties here are surrounded by some of the most iconic peaks in Durango, including Engineer, Spud, and the Needles. Homes are built to blend in with the surrounding terrain, featuring natural materials like stone and wood siding, oversized windows, and industrial accents. Large lots sit on cul-de-sacs with wooded backyards, providing plenty of mountain-inspired privacy. Local builders often use nearby natural resources when constructing custom homes, like hand-harvested alder wood and quartzite stone.
Homes in Twilight Cabins are typically listed between $1 million and $2 million. Residents are within walking distance of the Purgatory Flats Trail and several ponds, while the nearby Purgatory Ski Resort offers ski-in/ski-out mountain living. Other nearby attractions include the Durango Nordic Ski Club, Durango Snowbikes, and Potato Lake Trailhead. Additional mountain-inspired activities, Durango's iconic restaurants, and great entertainment can be found along the Million Dollar Highway. The highway connects residents with Downtown Durango's top-rated restaurants, including Lone Spur Cafe, Himalayan Kitchen, and Carver Brewing Company.
Twilight Cabins Amenities
Cascade Canyon Wye
Purgatory Bunny Slopes
Snowdon Peak
Pinkerton Hot Springs
Soaring Tree Top Adventures
Electra Lake
San Juan National Forest
Falls Creek Ranch
Located 10 miles north of Downtown Durango, Falls Creek Ranch offers 940 acres of lush forests and meadows surrounded by San Juan National Forest. Home to expansive views over Animas Valley and Red Cliffs, this hidden valley subdivision has become a sought-after oasis for members who own private one-acre parcels, with access to 840 additional acres as common property.
Residents can take advantage of amenities like tennis and pickleball courts, equestrian facilities, walking and biking trails, lakefront activities, and wildlife viewing, all while enjoying the neighborhood's beautiful mountain scenery. A volunteer Board of Directors manages the community alongside committees providing oversight across operations. The result is a tight-knit mountain community proudly showcasing some of Durango's best mountain modern architecture.
Homes in Falls Creek Ranch range in price from $1–$2.4 million, with mountain modern homes and lots for sale ranging from $400,000 to $800,000. Some homes exhibit Telluride gold stone masonry and Idaho quartzite flagstone paths, while others have floor-to-ceiling windows, cedar shingles, and decks overlooking majestic mountain peaks. Nearby attractions include Dalton Ranch Golf Club, the Museum of Impressionism, and Animas Overlook Trail. The community is also situated near the Durango Hot Springs Resort & Spa, Oxbow Park and Preserve, and several restaurants off Million Dollar Highway, including Hermosa Creek Grill and Alce' Restaurant.
Falls Creek Ranch Amenities
Fall Creek Falls
River Bend Ranch
Gudy's Rest Overlook
James Ranch Grill
PJ's Gourmet Market
Animas Valley Grange Community Center
Edgemont Ranch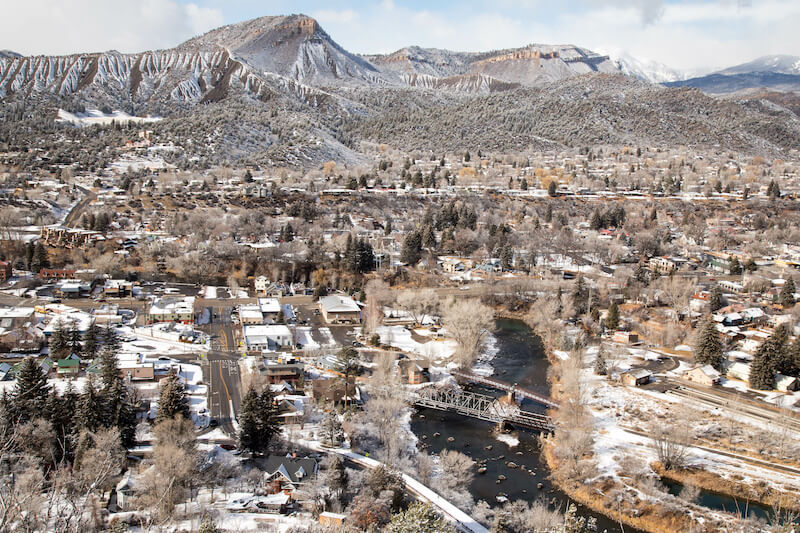 Edgemont Ranch is located about six miles northeast of Downtown Durango. It's one of the newest mountain modern subdivisions in the city, with new construction townhomes and single-family residences set amid tall pines and spruces. An active homeowner's association hosts several events throughout the year, including Halloween and Christmas parties and a summer picnic for residents. Homeowners also partake in fishing, tennis, hiking activities, downhill skiing, snowshoeing, and cross-country skiing across six miles of mountain terrain.
Homes in Edgemont Ranch incorporate some aspects of mountain modern architecture yet maintain a classic aesthetic, with country-style windows and wood siding. Larger homes, on the other hand, may feature stonework, vaulted ceilings, and floor-to-ceiling windows. Home prices range from $800,000 to $1.5 million, and vacant lots may be listed in the $300s. Nearby amenities include Over the Hill Outfitters, which provides horseback outfitting services for the Florida River Basin, and Elks Lodge Picnic Grounds. Residents also have access to shops, restaurants, and other services along Florida Road, including the Durango Fitness Center, Bread Bakery, and J. Bo Pizza & Rib Co.
Edgemont Ranch Amenities
Florida River fishing
Pickleball courts
Baldy Trailhead
Still Life Coffee & Botanicals
Macho's Fast Mexican Food
Pop Sushi
Botanical Concepts Garden Center
Live the Luxury Mountain Life
No architectural style quite captures luxury mountain living like mountain modern homes. Buyers who want to feel connected to the rugged mountain terrain without sacrificing modern amenities can look to Durango, Colorado. Here, high-end homes come in various price ranges, shapes, and sizes—and there are a ton of things to do in Durango. Each one showcases different elements of mountain modern architecture that capture the viewer's attention and imagination. From open layouts bathed in sunlight to sweeping mountain vistas, mountain modern homes in Durango offer an unrivaled mountain lifestyle, and the above communities are among the best options to explore.