5 Durango Neighborhoods With the Best Views: Houses Near Stunning Scenic Spots
Posted by Ryan Poppe on Thursday, December 8, 2022 at 9:00 AM
By Ryan Poppe / December 8, 2022
Comment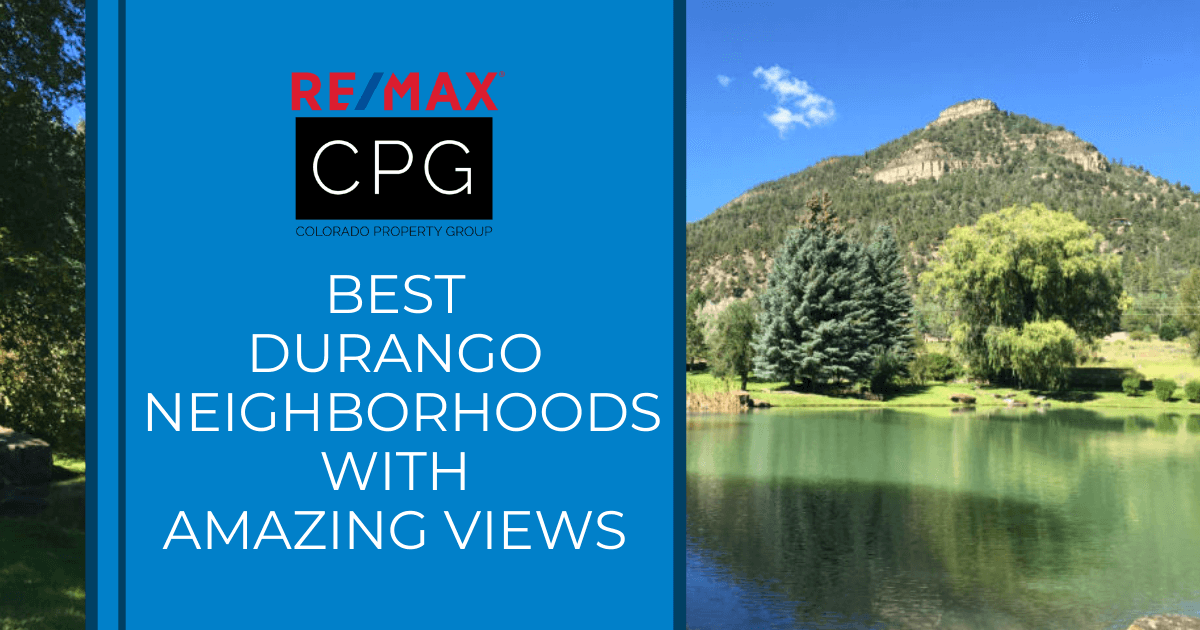 The city of Durango is a beautiful place in southwestern Colorado, known for its gorgeous landscape. Charming mountain homes are dotted among the city's hills and valleys, and its population of nearly 20,000 allows privacy while still having neighbors nearby. Some of the most notable local landmarks that have prospective homebuyers clamoring for a property with a view are the Animas Valley, La Plata Mountains, and Lake Nighthorse. If you're in the market for a home with a picturesque background, here are five places to live that offer the best views in Durango.
Falls Creek
Falls Creek is one of the best neighborhoods in Durango and consists of 940 acres – 840 are dedicated to maintaining a natural environment where residents can hike, bike, or run on the many winding trails or swim in the community's private lake. Homes are situated on one-acre lots, allowing residents to feel surrounded by the peace and privacy of nature. Views from the community are breathtaking, with the Animas Valley and the Red Cliffs visible from many properties.
Homes for sale in Falls Creek begin in the high-$800s, but some can exceed 2 million. These properties have classic mountain-home exteriors and sprawling interiors with features like exposed beam ceilings, multiple fireplaces, and extravagant master suites.
Within five minutes of the community are several popular Durango trails. The Falls Creek Loop is a four-mile path through gorgeous pine trees and aspen groves. Nearby, Church Camp Loop consists of three miles and is a hotspot for bird watchers. The trail is known for being a hang-out spot for bald eagles.
Falls Creek Amenities
The Museum of Impressionism
Hermosa Creek Grill
PJs Gourmet Market
Pinkerton Hot Springs
Timberline View Estates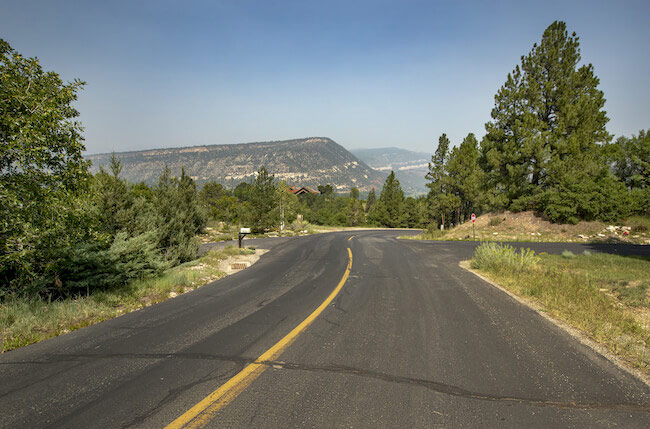 Timberline View Estates is a well-established Durango neighborhood named for its breathtaking views of the nearby Animas Valley and La Plata mountain range. While the community sits upon what looks like wilderness from afar, it offers paved roads and private water and sewer.
Living in Timberline View Estates is a luxurious life. The neighborhood is not far from Highway 550, which provides a connection to nearby communities Hermosa and Trimble. Zia Taqueria and Serious Texas BBQ provide residents with delicious local cuisine for dine-in and takeout. Timberline View Estates is also a short drive from local spas, gyms, and shops.
Timberline View Estates homes for sale are typically priced between $600,000 and $1.5 million, containing three to four bedrooms and multiple bathrooms. Interiors are up to 5,000 square feet, with vaulted ceilings, floor-to-ceiling rock wood fireplaces, and picture windows expertly placed to showcase the visual masterpiece that is the landscape of the community. Properties sit on up to half an acre of land, and homes feature meticulous landscaping with mature greenery. Backyards have sprawling decks, balconies, and high-tech security and sprinkler systems.
Timberline View Estates Amenities
Bread
J. Bo Pizza & Rib
Durango Sports Club
Skyline Trailhead
Botanical Concepts Garden Center
Rafter J
Rafter J, one of the city's largest neighborhoods, contains several subdivisions. It's a quick 15-minute drive from downtown Durango and offers residents access to local landmarks like the Colorado Trail Trailhead and Oxbow Park and Preserve.
While homes for sale in Rafter J can start in the $300s, sprawling estates covering up to three acres of land and consisting of more than 4,500 square feet can list for up to $1.5 million. These properties contain fully updated interiors, state-of-the-art stainless steel appliances, and gorgeous private backyards to enjoy the expansive views of Lake Nighthorse and the LaPlata Mountains.
Some subdivisions in Rafter J are subject to the rules and covenants of their respective homeowners' associations, or HOA. Fees are a little over $600 per year, and residents can pay monthly, bi-annually, or yearly.
Rafter J Amenities
Durango Adventures and Zipline Tours
Walmart Supercenter
Lightner Creek Campground
Chapman Hill Ice Rink & Ski Area
The Cliffs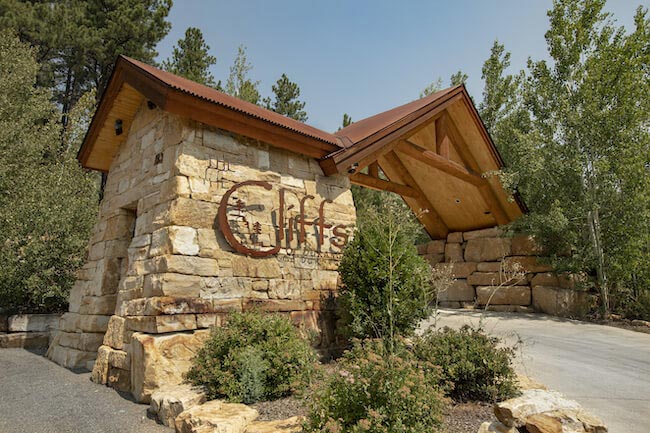 Some of the best sights in Durango are available from the picture windows of properties nestled into the cliffs overlooking the Animas River Valley. This sought-after neighborhood is aptly named The Cliffs, home to less than 20 home lots.
Residents can access their homes in The Cliffs via Florida Road, where some properties are up to 1,000 feet above the valley floor. Properties begin in the low-$600s while others sell for upwards of $1.5 million.
Homes rival the beauty of their surroundings, with long, winding driveways and arts and crafts exteriors. The quintessential mountain-home interiors offer vaulted ceilings, custom fireplaces, and sprawling open floor plans. Every lot has a water well and cable connections, but residents must install their septic systems.
This gated community offers residents private trail systems that afford them magnificent views of the breathtaking Durango sunsets. Other local trails include the Baldy Mountain Trail and Missionary Ridge.
The Cliffs Amenities
Elks Lodge Recreation Picnic Area
Albertsons
Durango Creative District
Animas Museum
Durango Community Recreation Center
Ute Pass Ranch
Stunning chalet architecture abounds in the beautiful and charming Ute Pass Ranch community. Properties are set against an idyllic background of thickly settled pine trees and the La Plata Mountains. Residents can view the scenery from their windows or take in their surroundings in the neighborhood's private park, shimmering pond, and local hiking trails.
Homes for sale in Ute Pass Ranch list between $1 million and $2 million and contain up to four bedrooms and bathrooms. Most properties contain at least 1,500 square feet, with some boasting interiors as large as 5,000 square feet. In addition to their classic mountain-style exteriors, homes are custom-built with gleaming kitchens, vaulted ceilings, and beautiful handmade wood, steel, and rock designs adorning their interiors. All houses are subject to an HOA fee of $50 per month.
Local restaurants within a short drive of Ute Pass Ranch include Backcountry Gourmet, a permanent local food truck serving delicious tacos, sliders, and breakfast burritos, and Nayarit Restaurant North, a casual restaurant on Main Avenue serving authentic Mexican fare.
Ute Pass Ranch Amenities
Over the Hill Outfitters
United Campgrounds of Durango
Powerhouse Science Center
Fort Lewis College
Take in Durango's Scenery in One of These Gorgeous Neighborhoods
Durango, Colorado, has endless options for prospective buyers looking for homes to fit their budgets and needs. These neighborhoods are close to plenty of amenities and offer residents breathtaking panoramic views of everything gorgeous Durango offers.
If Durango sounds like the perfect place for you, contact Colorado Property Group of RE/MAX with Durango Homes for Sale at (970) 946-0601 to get in touch with a Durango real estate agent and get ready to call this beautiful mountain town home.