Durango, Colorado Public Transit: How to Get Around
Posted by Ryan Poppe on Wednesday, August 11, 2021 at 9:15 AM
By Ryan Poppe / August 11, 2021
Comment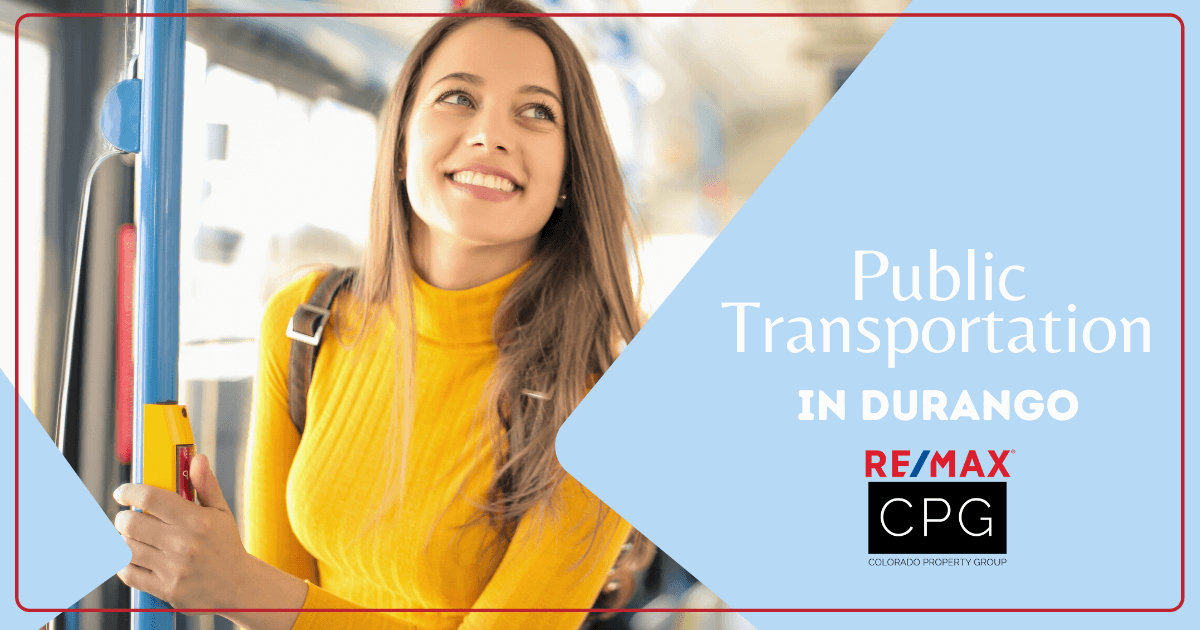 One of the best things about the city of Durango is the many public transportation options provided to residents and guests. Certain areas in Durango have excellent pedestrian infrastructure, and bike lanes make the city accessible to cyclists. From the local bus system to private car services, residents can choose the transit style that works best for them when living in Durango, CO.
Bus and Trolley Services in Durango
Ride Durango Transit
Durango Transit oversees all of the city's public transportation, including buses and trolleys. The bus system is called The Lift, and it operates from 7 a.m. to 8:40 p.m. with connections at College Drive, Main Avenue, Fort Lewis College, and several other destinations. Wondering where Durango bus stops are? Just look for the red T logo, and that's a bus stop. Fares are typically just $1 per ride, but monthly passes for adults are available starting at $30.
The Durango Trolley is a great option for people with homes in the Historic Downtown neighborhood. It runs along Main Avenue to 6th Street at 20-minute intervals from 7 a.m. to 10:40 p.m. Late nighters on weekends can catch buses on Friday and Saturdays from 11 p.m. to 2:30 a.m., which transports riders north of Highway 160. All vehicles have bike racks, and there are on-demand services offered for the elderly and people with disabilities.
Ride Durango Transit Additional Information
Fares: $1 per ride / $30 monthly pass
The Lift Hours: 7 a.m–8:40 p.m.
Durango Trolley Hours: 7 a.m.–10:40 p.m. Sunday–Thursday / 7 a.m.–2:30 a.m. Friday & Saturday
Road Runner Transit
Road Runner Transit is a public transportation system that offers rides from homes in Ignacio and the town of Bayfield to Durango. By calling ahead, people with disabilities can request route deviations for more accessible pick-up. Travelers have access to the Dial-A-Ride service on weekdays through the Ignacio community. This service presents an alternative to driving in Durango.
Road Runner Transit Additional Information
Fares: $2 per zone / $32 20-punch pass ($28 discounted for 55+ and students) / $50 monthly pass ($42.50 discounted for 55+ and students)
Hours: 7 a.m.–6 p.m. Monday–Friday / 7 a.m.–8 p.m. Saturday & Sunday
Bustang
Bustang is an optimal solution for those who regularly commute to Denver, Colorado Springs, or Fort Collins. The Colorado Department of Transportation operates an interregional express bus line that connects commuters along the I-70 Mountain Corridors and the I-25 Front Range. Bustang links several major local transit systems together to help locals with reliable transit on the most traveled corridors in the area. Lines include:
North Line services Fort Collins and Denver
South Line services Colorado Springs and Denver
West Line services Denver and Grand Junction
Bustang Outrider services nearby towns such as Gunnison, Estes Park, Craig, Pueblo, and Alamosa. Schedules and fares depend on the final destination. WiFi, power outlets, luggage storage, accessible lifts, and bike racks are on each bus.
Bustang Additional Information
Fares: Depends on route, and there are discounts for children ages 2–11, seniors, and people with disabilities
Phone: 800-900-3011
Durango Bike Rentals
Boasting a Bicycle Friendly Community Gold Seal from The League of American Bicyclists, Durango is a cyclist's dream city. Getting around by bike is easy here, with rentals and shipping services offered by several companies.
Pedal the Peaks
Pedal the Peaks is a renowned bike shipping company, and they also have a fleet of top-quality bikes for rent. They carry premium bikes from Orbea, Diamondback, Ibis, Banshee, and more. Reservations are recommended for rentals. Riders will find themselves amazed at their options, ranging from tag-a-longs and Townies to E-bikes and dual suspension off-road models.
Pedal the Peaks Additional Information
Hours: Monday–Saturday 9 a.m.–6 p.m. / Sunday 10 a.m.–5 p.m.
Roll Durango
Roll Durango is a delivery service for those seeking solar-powered electric bikes and stand-up paddleboards. They don't have a storefront but will bring supplies to each customer's home, hotel, or condo in Durango. They'll even meet clients on the banks of the Animas River. Roll Durango offers a combo package tour that allows travelers to use e-bikes for two hours, take lunch, and then hit the water on a paddleboard.
Roll Durango Additional Information
Phone: 970-233-7904
Hours: Open 24 hours
Taxis and Shuttles in Durango
Buck Horn Limousine
Buck Horn Limousine has a wide range of transportation options ranging from the economy airport pick-up and city-wide shuttle services to luxurious cars and limousines with professional drivers. The company also has train shuttles and routes to Telluride and the Colorado Trail. Customers can schedule rides with the company to have a car appear on-demand outside of their Durango new construction homes.
Buck Horn Limousine Additional Information
Fares: Vary by duration and vehicle
Phone: 970-769-0933
Durango Cab Services
Durango Cab Services offers taxi, shuttle, and delivery services any day of the week at any hour and operates on holidays as well. Taxi services are highly reliable with experienced drivers and a clean fleet of vehicles. Transportation destinations include homes in Durango resort areas, Mesa Verde National Park, the Silverton community, Telluride, and the Pagosa Springs community.
Durango Cab Services Additional Information
Fares: $8 first mile, $4 each mile after
Phone: 970-259-4818
Getting Around Durango is Easy with Public Transportation
Durango is walkable, bike-friendly, and brimming with public transportation options. Use public transportation for easy access to all of the popular things to do in Durango. Reliable transportation is just one reason why Durango is a great place to call home.
If Durango sounds like the perfect place for you, contact Colorado Property Group of RE/MAX with Durango Homes for Sale at (970) 946-0601 to get in touch with a Durango real estate agent and get ready to call this beautiful mountain town home.