Things to Do in Durango: Durango, CO Places to Go and Things to Do
Posted by Ryan Poppe on Tuesday, December 15, 2020 at 10:22 AM
By Ryan Poppe / December 15, 2020
Comment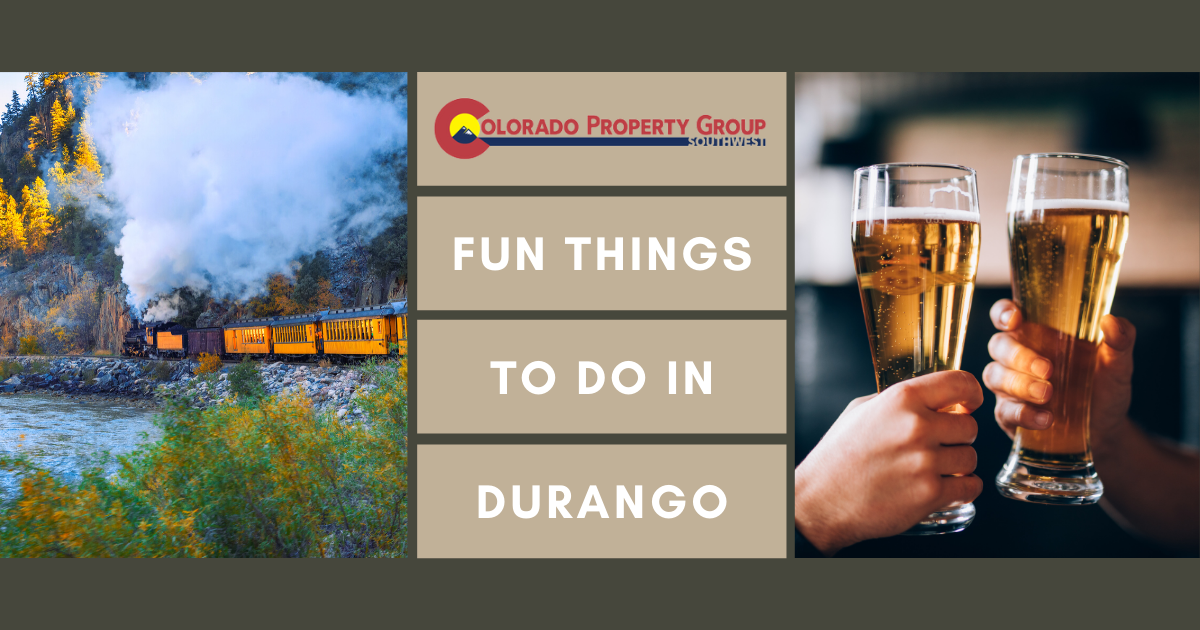 Durango, Colorado, is known for many things: majestic mountain ranges, world-class skiing, proximity to the Four Corners, and its history as an old mining and railroad town. Indeed, the southwestern Colorado city was founded in 1800 by the Denver & Rio Grande Railroad Company and is situated on the renowned Million Dollar Highway, surrounded by the spectacular San Juan Mountains in La Plata County.
That's certainly impressive, but there's much more to Durango than its looks and history. The entertainment and dining scenes are diverse and extensive, there's plenty of shopping, resorts, and hotels in Durango, and there are numerous ways to take part in the arts. Here are some of the many fun things to do when visiting or living in Durango, Colorado.
Durango Outdoor Adventures
Durango may not be a big city, but it does pack a big punch, particularly when it comes to outdoor recreation. Every outdoor pursuit imaginable is found in Durango, from fly-fishing, hiking, and skiing, to mountain biking, birdwatching, and white water rafting—and that's just the tip of the iceberg. There are even homes where one can fish just outside one's front door.
Parks
Parks in Durango
Animas City Park
Schneider Park
Oxbow Park and Preserve
Durango Off-Leash Dog Park
Rotary Park
Despite being just 6.8 square miles in size, there are over 40 parks in Durango. Santa Rita Park is a local favorite, as it's situated along the Animas River and has a large playground. It also has lighted basketball courts and soccer fields, volleyball courts, and even horseshoe pits. Another popular park is Rotary Park, also located on the river and providing direct access to the Animas River Trail. The Durango Fish Hatchery and Wildlife Museum and Animas Brewery are both an easy walk away. Those with dogs shouldn't miss the Durango Off-Leash Dog Park, with over five miles of riverfront.
Water Recreation
Water Activities in Durango
Whitewater rafting
Fishing
Kayaking
Canoeing
Paddleboarding
Durango has several world-class lakes and rivers, making it easy for people to get out on the water most of the year. Whether people want to experience the thrill of whitewater rafting down the Animas River, or leisurely kayaking on one of the city's lakes is more their speed, many activities in Durango are available. People can try their luck with angling for salmon and rainbow trout at Lemon Reservoir, rent a SUP or kayak at Lake Nighthorse, or check out Vallecito Lake, one of the largest bodies of water in the state. The truly adventurous can head to the Whitewater Park at Santa Rita Park.
Hiking & Biking Trails
Trails in Durango
Animas Mountain East Trailhead
Horse Gulch Hiking Trailhead
Overend Mountain Pack Hidden Valley Trailhead
Animas Overlook Trail
Colorado Trail Trailhead
The San Juan Mountains are just as rugged as they are beautiful, and that's a winning combination for hiking and biking enthusiasts. With a number of trails located within Durango and just outside the city, there's one for every skill and experience level. Start with Purgatory Trail, which sounds far scarier than it actually is. The trail is just 2.5 miles and has sweeping views of the Animas River canyon, as well as Lime Creek. Hermosa Creek Trail and Animas River Trail are both extremely popular with cyclists and hikers alike, and both have several access points.
Southern Colorado's reputation – and Durango's in particular – as an outdoor lover's paradise is well-earned. Not only is it spectacularly beautiful, but the city also enjoys year-round mild weather and direct access to rivers, lakes, mountains, a ski resort, and the state's largest wilderness area, Weminuche Wilderness.
Durango Shopping
Shopping Centers in Durango
Durango Mall
Main Mall
Durango Town Plaza
City Market
Durango Antique Market
Although Durango's scenery and weather do an excellent job of encouraging people to spend most of their time outdoors, there's also plenty to do inside. One option that's great for all ages and interests is shopping. Whether someone is in the market for a home decor item to display in their new construction home, some new outdoor gear, antiques, a Durango souvenir, books, or even an entirely new wardrobe, they can surely find it here.
Durango has over 500 stores, and the vast majority of them are locally owned. There's the Durango Mall and very few "big box" stores. Historic Downtown Durango maintains a comprehensive list of all the downtown-area shops, organized by category.
Durango Restaurants
Restaurants in Durango
Chimayo Stone Fired Kitchen
Steamworks Brewing Company
GRASSBURGER
Zia Taqueria
Ken & Sue's
Oscar's Cafe
A vibrant foodie scene may not be the first thing that comes to mind when one thinks of a small mountain town like Durango. However, food is serious business here. In fact, Durango has more restaurants per capita than even San Francisco. The official number is one restaurant for every 99 residents, as of 2018. In San Francisco, it's roughly one for every 187 residents.
So, what kind of food is Durango known for? Truthfully, a little of everything. Southwestern and Mexican cuisines are both perennial favorites, with an emphasis on Hatch green chilies from New Mexico. Burgers are also wildly popular, as are steakhouses, but there are plenty of Asian fusion and Mediterranean restaurants in Durango as well. Additionally, craft breweries are a big deal in Durango, with five locations plus a distillery. Many Durango restaurants are even pet-friendly!
Arts & Culture in Durango
Like many other Colorado communities, Durango's arts and culture scene is vibrant and diverse. Something about the crisp mountain air, all the trees, and the abundance of sunshine seem to perpetually attract and inspire creatives. The area's rich history certainly helps as well.
Museums
Museums in Durango
Durango & Silverton Narrow Gauge Railroad & Museum
The Powerhouse
Animas Museum
Durango Wildlife Museum
Durango has several wonderful museums that satisfy a wide range of interests. An excellent starting point is the Durango & Silverton Narrow Gauge Railroad Museum, a massive museum situated on the rail yard grounds that celebrates Durango's important railroad history. Visitors will find extensive train memorabilia, including an 800-square-foot model, covered wagons, and antique coaches. The best part is that the D&SNG Museum is free!
Keeping with the history theme, the restored classroom from 1905 at the Animas Museum is not to be missed. Art lovers should check out the dozen or so galleries downtown, or visit the Museum of Impressionism. Science fans will enjoy the interactive exhibits at the Powerhouse Science Center. Favorites include life-sized dinosaur displays, DIY classes in the MakerLab, and weekly trivia nights. It is also housed in a converted steam-powered, coal-fired power plant that sits on the Animas River – that alone is worth the visit!
Dance & Theater
Performing Arts in Durango
San Juan Symphony
Durango Arts Center
Animas City Theatre
Community Concert Hall
For those who want to spend some time indoors and experience the performing arts scene, Durango has them covered. The Community Concert Hall at Fort Lewis College showcases a wide range of primarily college performances, with a commitment to keeping costs low. It can also be rented as a venue for private performances or even receptions. The non-profit Durango Arts Center is a hub for art education, as well as performing and visual arts. These Durango events include live dance and theater performances, art installations, artist lecture series, a variety of classes and workshops, and the annual Durango Autumn Arts Festival, an event that's in its 27th consecutive year. The Animas City Theatre screens movies and puts on musicals and other types of performances, such as stand-up comedy shows and open-mic nights.
Whether people are artists or creators themselves, or they simply appreciate the arts, Durango is a wonderful city with a diverse range of offerings. The city's galleries, museums, and performing arts venues provide an excellent way to spend the afternoon, as well as opportunities for education and enrichment.
Durango Nightlife
Bars, Clubs, and Music in Durango
El Rancho Tavern
Carver Brewing Company
Colorado Pongas
Starlight Lounge
11th Street Station
Durango's entertainment and nightlife scene is vibrant, with something for everyone to enjoy. People can spend a night playing pool or darts sipping local craft beers, sample a variety of happy-hour offerings on Main Street, gather some friends for a few rounds of trivia, or dance the night away. The classic Old West-style saloon Diamond Belle is an absolute must in Durango, while Joel's Bar is known as the spot for dancing, with multiple DJs and dance floors. The Billy Goat Saloon just outside of Durango is a long-time favorite. It opened in 1982 and is widely considered one of the best places to catch live sporting events.
Explore Durango Today
While this southern Colorado city unquestionably lends itself to outdoor recreation and an active lifestyle, there are far more Durango attractions to discover. From shopping and dining to catching a live local performance or taking in one of the many annual festivals, there's always something for everyone to discover and enjoy here. Visit Durango today!
If Durango sounds like the perfect place for you, contact Colorado Property Group of RE/MAX with Durango Homes for Sale at (970) 946-0601 to get in touch with a Durango real estate agent and get ready to call this beautiful mountain town home.