Durango Vacation Guide: What to Do When Vacationing in Durango, CO
Posted by Ryan Poppe on Thursday, April 29, 2021 at 10:11 AM
By Ryan Poppe / April 29, 2021
Comment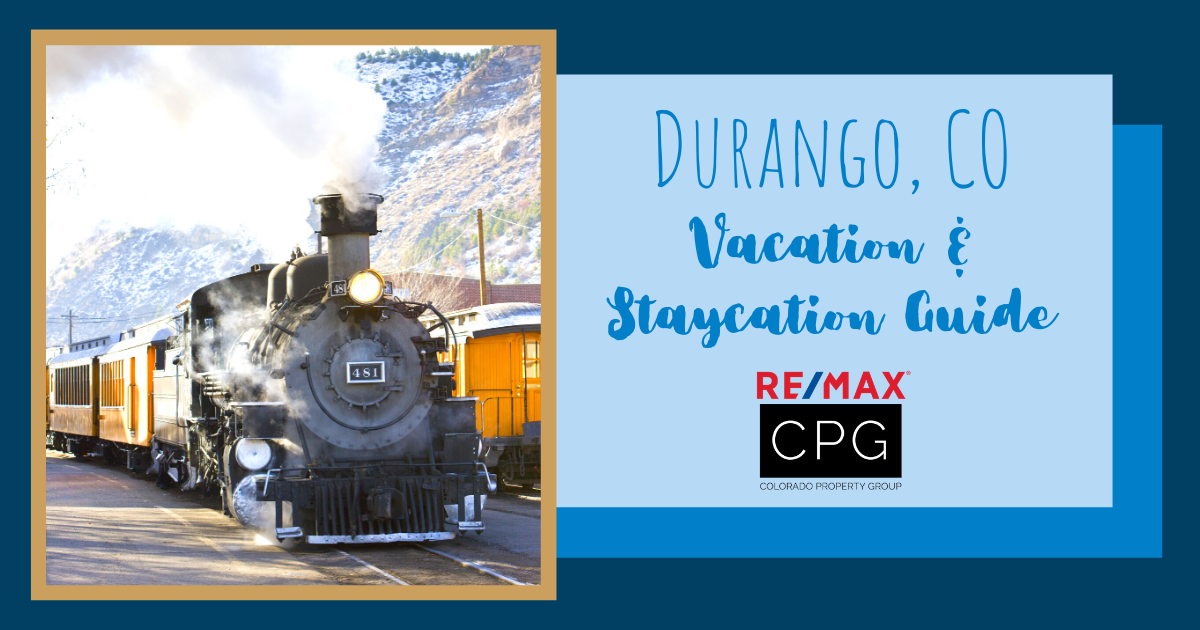 Located in southwest Colorado, Durango is a popular tourist destination on the San Juan National Forest's edge. About 19,000 people call the city home year-round.
As with most parts of Colorado, winter sports are enjoyed by residents as well as tourists. For Durango, however, the height of its tourism season is during the warm-weather months. With the surrounding mountains, rivers, and lakes, the terrain in and around Durango lends itself well to popular outdoor activities like hiking, mountain biking, camping, river rafting, horseback riding, and more.
Tourists are also drawn to the city's Western heritage and its support of a lively arts and culture scene. Here are a few things to know about while you're vacationing in Durango.
Lodging in Durango
Visitors to Durango will find various options for overnight stays, including hotels, bed-and-breakfast establishments, cabins, and ranch lodging, to name a few. Depending on what they plan to see and do while in Durango, visitors will find lodging opportunities close to the heart of downtown and on the outskirts, near outdoor recreation attractions.
Strater Hotel
Strater Hotel Amenities
Pet-friendly rooms
88 unique guestrooms
One on-site restaurant
Two on-site bars
Tour groups
Sometimes referred to as a living museum, the historic Strater Hotel has been welcoming guests since its construction in 1887. Located on a prominent corner in downtown Durango, the red-brick hotel is one of the most iconic in the western U.S. Its location makes it popular with tourists, situated just two blocks north of the Durango & Silverton Narrow Gauge Railroad, an hour from Mesa Verde National Park and surrounded by the San Juan Mountains.
Guests can enjoy the hotel's handcrafted woodwork, as well as its period-appropriate wallpaper. American Victorian antiques punctuate the hotel's décor, transporting guests back in time to Durango's earlier days.
The Barkers have operated the family-owned hotel for three generations. It features 88 uniquely styled rooms with private bathrooms. Guests can enjoy modern amenities, such as Wi-Fi and flat-screen TVs, while being surrounded by a part of Durango history.
Blue Lake Ranch
Blue Lake Ranch Amenities
Complimentary tea, hot chocolate, and popcorn
In-room coffee grinder and coffee maker
Free Wi-Fi
16 different themed rooms
Two pet-friendly rooms
Blue Lake Ranch has grown from its humble beginnings as the region's first bed-and-breakfast establishment to today's award-winning boutique hotel.
The property consists of 16 accommodations, including cabins and private cottages. Amenities include luxury linens, comfortable sitting areas inside and out, fireplaces, king-sized beds, and full kitchens or kitchenettes. Spa-like bathrooms feature whirlpool tubs and walk-in showers. Regardless of the lodging choice selected, guests are treated to mountain, garden, or lake views.
Located just 15 minutes southwest of downtown Durango, the ranch consists of a private 200-acre estate. Its location puts guests just a half-hour from Mesa Verde National Park and offers panoramic views of the surrounding La Plata Mountains.
Guests can enjoy the meadows and lush gardens found on the grounds, while anglers will appreciate the ranch's spring-fed lake with its abundance of trout. Hiking, river rafting, horseback riding, snow skiing, and other recreational opportunities are all nearby.
Apple Orchard Inn
Apple Orchard Inn Amenities
Selection of rooms and cottages
Complimentary homemade breakfast
On-site salon services
Pet-friendly rooms
As quaint and scenic as its name implies, the Apple Orchard Inn offers guests mountain views, colorful flowers, scenic waterfalls, trout ponds, and more.
Located just 10 miles north of downtown Durango via U.S. Highway 550, the Apple Orchard Inn is a bed-and-breakfast establishment located in the scenic Animas Valley. The Inn opened for business as a bed-and-breakfast in 1983, beginning with the main house. The six cottages and the surrounding landscaping were added a year later. The property now consists of over four acres, adorned with apple, pear, and cherry trees, as well as colorful perennials.
Rooms offer views of nearby mountains and cliffs, as well as the opportunity to watch the historic Durango & Silverton Narrow Gauge Train steam past.
Guests are greeted each morning with homemade breakfast in their rooms, featuring full entrées and home-baked bread. Other onsite amenities include a hair salon and a concierge service.
Food & Dining in Durango
Durango's restaurants offer customers various options, from authentic, spicy southwest cuisine to beefy burgers sourced from local, grass-fed cows. With agriculture playing such a prominent role in Durango's economy, the "eat local" movement is right at home. Locally grown produce and various locally sourced meats offer plenty of opportunity for a farm-to-table experience while visiting the city.
Ken & Sue's
Popular Dishes at Ken & Sue's
Aunt Lydia's Meatloaf
Filet Mignon
Wedge Salad
Prime Rib (served on Fridays)
Grilled Tuna Steak Sandwich
White Chocolate Cheesecake
Located in the heart of downtown Durango, Ken & Sue's American bistro offers customers a full menu for lunch or dinner. Owned and operated by Ken and Sue Fusco, the restaurant is a favorite of locals and tourists.
Crafted by Chef Ken, the menu features a diversity of entrees, including seafood and steak and Asian-inspired cuisine. Appetizers, salads, and desserts round out the offerings. Ken personally trains all kitchen staff to ensure the consistency and quality of every dish.
Sue manages the front of the house, training all servers and hosts and ensuring guests are enjoying their dining experience. In addition to lunch and dinner, guests can enjoy an extensive wine list as well as a 100-seat patio for outdoor dining.
Steamworks Brewing
Popular Dishes at Steamworks Brewing
New England Style Clam Chowda'
Cajun Boil
Blackened Ruby Red Trout
Black & Blue Country Fried Steak
Six Cheese Mac
Steamworks Brewing Co. started serving customers in Durango in September 1996. It's home to 22 medals from the World Beer Cup and Great American Beer Festival, among other recognitions. Steamworks prides itself on educating its servers to know its beers' flavors, composition, and brewing methods intimately.
Located in the middle of downtown Durango, the brewery features about a dozen house beers on its menu. The brewery's food includes everything from steak to seafood to salad. Their food is freshly made, and their menu items include vegetarian and gluten-free options. It is well known for its Cajun Boil, which is served daily from 11 a.m. to 11 p.m.
Steamworks Brewing Co. boasts the largest restaurant floor in Durango and can accommodate dinner parties of up to 50 people. The venue also offers event services and accommodates children with a special menu and activities.
Durango Doughworks
Popular Dishes at Durango Doughworks
Carne Asada Burrito
Doughworks Burrito
Buffalo Chicken Wrap
Sweet Potato Skillet
Chicago Omelette
Although it bills itself as the city's doughnut restaurant, Durango Doughworks serves up more than freshly made doughnuts and organic, hand-crafted bagels. The family-owned restaurant also features a full breakfast and lunch menu, as well as coffee and brunch-friendly cocktails.
Durango Doughworks offers grab-and-go food, a sit-down breakfast and brunch café, and takes special orders with advance notice. The restaurant is located on downtown's popular Main Avenue, home to several eateries and retail establishments.
The breakfast and lunch menu items are available all day and feature traditional favorites and house specialties. In addition to handmade doughnuts and bagels, Doughworks is especially known for its breakfast burritos.
Attractions in Durango
Durango is a city that has preserved much of its heritage, and this is reflected in the local attractions that draw visitors throughout the year. The city's Southwest charm, the significance of the railroad and mining to the city's development, and the backdrop of the San Juan Mountain Range are just some of the factors that combine to make Durango a fascinating place to explore.
Durango & Silverton Narrow Gauge Railroad
In a city founded by the railroad, those seeking a genuine Durango experience will want to include a train ride in their itinerary. That's where the Durango & Silverton Narrow Gauge Railroad Museum delivers.
The railroad first arrived in Durango on August 5, 1881. Construction on the line leading to Silverton got underway just a short time later, and the tracks leading between the two cities were completed by July 1882. Although it transported freight and passengers, the line's primary purpose was to haul silver and gold ore out of the San Juan Mountains. However, passengers who gave the rail a try soon learned the views were breathtaking, and word spread. Today, visitors to Durango can enjoy a slice of history by riding the Durango & Silverton Narrow Gauge Railroad. The line has been in continuous operation since 1882.
In addition to the popular scenic roundtrip Silverton train, those longing for an authentic railroad experience can enjoy the Cascade Canyon Express, which can be boarded just 18 miles north of Durango. The Cascade Canyon Spring Trains are another option and depart from Durango.
In addition to riding the rails, sightseers can enjoy a visit to the Railroad Museum in Durango. Admission is free.
The Powerhouse
The story of Durango's historic Powerhouse is one of early adaption and innovation. It started back in 1892 when the Durango Light and Power Company showed the foresight to adopt a new technology known as AC power. Rejected by many eastern states, some of which outright banned it, the city's early leaders took a chance on what would eventually become the global standard.
A building was constructed to provide AC power, with an architectural style as unique as the venture itself. The result was Durango's streetlights came aglow long before those in the East's more prominent cities.
After falling into disarray following closure in the mid-1970s, the facility has since been revamped as a learning center. Visitors experience the history of local power generation and get a basic understanding of how power is generated. Other exhibits include dinosaurs, the moon, and more.
Doors opened to the public beginning in 2002, with the aid of Durango's Children's Museum, numerous volunteers, and several grants. It is hoped that the restoration and re-purposing of the Powerhouse will serve as an anchor for revitalizing a broader area of downtown.
Durango Autumn Arts Festival
Each year, the Durango Arts Center sponsors the Durango Autumn Arts Festival, putting the spotlight on artists and artisans from around the country. The Durango Arts Center is the region's premiere non-profit arts organization, serving Durango and the entire Four Corners region.
The festival is held outdoors against the backdrop of colorful fall foliage on historic Second Avenue in downtown Durango, one block off Main Avenue, which serves as a hub for those visiting its many restaurants and retail spots. Lasting throughout a weekend, the show is known for its steady crowd.
The festival serves as a benefit event for the Durango Arts Center, with proceeds from exhibitor fees supporting the center's programs in the arts. The juried show features 90 exhibitors and draws a crowd of about 6,500 each year.
Adventures in Durango
In addition to its focus on history and the cultural arts, Durango is popular for its outdoor recreational opportunities. Its natural surroundings of mountains, forests, and meadowlands are the perfect setting for many outdoor activities year-round. From whitewater rafting to mountain trail hiking, the many preserves, mountains, rivers, lakes, and streams welcome visitors and residents alike.
Oxbow Park & Preserve
Located at 500 Animas View Drive, less than four miles from downtown Durango, the Oxbow Park and Preserve features 44 acres of open space. It provides river access as well as natural surface trails for hiking and running. There is also space for picnicking.
The park boundaries follow the meandering Animas River for about 1.7 miles. The park is a favorite of bird and wildlife watchers, with 38 acres devoted to natural habitat. The preserve is inhabited by an estimated 85-plus species of birds and large mammals, including deer, elk, bobcat, and fox.
The City of Durango has announced plans for a boat ramp, dedicated parking, and designated trails. Still, the park remains primarily a preserve for wildlife with only primitive hiking paths and limited river access. Vehicular traffic is not allowed. The park is accessible only by bike or on foot.
Animas Mountain Trail
The Animas Mountain Trail consists of a six-mile loop found near Durango. The trail is popular and heavily trafficked. It is rated moderate in difficulty.
Animas Mountain Trail is known for its spectacular views of the surrounding scenic landscape and its colorful wildflowers. Trail access is less than three miles from downtown off Main Avenue. It is on the opposite side of Main from the Oxbow Park and Preserve and runs primarily along the Animas River.
The city is considering a northern extension of the trail and further development of Oxbow Park and Preserve. The proposed construction project would include extending the Animas River Trail from Animas City Park north to Oxbow Park.
Trail use is primarily limited to March through October and may be closed over the winter from December to April for habitat preservation. The trail is dog-friendly.
Whitewater Rafting
Durango's landscape is dominated by the Animas River, with the city developed along its meandering shoreline. The river is a favorite for whitewater rafting enthusiasts and starts north of Durango, near Silverton, flowing all the way to the San Juan River in New Mexico. However, the stretches which make for the best whitewater rafting can be found right around the Durango area.
Downtown Durango's bustling streets follow the shores of the Lower Animas River. This popular stretch of the river features Class III rapids, along with churning whitewater and challenging drops—features that continue to make it a popular spot for whitewater rafting enthusiasts of all skill levels.
Early Spanish explorers who traveled the Four Corners region provided the river's name, Animas, which translates to "ghosts" or "lost souls" in Spanish. The river received its name for the spirits Native Americans believed haunted the river's lower stretches.
When to Visit Durango
The timing for a visit to Durango is entirely dependent on the activities desired. Summer months—June through August—are typically warm with abundant sunshine. The city's coldest, snowiest months are December through March, which is also ski season for the San Juan Mountains. On average, Durango boasts about 265 to 300 sunny days every year.
Summer is the height of the tourism season, so those wishing to avoid crowds might want to book their travel accordingly. Popular summer activities include hiking and biking the area's mountain trails, riding the Durango & Silverton Narrow Gauge Railroad, fishing, and horseback riding. Average high temperatures for June, July, and August are 82, 87, and 84 °F, respectively.
Spring and fall are known as the "shoulder seasons" in the travel industry, meaning the time between high to low or low to high tourist seasons. Popular activities include touring Mesa Verde National Park, biking and hiking, participating in Memorial Day weekend's Iron Horse Bicycle Classic, and fly fishing.
For winter sports enthusiasts, the coldest months are the prime time to explore Colorado. Among the many things to do in Durango during the winter months are skiing and snowboarding, sleigh rides, dog sledding, art galleries, ice fishing, and more. Average temperatures for December, January, and February are 42, 39, and 46 °F, respectively.
Discover Durango
Located just 40 miles from Mesa Verde National Park, Durango is a popular destination for those planning a national park visit. The Animas River provides many outdoor recreational opportunities, from whitewater rafting to fly fishing. The city is also popular for its hiking and biking trails. Visitors and residents fond of the arts will enjoy the city's focus on history and culture.
If Durango sounds like the perfect place for you, contact Colorado Property Group of RE/MAX with Durango Homes for Sale at (970) 946-0601 to get in touch with a Durango real estate agent and get ready to call this beautiful mountain town home.