5 Durango Hot Springs: Unwind in Hot Springs Near Durango
Posted by Ryan Poppe on Wednesday, December 21, 2022 at 1:18:46 PM
By Ryan Poppe / December 21, 2022
Comment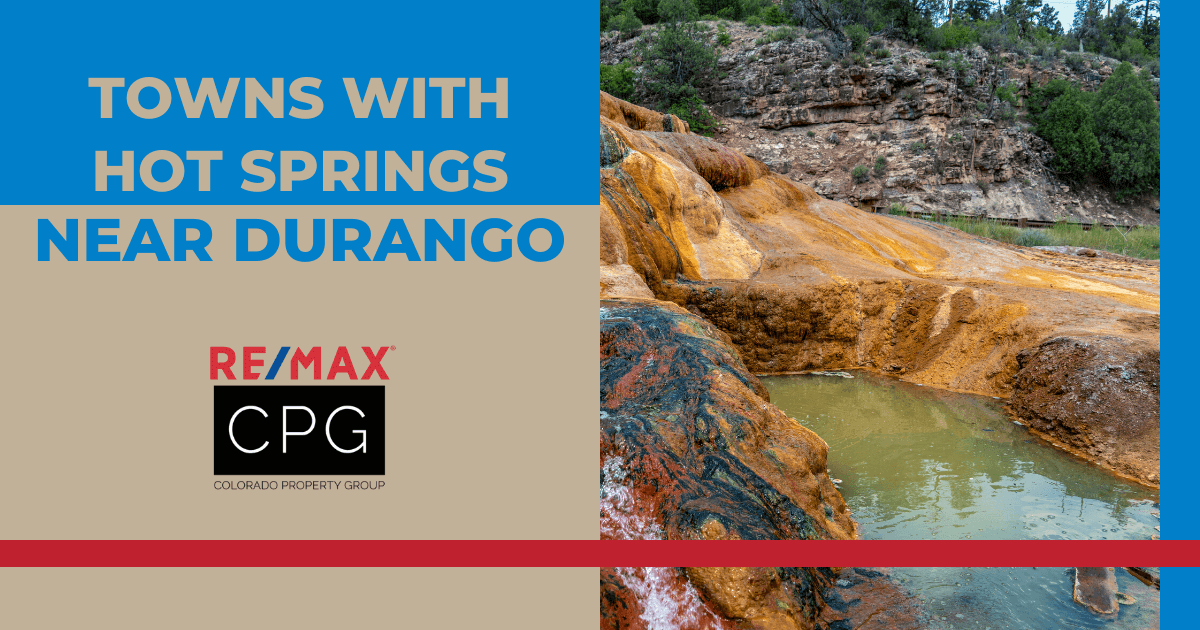 Hot springs near Durango feature geothermally heated, mineral-rich pools where guests can relax and enjoy Colorado's natural beauty while staying warm, even when temperatures dip below freezing. Living nearby makes it easy to soak up the hot springs' benefits whenever the mood strikes, and they are often cited as a major draw for those moving to Durango. Read on to learn about the best hot springs near Durango.
Durango Hot Springs - Hermosa, CO
Durango Hot Springs offers 26 soaking pools, a resort-style saltwater swimming pool, two cold plunge pools, and a mineral water rain tower.
The sulfur-free waters at Durango Hot Springs offer 32 minerals and varying temperatures. The resort is the first natural hot springs in the world to use AquaGen and Oxium's Quantum Fusion technology. AquaGen uses microscopic oxygen bubbles to clean the water. Meanwhile, Quantum Fusion binds the mineral water together on a molecular level to improve clarity and mineral absorption.
After soaking, take a relaxing stroll down the reflexology walking path or check out the spa. Durango Hot Springs Resort & Spa, always a great option for those vacationing in Durango, offers 17 massage, facial, and body treatments.
Reservations are required. Guests can save time at the resort by filling out a liability waiver and soaking etiquette agreement before their arrival. Durango Hot Springs does not offer rental towels, but guests can purchase fresh towels at the front desk. Food and beverages are available from an on-site concession stand, bar, and food truck.
Durango Hot Springs is tucked away in the beautiful Animas Valley just south of Hermosa. This small Durango suburb offers impressive views of the Hermosa Cliffs and a few small businesses, such as James Ranch and Hermosa Creek Grill.
Durango Hot Springs Additional Information
6475 County Road 203, Durango, CO 81301
$39 Soaks
Open from 9:00 a.m. to 10:00 p.m. daily
The Springs Resort & Spa - Pagosa Springs, CO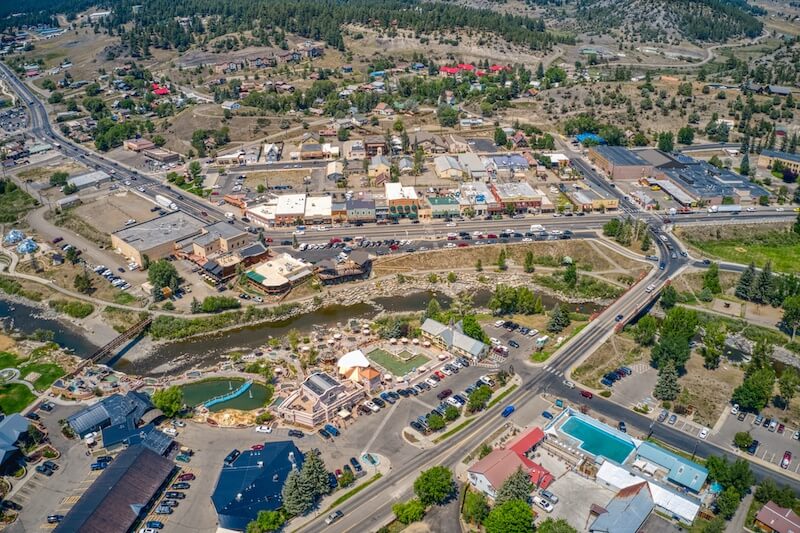 The Springs Resort in Pagosa Springs offers 25 geothermally heated pools, spa treatments, and even more activities for overnight guests.
All 25 pools at The Springs Resort draw water from the Mother Spring, the world's deepest geothermal hot spring. The pools range from 45 to 114 degrees Fahrenheit and contain 13 minerals. Guests can also brave the Warrior Plunge into the San Juan River, held daily at noon.
An outdoor grill, bar, and cafe provide refreshments at The Springs Resort, making it easy to stay all day. Poolside service can deliver frozen drinks and cocktails right to the pools.
The Day Pass includes a complimentary Mother's Mud treatment. Overnight guests at The Springs Resort can enjoy even more benefits, including 24-hour access to all pools and daily wellness activities like aqua yoga and forest bathing hikes. Lockers and towel rentals are available, with some resort packages including these essentials.
There is an abundance of homes with acreage in Pagosa Springs, and the city offers excellent outdoor recreation year-round, with the San Juan River flowing through the center of town and over 2.5 million acres of natural forest and wilderness nearby. Enjoy hiking, rafting, kayaking, fishing, and golf during the summer, or skiing, ice-fishing, dog-sledding, and sleigh riding in the winter.
The Springs Resort & Spa Additional Information
323 Hot Springs Boulevard, Pagosa Springs, CO 81147
$65 Day Pass
Rooms from $319 to $719 per night
Pools open from 9:00 a.m. to 9:30 p.m.
Piedra River Hot Springs - Piedra, CO
The secluded Piedra River Hot Springs offer a naturalistic hot springs experience at the end of a short but moderately challenging hike.
Shallow riverside pools provide just enough room to lie down or have a good foot soak after the hike. Generally, the pools range from the 70s to the low 100s in degrees Fahrenheit. Pools farther from the river tend to be warmer, but visitors can also shift the surrounding rocks to adjust the pools' temperatures to their preference. Some of these rocks can get quite hot, so it's a good idea to bring sandals for walking around the pools.
The 2.8-mile out-and-back hike to Piedra River Hot Springs starts at Sheep Creek Trailhead off First Fork Road. Most of the trek is downhill, but heading back uphill is significantly more challenging. Some nearby campsites and campfire areas along the route offer opportunities to rest.
Note that First Fork Road may close in the winter. It is a dirt road with some blind corners, making it easier to navigate with vehicles that have 4WD.
Piedra River Hot Springs is 7 miles north of Piedra, a small community of just 28 in 2010. The closest community of significance to Piedra River Hot Springs is the city of Bayfield. When traveling from homes in Durango, head east on Highway 160 for approximately 45 miles. Flowing through Piedra, the Piedra River offers excellent fly fishing, rafting, and kayaking.
Piedra River Hot Springs Additional Information
7 miles north of Piedra on First Fork Road
Free
Open daily
Healing Waters Resort & Spa - Downtown Pagosa Springs, CO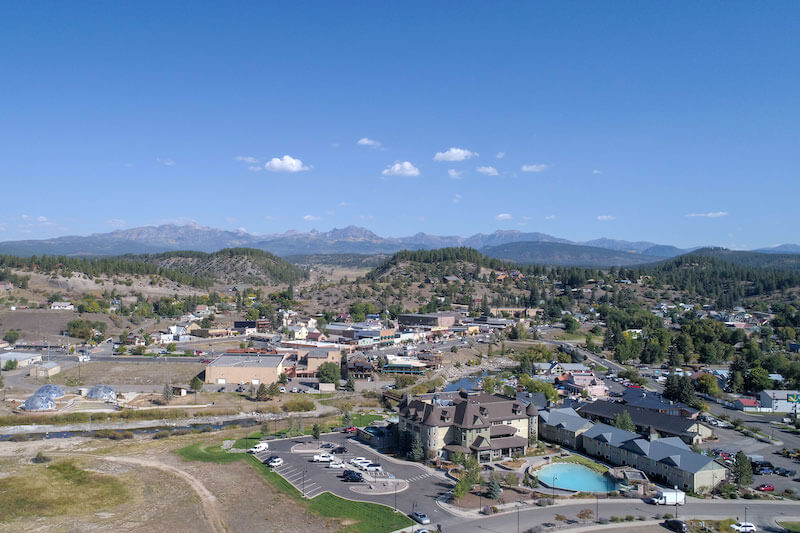 Since 1950, Healing Waters Resort & Spa has been a family-owned resort featuring mineral pools, massage treatments, and cozy lodgings in Downtown Pagosa Springs.
Healing Waters Resort offers an outdoor swimming pool, hot tub, and gender-separate indoor hot baths. All consist of 100% mineral water without any additives.
The resort offers personalized treatments from licensed massage therapists certified in various massage styles. Guests must book massage treatments at least 30 minutes in advance, perfect for enjoying a complimentary soak right before the appointment.
Overnight guests can choose from hotel rooms, suites with kitchenettes, or park-model cabins. They receive free access to the pools throughout their stay. Showers, towels, and bathing suits are available to rent.
Downtown Pagosa Springs provides easy access to the San Juan River and Main Street's best shops, galleries, and restaurants. The waterfront homes for sale in Pagosa Springs make it easy to enjoy rafting and kayaking just a few steps from home. Of course, it's also still easy to get out of town to explore nearby trails and ski resorts.
Healing Waters Resort & Spa Additional Information
317 Hot Springs Boulevard, Pagosa Springs, CO 81147
$20 Soaks
Rooms from $110 to $185 per night
Open from 8 a.m. to 10 p.m. daily
Swimming pool closed every other Wednesday
Ouray Hot Springs Pool - Ouray, CO
For nearly 100 years, Ouray Hot Springs Pool has been one of the most popular locations in Ouray, featuring five pools, two waterslides, and other fun attractions.
The sulfur-free pools at Ouray Hot Springs range from 75–104 degrees Fahrenheit. The three geothermally heated pools source their mineral-rich waters from the Ouray Box Canyon Waterfall and Fellin Park aquifer, while the cold pools get water from Weehawken Spring.
Guests can enjoy two waterslides from Memorial Day to Labor Day, although the springs are open year-round. Eight lap lanes allow for lap swimming. The springs also offer a climbing wall and an inflatable obstacle course.
Known as the outdoor recreation capital of Colorado, Ouray boasts plenty of things to do. Explore over 300 miles of maintained trails, climb the gorge at Ouray Ice Park, or shop and eat on historic Main Street.
Ouray Hot Springs Pool Additional Information
1220 Main Street, Ouray, CO 81427
$21 Admission
Open from 12:00–9:00 p.m. Wednesday–Monday, 12:00–4:00 p.m. on Tuesdays
Enjoying Hot Springs Near Durango
From naturalistic hot springs to luxurious resorts, the hot springs near Durango provide pools to suit every taste. There are many things to do in Durango, and living here enables quick access to the hot springs' relaxing heated pools, spa treatments, and other great amenities.
If Durango sounds like the perfect place for you, contact Colorado Property Group of RE/MAX with Durango Homes for Sale at (970) 946-0601 to get in touch with a Durango real estate agent and get ready to call this beautiful mountain town home.