Want to Modernize Your Log Home? Here are 4 Log Cabin Renovation Ideas
Posted by Ryan Poppe on Wednesday, November 17, 2021 at 12:05 PM
By Ryan Poppe / November 17, 2021
Comment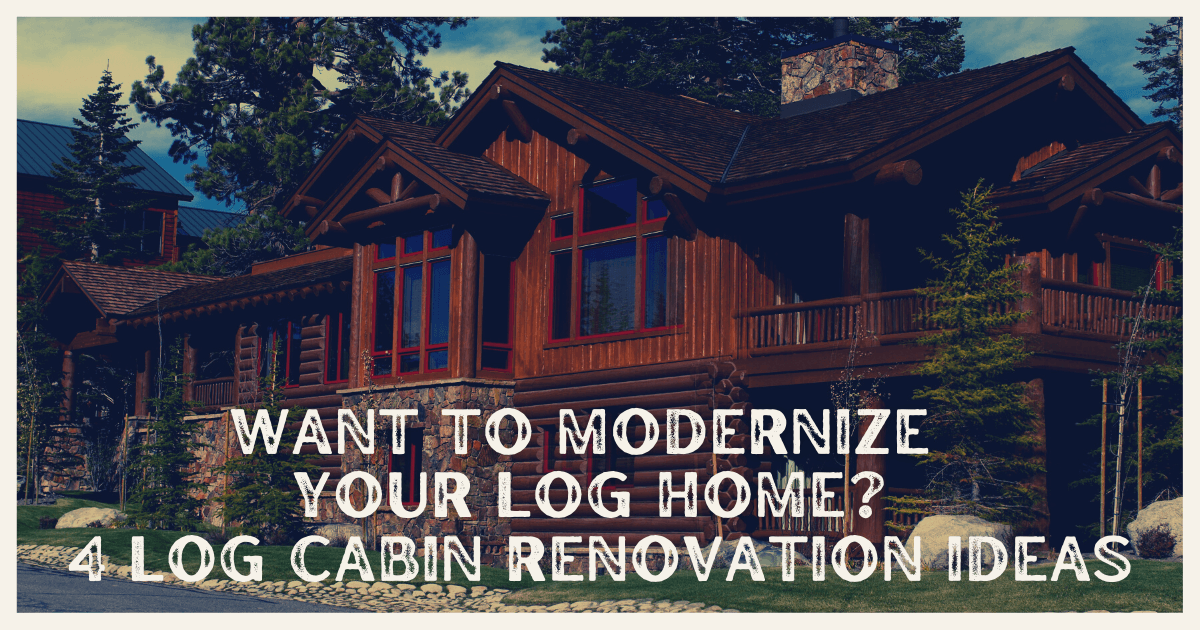 The classic appearance of wood in a log home offers the best of nature while providing a feeling of warmth to any home. From small abodes with simple lines to elaborately adorned large dwellings, log cabins can be modernized with new technology and updated interiors. Keep reading to find out about a few ways to maintain the charm of a rustic log cabin while enjoying the beauty and conveniences of the modern era.
What Is Modern Design?
As a statement that goes against the ornate decoration and flourishes of styles like Renaissance, Gothic, and Victorian, modern design principles are somewhat more basic. Palettes tend to be earthy, warm tones with accents that can contrast, such as bold primaries and blacks or even metals, with metal roofing being a common choice on the exterior.
There are so many elements considered standard components and themes of modern design that a solid definition of the concept fails to exist. Overall, the simplest way to embrace modern interior design is with an open-layout floor plan that conjoins several spaces into a larger one that offers a sense of ambiance.
Lines are traditionally clean, minimalist, and boast sleek surfaces throughout. Most modern log cabins are dominated by warm woods, stone fireplaces, and leather detailing. The decor is intentionally functional to the core, but the look is achieved without sacrificing style.
Log Homes & Mixed Materials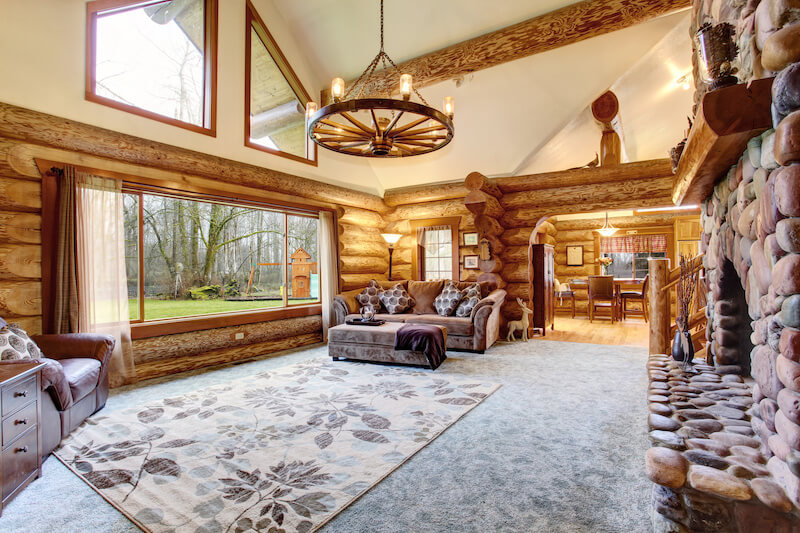 The use of mixed materials in homes is not a new concept, but it is a trend that has become rather popular in recent years. By incorporating several materials that work well together, a richer texture is established. Homeowners are modernizing log homes with various materials ranging from metal and stone to drywall and eco-friendly recycled products.
The addition of materials such as stone has been incorporated into log homes from their inception, and it allows the wood to stand out without being overwhelming. Stone often encases the foundation and is dominant in the construction of chimneys. To keep with the natural aesthetic, stone is ideal for log cabins with mixed materials.
Metal is gaining traction in home construction, and it is used as a roofing material for modern log homes. It can also be added to the foundation to help prevent termites. Owners love the striking appearance, but the sound of rain on a metal roof adds to its charm. The material also makes a statement inside homes in details such as post caps, railings, light fixtures, and accent adornment. Iron, copper, and stainless steel are highly appealing.
Drywall gives decorators the chance to embrace texture and color, which was a rarity within traditional log cabins and homes in the past. The use of drywall encourages creative touches like faux finishes, paint, wallpaper, plaster, and stucco for textural highlights. Those looking to make a statement may opt for a large hand-painted mural to showcase the great room or hallways. Western scenes are always popular, as they reinforce the unique qualities of log homes.
Improve Lighting With an Eye for Design
With darker woods and interior colors, proper room lighting is essential because dark colors can lose 50 percent of reflected light. The use of various lighting fixtures helps counteract the darkness and offers several options in terms of design.
In addition to ample ambient lighting, different aspects of a room can be complemented and highlighted with rail systems on walls or track lighting on beams. Directional lighting creates interest, and strategically placed up-lights such as torches and lamps allow light to bounce off the ceiling.
To make the most of cathedral ceilings, up-lights around the nine-foot level help prevent lighting from getting muted by rafters while showcasing any log trusses. Sconces are a solid choice that brightens up a modernized log home and brings light down the space.
Bring in a New Color Scheme
Contrasting colors can bring depth to the design of a log home. New color schemes can rejuvenate the abode while giving it a new, fresh look. It is essential to ensure that darkness doesn't dominate the theme inside, so if deep hues of wood create the main walls, adding a bit of lighter colors can genuinely let the wood shine. Consider experimenting with stains and finishes that can bring the richness of wood grains to the forefront.
Make Your Log Home a Smart Log Home
Log homes can have the same smart features as traditional homes, such as smart appliances, heating, and cooling systems, security cameras, doors, windows, and outlets. Anywhere the internet is available, a technologically advanced smart home can be a reality.
Smart door locks and garage doors have eased homeowners' lives by allowing doors to be remotely locked and unlocked via an app. Many allow for PIN code and facial recognition entry. Should one forget to lock up, it can be resolved from anywhere, any time.
Smart outlets allow owners to control whatever's plugged into sockets to be activated. Timers can be set for electronics and appliances, and voice commands are also possible. Smart thermostats are energy savers and make it simple to come home to a comfortable temperature or turn off the heating and cooling when away.
Smart security systems are equipped with wifi cameras, motion sensors, lighting systems, and can capture infrared footage—even at night. Many appliances now boast smart features, including touchscreen refrigerators, microwaves with sensors, ovens that allow users to view food cooking, and much more. Smart appliances and installations save energy, time, and make life easier in numerous ways.
Considering Constructing or Modernizing a Log Cabin?
Whether you're building a new home in a town known for log homes or you're modernizing a preexisting home, these simple tips can ensure that the house retains its rustic appeal while providing all of the amenities of a traditional dwelling. Making modern home improvements can help you enjoy your log home every season.