More Space to Enjoy: 5 Space-Saving Interior Design Tips for Condos
Posted by Ryan Poppe on Wednesday, June 29, 2022 at 8:05 AM
By Ryan Poppe / June 29, 2022
Comment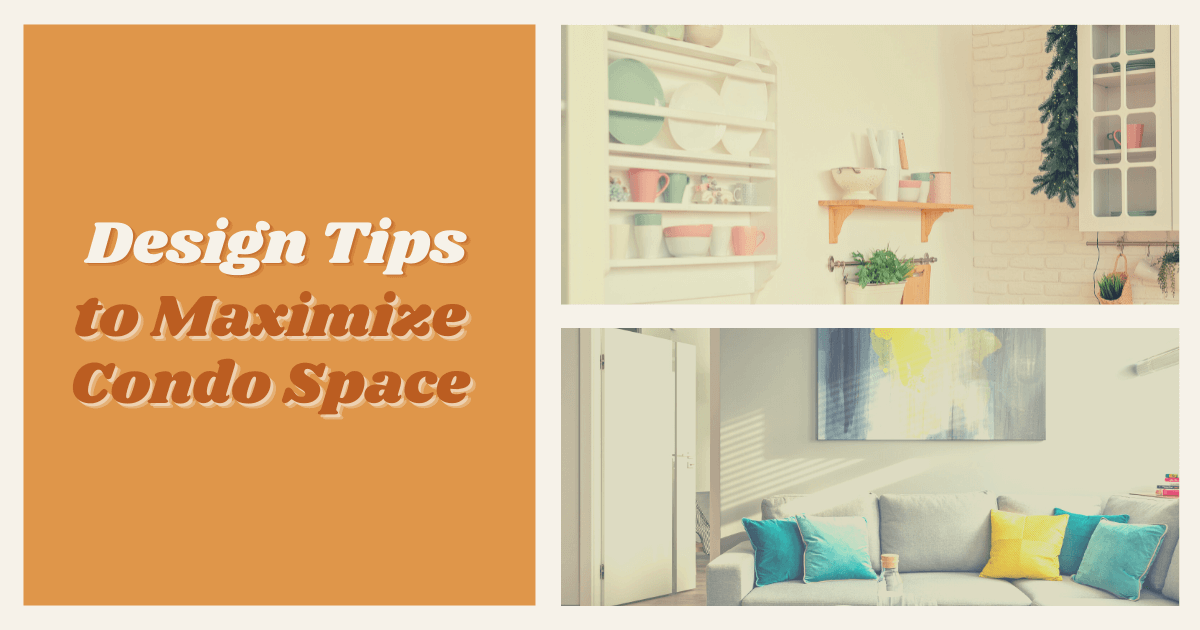 Condo living can offer a true sense of luxury and convenience since many condos for sale are located in walkable areas and have fantastic on-site amenities. Trying to decide between a condo or a house? One perk of condos is that they often save you money, as condos are essentially more affordable than townhomes and single-family homes. One downside is that the square footage of condos is often less than freestanding homes. Luckily, condo maintenance responsibilities allow owners the freedom to customize their condos and implement efficient design strategies. Keep reading to learn about four condo design ideas that help maximize space.
Start Thinking Vertically
Due to past trends in home décor and interior design, most people are often wired to design storage spaces horizontally. While there's nothing wrong with the trend, designing a room vertically is the best and easiest way to create space in any room. Vertical storage draws the eyes upwards, elongating windows, doors, and walls while creating a sense of space in a home.
Install floating shelves in your living room, kitchen, or other important room in your condo. They add vertical depth, making a room appear spacious and at the same time offer additional storage. And because they're available in an assortment of designs, they also have the potential to add to the aesthetic value of the space.
If you don't fancy floating shelves, an oversized art piece placed high on a wall will be a great focal point and, at the same time, will draw the eyes upwards, creating an illusion of space. For those who don't want to do much, hanging curtains high up, painting vertical stripes on the walls, or using low-slung furniture will elongate the room without too much labor on your part.
Pull Out the Paint Swatches
Some paint colors make small rooms seem larger. Generally, light and cool colors create depth, making walls appear receded; hence the room feels more open. They're also naturally reflective and maximize natural light to make an interior feel brighter and airy.
Suppose you're looking to create as much visual space as possible; lean towards soft tones like white or eggshell. They add clarity and reflect light better, creating depth and an illusion of space in a condo. If bright colors aren't your cuppa, try neutral colors like light taupe and grey. The former creates visual space without being too overwhelming, while the latter varies with the day's shadows making a room feel more sophisticated and open.
An accent wall is also a superb trick to introduce color to a condo. Using a dark or solid color on one wall can make it appear further away, creating visual space in a room. If the room leans towards a bright interior and doesn't feel spacious, paint the ceiling darker to create depth and visual space.
While selecting bright colors to add to your condo, consider introducing reflective surfaces like mirrors into the space too. Strategically-placed mirrors reflect the room they're in, creating a perception of depth in a space. Place your mirrors against a light source for optimum results.
Use All Available Storage Space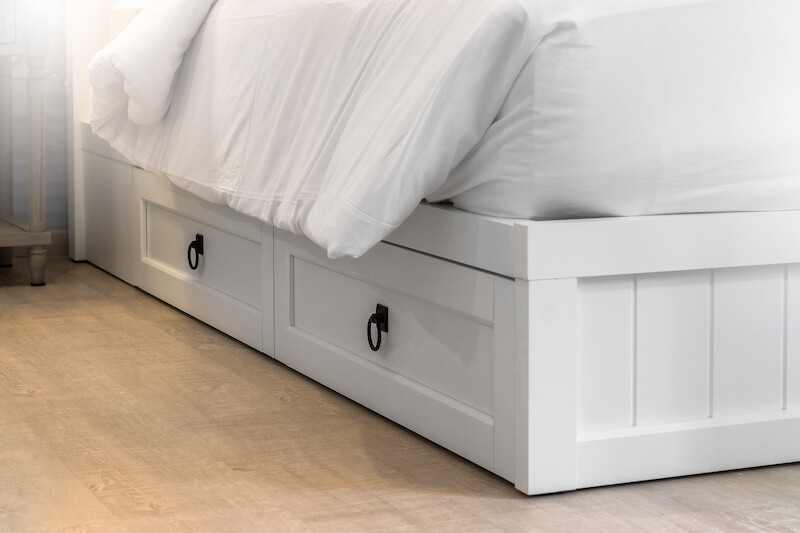 Thinking vertically and using bright colors creates visual space, but to achieve a sense of true space in the condo, you also need to maximize the available space. Introduce a few foldaway furniture pieces you can seamlessly store away whenever not used to create space in a room. If you work from home and need an office area, a foldaway office table can be pulled out during work hours and then restored out of sight.
Alternatively, consider multi-use furniture pieces and decorations. For instance, use a vintage trunk or a table with built-in storage instead of a regular coffee table. It'll allow you extra storage, and get clutter items like books and magazines out of sight, creating not just space but also a clean and organized space.
Consider a storage bed with drawers that can double up as storage to create space in the bedroom. Get an over-the-toilet organizer to create space for your towels, cosmetic products, and other essentials to create space in the bathroom. You may also introduce a mirror with built-in storage, so items are discreetly stored away.
As for the kitchen, install double-duty shelves or a pegboard to create flexible and functional space. Use the top parts of your cabinets to store seasonal kitchen items and convert cabinet and pantry shelves to drawers using baskets.
Big Pieces Go Further than Small Ones
They say less is more, but big pieces are the way to go if you want to design a condo to feel spacious. Stuffing an already-small space with several small-scale furniture pieces makes it appear more crowded. In contrast, oversized statement pieces often eliminate the need for multiple items, leaving more room open.
For instance, swapping two small sofas with an oversized sectional couch creates functional and aesthetically-pleasing seating without cramping up the room. If you're worried it won't feel homely, layer different textures and fabrics, such as velvet for the seat's material, and a woolen throw blanket with differently textured throw pillows to add grace and class. While at it, consider furniture with show-legs. The space beneath makes it appear less bulky, and the condo feels larger.
Seats aren't the only pieces you can go big on to create space in a small condo. Oversized art pieces are also an excellent hack to create space. A large piece of art in a condo with limited space is an instant conversation starter and simultaneously makes the room feel bigger. You can also have one big rug in the living area to visually separate it from other room parts, conversely making the entire space feel bigger.
Opt for Furniture With Built-In Storage
For those who live in small condos, space is often at a premium. Every square foot must be used wisely to maximize the available space. Built-in storage can be a great way to make the most of a small living area. For example, many couches and chairs now come with built-in drawers or shelves that can be used to store books, throws, and other household items.
When it comes time to entertain guests, these hidden storage areas can quickly be filled to create more space for people to move around. Similarly, ottomans and coffee tables with built-in storage can also be used to tuck away items when they're not needed. By using furniture with built-in storage, small condo dwellers can create additional space without sacrificing style or comfort.
Make Space to Design Your Dream Condo
Wondering if it's better to buy a condo or rent? One perk of owning your condo is the freedom to customize and use space-saving design hacks. There are myriad ways to create space in a condo: higher ceilings, bright paint hues, matching furniture and wall colors, to going big on furniture and art pieces. So, if you recently came across an excellent condo offer but are worried the space might be limited, fret not, these efficient condo design strategies can help make it work.