Live the Good Life: The Benefits of Living in Durango West 1 & 2
Posted by Ryan Poppe on Tuesday, April 25, 2023 at 11:10:45 AM
By Ryan Poppe / April 25, 2023
Comment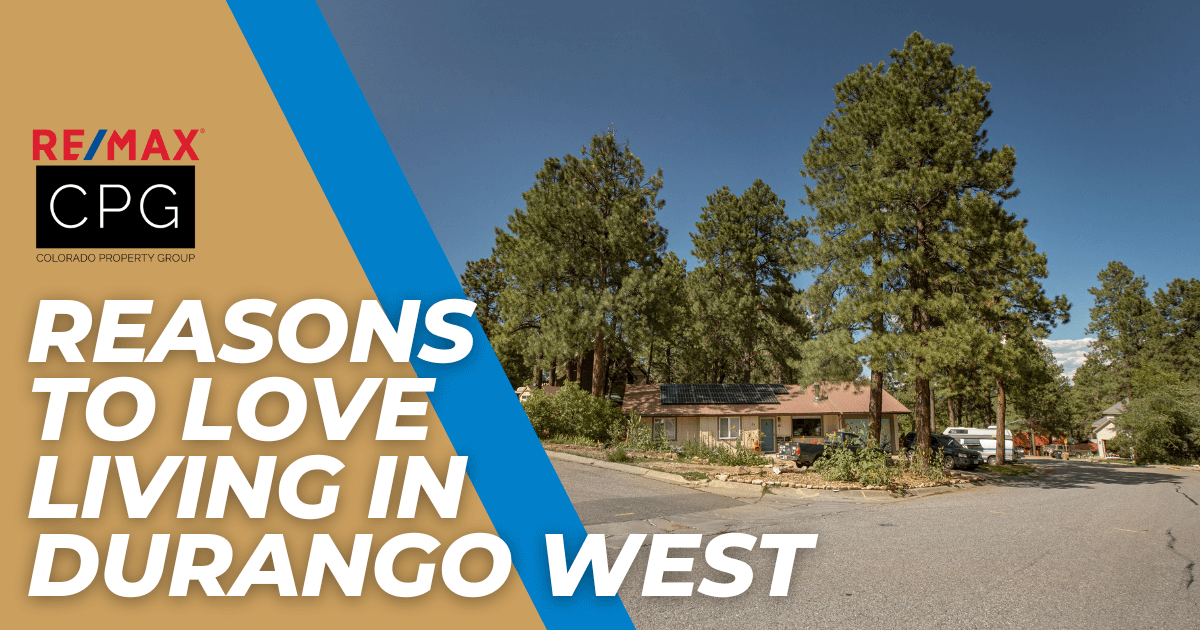 A prime location just 15 minutes from downtown, endless opportunities to enjoy the outdoors, and an affordable mix of homes are just some of the reasons why residents love living in Durango West. Durango West contains two communities and is an excellent option for potential homebuyers to consider if they're moving to Durango but are still unsure of where exactly in town to call home. From the scenic atmosphere to exciting nearby attractions and plenty of things to do, here's what to know about living in Durango West.
8 Reasons to Love Living in Durango West
1,100 feet higher in elevation than downtown (cooler summers and more snow in the winters!)
Variety of home types (luxury, condominiums, townhomes)
Lower entry pricepoint than in many other areas of Durango
15-minute drive to downtown
Paved roads
Ample opportunities for hiking, skiing, biking, and other outdoor fun
Near the Animas River and Hesperus Ski Area
Central water, sewer, and road maintenance, including snow plowing
The Durango West Lifestyle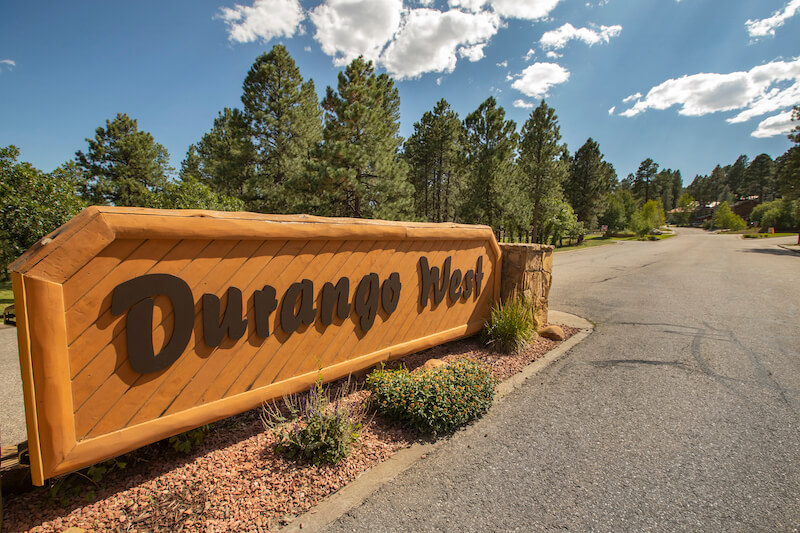 Durango West 1 and 2 are scenic, forested communities located just north of Durango proper, with an elevation of about 7,600 feet. Life here offers the best of both worlds, with abundant opportunities to Durango's enjoy outdoor recreation just steps from your front door and living less than 15 minutes from Historic Downtown. Commuting is a breeze, thanks to Durango West's proximity to the 160 and 140 interstates.
The higher elevation ensures pleasant weather year-round, delivering cooler summer months and more snow in the winter, which is a plus for ski enthusiasts.
The primary attribute that both Durango West neighborhoods are known for is their active, outdoorsy lifestyle. The community hosts many events and festivals throughout the year, and it's the type of place where neighbors bump into one another on local trails and at the community park or cafe.
Types of Homes in Durango West
The neighborhoods of Durango West 1 and 2, which sit on opposite sides from one another, offer a nice mix of home styles, from stunning mountain properties to quaint single-family modular cabins.
Prospective homebuyers will find several affordable options in Durango West 1. Lots typically range from ⅛-¼ of an acre, and average home prices are generally available from the high-$100s to the low-$400s.
The Durango West 2 community offers a slightly more varied range of home types catering to various household sizes and preferences. The lots are slightly larger here, with spacious yards and more open green space. From cozy single-family residences reminiscent of traditional log cabins to luxurious condos with floor-to-ceiling windows, there's something here for everyone. Buyers can expect home prices usually ranging from the mid-$200s to the mid-$900s.
Things to Do in Durango West
Due to its proximity to the San Juan National Forest, downtown Durango, and Mesa Verde National Park, Durango West residents are spoiled for choice with many things to do. In both neighborhoods, there's a tennis court, basketball court, playground, and small pond, but just outside the community boundaries, the options for exciting things to see and do are endless!
Outdoor Activities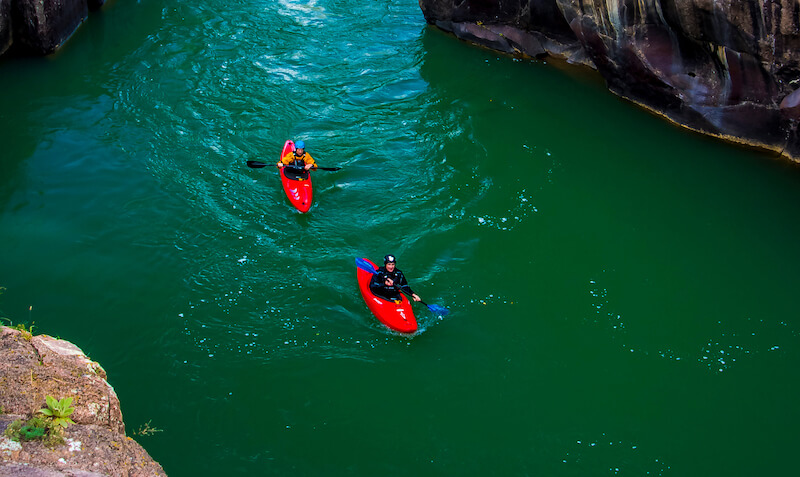 Durango West is a stunning mountain paradise offering every imaginable type of outdoor recreation. The communities are surrounded by the magnificent, rugged San Juan Mountains, which provide a natural outdoor playground for endless hiking, skiing, snowmobiling, mountain biking, fishing, river rafting, and so much more.
You can also take a scenic drive through the mountains to more than a dozen historic mining towns or enjoy the ride. For those who love the water, there are plenty of Durango lakes and rivers to explore.
Some of the best outdoor activities near both Durango West neighborhoods include:
Kayaking or river rafting the Animas River
Strolling Main Street, sampling local breweries and cafes
Taking a ride aboard the historic Durango & Silverton Narrow Gauge Railroad
Relaxing at Durango Hot Springs Resort and Spa
Packing a picnic to enjoy at Animas City Mountain Park
Hiking around Island Lake
Biking along the Horse Gulch Trail System
Skiing at Hesperus Ski Area
Swimming, boating, or fishing at Lake Nighthorse Recreation Area
Ziplining at Durango Adventures
Visiting the Durango Nature Center
Restaurants, Breweries & Bars
Durango is one of the best dining destinations in the US. That's not at all exaggerated — this small town has more restaurants per capita than San Francisco! From intimate outdoor patios to award-winning breweries, there's something for everyone's taste. Luckily, some of the best options are near the Durango West communities.
The Kennebec Cafe is a local hotspot within Durango West featuring Mediterranean-inspired dishes, an outdoor patio, coffee, and numerous vegetarian and gluten-free options. Steamworks Brewery's fun atmosphere includes 10 featured beers, rotating seasonal options, and a full food menu. T's Smokehouse and Grill is famous for its delicious BBQ and is popular among local dog owners due to its dog-friendly patio. Finally, El Moro Spirits and Tavern is a historic restaurant in downtown and a favorite for date nights.
Nearby Attractions
There's no shortage of outdoorsy things to do right in Durango itself. However, if you're looking for more options for the occasional weekend getaway or day trip, several excellent attractions are within a short distance.
Mesa Verde National Park: 28 miles
Purgatory Resort: 35 miles
The Springs Resort and Spa: 67 miles
Downtown Telluride: 103 miles
Schools Near Durango West
Durango West offers plenty of educational opportunities for students of all ages. From preschool to high school and beyond, multiple schools in the area provide a comprehensive education with a unique curriculum and extracurricular activities.
Park Elementary is the area's elementary school. Escalante serves middle school students in the community, while Durango and Animas high schools serve grades 9–12. Alternative educational options include the Juniper School, serving student K–8 students. Those seeking higher education in the area can attend Fort Lewis College or San Juan Community College.
Ready to Call Durango West Home?
These are just some of the reasons why living in Durango West appeals to residents and potential homebuyers. Check out these neighborhoods and the surrounding areas for yourself, and consider being part of this amazing community!
If Durango sounds like the perfect place for you, contact Colorado Property Group of RE/MAX with Durango Homes for Sale at (970) 946-0601 to get in touch with a Durango real estate agent and get ready to call this beautiful mountain town home.