Living in Three Springs Durango: 10 Things You'll Love About Your New Home
Posted by Ryan Poppe on Wednesday, May 31, 2023 at 9:20:43 AM
By Ryan Poppe / May 31, 2023
Comment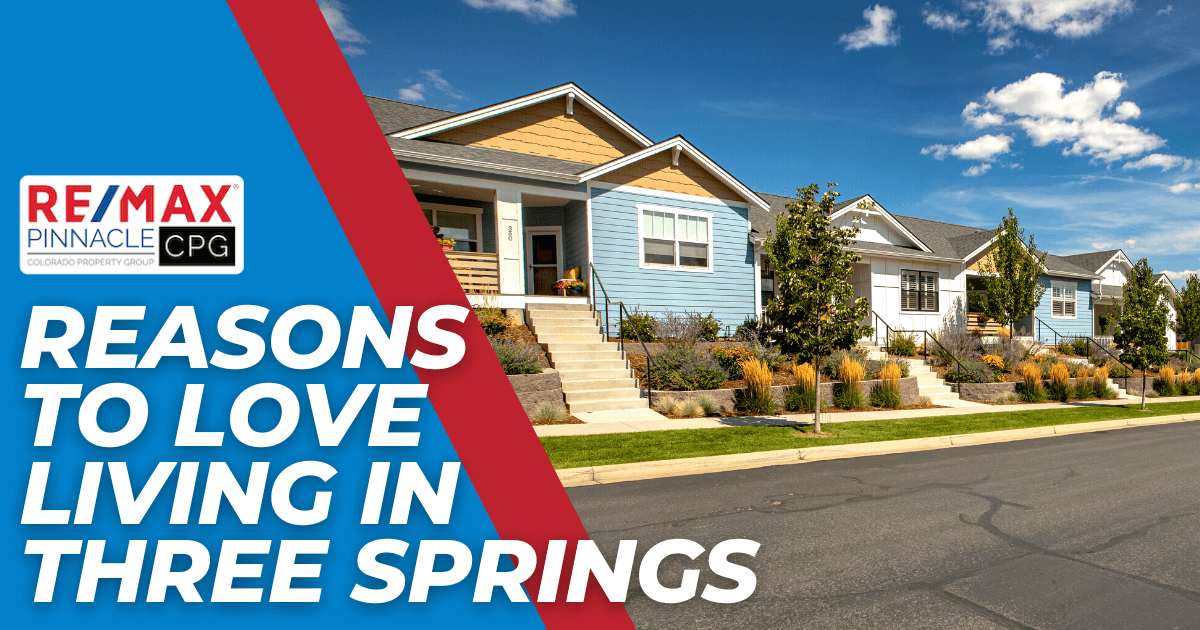 The Three Springs community in Durango, CO, is a well-planned and popular residential area. With an emphasis on sustainability and community, Three Springs—one of Durango's best neighborhoods—is sought by those seeking a balanced Durango lifestyle. The community is situated on the southern outskirts of Durango, offering a peaceful and serene living environment while still providing convenient access to the town's amenities.
Three Springs boasts an extensive network of hiking and biking trails and numerous parks and open spaces perfect for outdoor enthusiasts. The community also features a variety of housing options, from apartments and townhomes to larger single-family homes, making it an attractive location for homebuyers considering moving to Durango.
5 Reasons to Love Living in Three Springs
There are dozens of reasons to choose the Three Springs community in Durango to invest in a permanent or vacation residence. A few notable perks to consider include the following:
Access to 47 miles of the telegraph trail system
300 acres of park and green spaces
New, accessible homes
Regular events in the city plaza
Fantastic food & drink options
The Three Springs Lifestyle
Durango was founded in 1881 by the Denver & Rio Grande Railroad. Historic downtown Durango is filled with boutiques, restaurants, galleries, and historic hotels. The community of Three Springs is one of the most trending neighborhoods in the city, and most homes and businesses are eco-friendly, from the building process to daily operations. Throughout Three Springs, residents and visitors can enjoy unique public artwork, colorful street signs, and leaf imprints on the sidewalks.
Events at Three Springs, such as the fall festival, routinely occur at Three Springs Plaza, a grassy area with a stage. There are Free Outdoor Movie Nights and Concerts In the Plaza that host major artists and other talented local performers. The community has several trails and sporting courts within walking distance of most homes.
Types of Homes in Three Springs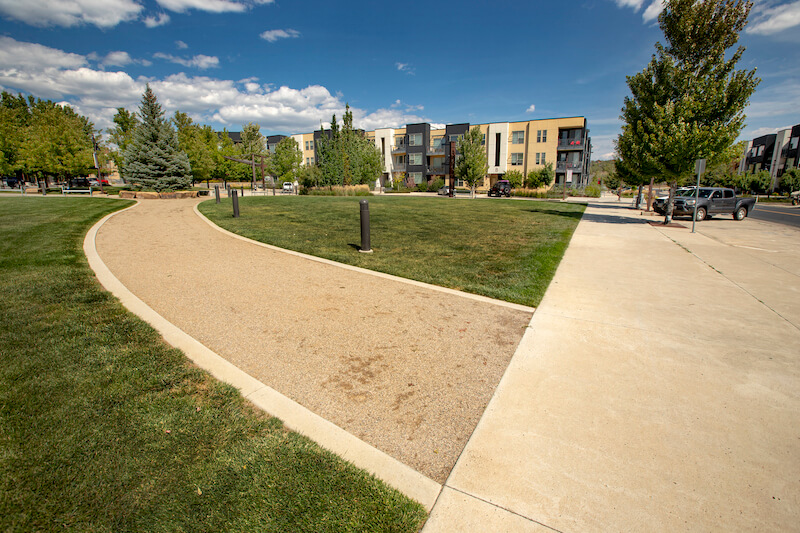 Three Springs has perfectly melded a traditional neighborhood design that includes homes and commercial districts in a village-style configuration. This makes most areas walkable as well as drivable. There is a diverse range of housing sizes and styles, and most homes in Three Springs have spacious porches that add to the neighborhood vibe.
In addition to single-family homes, Durango townhomes and apartments are in the village of Three Springs. Many homes here feature three or four bedrooms and range from 1,500–2,000 square feet of living space.
Three Springs Village Amenities
The areas in and around Three Springs have many shops, restaurants, entertainment options, and art galleries. Public transportation, trails, a hospital, and various outdoor activities exist.
Neighborhood Services
Part of Three Springs' dedication to sustainability lies in offering easy access to Durango's public transportation system. This encourages people to use public transit to minimize their carbon footprint and keep emission levels low.
Three Springs and Mercy Regional Medical Center are highly skilled facilities offering routine and emergency care. They are linked to the city of Durango and surrounding towns via Road Runner Transit.
Neighborhood Shopping
In addition to luxury and quirky boutiques, there are several grocery stores and malls close to Three Springs. Natural Grocers is a popular place to shop for healthy, organic foods and standard staples. There are a few corner stores within walking distance of many homes.
In Durango, there are two malls: Durango Mall and Main Mall. Both have dozens of stores, dining options and offer other services. People come here to shop, enjoy the mall's entertainment options and spend the day browsing for clothing, furniture, and much more.
Things to Do in Three Springs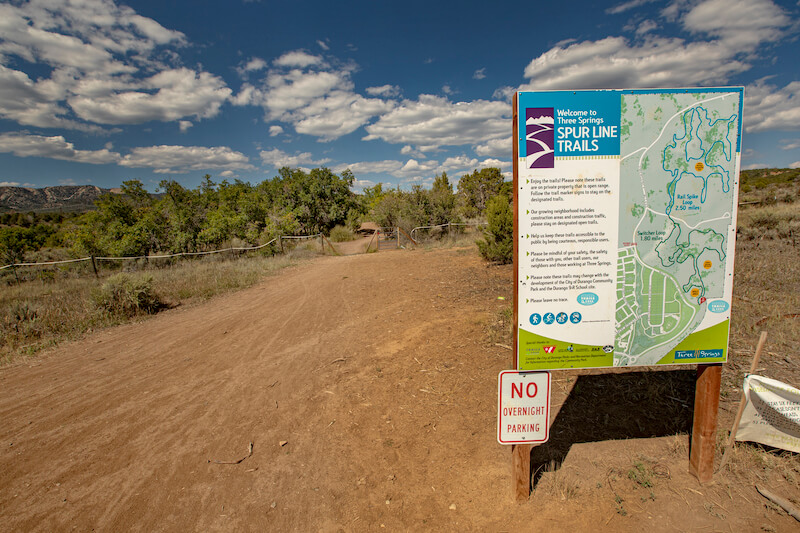 The bounty of things to do in Durango range from outdoor sights and activities to a historic downtown, where there are many attractions. The nearby mountains and wilderness areas highlight living in Three Springs Village.
Outdoor Activities
One of the best benefits of living at Three Springs is the proximity to the settings for Durango's best outdoor activities. Residents can leave their homes on foot or bicycle and access miles and miles of Durango hiking trails. The SMART 16O trail is an extension of the Animas River Trail. The Telegraph Trail system has miles of single-track paths.
The dedicated Three Springs trails, including the Spur Line Trail, are within the community. Within a short distance, locals can partake in the glorious scenery and activities at San Juan National Forest and the San Juan Mountains, which offers hundreds of miles of new mountain biking, hiking, and rock climbing; fishing and boating on Lake Nighthorse, the Animas River, Haviland Lake, and more are great options depending on the weather.
Restaurants, Breweries & Bars
There are just a handful of restaurants within the community, and more are in the planning phases. However, there are dozens of dining options along with bars and breweries. Dining options range from lively cantinas and Italian eateries to classic American Fare.
Durango is a beer lover's paradise. The world-renowned Ska Brewing boasts numerous unique craft brews ranging from IPA and German lagers to locally brewed experimental sour beers.
Nearby Attractions
Riding on the historic 1880s Durango & Silverton Narrow Gauge Railroad gives passengers breathtaking views and an old-world feel. Just north of Durango is Purgatory Resort, which has over 100 trails and five terrain parks.
There are several archaeological wonders and ancient cave art and dwellings at nearby UNESCO World Heritage Sites, like the Canyon of the Ancients National Monument, Chaco Canyon, and Mesa Verde National Park, to name a few. You'll never be bored, regardless of the season.
Employers Near Three Springs
The business community at Three Springs is growing. Anchored by Mercy Regional Medical Center, the Mercado Street district centers around health and well-being. Mercado Street is where most of Durango's biggest employers and commercial buildings are located, and they are some of the largest employers in the area.
Mercury Payment Systems, Inc. is another large employer that operates an online payment system. They offer payment processing products and services for several merchants, including MercuryPay, Omni-channel Commerce Processing, and many others. There are also plenty of jobs in the shopping malls, downtown Durango, and many restaurants nearby.
Schools Near Three Springs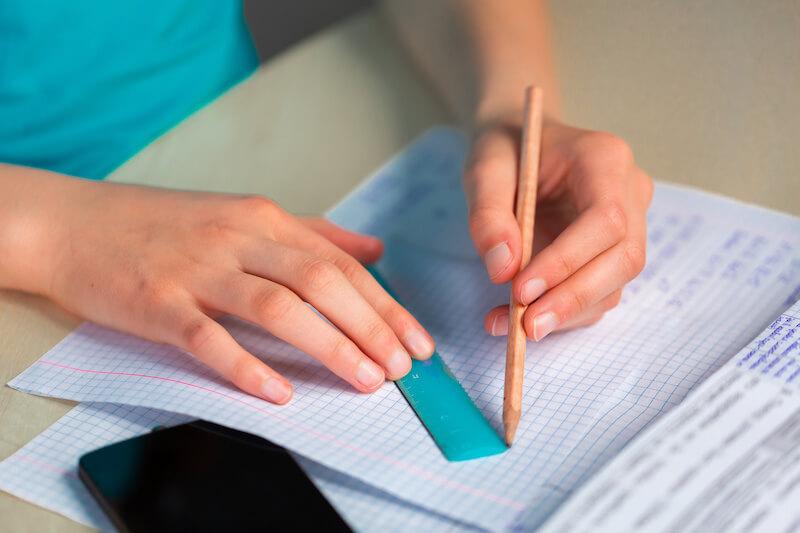 During the development of Three Springs, designated areas were set aside that will serve as school campuses. Meanwhile, students have public and private educational options nearby for elementary, middle, and high schools. There is also a highly reputed college where students can pursue higher education nearby Three Springs Village.
When enrollment numbers eventually warrant the need for a new school, Three Springs will work closely with Durango's school district to help students transfer to the new facilities.
The master plan includes space for a school campus in Phase II; enrollment will be demand-based. Our elementary students attend Florida Mesa Elementary, just a few miles east of the neighborhood. Middle school students have three options: Escalante, Miller, and Mountain Middle Schools. High schoolers can attend Durango High School, Animas High School, and Big Picture High School. These serve students from Grade 9 through graduation.
Fort Lewis College has one of the most beautiful campuses in the nation and is known as "the college in the sky" due to its location at the top of a mountain. They have small classes and a diverse academic program with many degree options, majors, and vocational programs. Fort Lewis College also boasts several sporting programs, fine arts electives, and social clubs.
Living in Three Springs, Durango
The Three Springs community—one of Durango's best master-planned neighborhoods—offers a unique and inviting living experience for those who appreciate the natural beauty of Colorado and the benefits of community living. Its emphasis on sustainability and outdoor recreation makes it an ideal choice for those who seek a balanced and active lifestyle. The community's convenient location provides easy access to Durango's many amenities while offering a peaceful and tranquil setting. With various housing options, there is something for everyone in Three Springs. It's no wonder this community has become a highly sought-after place to call home.
If Durango sounds like the perfect place for you, contact Colorado Property Group of RE/MAX with Durango Homes for Sale at (970) 946-0601 to get in touch with a Durango real estate agent and get ready to call this beautiful mountain town home.