8 Reasons to Live in Twin Buttes Durango: The Perfect Balance of Nature & Planned Amenities
Posted by Ryan Poppe on Monday, July 3, 2023 at 9:08:48 AM
By Ryan Poppe / July 3, 2023
Comment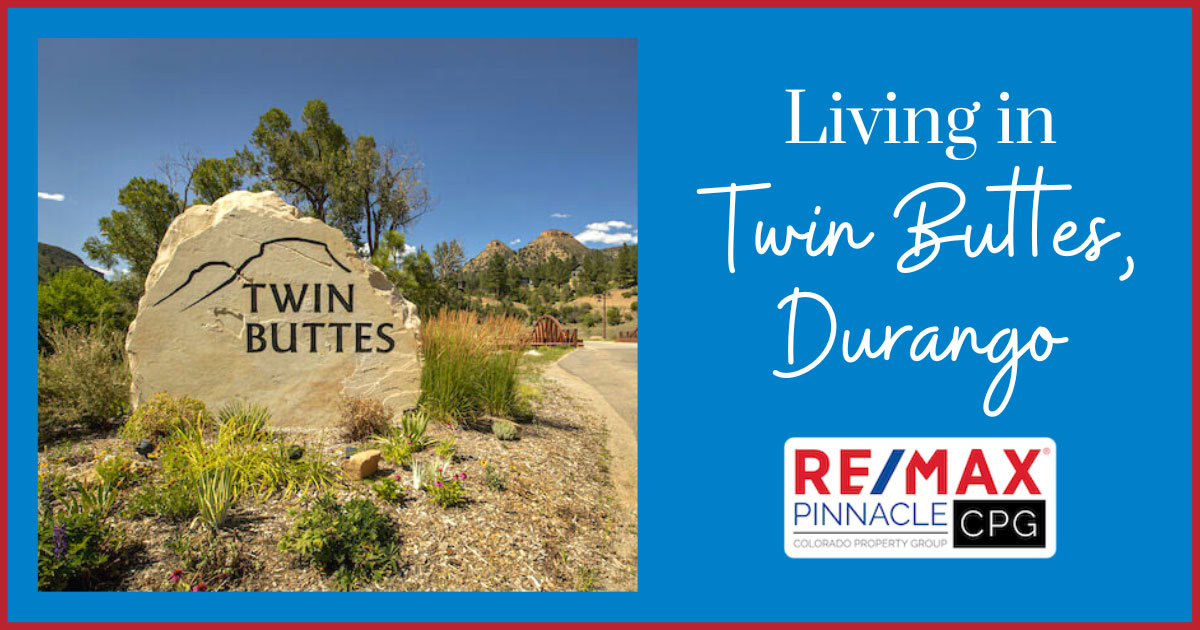 Nestled amidst the picturesque landscapes of Colorado, the Twin Buttes master-planned community in the city of Durango offers residents a truly idyllic living experience. As the sun illuminates the rugged peaks and the crisp mountain air fills the lungs, it becomes evident why people from far and wide are drawn to the allure of Twin Buttes.
With its strong sense of community, recreational opportunities, and commitment to sustainable living, this hidden gem has become a magnet for those yearning to create their own slice of paradise in this peaceful corner of Southwestern Colorado. Let's delve into what living in Twin Buttes is like and explore what makes it ideal for those seeking a life intertwined with nature's beauty.
8 Reasons to Love Living in Twin Buttes
World-class skiing, golf, hiking, and mountain biking
Unparalleled natural beauty
Master-planned community
Twin Buttes Farm & Farm Stand
Fourteen miles of trails within the community
Historic Tram City Park & Playground
Many planned future amenities for the village
Opportunity for custom new-construction homes
The Twin Buttes Lifestyle
Twin Buttes is far enough from Durango to enjoy the peace of the Colorado landscape while still being close enough to town for all of one's shopping and entertainment needs. This master-planned community has been developing since 2010 and still has plenty of room to grow.
The "twin buttes" are iconic mountains overlooking the neighborhood. Homes are built on large lots and enhance or blend in with the natural forested beauty of the area.
The ultimate plan for Twin Buttes is to have the development include many additional amenities. Land has been set aside for an elementary and high school that students can walk or bike to from anywhere in the neighborhood. Bus service to downtown Durango is also being planned. Additional amenities under consideration include a farm-to-table restaurant, a coffee shop, a bakery, a bike shop, a hair salon, and other service businesses that will make it unnecessary to drive into Durango as often.
Types of Homes in Twin Buttes
Twin Buttes is primarily a community of luxury homes, low-rise condos, and townhomes. Most of the land set aside for the future neighborhood is undeveloped, and lots are selling in the $200s for new construction homes to be built on. Of the few properties already built, there are custom modern-style houses and condos. All homes have modern features with city water and sewer hookups. While there are very few homes for sale in Twin Buttes, those that hit the market range in price from just under $1 million to over $2 million or more.
Twin Buttes Amenities
The ultimate plan for Twin Buttes is to avoid urban sprawl while preserving wildlife corridors and as much of the natural landscape as possible while the development continues. Lots tend to be 10,000 to 30,000 square feet, leaving a good amount of space between neighbors. This master-planned community will have many additional amenities in the future, but for now, residents must drive 3.5 miles into Durango to access everyday services and shopping.
Neighborhood Services
The closest medical care is Mercy Hospital on Three Springs Boulevard in Durango. This acute care facility specializes in cardiology, orthopedics and spine care, emergency and trauma care, oncology, and more.
The Durango Community Recreation Center is a full-service city rec center providing year-round fitness activities. The center has a lap pool and a leisure pool with a water slide and hot tub. An indoor running track, a full gym with weights, a fitness studio, and more are also available. For those who prefer an adults-only gym, 24/7 Fitness in Durango is a great option.
Neighborhood Shopping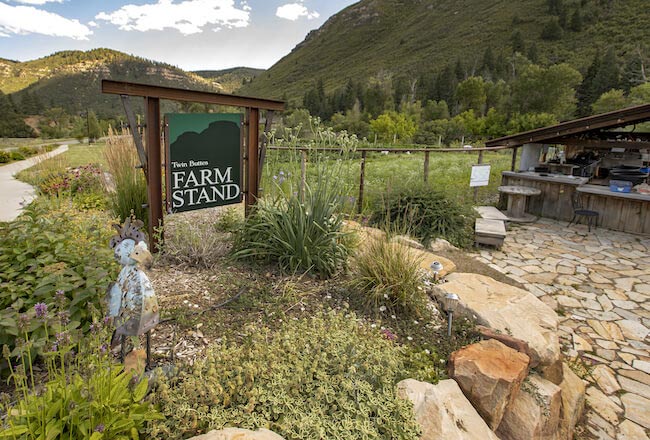 Twin Buttes has a Farm Stand just inside the main entrance, open between June and October. The simple roadside stand has a garden behind it where much of the fresh food grows. Food is also sourced from local farms, including fruits, vegetables, eggs, frozen grass-fed beef, and sometimes honey.
Durango has an Albertson's grocery store on College Drive with in-store shopping and local grocery delivery, including Twin Buttes. Two City Market stores in Durango offer groceries, fuel, and a pharmacy. One is on Main Avenue, and the other is in the Town Plaza Shop Center.
The Durango Mall has about 20 additional stores where shoppers can find various other goods and services.
Things to Do in Twin Buttes
Those moving to Twin Buttes don't simply appreciate the natural beauty surrounding the area — it's also their lifestyle. Year-round outdoor activities in Durango are abundant, from golf to skiing and everything in between. Durango also has an exciting dining and nightlife scene, and numerous attractions are just a short drive away and worth visiting. Here is a closer look at some of the many things to do while living in Twin Buttes.
Outdoor Activities
Twin Buttes has a network of 14 miles of planned trails running through the neighborhood, around it, and into the wilderness. The Twin Buttes trails range from short, easy jaunts through the community to steep, expert-level mountain biking trails. All are multi-use for bikes and pedestrians, but motorized vehicles like four-wheelers are prohibited. The upper trails are closed between December 1 and April 15 for wildlife.
Schneider Park in Durango is an excellent park with many amenities, including:
Nature trails
River access for boating and fishing
A playground for children
Picnic tables
Public restrooms
A skate park
Restaurants, Breweries & Bars
Durango residents enjoy dining out, so many restaurants, eateries, coffee shops, bakeries, and breweries exist. 636 Main Avenue is a fine dining establishment that serves steak and seafood. They have a full bar and a beautiful outdoor patio open in summer. Stop by Nayarit Restaurant on South Camino Del Rio for casual Mexican cuisine. Another option is 2nd Deli and Spirits, run by owners passionate about "sammiches." Chimayo Stone Fired Kitchen is a fun restaurant where guests can enjoy watching their meals prepared and cooked in the establishment's stone-fired ovens.
Downtown Durango has even more dining options for Twin Buttes residents to consider.
Nearby Attractions
The town of Aztec, New Mexico, is about 35 miles south of Durango. It has a unique outdoor feature called the Cox Canyon Arch, a huge stone arch similar to those found in Utah's Arches National Park.
The building that was originally the Animas City School is now the Animas Museum in Durango. This is a great spot to learn about the history of Durango and the industries that have shaped the community through the years.
Pinkerton Hot Springs is an attraction north of Durango, next to the Animas River.
Employers Near Twin Buttes
The Durango economy has a workforce of approximately 20,000, supported by a diverse range of industries, including education, medical services, government, and tourism. Financial services company Mercury Payment Systems is the largest employer in town, with approximately 3,700 workers. Fort Lewis College is the leading college in the region, with about 950 faculty and staff members. The Southwest Conservation Corps, an environmental services company, has about 500 employees in southern Colorado.
Schools Near Twin Buttes
Durango School District 9-R is the local district that administers most of Durango's schools. Although schools are planned for the Twin Buttes neighborhood, students living here are currently zoned for three schools in Durango.
Students in grades K through 5 attend Park Elementary School, grades 6 through 8 go to Escalante Middle School, and grades 9 through 12 are zoned for Durango High School.
There are also several private schools in Durango, including:
Colorado Timberline Academy (9-12)
St. Columba School (K-8)
Columbine Christian SDA School (K-8)
The Liberty School (2-8)
Fort Lewis College is a four-year public college in Durango with a student body of around 3,800 undergraduates.
Twin Buttes: Colorado Living at Its Best
Twin Buttes offers its residents a remarkable quality of life. Its breathtaking natural beauty, welcoming community, abundant recreational opportunities, and planned amenities make it an exceptional place to call home. The development's commitment to sustainable building and the preservation of its surroundings ensures a harmonious balance between modern features and keeping its rich heritage. Whether you're seeking outdoor adventures, a close-knit community, or a serene and peaceful environment, Twin Buttes has it all.
If Durango sounds like the perfect place for you, contact Colorado Property Group of RE/MAX with Durango Homes for Sale at (970) 946-0601 to get in touch with a Durango real estate agent and get ready to call this beautiful mountain town home.