Tips For Decorating a Mountain Home: Master Modern Mountain Interior Design?
Posted by Ryan Poppe on Tuesday, March 14, 2023 at 12:11:43 PM
By Ryan Poppe / March 14, 2023
Comment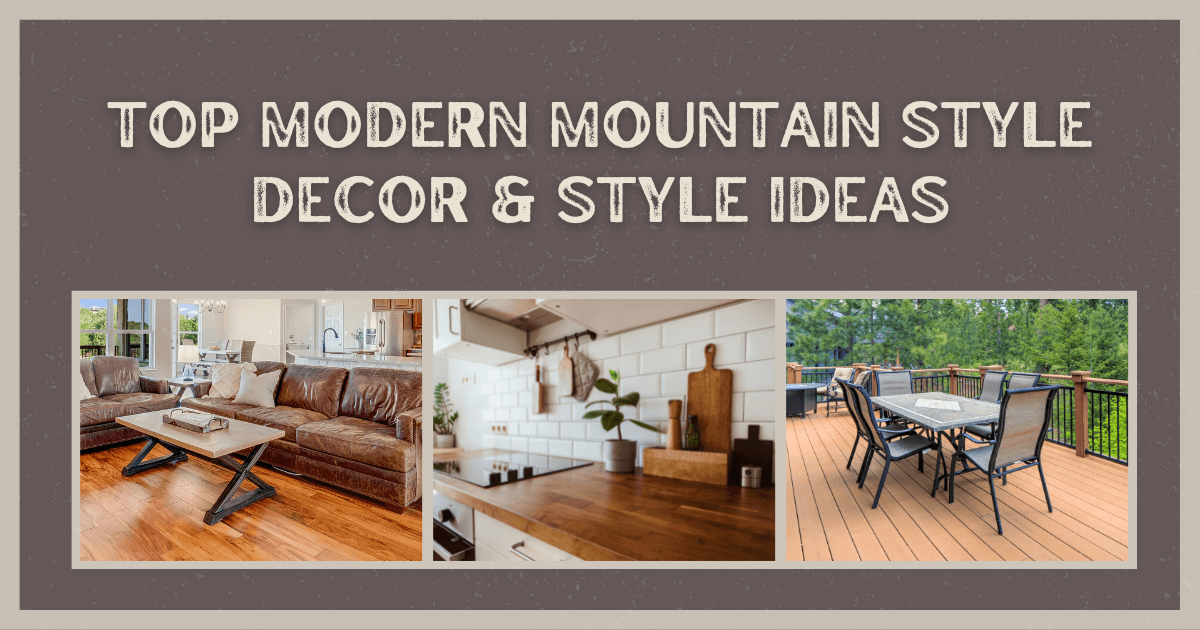 If you're looking to add a unique, rustic charm to your luxury home, decorating it is vital. No matter your desired aesthetic, there are plenty of ways to make your mountain home stand out. From living room decor ideas that bring in natural elements like wood beams and stone fireplaces to bedroom designs with soft textures for a peaceful sleep sanctuary, we'll cover all aspects of decorating a mountain home. With our helpful tips on kitchen accents that will give an outdoor feel indoors and outdoor spaces designed for entertaining friends, this guide has everything you need to create the perfect mountain retreat.
Living Room Decor
For a mountain home, consider natural materials such as wood and stone to bring the outdoors inside, warm colors and textures for an inviting atmosphere, and lighting like lamps or sconces to add warmth. Natural materials such as wood and stone can bring the outdoors inside, while warm colors and textures help to create an inviting atmosphere. Lighting is also essential when designing your space; try incorporating lamps or sconces for warmth.
For flooring, choose something durable yet comfortable, like hardwood or natural stone tile. To add texture and depth to the walls, use wainscoting or paneling made from reclaimed wood—this will give your space a rustic feel without compromising style. You can then accessorize with area rugs in muted tones for extra comfort.
When selecting furniture for your living room decor, look for pieces that have simple lines but still offer plenty of comforts. A large sectional sofa is ideal if you're looking to seat multiple people at once—just be sure it fits the size of your room. Opt for armchairs upholstered in rich fabrics such as velvet or leather for additional seating options, providing visual interest and luxurious comfort.
Finally, don't forget about accessories. Throw pillows in bright colors are perfect accents against neutral-toned furniture—they also add an extra layer of coziness. Wall art featuring nature scenes will tie together the natural elements already present throughout your living room decor—alternatively, you could hang family photos around the space for a personal touch. When sprucing up a mountain abode, picking items that will harmonize with the scenery's natural allure is key.
Key Takeaway: Creating a modern yet cozy mountain home involves utilizing natural materials such as wood and stone, warm colors and textures, and plenty of inviting lighting. When selecting furniture for the living room, choose comfortable pieces with simple lines; add texture to walls with wainscoting or paneling made from reclaimed wood. Finally, accessorize with throw pillows in bright colors along with wall art featuring nature scenes for an attractive atmosphere that speaks to Durango's unique lifestyle.
Bedroom Decor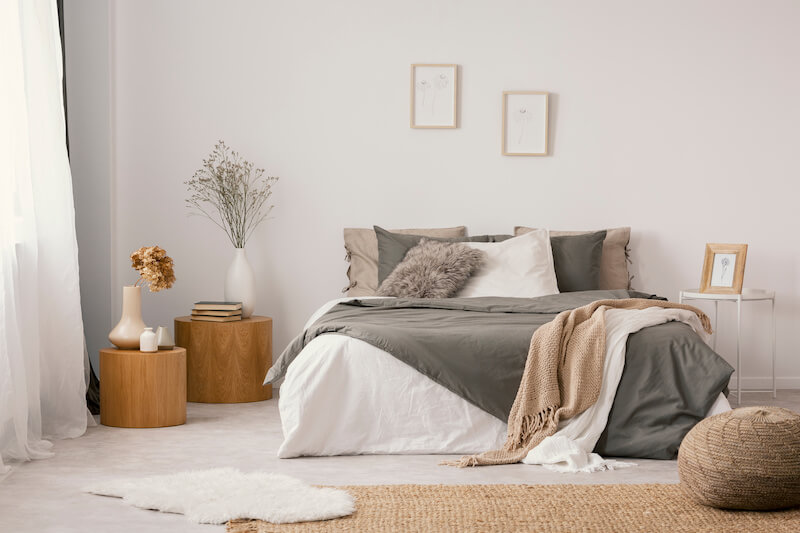 When it comes to decorating a bedroom in a mountain home, the key is creating an atmosphere that's inviting and calming. Neutral colors like whites, creams, tans, and grays are great for setting this tone. Soft fabrics such as cotton or linen can help make the bedroom feel cozy while allowing light to filter through. Natural elements like wood or stone also work well with this look. They add texture without removing the overall feeling of relaxation you want your bedroom to have.
Storage space is also essential when decorating a mountain bedroom—you don't want it to look cluttered. Investing in furniture with ample storage will keep your room neat and organized while still having enough space for all your belongings. This could include dressers with plenty of drawers or built-in shelving units along one wall for extra storage options.
Incorporating some decorative touches into your design plan can also help bring the whole look together. A small area rug on top of hardwood floors adds warmth to the room—hanging curtains helps create privacy, and adding throw pillows gives just enough color without being overwhelming. The possibilities are endless, so get creative.
Finally, consider incorporating plants into your design scheme. Plants look beautiful and can help purify the air, which is especially beneficial during dry winter when homes are more closed off than usual. Choose easy-to-care-for varieties such as succulents or ferns that require minimal attention yet still give off a natural vibe throughout the year.
When it comes to decorating a bedroom, the options are limitless. Incorporating natural elements like wood and stone can create a cozy mountain home atmosphere that will make you feel right at home.
Key Takeaway: When decorating a mountain home bedroom, creating an inviting atmosphere with soft fabrics and neutral colors is important. Incorporate storage solutions like dressers or shelving units for neatness and add some decorative touches such as area rugs, curtains, throw pillows, or plants to complete the look. Doing so will give your room that cozy mountain feel you've dreamed of.
Kitchen Decor
When it comes to crafting a contemporary kitchen in a mountain abode, there are numerous possibilities. For a rustic aesthetic, consider incorporating wood and stone into the design of your mountain home kitchen's cabinetry and countertops. For instance, wooden cabinetry will add warmth to the room, while granite or marble countertops provide durability and contrast.
Bright colors can also be incorporated into the design without detracting from its rustic appeal. Consider painting walls in shades of yellow, green, or blue for a vibrant look that still fits with the overall aesthetic of your mountain home. Additionally, don't forget about storage.
Finally, consider adding decorative touches such as wall art or potted plants to bring life into the room. Not only can these decorative touches make your kitchen more attractive, but they'll also generate an ambiance that is distinctly yours.
Outdoor Spaces
For a mountain home, designing an outdoor space that is both aesthetically pleasing and practical should be the goal. Decks and patios are great for adding seating areas where you can relax or entertain guests. Consider incorporating fire pits or grills into the design of your outdoor space so that you can enjoy the outdoors even when it's chilly outside. Landscaping with native plants is also essential because they will be able to thrive in the local climate without much maintenance from you.
Adding a few comfortable chairs and tables on your deck or patio makes an inviting spot for friends and family to gather while enjoying the fresh air. If there's room, add potted plants like flowers or herbs and decorative lighting fixtures such as lanterns or string lights for ambiance after dark. Build a cozy fire pit with stones and wood logs for colder nights so everyone can hang out outdoors even when temperatures drop low enough for snowfall.
You could also use mulch beds along walkways leading up to decks or patios; this helps keep weeds away while keeping the soil moist during dry spells throughout summer. Finally, don't forget to add water features such as ponds or fountains, which bring life into any outdoor space, regardless of size.
Your Mountain Home
Decorating a mountain home can be an exciting and rewarding project, and if you're living in or buying your dream home, its decor should reflect that. Bringing in contemporary touches or embracing the traditional aesthetic—numerous approaches exist to craft a stunning area that shows off your flair. With careful consideration for each room's design, you'll have a comfortable and stylish living environment that feels like home.