Most Affordable Neighborhoods in Durango: Durango Affordable Living Guide
Posted by Ryan Poppe on Friday, March 19, 2021 at 8:23 AM
By Ryan Poppe / March 19, 2021
Comment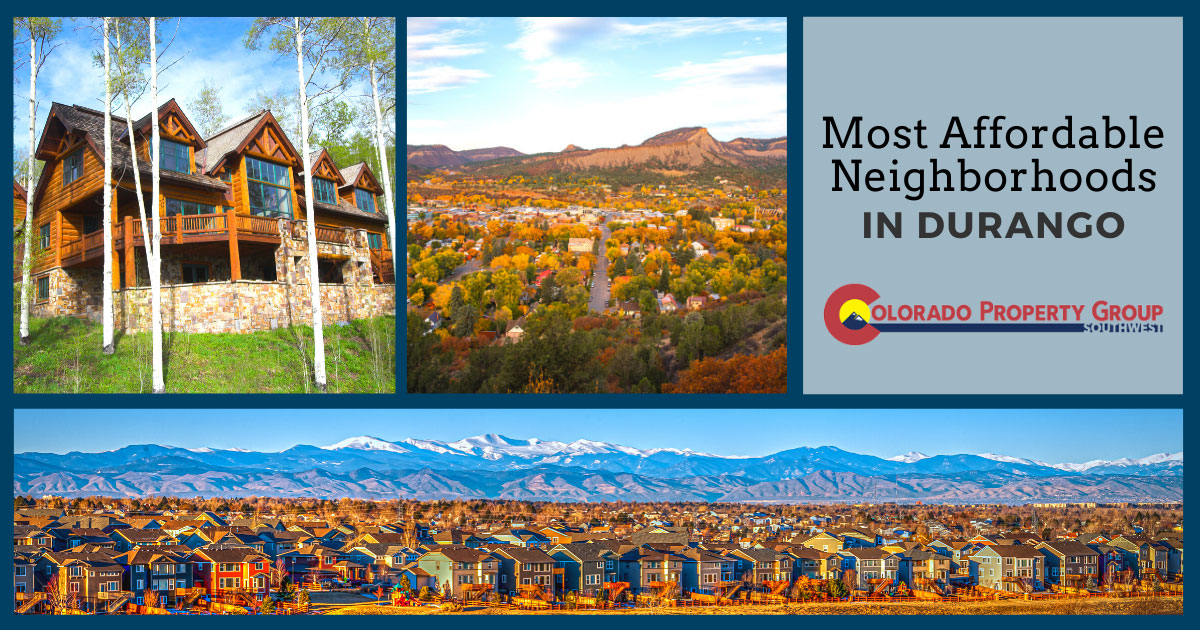 About 19,097 residents call Durango, Colorado, home. Located in Southwest Colorado, the city is a popular year-round tourist destination.
Residents and visitors alike take advantage of Durango's summer recreational offerings of river rafting, hiking, biking, and other warm-weather pursuits. While not the height of tourism for the city, winter still brings plenty of outdoor activity, including cross-country and downhill skiing, snowshoeing, and more.
In addition to outdoor recreation, the city's historic downtown is popular for its restaurants and nightlife, as well as its retail options. Durango's arts community places heavy emphasis on local artists and craftspeople, as downtown is home to at least a dozen galleries.
Durango offers its residents a variety of home styles in numerous price ranges. Those planning a move to the city should consider the following six affordable neighborhoods in Durango to call home.
Durango West 1
Durango West 1 is one of two Durango West subdivisions. It is located south of State Highway 160, just over eight miles from Durango. The community contains a mix of home types, and the newest section within the neighborhood is known as Westridge.
The Durango West 1 neighborhood sits about 1,100 feet higher than Durango itself, at about 7,600 feet above sea level. In addition to residential lots, the neighborhood contains areas of green space.
All streets in Durango West 1 are paved. A fee covers maintenance by the Durango West 1 metropolitan district. The nearest restaurants, retail, and business services are found in Durango, as there are no commercial areas between the city and this neighborhood.
Durango West 1 Amenities
Greenspace
Paved roadways
Scenic views
Three Springs
Complimented by plenty of parks and open space, the Three Springs neighborhood serves up a traditional neighborhood experience in Durango. This neighborhood began in the early 2000s, with green home designs constructed with energy efficiency, plus community building in mind.
This master planned community blends older neighborhood design principles with the desirability of new construction. Designed in phases, the neighborhood eventually plans for a 75-acre park, retailers and office space, restaurants and even a neighborhood grocery store. The neighborhood also features numerous walking, biking and running trails, with easy access to alternative transportation options throughout the region.
Three Springs Amenities
Community playgrounds
Energy-efficient buildings
Multiple parks
Shops & restaurants nearby
El Rancho Florida
El Rancho Florida originally got underway back in the 1970s. Since then, it has been developed in multiple phases over time. El Rancho Florida is located in the foothills of the La Plata Mountains, about 15 miles southeast of Durango. As a rural neighborhood, residents rely on the nearby city for retail, restaurants, professional services, and other amenities.
Residents of El Rancho Florida can enjoy the beauty of the Florida River, which runs along the western side of the neighborhood, as well as the development's rolling terrain. The common area features a pond and picnic site for resident use. Many of the residences feature views of the snow-capped La Plata Mountains in the distance. All roads are maintained by the neighborhood's homeowners association.
The entry to the development crosses an old Denver and Rio Grande Railroad bridge. The subdivision was used as the backdrop for a scene in the movie Butch Cassidy and the Sundance Kid. The neighborhood includes the streets of Sundance Circle and Cassidy Drive.
El Rancho Florida Amenities
River
Mountain views
Pond
Picnic site
Mesa Meadows
One of these is the small community of Mesa Meadows. Located in the city of Bayfield, home construction started in Mesa Meadows in the mid-2000s. Options range from single-story to two-story floor plans, most offering three- to four-bedroom floor plans and at least two-baths. Many of the homes provide around 1,500 square feet of living space, while some of the homes top 2,000 square feet.
Close to area schools and a short distance from stores and major roadways, the community of Mesa Meadows is ideal for commuters. The calm atmosphere extends to the inclusion of large lots and affordability, with many homes priced in the $300,000s.
Mesa Meadows Amenities
Bayfield Primary School
Mountain views
Schroeder Ditch
Mesa Park
Durango West 2
Along with Durango West 1, Durango West 2 makes up the Durango West subdivision. The neighborhood is located about a 10-minute drive from the city's edge of Durango, located at the north side of State Highway 160. Durango West 2 is primarily made up of single-family residences, along with a few townhomes.
Residents can enjoy common areas, which feature a small pond. The developer originally planned to include a golf course. However, this plan was abandoned, leaving an expanse of green space for residents to enjoy. The neighborhood also includes a tennis court and a basketball court. Residents can also enjoy miles of hiking trails, which wind through the neighborhood.
The neighborhood's natural beauty includes stately Ponderosa pines, with many areas of the subdivision also offering scenic views of the La Plata Mountains. Wildlife sightings are commonplace. Durango West 2's elevation is about 1,000 feet higher than Durango's.
A monthly maintenance fee covers snow clearing and maintenance of streets and common areas. As with Durango West 1, the nearest restaurants, retail, and business services are found in Durango, as there are no commercial areas between the city and the neighborhood.
Durango West 2 Amenities
Scenic views
Tennis and basketball courts
Hiking trails
Pond
Greenspace
Homestead Trails
A short commute from Durango, the neighborhood of Homestead Trails is another affordable Bayfield community that benefits from new construction homes. Surrounded by the beauty of mostly natural surroundings, Homestead Trails also features numerous trails and parks, plus plenty of open space for outdoor recreation.
The current phase of the development, Phase 2, calls for around two dozen single-family home lots and the desirability of custom home designs, with your choice of homebuilder.
Homestead Trails Amenities
Hartman Canyon
Mountain views
Easy access to US 160
King Consolidated Ditch
Falls Creek Ranch
Falls Creek Ranch is an expansive 940-acre community featuring meadows and wooded areas. The San Juan National Forest almost entirely surrounds the subdivision. Falls Creek Ranch residents enjoy residing in the neighborhood, with its panoramic views of the Red Cliffs and Animas Valley.
As a rural subdivision, Falls Creek Ranch does not have retail, restaurants, or business services within its neighborhood's confines. Instead, residents can take a 20-minute drive south to the edge of Durango to access all establishments and services they may need.
Residents of Falls Creek Ranch have exchanged urban amenities for the beauty and solitude of the Colorado countryside. Each Falls Creek Ranch resident owns a one-acre parcel of land. The remaining 840 acres of the development is considered a common area to be enjoyed by all in the community.
The development includes a private, 40-acre lake for boating, fishing, swimming, and ice skating. It also features a horse stable and pastures, along with numerous trails near the homes and the adjacent national forest. Wildlife sightings are common, and residents can enjoy scenic views in all directions.
Falls Creek Ranch Amenities
Trails
Scenic views
Greenspace
Forested land
Horse stable and pasture
Lake
Water recreation
Edgemont Highlands
Located about seven miles northeast of downtown Durango, the Edgemont Highlands development is spread across 500 acres, with 200 acres set aside as open space for the enjoyment of residents.
The neighborhood was developed to retain as much of the natural landscape as possible. Roadways were placed to minimize impact and preserved trees and other components of the natural landscape.
The community features over 10 miles of private hiking and walking trails and access to the adjacent national forest. Edgemont Highlands residents can also enjoy fishing and other water recreation with private access to a 1.5-mile stretch of the Florida River.
Edgemont Highlands features varied terrain with more than 150 native plant species. The community is prized for offering authentic mountain living while still providing its residents with easy access to all the goods, services, and amenities that nearby Durango has to offer.
Edgemont Highlands Amenities
Private lake
Fishing
Trails
National forest
Open space
Community lodge
Edgemont Ranch
Located about seven miles northeast of downtown Durango, the Edgemont Ranch development offers residents spacious, wooded home sites of one acre or more, surrounded by pines.
The neighborhood's many recreational facilities are reserved for use by residents and their guests only. Edgemont Ranch features seven miles of rock-lined, maintained multi-use trails for hiking, horseback riding, mountain biking, snowshoeing, and cross-country skiing.
Anglers can try their luck and skill on a 1.5-mile stretch of the Florida River, adjacent to the community. The Edgemont Ranch property owners association stocks the river annually, making for an excellent fishing spot. The community also features a fenced tennis court.
The subdivision's community organization hosts several events each year, including an annual picnic and several holiday-related events. Additionally, the community has several organized activity groups, for everything from tennis to fishing, that enable residents to join with others who share common interests and love of activities. The neighborhood also has its own book exchange.
As with other rural subdivisions, Edgemont Ranch does not contain retail, restaurants, or business services within the neighborhood, but these are easily accessible in nearby Durango.
Edgemont Ranch Amenities
Trails
River
Year-round community events
Tennis court
Consider a Home in One of Durango's Most Affordable Neighborhoods
Durango's history of Western culture, combined with its natural landscape, makes the city a popular tourist destination. From golfing to hiking to skiing, the city welcomes visitors during all seasons and offers many outdoor activities for all to enjoy. The same features that appeal to visitors are reasons why Durango's residents chose to make the city their home. For some, the benefits of a neighborhood located in a rural setting outweigh the convenience of residing within the city. When looking for an affordable neighborhood, you should also look at the cost of living, including utilities and insurance. Consider getting quotes from the best home insurance companies to see if they can give you the best deal.
Durango's many and varied neighborhoods provide its residents with a choice of locations. Extensive trails for hiking, horseback riding, mountain biking, and other activities are common features in rural neighborhoods. Residents often choose these settings over a more urban environment because many provide the opportunity to have horses, enjoy Colorado's natural landscape right out the backdoor, and take advantage of the quiet and solitude that these rural and affordable neighborhoods offer.
If Durango sounds like the perfect place for you, contact Colorado Property Group of RE/MAX with Durango Homes for Sale at (970) 946-0601 to get in touch with a Durango real estate agent and get ready to call this beautiful mountain town home.