Most Popular Attractions in Durango: Durango, CO Attractions & Recreation Guide
Posted by Ryan Poppe on Thursday, May 20, 2021 at 12:00 PM
By Ryan Poppe / May 20, 2021
Comment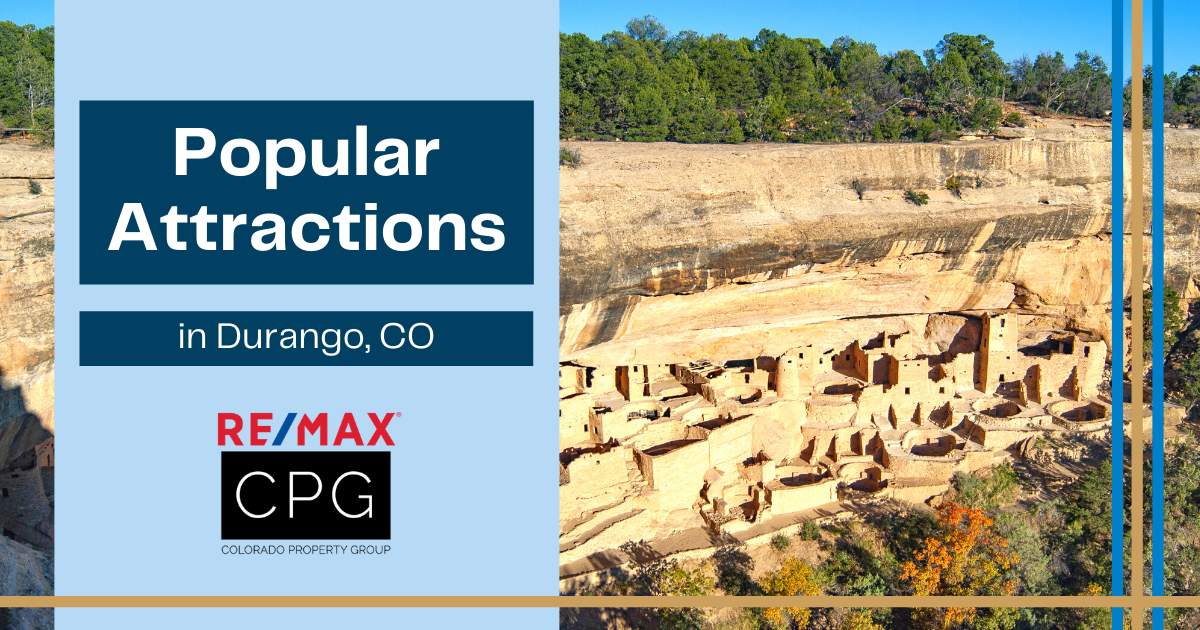 The lovely mountain town of Durango, Colorado, is graced with equestrian properties, gated home communities, and multi-family homes sheltering residents and visitors to the region. Some come here seeking adventures in the wild, to explore the community's rich history, or enjoy other pursuits amid the San Juan Mountains.
Founded by the Denver & Rio Grande Railway in 1880, Durango began as a hub between the rail lines leading to Silverton for hauling freight like lumber, gold, and silver, along with passengers. Today, it's a lively scene that stays true to its storied roots with various things to do. Due to its diverse climate and geography and seasonal changes in scenery, there are plenty of popular attractions in and nearby Durango, including the following five things to see and do.
Durango & Silverton Narrow Gauge Railroad
The train that began the community is still in operation today and is known as the Durango & Silverton Narrow Gauge Railroad. This historical treasure has continually operated since 1882 and carries passengers with vintage steam locomotives that traverse through the countryside. Hop onboard to view unparalleled sights not visible from main roadways while cruising upon this National Historic Landmark.
Several scenic tours are available, ranging from the two-hour Cascade Canyon Express or the Cascade Canyon Winter Train's five-hour journey. Take an all-day, round-trip escape on a nine-hour trip to Silverton, or check out their specialty tours such as the Wine Flight Train, Brew Train, or photography outings.
Before departing from the Durango depot, make time to check out the onsite Railroad Museum that boasts an array of artifacts. The museum's highlight is the impressively refurbished model railroad that shows operations along the railway lines in the 50s.
San Juan National Forest
In 1905, the San Juan National Forest was established by a proclamation from Theodore Roosevelt. Here amid the mountains await over 3,000 square miles of Colorado wilderness filled with amazing vistas and more than 300 bird species and other wildlife such as foxes, elk, bighorn sheep, and bears.
Beyond hiking the miles of treks for day trips and multiple day experiences, camping is a popular activity at San Juan National Forest. There are almost 40 campsites and grounds within the park, with various amenities and lot sizes. Many opt to camp in several sites as they traverse the peaks of the Needle Mountains, which are considered some of the toughest to summit in the nation.
Other ways to spend time in the forest include seasonal cross-country skiing, biking, fishing, boating, rafting, and horseback riding. One can also take a ride on the Durango and Silverton Railroad from the park or hit the waters of the Animas River for kayaking or swimming pursuits.
Four Leaves Winery
Four Leaves Winery in downtown Durango is situated in a historic building that is almost as flavorful in charm as their custom and craft wines. Grapes from around the world are imported and transformed into some of the finest wines in Colorado. This boutique winery makes several varieties on-site and helps patrons make their very own blends and special bottle labels to take home or order in bulk for special occasions.
Visitors can enjoy partaking in wines by the flight, glass, or bottle or sit back and watch the winemaking and fermentation process. Patrons rave about the Peach Chardonnay here. More than 20 wines are available daily, and Four Leaves also hosts corporate parties and events upon request. Don't forget to hit up the winery shop for unique gifts and buy bottles to enjoy later.
Hot Springs in Durango
The hot springs around Durango are accessible year-round, as it feels rather cozy sitting in toasty water even as the snow falls in colder months. While it seems like a surreal scene, it can be a reality at any number of hot springs in the area. Here are two of the most popular.
Durango Hot Springs Resort & Spa
Just seven miles north of town, discover the year-round respite known as Durango Hot Springs Resort & Spa. Here, patrons can indulge and pamper themselves with exclusive spa services or soak in lovely hot geothermal springs. Guests can enjoy the facilities on-site or book a suite for overnight lodging for a complete getaway experience.
There are 26 mineral water features, including 16 hot spring pools for soaking, eight private cedar soaking tubs, mineral water rain soakers, dry saunas, a large swimming pool, and a cool plunge pool. Before or after a dip, take a moment to explore the reflexology walking path through the property.
Pinkerton Hot Springs
Pinkerton Hot Springs is a natural soaking spot for those seeking mineral-rich waters in an open-air environment. This geologic formation is popular for sightseers and photographers due to its unique features and colorful ores. Discovered in the 1880s by James Pinkerton, this is one of the state's most impressive natural wonders.
Pinkerton Hot Springs is open 24/7, and rumor has it that Marilyn Monroe bathed here a few times to maintain her youthful looks and soft skin. While there are no pools or formal soaking areas, a visit to Pinkerton Springs is a must for anyone seeking a remarkable experience in the great outdoors.
Animas Museum
The Animas Museum is a transformed 1904 structure once known as the Animas City School. Now a charming local history museum in the North Main District in Durango, this is a perfect place to research La Plata County history or view interpretive exhibits.
The primary area of the museum boasts displays about the earliest Native and European settlers, models of school life, history about the Old West, transportation, railroads, and the battle with early fires amid the community. The Joy Family Cabin and the Peterson House are located on the premises.
Embrace the Wonders of Durango at Local Attractions
Whether one is seeking a getaway or Durango is a permanent home already, there is so much to do around the community. Take a look around town for more, but the Durango attractions mentioned here shouldn't be missed.
If Durango sounds like the perfect place for you, contact Colorado Property Group of RE/MAX with Durango Homes for Sale at (970) 946-0601 to get in touch with a Durango real estate agent and get ready to call this beautiful mountain town home.