Prevent Termites in Your Log Home with These 4 Pest Treatment Tips
Posted by Ryan Poppe on Tuesday, November 23, 2021 at 12:51 PM
By Ryan Poppe / November 23, 2021
Comment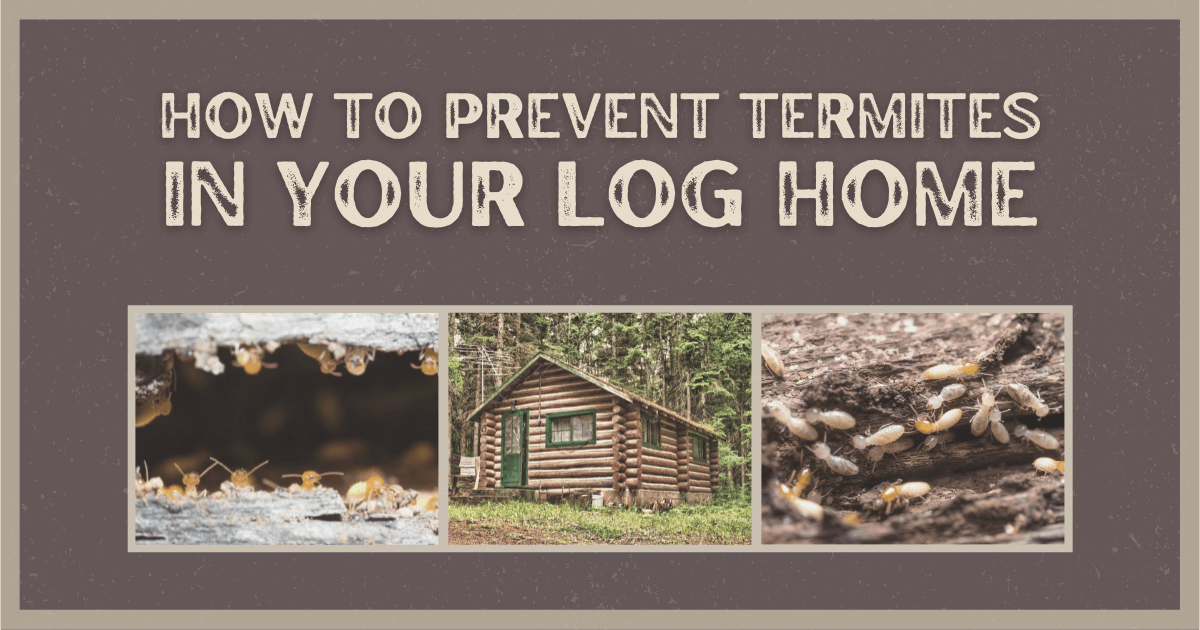 There's nothing more potentially damaging for log homes than infestations of termites. However, when the right materials are employed in its construction and proper preventive steps are taken, a log home is generally no more appealing for termites than a traditional wooden frame home.
Detection of these pests in log homes is relatively easy, so they can be caught and eradicated at the early stages to prevent termite damage should they make an appearance. Keep reading to find some steps owners can take during and after construction to ensure termites never become an issue.
Choose the Right Materials
Towns with log homes tend to be heavily wooded areas, so it's important to choose the proper logs for the environment. Logs should be pressure treated before construction begins, and other chemicals can be used to reinforce termite prevention. Choosing high-quality lumber that is moisture-resistant is an excellent way to start. Termites cannot live without water, so they will be deterred by such products.
Borate wood treatments are an excellent way to condition logs for the home and serve as an additional means of protection. Borate is a chemical that has powerful insecticidal and anti-fungal properties. These can be mixed with other products like stains without affecting the finished appearance of the wood. They are non-corrosive and non-toxic, so they don't erode metal fasteners or parts and are safe for pets and people.
Log home builders typically also recommend the use of a termite barrier during construction. Termite barriers prevent termites from burrowing into homes through the ground. A poured concrete foundation is also an excellent termite barrier.
Prevent Termites From the Ground Up
Termite prevention for log homes should start from the ground up. Again, concrete foundations are fairly common for log homes and certainly help keep termites away by placing the wood away from the ground. Once the foundation is complete, a piece of sheet metal known as a termite shield can be installed to further enhance the effectiveness of concrete foundations. They help shield termites from crawling up foundations to the home's sill. Many modernized log homes use stone and mixed materials in their design, which is both functional and aesthetically appealing.
After the home is built, be sure to have the contractor or work crew take away any excess wood scraps from the construction site rather than leaving them behind or burying them. Decomposing wood is a haven for termite nests, so don't help them along with free 'food.' To discourage termite nesting, it's also a good idea to clear away and remove any old tree stumps on the property.
To keep water from collecting around the home and attracting insects, have rain gutters placed in a way that directs water away from the foundation. Keeping the gutters and downspouts clean and free of debris will be helpful. If sprinklers are employed, point them away from the home, and avoid building up mulch beds near the foundation too high.
Improve Curb Appeal & Deter Termites Simultaneously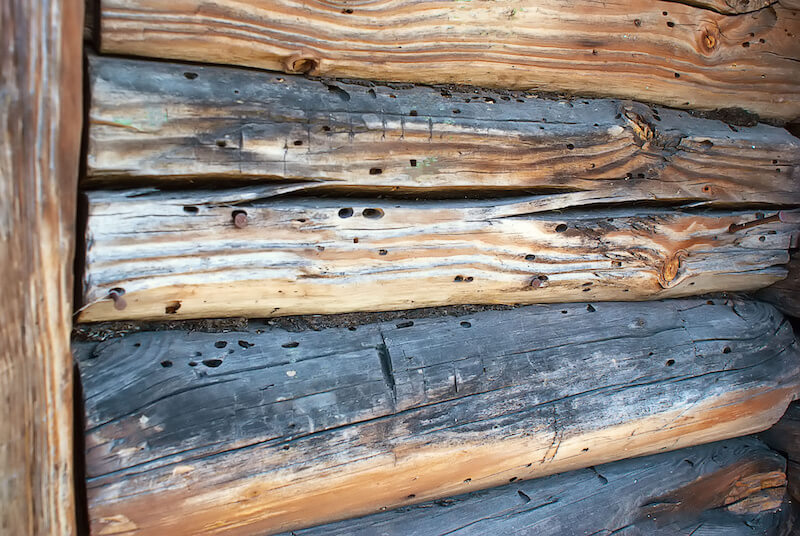 It is possible to deter termite infestations and enhance curb appeal at the same time. In addition to minimizing mulch near the foundation and eliminating old stumps, it is helpful to keep tree branches and shrubbery trimmed away from the log walls. Landscapers recommend leaving a small gap between the foundation and mulch—especially if wood chippings are in place. Pine needles, rubber mulch, and pea gravel can be used in decorative landscaping, as they don't appeal to termites much.
Another pro tip for termite prevention in log cabins and log homes is to use termiticide products periodically around the home and landscaping to derail potential nests. According to the EPA, using termiticides is safe for pets, people, and the environment.
Keep the Home Dry
Keeping gutters cleared and downspouts pointing away from the foundation and keeping the landscaping well maintained may not be enough to keep out termites. Any type of settling water inside or outside the log home can attract them, so fixing any leaks right away is essential in these efforts.
Bathrooms, kitchens, basements, and attics are the most likely problem areas for standing water. Do a periodic inspection of all pipes and spigots inside and outside to check for any signs of leaks, particularly in high-risk areas. Water damage and termites are only part of the possibilities with leaks.
Other insects like carpenter ants also love wood and water, so any signs of them near plumbing installations can be a telltale indicator that termites are present—or could be soon. Of course, fixing any faulty plumbing problem is a given, but experts also advise using borate products in water-prone zones. Ants and insects tend to consume borate and take it back to their nest, so its use can help get rid of a colony in progress and prevent new infestations.
Ready to Build or Remodel a Log Home?
While it's not a given that termites will necessarily be attracted to log homes, there is a good chance they might be if caution is thrown to the wind. Even if builders start with the right type of foundation and use wood with termite-resistant treatments and qualities, homeowners should continually keep an eye out for insects and be proactive about eradication.
Keeping the home dry is pivotal, as is fixing any leaks right away. Be mindful of gutters and sprinklers in addition to removing any forms of standing water or creating landscaping beds that retain more moisture than necessary. If termites or other insects seem to be cropping up, contact a professional to help solve the problem and guide you with tips to prevent them from returning.