5 Reasons to Love Living Near Vallecito Reservoir: Outdoor Playground With Easy Access to Durango
Posted by Ryan Poppe on Thursday, April 13, 2023 at 9:48:41 AM
By Ryan Poppe / April 13, 2023
Comment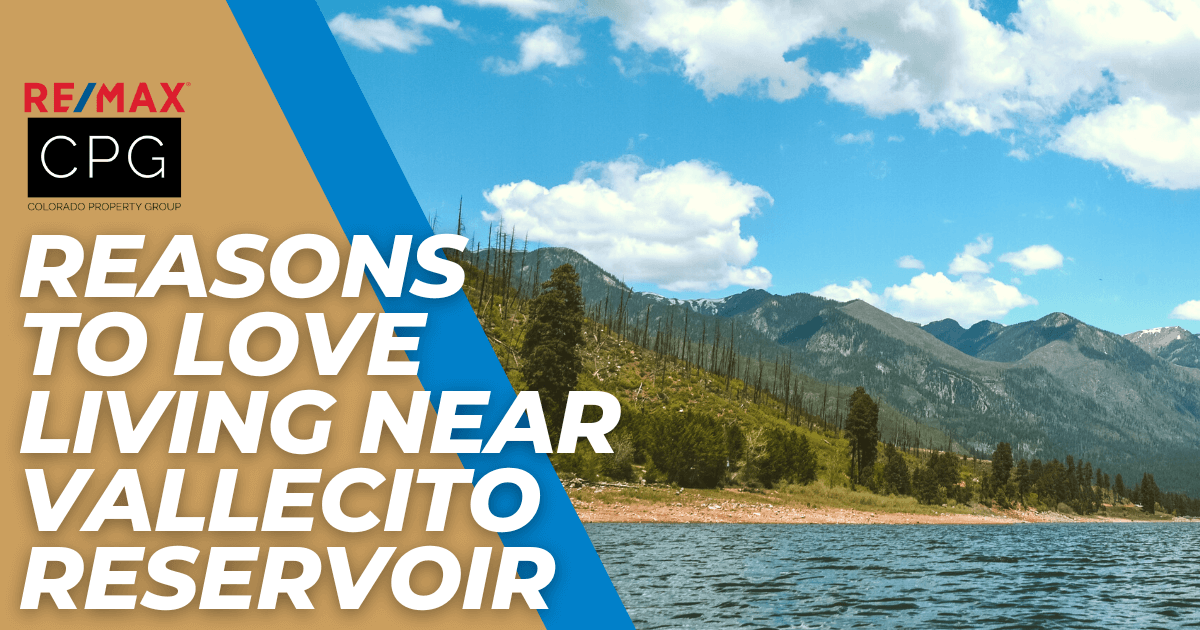 Home seekers looking to enjoy a laid-back lifestyle in Colorado's fresh, pristine air often find themselves drawn to homes in the mountain valley community of Forest Lakes that surround Vallecito Reservoir.
People who live in the Forest Lakes community—which is located on the outskirts of the town of Bayfield—can enjoy year-round living that offers the comforts of home while providing the vibe of a permanent vacation. Great fishing, camping, and beautiful places to explore are only a few reasons to love living near Vallecito Reservoir.
Easy Access to Durango
The southern tip of Vallecito Reservoir is only about 20 miles from Durango via a straight 40-minute drive on County Road 240. Residents can take a trip from their mountain valley retreat to explore the world-class amenities found in historic downtown Durango.
Known as the "Hollywood of the Rockies," Durango, a former mining town, offers two million acres of wild national forest and sweeping views. Many famous films have used Durango as a shooting location. Aside from southwest Colorado's picturesque scenery, residents of Forest Lakes can enjoy Durango's iconic restaurants, theaters, art galleries, skiing, landmarks, breweries, and historical landmarks found downtown.
People living in Forest Lakes also enjoy attending Durango's best annual festivals, including (but not limited to) the Taste of Durango Festival, the Iron Horse Bicycle Classic, and the Hardrock Hundred Mile Endurance Run. After their Durango trips, residents can easily return to their scenic retreats in Forest Lakes.
Spectacular Surroundings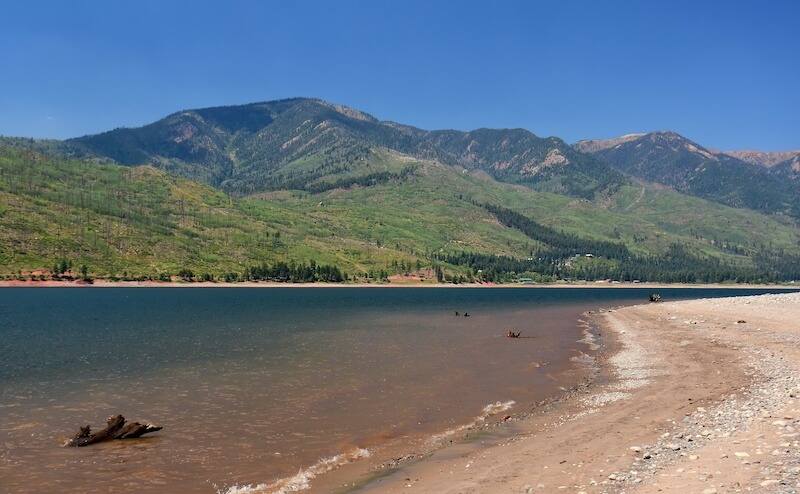 Being one of Colorado's largest bodies of water, Vallecito Reservoir provides Forest Lakes residents with spectacular surroundings, which is a massive draw for many people. Surrounded by mountains in a heavily-wooded area in the enormous 1.8 million-acre San Juan National Forest, the lifestyle in Forest Lakes is unlike any other.
Residents enjoy walking, hiking, cross-country skiing, and snowshoeing in their gorgeous environment, where each season offers something spectacular. They also can heighten their senses when they experience stunning water scenery, see beautiful meadows, gaze upon seasonal wildflowers, marvel at majestic trees, and contemplate the views of high desert mesas. Another benefit of living here is spotting fantastic wildlife on the land and in the sky. In under an hour's drive, residents can also experience the sights associated with the majestic Chimney Rock National Monument.
The surroundings in this area of Colorado are a massive draw for residential owners of new construction homes and luxury homes built in Forest Lakes. Interested buyers who don't want to buy a pre-owned house will find great vacant land and lots for sale in Bayfield, where they can build their dream home to use as a full-time residence, rental property, or vacation home with the scenery they choose.
Proximity to Great Campgrounds
Camping fans love the terrific campgrounds around Vallecito Reservoir in the San Juan National Forest. Whether looking for rustic, primitive accommodations for an authentic outdoor experience or one that offers modern comforts, people spending time in nature will find the right campground to suit their needs.
The prime camping season is late spring through early fall. Campers can rent a campsite, stay in a cabin, reserve a spot in an RV park, or go for the ultimate comfort and rent a lodge. Some campgrounds offer non-reservable sites for those visitors who are more spontaneous.
The bottom line: there is no shortage of campgrounds in the area surrounding the Vallecito Reservoir, and most camps offer several recreational opportunities for guests to enjoy.
A Hub for Outdoor Recreation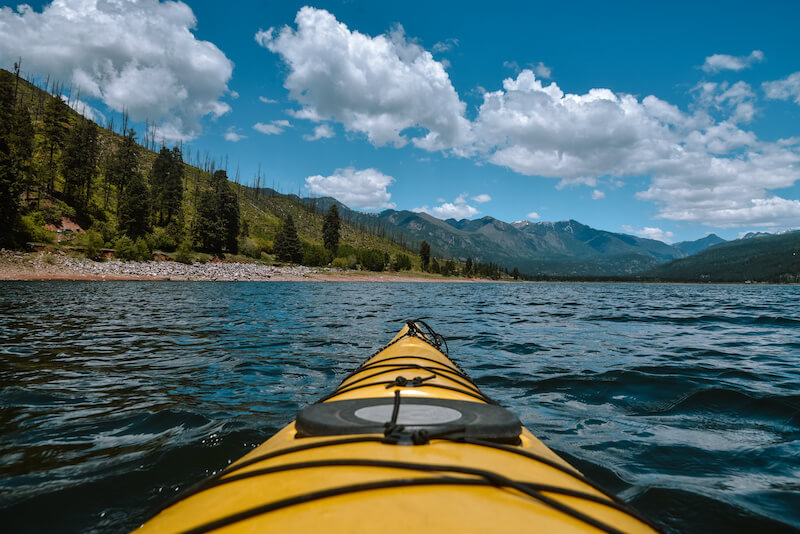 One of the biggest draws to Vallecito Reservoir is the outdoor recreational activities. Residents don't have to go on vacation—or even venture too far from home—to experience excellent hunting, fishing, hiking, mountain biking, and horseback riding. It's easy to stay busy, even without making the short drive to enjoy Durango's best outdoor activities!
Swimming in Vallecito Reservoir isn't allowed for safety reasons, but many other water sports—such as kayaking, standup paddleboarding, canoeing, and powerboating—are permitted on this body of water. If you do want to take a dip, you can check out the vast number of water activities in Durango.
There is something for everyone in terms of outdoor recreation, from the active outdoors person to the novice explorer. At the end of the day or weekend, residents only have a quick ride back to their luxury home in Forest Lakes.
Four Seasons of Fun
People living in Forest Lakes enjoy unique and fun outdoor activities year-round. Summer and winter are the most popular because the warmer months offer top-notch vacation activities. There is nothing like experiencing outdoor fun and cold weather activities in a Colorado winter.
However, please don't discount the spring and fall months since they have unique perks of their own. There is beautiful fauna, flora, and foliage to enjoy during these two seasons. Wildlife spotting opportunities are also year-round. Spring and fall weather are also perfect for many activities people appreciate during the peak seasons, such as biking, hiking, fishing, backpacking, and other outdoor recreational activities. Many pristine trails found near the Vallecito Reservoir are open year-round to enjoy.
Each season brings a new picturesque landscape to admire. Furthermore, many cabins and lodges in the area are open year-round for those looking for a quick getaway or a holiday celebration that's close to home. When it boils down to it, thanks to the Vallecito region's relaxing and beautiful atmosphere, these perks make Forest Lakes a desirable place to live year-round.
Vallecito Reservoir Offers Residents the Best of All Worlds
Many homebuyers looking to purchase real estate in Colorado find the Forest Lakes community an attractive place to set down roots, especially if they value living near one of the best lakes in the Durango area: the Vallecito Reservoir. With wide open spaces, home seekers can buy existing houses to renovate or redecorate the property to their preferences. Alternatively, they can invest in Bayfield's new construction homes, allowing them to build their dream home from the bottom up.
Residents often come to Forest Lakes to seek a getaway from the hustle and bustle usually found in crowded towns and cities. Oftentimes, they fall in love and decide to make their stay permanent—it's no wonder why Bayfield is one of the best places to live near Durango.
If you're ready to move to Forest Lakes, call Colorado Property Group of RE/MAX with Durango Homes for Sale at (970) 946-0601 to reach a local real estate agent who can help you find your Forest Lakes dream home.