The Best Kid-Friendly Activities in Durango
Posted by Ryan Poppe on Thursday, April 8, 2021 at 8:13 AM
By Ryan Poppe / April 8, 2021
Comment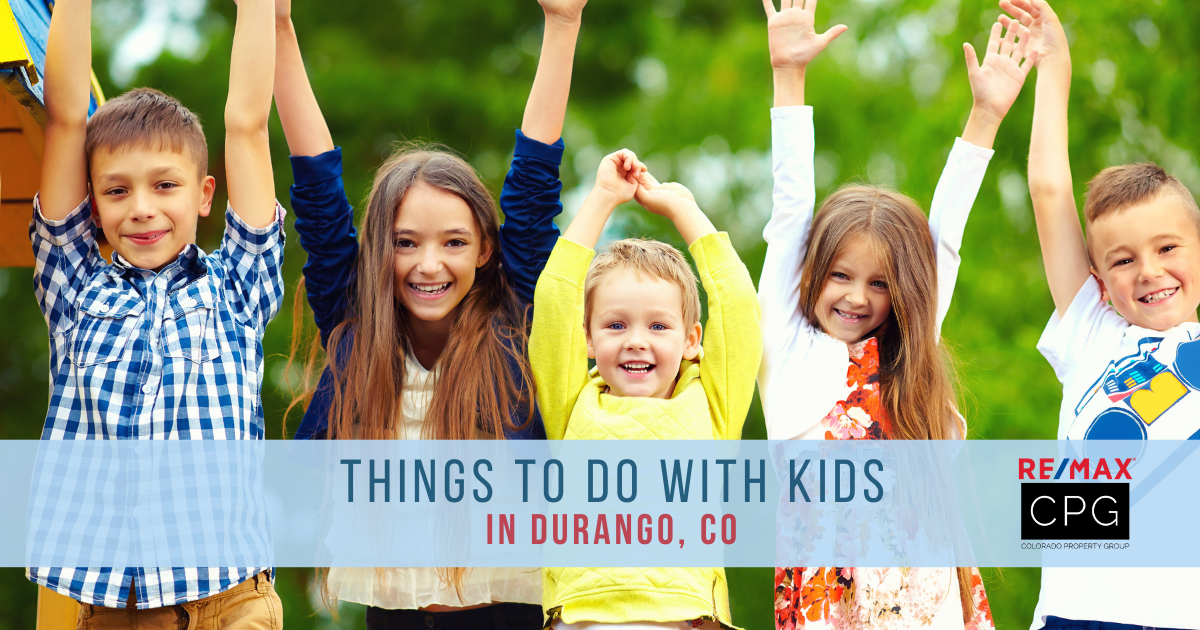 Whether someone plans to visit Durango, Colorado, with their kids for just one day or an entire week, they can find plenty of ways to keep their party entertained. From museums to white water rafting, this town has no shortage of things to do. With the proper planning, people can have an unforgettable Durango trip. Below is an overview of some of the most exciting things to do with kids in Durango, CO.
Durango & Silverton Narrow Gauge Railroad Museum
Durango & Silverton Narrow Gauge Railroad Museum Amenities
12,000 square feet
History of railroading, mining, and transportation
Free museum admission
Train ride
The Durango & Silverton Narrow Gauge Railroad Museum is a 12,000-square-foot museum dedicated to sharing the history of railroading, mining, and transportation. Although this museum contains exhibits related to railroading in general, its focus is the history of the railroad line. Admission to the museum is free.
In addition to visiting the museum itself, visitors and their children can also enjoy a train ride to get a closer look at this transportation mode in action. While on the train, riders will experience breathtaking views of the Rocky Mountains and the Animas River. Different classes of service are available on the train to meet the needs of any traveling party. Train rides should be booked in advance to ensure a spot. The cost of a ride will depend on the excursion and class of service chosen.
During summer and fall, tours of the yard and roundhouse at the Durango & Silverton Narrow Gauge Railroad Museum are available. These unique tours allow people to see behind the scenes in the yard, machine shops, and more. As with train rides, these tours should also be booked in advance to ensure enough space is available.
Durango & Silverton Narrow Gauge Railroad Museum Additional Information
Museum Hours: 10 a.m.–4 p.m. Wednesday-Sunday through April 30 / 10 a.m.–4 p.m. 7 Days a Week May 1-21 / 7 a.m.-7 p.m. 7 Days a Week May 22-Oct. 31
Phone: 970-247-2733
Honeyville
Honeyville Amenities
See the bees
Learn about honey production
Taste honey samples
Factory store
Honeyville is a beekeeping and honey production business that has been operating in Durango since the 1920s. This is a family-owned establishment that has spanned three generations of the Culhane family. The business has a rich history, from its humble beginnings selling honey out of the back of a flatbed truck. Today, the business produces much more than just pure honey, offering a wide range of products to customers. The company has grown so much that it now relies on honey gathered by other beekeepers in the area to keep up with its demands.
A visit to Honeyville allows people to see the bees, learn about honey production and collection, taste samples, and purchase their favorite products. Visits to the factory store are free. While at the store, people can purchase pure honey, whipped honey, honeycomb, sauces, jams, syrups, body care products, and much more. The factory store even offers gift sets for visitors who want to take home a variety of products.
Honeyville Additional Information
Hours: 9 a.m.–5 p.m.
Phone: 970-247-1474
Mesa Verde National Park
Mesa Verde National Park Amenities
Includes almost 5,000 archeological sites
Learn about the Pueblo people
Archeological museum
Campgrounds and picnic areas
Hiking trails
Café
Gift shops
Mesa Verde National Park is a large park originally established in the early 1900s to preserve the Pueblo people's archeological heritage. These people lived in the area of the park for seven centuries. This national park encompasses almost 5,000 archeological sites, including many cliff dwellings.
Visiting this park with their children allows people the opportunity to learn about the history of the Pueblo people and the details of their culture while enjoying countless outdoor activities that are sure to be exciting and memorable. People can view many of the archeological sites in this park by exploring some of the available hiking trails, which vary according to their length and difficulty.
The park also offers an archeological museum, campgrounds, picnic areas, a café, and gift shops. A child's age and interest in the park can determine a visit to Mesa Verde for an afternoon or several days. Some of the amenities available at Mesa Verde are open on a seasonal basis, so those interested should be sure to research the park's current offerings before scheduling their trip.
Mesa Verde National Park Additional Information
Purgatory Resort
Purgatory Resort Amenities
Slopes for snowboarding and skiing
Dining
Shopping
Outdoor pool
Day spa
Hot tubs
Fitness center
Purgatory Resort is a full-serve ski resort that provides several luxurious amenities and opportunities for enjoyment. The majority of the units at Purgatory Resort are only a few steps away from chairlifts. Whether someone wants to spend their time hitting the slopes, simply enjoying the view, or is interested in purchasing a home near the resort, Purgatory Resort is the ideal place to stay.
On days when visitors don't feel like snowboarding or skiing, Purgatory Resort also offers opportunities for dining and shopping, as well as a year-round outdoor pool found at the base of the slopes. Other amenities include a day spa, hot tubs, and a fitness center.
Even beginner skiers and snowboarders can still have fun at Purgatory Resort. In fact, the resort offers both skiing and snowboarding lessons for students of all ages. Private lessons and group lessons are available. Childcare options are also available for adults who want to spend time on the slopes or enjoy other activities without the kids. Nights at Purgatory Resort book up quickly, so those interested should be sure to make their reservations well in advance.
Purgatory Resort Additional Information
Mild to Wild Rafting & Jeep Tours
Mild to Wild Rafting & Jeep Tours Amenities
White water rafting
Jeep tours
Kayaking
Rentals
Adventure-seekers can't go wrong with an excursion booked through Mild to Wild Rafting & Jeep Tours. This company offers a wide variety of trips designed to help people make lasting memories on their Durango vacation. Activities are available for all ages and ability levels. Whether someone is hoping to get their adrenaline pumping or wants to relax, they can find the perfect option.
One of the most popular options available from this company is white water rafting. Tours are available to fit different schedules and goals, whether someone wants to spend a few hours or days on the river. The company also offers other exciting excursions in Durango and the surrounding area, including jeep tours through Silverton's Ghost Town, Durango's La Plata Canyon, and other locations. Kayaking excursions and rentals are available as well.
Mild to Wild Rafting & Jeep Tours aims to offer various packages and excursions to fit any itinerary and budget. Excursions can be booked online or with one of the company's representatives, who can provide customized guidance.
Mild to Wild Rafting & Jeep Tours Additional Information
Animas River Trail
Animas River Trail Amenities
Over seven miles long
Provides easy access to other trails and parks
Right next to Animas River
The Animas River Trail is a can't-miss attraction for anyone who enjoys nature's beauty and spending quality time outdoors. This trail is over seven miles long and stretches through the middle of Durango. The Animas River Trail is at the center of Durango's trail system and is paved to accommodate people of all ages and abilities.
The trail runs along the Animas River, offering breathtaking views and plenty of recreation opportunities. It includes one tunnel, four underpasses, and eight bridges. It also provides easy access to other nature trails, open spaces, and recreational parks.
The Animas River Trail is an ideal attraction to add to one's itinerary, whether they want to walk down the trail, go for a jog, or ride their bike. They can also use this trail to access the river for kayaking, rafting, and fishing excursions. Durango has plans to expand this trail in the future, offering even more opportunities for enjoyment.
Animas River Trail Additional Information
Map: Animas River Trail
Colorado Parks and Wildlife, Durango Service Center Phone: 970-247-0855
Discover Durango
These are just a few of the many attractions available to travelers visiting Durango. Depending on their journey, people may decide to visit one or all of these places. Whatever they decide to do with their kids in Durango, people should be sure to take plenty of pictures to remember their trip for many years to come.
If Durango sounds like the perfect place for you, contact Colorado Property Group of RE/MAX with Durango Homes for Sale at (970) 946-0601 to get in touch with a Durango real estate agent and get ready to call this beautiful mountain town home.