Best Water Activities in Durango: Durango, CO Water Recreation Guide
Posted by Ryan Poppe on Monday, March 29, 2021 at 7:14 AM
By Ryan Poppe / March 29, 2021
Comment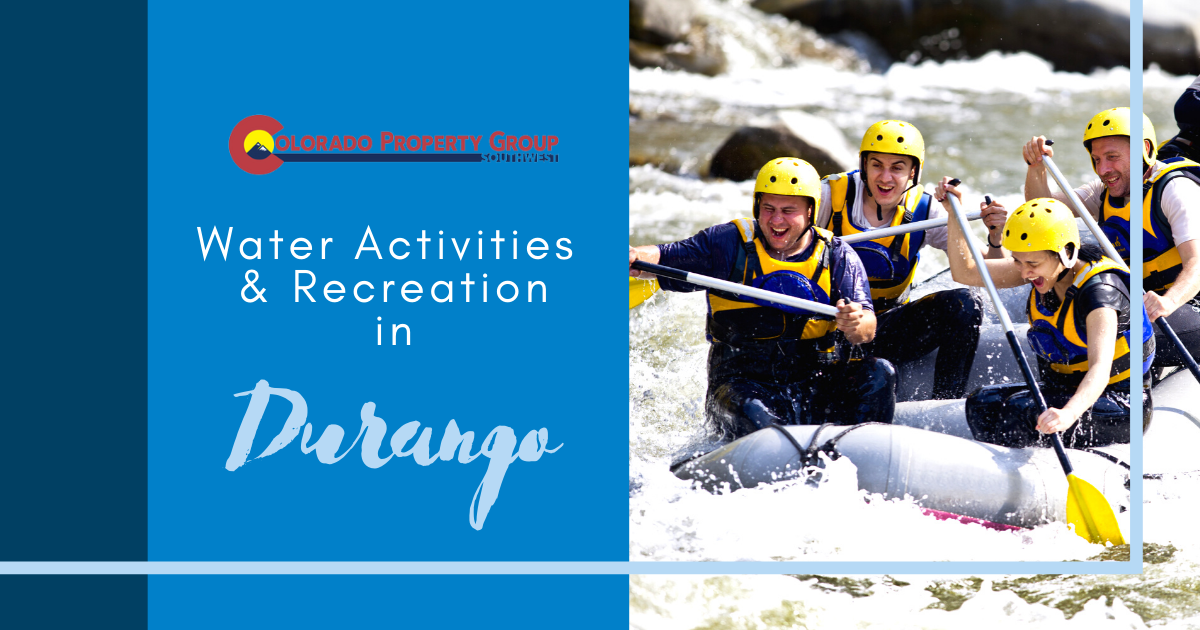 For those who enjoy the excitement of a whitewater rafting adventure, kayaking lazily along a river, or dropping a line for a fresh catch of fish for the grill, head to Durango, Colorado, where there is never a dull moment. Durango offers residents and visitors a variety of things to do, which includes experiencing its many rivers in various ways that are suitable for all ages and skill levels. Bring the sunscreen and shades and delve into the depths of fun and entertainment with the following water recreation activities in Durango.
Whitewater Rafting
Whitewater Rafting Services
Durango Rafting Company
Mountain Waters Rafting
Mild to Wild Rafting & Jeep Tours
Flexible Flyers Rafting
Durango Rivertrippers & Adventure Tours
Colorado Outback Adventures LLC
Anyone who enjoys tackling and navigating the river's ebb and flow will want to take part in a whitewater rafting adventure in Durango. Signing up for a whitewater trip with Mild to Wild Rafting can be a once-in-a-lifetime experience for those who have never taken on the challenge of the water's currents. With a group of other enthusiasts, rafters get an up-close view of the Durango landscape while learning about the area's history, culture, and traditions while making their way over calm waters, around rocks, and navigating busy rapids. Guided whitewater rafting excursions are available for all skill levels, from novices to veteran rafters, and include safety instruction and equipment.
Whether booking a trip when the snow has melted and the river levels are high or during the summer when levels are lower, the river and its rapids offer a refreshing and invigorating ride for those who want to take excitement to a whole other level of fun. The season runs from April to October with access to high and low water rapids. The age requirement for rafters is 4 to 84, and for kayaking, visitors must be ages 11 and over.
Fishing in the Pine River
Durango Fishing Services
Rio Epic
Heads Up Flyfishing
Southwest Anglers LLC
The Kokopelli Angler
Expedition Outside
One of the many recreational water activities in Durango is fishing. This favorite pastime is one to be enjoyed, especially when dropping a line or fly-fishing the Los Pinos River, also known as the Pine River.
When a fishing expedition is on the agenda, a sure way to get the best out of the day is to book a custom-guided fishing trip with Duranglers. The company, in business since 1983, handles outfitting the fishing trip from start to finish by providing expert guides and an onsite shop for equipment and accessories. Novices and seasoned anglers are welcome.
For those just starting out, Duranglers offers fly-fishing classes. The rivers and creeks run fast and deep and are home to an abundance of trout species that include rainbow, cutthroats, brookies, bass, pike, and browns. With a guided fishing trip, anglers have choices in location.
Along with the Pine River, Animas is nearby, and the San Juan River is less than an hour away. Duranglers also has fishing access to private water for even more opportunities.
Swimming in Durango
When the summer heat kicks in, there's nowhere better to beat the heat than in a refreshing pool of water. Whether you love water slides, swimming pools, or natural bodies of water, Durango is sure to have just the spot for a refreshing day of water fun. Here are the best places to swim in Durango.
Durango Community Recreation Center
Stay close to home and enjoy the refreshing pool at the Durango Community Recreation Center. The leisure pool area includes lap lanes, a hot tub, and the lazy river, with the leisure and lap pool areas open Monday through Friday from 6 a.m. to 7 p.m. and Saturday from 9 a.m. to 4 p.m. Open swim time for recreational swimmers is from 12 p.m. to 4:15 p.m. Monday through Friday. Swimmers of all ages are welcome, but children under the age of 14 must be accompanied by a parent or guardian whenever they are in the pool. Private lessons are available for those who want to learn how to swim or need to strengthen their individual swimming capabilities.
The recreation center also offers several classes, such as water aerobics. For those interested in expanding their experience and resume, the American Red Cross water safety instructor class gives people the chance to earn swim instructor certification. The lifeguard training certification class, which includes AED and First-Aid and CPR training for the Professional Rescuer, is also available. There is also the Masters swimming program for adults interested in fitness and participating in competitions.
Durango Sports Club
Get into the water and into shape at the Durango Sports Club if you want a fitness-focused swimming pool to visit within the city. The Durango Sports Club features the only outdoor swimming pool in Durango, where visitors and members can take swim lessons, do laps, and enjoy the refreshing water under the warmth of the sun. Visitors will need a day pass to use the pool and will need to anticipate the pool closing for the winter months, due to the cold.
Adrenaline Falls
If you want a refreshing swimming spot and a thrilling cliff-jumping location, Adrenaline Falls promises both and is nestled within the natural scenery surrounding Durango.
Hidden away along a hiking path, Adrenaline Falls requires a bit of a walk to access, and the path is somewhat well hidden. However, anyone who makes the three-mile hike off the trail at Lime Creek Road will discover the mesmerizing 15-foot waterfall at the end of the trek. The waterfall flows into a pool perfect for a refreshing dip, and many people also take advantage of the waterfall itself for an exciting cliff-diving experience.
Though Adrenaline Falls is known as one of the best cliff-diving experiences around Durango, always exercise caution when practicing cliff diving.
Lake Nighthorse
Created by the Ridges Basin Dam southwest of Durango, Lake Nighthorse is a water reservoir made to provide water for people along the Animas River. Now a sprawling lake of over 1,500 acres, this lake is open for a range of activities that visitors can participate in on the water. Go fishing, try stand-up paddle boarding, or explore the lake on a kayak, canoe, or sailboat. There are also a number of hiking and biking trails, making Lake Nighthorse the perfect location to visit if you want to go swimming in Durango.
Kayaking in the Animas River
Kayaking Services
4Corners Riversports
Mountain Waters Rafting
Durango Rivertrippers & Adventure Tours
Southwest Raft and Jeep
Colorado Outback Adventures LLC
Kayaking the Animas River offers an exciting and relaxing adventure all in one trip. Glide along at a leisurely pace and enjoy the views along the river, then use skills and techniques to navigate the rapids.
At Durango Rivertrippers and Adventure Tours, kayakers have a choice of a two-hour tour in a single or double kayak for those who want a short excursion or a longer four-hour trip in a single or double kayak that allows paddle time, glide time, and access to the rapids. The company requires guests to be age 16 or older and have whitewater kayaking or rafting experience.
Those taking a tour are given a safety orientation session, fitted with a personal flotation device, and provided to and from transportation to the river. Lockers and rental accessories such as appropriate river shoes are available. Guests must sign a waiver before starting the tour.
River Surfing
Durango River Surfing Services
Colorado Surf Company
4Corners Riversports
For those with a love of the outdoors and water activities year-round, Durango has the environment for multiple entertainment options navigating the rivers and rapids. Whether using a kayak, canoe, raft, paddleboard, or stand-up paddleboard (SUP) to enjoy a day on the river, 4 Corners Riversports has the equipment needed for a cool adventure.
From novices to experienced whitewater rafters, 4 Corners provides full services to ensure rafters and paddlers have the proper equipment for their choice of water activity. Check out their inventory of rafts, stand-up paddleboards, pedal drive kayaks, paddling and fishing canoes, and fishing and touring kayaks rentals. 4 Corners also has paddling gear rentals that include helmets, drysuits, wetsuits, splash jackets, and personal flotation devices that provide protections, whether running the rapids or leisurely floating down the river. Rentals are available for two hours, four hours, or the entire day, with prices ranging from $30 for a two-hour canoe rental to $120 for a tandem pedal drive kayak.
Those new to water recreation can take a rafting or kayaking class or opt for private instruction for one or more people. 4 Corners also offers instruction for swift water rescue.
Those interested in becoming an instructor can sign up for the ACA whitewater kayak instruction class to become certified. Current business hours for 4 Corners Riversports are 9 a.m. to 5 p.m. Monday through Saturday.
Create Memories in Durango
Whether relaxing from one's waterfront home is a favorite pastime or navigating the rapids for a jaw-dropping adventure is more your speed, there are plenty of options available to satisfy personal preferences. Whether it's fishing or rafting, the scenic beauty and tranquil atmosphere that abounds in Durango promises to provide the landscape and the action to make a vacation, staycation, or a one-day outing an experience to remember.
If Durango sounds like the perfect place for you, contact Colorado Property Group of RE/MAX with Durango Homes for Sale at (970) 946-0601 to get in touch with a Durango real estate agent and get ready to call this beautiful mountain town home.