Tips for Creating an Outdoor Living SpaceTips for Creating an Outdoor Living Space
Posted by Ryan Poppe on Wednesday, February 7, 2018 at 7:45 AM
By Ryan Poppe / February 7, 2018
Comment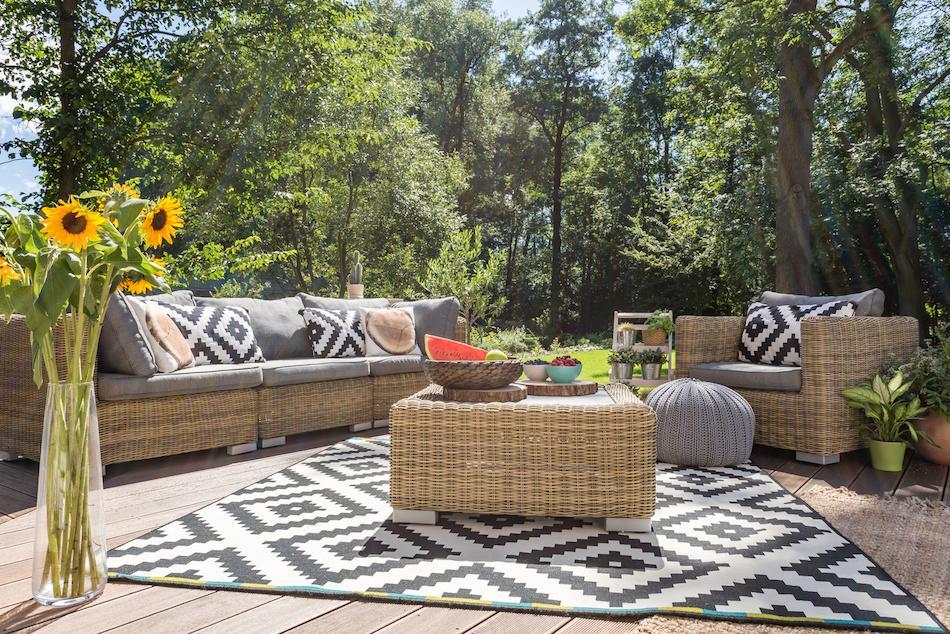 Outdoor living spaces have gotten a lot of attention in recent years. As more homeowners look for ways to boost their home's value and create more comfortable places to lounge and relax, outdoor living areas have become popular. If you're a homeowner who is considering installing an outdoor living space, these tips on how to plan an outdoor living space can help.
Create Privacy
Privacy is important for living spaces, even if that living space is outdoors. Privacy can be created in many ways including installing many types of fencing. Many homeowners prefer to add privacy subtly, through natural barriers. A wall of ivy growing up a trellis, for example, is one way to shield your outdoor space from neighbors, without building an extra wall in your back yard. Potted plants, small shrubs and trees are all ways that homeowners can create an enclosed space.
Other structures that can create a wall around your backyard living spaces include:
Cloth. A canvas drape or flowing curtain can be used to create a moveable barrier that will shield the sun and block the view.
Screen. Some homeowners prefer moveable screens because they can be put up, taken down and moved at will.
Bamboo fence. Bamboo fencing can be used to create a natural barrier that makes your outdoor living space a tropical paradise.
Add a Heat Source
It can get chilly outside on cool nights in fall, winter and spring. Adding a heat source to your outdoor living space makes it possible to enjoy long, happy evenings lounging around your yard. There are many ways to heat up the space where you'll be spending time.
An outdoor fireplace adds ambiance as well as heat, while a fire pit makes it possible to roast marshmallows over the open fire. Homeowners who are not interested in building an actual fire to stay warm can use outdoor heaters or a gas fireplace that can easily be turned on and off. Talk to a licensed contractor to have one installed.
Provide Seating
Make space for you and your guests to lounge and spend time with outdoor seating areas. Patio furniture gets the job done, but built-in seating adds aesthetic value as well as practical value. Whatever seating you provide, use cushions and pillows to make the space more comfortable. During the long months of fall and spring, in Mancos or elsewhere, drape your seating with throw blankets, if the space is sheltered from the elements. Also look into how to make cushions for outdoor furniture for a fresh change each season on a budget. These comfortable touches make your outdoor space more inviting to all members of the family.
Make Cooking Possible
Outdoor cooking can be a popular passtime to spend with friends and family, especially when your home is on a good amount of land. Many homeowners with outdoor living spaces will install a permanent stove and counters to make cooking possible all year round. To make cooking outside easier and more enjoyable, position the cooking space beneath a shelter. This enables you to cook outside even in times of rain, and prevents the countertop space from getting too dirty too quickly.
Add Power
Electricity is a huge plus in an outdoor living space. Portable outdoor heaters and refrigerators, both of which are commonly used in outdoor kitchens and living spaces, require electricity. How do you get an outdoor power outlet? Have a licensed electrician come to your home to install GFCI outlets in convenient places where you are likely to want the ability to plug in electrical appliances.
Your backyard can be a paradise! Adding these outdoor design ideas and more to your outdoor kitchen or living area can help ensure that you and other members of your family will enjoy spending time on your property and in your yard.