Comparing Vrbo vs. Airbnb: Which One Maximizes Your Rental Property's Potential?
Posted by Ryan Poppe on Tuesday, June 27, 2023 at 2:19:08 PM
By Ryan Poppe / June 27, 2023
Comment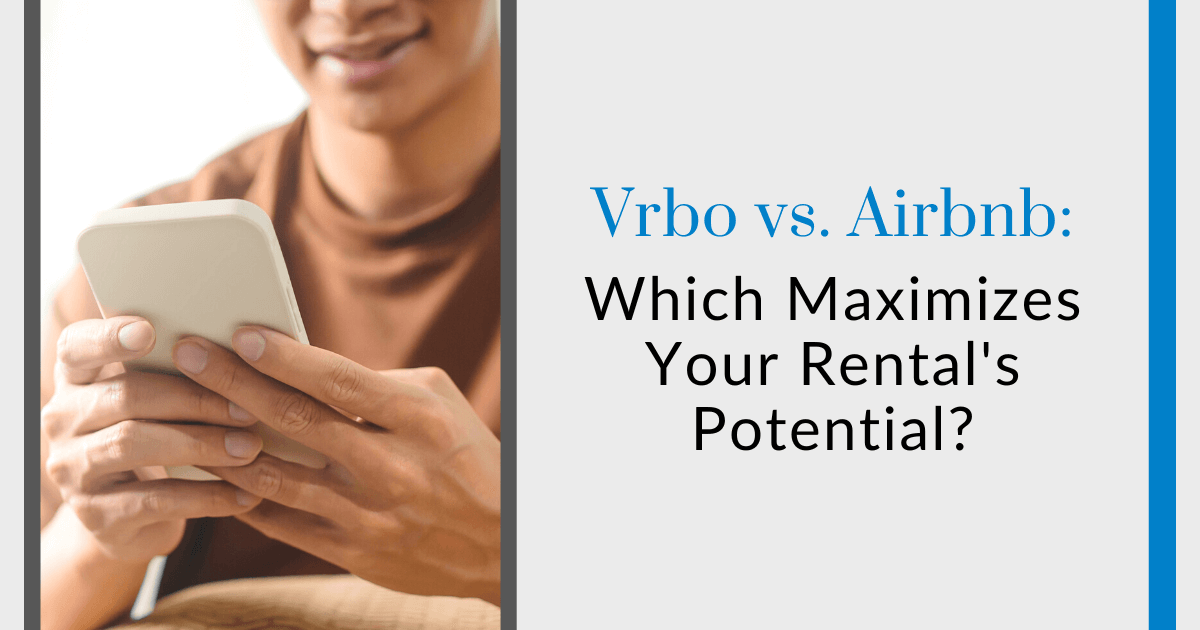 Are you a host looking for the best platform to list your short-term rental property? If so, you're in the right place. Among the leading contenders, Airbnb and Vrbo (Vacation Rentals By Owner) have emerged as the dominant players, offering distinct advantages and considerations for hosts. This guide will compare the two platforms, from listing fees and target audience to reviews and customer service, all of which can help you determine how much money you can make from your vacation rental. By exploring the unique features, target demographics, and market positioning of Airbnb and Vrbo, hosts can make an informed decision to ensure optimal occupancy rates and revenue generation.
Vrbo vs. Airbnb: Hosting Fees
Depending on the platform, you have a couple of options for hosting fees. Airbnb offers two fee structures—split-fee and host-only—while Vrbo has both subscription and pay-per-booking models.
Airbnb's split-fee structure charges hosts a 3–5% service fee, calculated from the booking subtotal (including the nightly rate and additional charges like pet fees). Guests are charged a service fee of up to 14.2%. On the other hand, Vrbo's pay-per-booking model requires an upfront annual fee of $499. Hosts also pay commission fees based on bookings that consist of a 5% service fee and a 3% payment processing fee. Bookings made through Vrbo are subject to a booking fee ranging from 6%–12%.
Depending on the kind of travelers you're targeting and your particular business needs, either option could suit you. With both platforms offering different fees, hosts must consider their situations when choosing which platform is best for them.
Vrbo vs. Airbnb: Target Guest Audience
If you're looking to attract families and larger groups, Vrbo is the perfect choice for your vacation rental. At the same time, Airbnb typically has a broader range of guests, including budget-conscious individuals, business travelers, and those seeking luxury accommodations. Vrbo stands out by offering a wide selection of entire homes, which are ideal for family gatherings or group trips. Furthermore, its extensive portfolio of sought-after properties in tourist destinations attracts older and more affluent travelers who prefer traditional vacation rentals such as cabins or cottages in rural settings.
On the other hand, Airbnb appeals to a variety of travelers. It caters to the needs of individuals seeking immersive 'live-like-a-local' stays with a particular emphasis on urban destinations. Moreover, the platform has become popular among business travelers who prefer booking entire apartments for short or extended stays instead of traditional hotel rooms. As a host, you can determine the best amenities for your Airbnb based on the target travelers.
No matter what type of traveler you are hoping to attract—whether it be young adventurers looking for an authentic experience, families wanting some quality time together, or business professionals seeking convenience—both platforms have something special to offer hosts. With their respective strengths and weaknesses, hosts should consider fees, cancellation policies, target audience demographics, and property types when choosing which platform best suits their business needs and goals.
Vrbo vs. Airbnb: Customer Service for Hosts
Your short-term rental platform's customer service is of paramount importance. For hosts looking for reliable and efficient customer service, Vrbo stands out with its dedicated support line available 24/7. The customer support team is prepared to address concerns promptly, including assisting hosts in rebooking guests if their property becomes uninhabitable due to a natural disaster. Additionally, Vrbo has received fewer complaints about its customer service, which may be influenced by the fact that they have fewer rentals on their site. However, this cannot be confirmed.
Airbnb offers a Resolution Center to help resolve disputes between hosts and guests. In cases where an agreement cannot be reached, Airbnb's dedicated team reviews the information provided by both parties and makes a final decision. However, reports highlighting subpar customer service have emerged, with many individuals struggling to connect with a live representative due to the rapid growth experienced within a short period.
Vrbo vs. Airbnb: Guest Reviews
You can rely on both platforms to provide honest reviews from previous guests, but Vrbo also gives you the benefit of seeing hosts' responses. Airbnb actively promotes a review culture and encourages guests to share feedback after their stay. Guests have 14 days to leave a review and rate various aspects such as listing accuracy, cleanliness, communication, location, check-in experience, and value for money.
On the other hand, Vrbo allows guests and hosts up to one year from the date of their stay to submit their reviews. When either party submits a review, the other has 14 days to provide their own evaluation in return—and here's where it gets interesting. These reviews are available for potential renters to get a comprehensive overview from different perspectives. Vrbo also displays hosts' responses to guest reviews within the same section, providing additional valuable insights to help guests make an informed decision. So if you're looking for an extra layer of transparency before renting out your property, Vrbo is definitely worth considering!
The Best Platform for Your Investment
Overall, it's clear that both Vrbo and Airbnb offer significant benefits to hosts. However, depending on your needs and goals, one platform may be better suited than the other. While Airbnb boasts a broader reach, attracting a diverse range of travelers, Vrbo carves a niche for those seeking more extended stays or exclusive vacation experiences. Vrbo also offers its hosts 24/7 customer service support by phone, a deciding factor for many. Ultimately, the decision rests upon the host's priorities, property type, and desired guest profile. By aligning these factors with the unique strengths of Airbnb or Vrbo, hosts can create a profitable venture in the thriving short-term rental market, reaching their occupancy and revenue goals.
Durango Airbnb & Vrbo Resources
Durango/SW Colorado Vacation Rental Regulations & FAQs - Coming Soon!