Western-Chic Style: A Room-by-Room Guide
Posted by Ryan Poppe on Tuesday, June 21, 2022 at 1:33 PM
By Ryan Poppe / June 21, 2022
Comment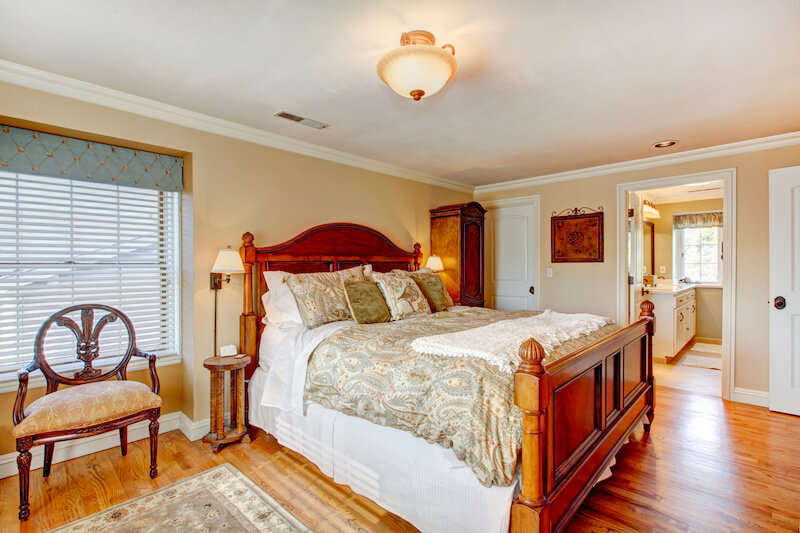 If you want to add a touch of Western flair to your home's decor, look no further. This guide will show you how to get the western-chic style just right. From furniture and accessories to color schemes and themes, the design tips in this article look just as great in a swanky condo as they do in ranch homes with acreage. Saddle up! It's time to learn how to incorporate western-chic decor in every room of your house.
Key Elements of Western-Chic Decor: Animals, Natural Elements & Rustic Materials
Looking for a one-of-a-kind design that blends the best of modern comfort with rugged flair? Western-chic decor is perfect for you. In short, Western-chic interior design highlights motifs of the Western lifestyle while upholding top-of-the-line standards for style and comfort.
Western interior design is most often associated with early pioneer life and rustic rural living. However, western interior design may also evoke images of contemporary ranch life. Your western design doesn't have to follow a rigid set of guidelines, but there are a few conventions that will help you hit the mark.
Here are a few characteristics associated with western-chic decor.
Animals: A Trademark of Western-Chic Decor
Nothing says western-chic decor like animals. The American frontier was full of wildlife, so it follows that animal-inspired elements will be a staple in your western interior design. No, this doesn't mean you need a large taxidermy piece above your fireplace. You don't need to use any real animal elements if you don't want to.
For example, synthetic leather and faux fur can have the same rugged aesthetic. Using animal products in the home was a crucial part of life on the Western frontier. You can pay homage to those times with stylish black-and-white photos, ranching accessories, and sculptures crafted with local materials. No actual animals required!
Natural Elements: Warm Wood & Real Stones Bring the Outside In
Wood and stone also play a crucial role in Western-chic design. Wood was an ever-present element in the frontier lifestyle—from housing to furniture, wood was integral. If you're looking for a natural element that's easy on the eyes, opt for warm woods like oak or pine.
Alternatively, natural rocks add texture and dimension. You can use them for decorative or functional purposes in and around your home. Stone floors, for example, are stylish and durable.
Explore the area around your property and find unique rocks to bring home. They can be used as paperweights just as they are, or you can chisel and polish them into coasters.
Rustic Accents: Decorate with Western-Style Accessories
In Western decor, you want to be as specific to the period as possible. When looking for accessories to complement your Western rooms, opt for anything that would've been found in an 1800s home.
For example, upcycling horse saddles to be barstools can add distinct cowboy flair. A handmade wool blanket, wicker baskets, and hand-forged iron accents are all period-appropriate pieces.
Other accessories to consider could be sturdy vintage bicycles or wooden wagon wheels. You can even try repurposing antique animal traps. Hang live plants potted in recycled objects like a watering can or a vintage glass bottle. Thick wool blankets are stylish and make your home cozy all winter.
Western-Style Decor For Every Part Of Your House
Now that you know some common characteristics of Western-chic decor, we can start going through room-by-room suggestions for implementing this charming style throughout your house.
Western-Chic Living Rooms

Designing the perfect western-chic living area starts with the view. After all, what better decor is there than nature? This is especially important if you live in an area that was part of the original Western frontier.
Imagine you lived in an alpine equestrian property surrounded by snow-capped peaks and pastures of grazing horses. You can make the most of the mountain views in your living room by installing sprawling windows to ensure an unobstructed sight. Windows without grids are a great choice because they leave the view completely open. On the other hand, windows with grids might be more faithful to the old-fashioned aesthetic. If you're working with an interior designer, have them collaborate with you and your windows specialist to make the right decision.
Next, you'll have to choose the right colors. Dark paint colors pair beautifully with natural materials like stone to drive home the authentic Western style. Lighter hues aren't as suitable for a Western-style living room, but they can still be used sparingly to counterbalance darker rooms.
For seating in a Western-style living room, you want to go with leather sofas and chairs. Synthetic leather works well, but 100% genuine leather has the most authentic look. A wooden rocking chair is always a welcome addition, and repurposed items such as a barrel can be used as a coffee table or footstool. Wooden benches and stools made from tree stumps also go a long way.
When it comes to accessories, a panoramic landscape photograph is an excellent choice for the Western-style living room. Other ideal accents for your living room could be lassos, turquoise jewelry, wide-brim hats, and hanging hammock chairs.
Western-Style Bedrooms
Make your western dreams come true in your bedroom!
To get the Western look in your bedroom, start with the bed. A four-poster bed with a beautiful quilt is perfect for creating a rustic oasis. But if you're looking for something a little more low-key, try a simple wooden bed frame with a leather headboard.
As far as color schemes go, stick to warm and earthy tones to reflect the natural landscape. For example, you could try a light beige or khaki for the walls with dark brown or burgundy bedding. Add burnt orange or red-dirt maroon for a pop of warm colors.
Upcycling antique objects help achieve the perfect down-home look. Old wooden milk crates make fantastic under-the-bed storage. Sand them down until they're smooth as new, then apply a coat of chalk paint for a sophisticated yet unpretentious look. Depending on the project, you can choose to DIY it or hire a pro.
Antlers are another great way to add some rustic charm. You can buy them online or find them on nature walks. They don't have to be real; you can find artificial alternatives in home goods stores and online. These sturdy lookalikes can also double as coat hangers when mounted on a wall.
Other accent pieces you can place in your Western-themed bedroom include:
Bandanas
Navajo throw blankets
Horseshoes
Cowboy boots
Dreamcatchers
Feathers
Hanging hammock chairs
Western-Style Outdoor Areas

Now more than ever, outdoor improvements make your house more valuable. If you're already in love with Western-chic style, you'll be thrilled to discover what possibilities await outdoors.
Outdoor design allows you to connect with some of the most authentic lifestyle aspects of life on the frontier. Back then, cooking, laundry, and many other home chores were done outside.
Start with a well-designed alfresco kitchen and dining space. There are numerous ways to repurpose old wood as an outdoor dining table. You can build your own by nailing reclaimed wood planks to a sturdy base, such as an old barrel. Make hairpin legs out of thick dowel rods for a more polished look.
For cooking, you might want to be a little more chic than Western. Sure, you could cook all your meals over a fire pit in a single cast iron pan. Or, you can go for an all-out outdoor kitchen with a gas grill, a vent, a refrigerator, and a sink.
Using local stones for your hardscaping will provide some balancing authenticity to your modern amenities.
Whether you're cooking a stew that's hearty enough for the trail or a gourmet dinner, you're sure to love the Western-chic vibes in your backyard.
Blaze a Western-Chic Trail in Your Home
Western-chic decor is a great way to add some personality and flair to your home. By using animals, natural elements, and rustic accessories, you can create a space that feels as rugged as the Wild West and as comfortable as a five-star hotel. Every room in your home has space for Western-chic decor. Get creative and see what works for you!