What's Durango Famous For? Learn 5 Things Durango Is Known For
Posted by Ryan Poppe on Monday, January 9, 2023 at 10:52:12 AM
By Ryan Poppe / January 9, 2023
Comment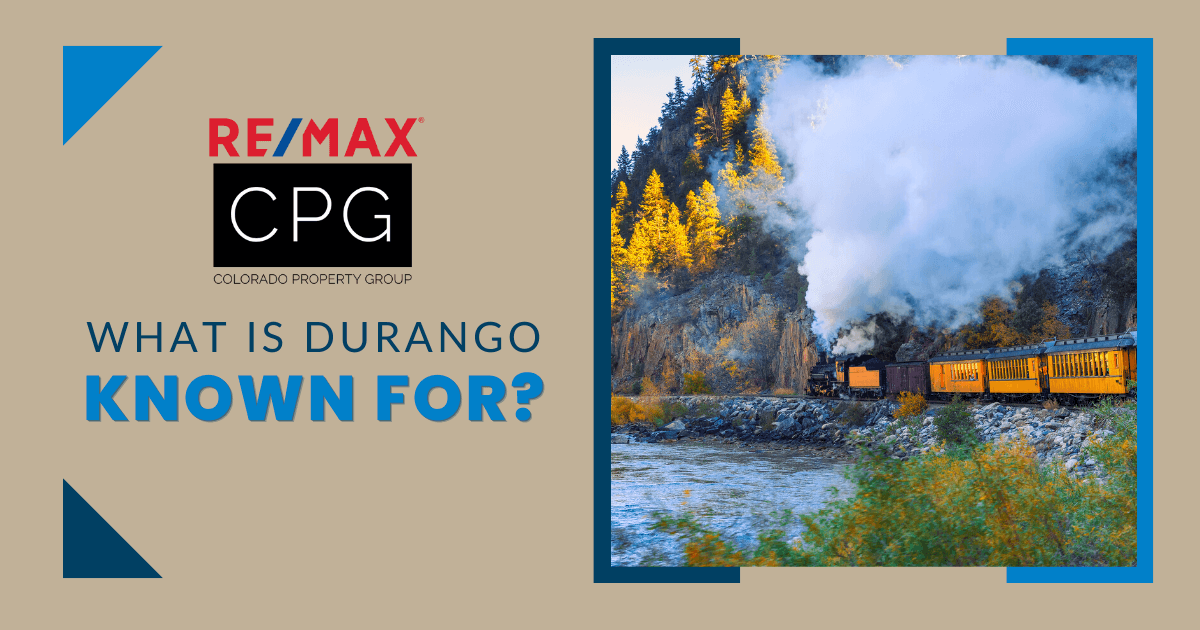 "Go West, young man, and grow up with the country." This famous quote from Horace Greeley aptly applies to Durango, Colorado. The historic town with roots in mining and the railroad has matured from a rugged pioneers' paradise to a pleasant, modern town with nearly endless amenities and services.
Of course, Durango's outdoor activities can't be missed, but there's also a wealth of indoor attractions and festivities that shouldn't be overlooked, ranging from shops to museums to film screenings.
Ultimately, the town has many claims to fame, so we've compiled a list of what makes Durango...well, Durango.
The Great Outdoors
Durango has all the classic trappings of a western mountain town, from whitewater rafting and hiking on endless trails to bicycling and even ice fishing.
Recognized as one of Colorado's last fully free-flowing rivers, the 126-mile-long Animas River has plenty of secrets—including where it got its name. Animas River is derived from the Spanish words "river of lost souls," yet no one seems to know if it was first named by Spanish conquistadors or explorers who discovered ancient Pueblo homes. However, one thing's for sure: from kayaking and paddle boarding to some of the best fishing in the country, you can do it all on the Animas River.
There are plenty of things to do on Lake Nighthorse, another body of water in Durango that is perfect for boating and fishing in a relaxed setting. And when the mountains call, you can hop on a mountain bike or hit the cliffs on foot for hiking or rock climbing. You can even experience Durango from on high with a helicopter tour that takes you soaring above the San Juan Rocky Mountains. Once the snow starts to fall, snowmobiling and skiing take off across the stunning Durango landscape.
Ancient History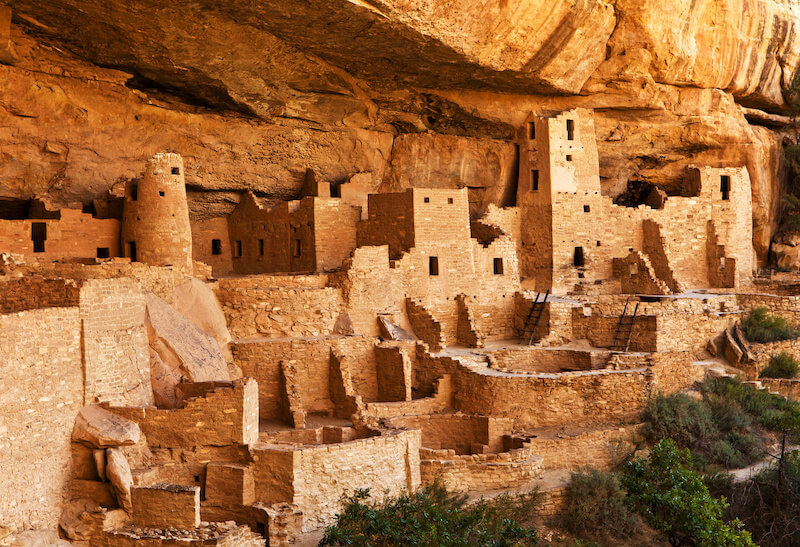 Today, Durango is about as hip a city as they come, but deep underneath its swanky pubs and state-of-the-art buildings lies the dusty remnants of ancient societies and ancestral formations.
As the largest archaeological preserve in the United States, it's no wonder that President Theodore Roosevelt chose to establish Mesa Verde National Park in 1906. Today, this UNESCO World Heritage Site—only 35 miles from Durango, or about 40 minutes—sees over half a million visitors annually.
While some travel far and wide to take in the wonder of Mesa Verde, over two dozen Native American tribes have called this region home for many centuries. There are plenty of trails, lookout points, and canyons to explore, but it's vital to remain only in designated areas to protect and preserve this ancestral tribal land.
Explore the Pueblo "Great House," a former hub of activity in the Mesa Verde region, via a self-guided trail that weaves in and out of ancient rooms where original masonry and stonework still stand. You'll also pass by many kivas, chambers used by the Pueblo people during religious ceremonies.
Mesa Verde Additional Information
Park location: Mile .7 Headquarters Loop Road, Mesa Verde National Park, CO 81330
Hours: Open 24 hours a day, although visitor centers, tours, and other services have seasonally varying hours
Entrance fees: Starting at $20 per vehicle
Tours and camping available seasonally
Hollywood of the Rockies
If it feels like you recognize Durango from somewhere, it's more than likely because you do. This town has welcomed icons including John Wayne, Robert Redford, and Paul Newman to blow up train cars, drive cattle, and settle their disputes in good old-fashioned shootouts. Durango even earned the "Hollywood of the Rockies" moniker thanks to so many film productions setting up shop.
Durango's beautiful natural landscape has served as the backdrop for numerous classics such as "The Sons of Katie Elder" and "National Lampoon's Vacation." It's also seen some present-day action with a 2012 "The Lone Ranger" remake. As of 2023, approximately 30 major films have been filmed in Durango.
Although the blockbusters tend to reintroduce Durango to the spotlight every now and then, the town also has its own prolific independent film scene. Each year, the Four Corners Film Office hosts the Durango Film Festival, a week-long celebration of some of the best independent films created and shot in the area. Beyond screenings and panels, film buffs can take their love of movies to the next level and participate in workshops and panels on all things film-making in southwest Colorado. During the rest of the year, Durango's best movie theaters are ready to entertain.
World-Famous Fishing
Durango's fly fishing scene has long been lauded as one of the best in the country, and fortunately, there are plenty of easily accessible bodies of water in the area.
Before you head out anywhere, be sure to get a Colorado fishing license; it's a state requirement!
Durango has some excellent fishing spots, but finding them is the first step. Check out some local fishing reports to get acquainted with the angling scene. In particular, the city has some world-class fly fishing hidden within the San Juan River tailwater. Trout are plentiful in these waters, and catches here regularly exceed 18 inches long.
The Animas River is another popular spot to cast a rod. Since the river cuts through the condos and luxury homes in Durango, you don't have to travel to some far-flung locale for good fly fishing—unless you're craving solitude and want to fish a high country lake such as Eldorado Lake. Some of these more remote bodies of water are at much higher elevations and are stocked with fish dropped into the water by airplanes (yes, really!).
Durango & Silverton Narrow Gauge Railroad
All aboard this 140-year-old ride! The Durango & Silverton Narrow Gauge Railroad (D&SNGRR) started transporting gold and silver from the San Juan Mountains. Soon, however, townspeople caught wind of the stunning views and began hitching rides on the train. Since the late 19th century, this freight-turned-passenger train has trekked through this rugged terrain and made stops at key destinations throughout the Southwest. Today, there's even a free railroad museum—one of Durango's best museums—in the heart of downtown.
Running from May through October, the Silverton Route is a 5.5-hour round trip from the Durango Depot through the Rocky Mountains. You'll fly past the Animas River on your way to your final destination of Silverton, the historic mining town. After two hours of exploring and sightseeing amid the homes in Silverton, hop back on the train and ride back to Durango.
The Cascade Express, also running May through October, is another 5-hour trip from the Durango Depot to Cascade Canyon. This train ride is equally thrilling and comfortable, as you'll soak up breathtaking scenery and have access to light snacks and refreshments on the ride.
Durango & Silverton Narrow Gauge Railroad Additional Information
Museum location: 479 Main Ave, Durango, CO 81301
Museum hours and admission: Free admission; open daily from 10:00 am to 5:00 pm
Silverton train hours and info: Open daily from May–October; $69–$230 per ticket
Cascade Express hours and info: Open daily from May–October; $57–$89 per ticket
Destination: Durango
This historic Wild West town has seen it all, yet it feels like it's just getting started. Past, present, and future all collide perfectly in Durango to make this a one-of-a-kind town. Thanks to all the things to do in Durango, it isn't known for just one thing because it has everything!
If Durango sounds like the perfect place for you, contact Colorado Property Group of RE/MAX with Durango Homes for Sale at (970) 946-0601 to get in touch with a Durango real estate agent and get ready to call this beautiful mountain town home.