Best Outdoor Activities in Durango: Durango, CO Outdoor Recreation Guide
Posted by Ryan Poppe on Tuesday, December 8, 2020 at 9:45 AM
By Ryan Poppe / December 8, 2020
Comment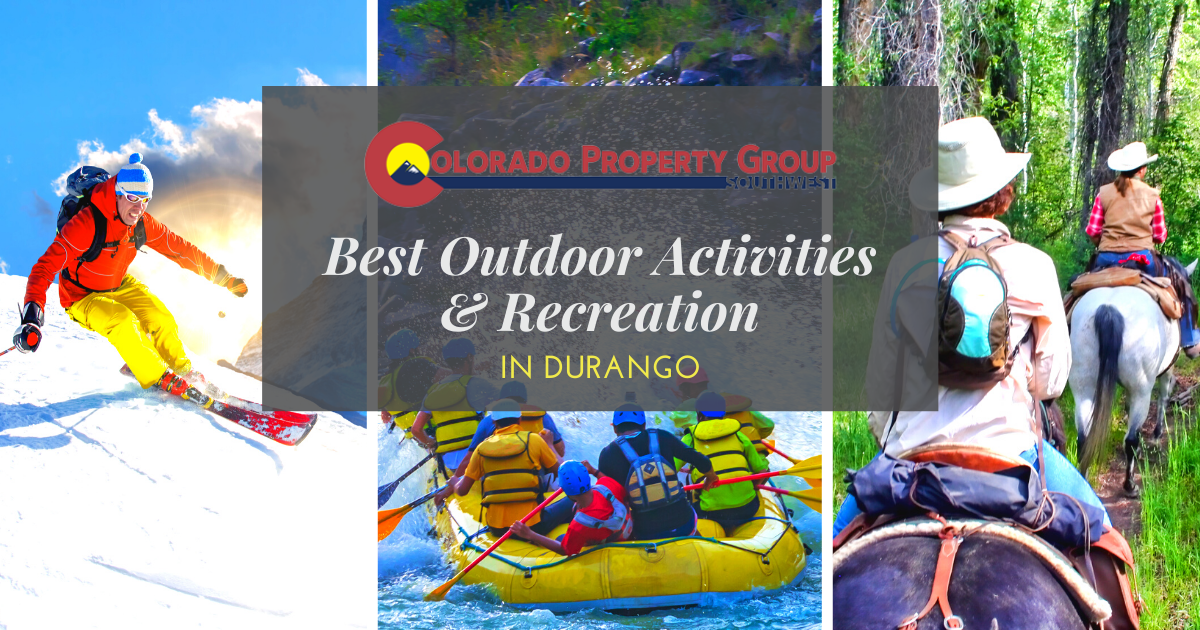 Best Outdoor Activities in Durango: Durango, CO Outdoor Activities & Recreation Guide
Durango, Colorado, is synonymous with outdoor recreation. After all, "Durango" itself is derived from a Basque word that means "water town." There's the year-round mild weather, 300+ sunny days a year, and spectacular natural scenery characterized by the San Juan Mountains, Animas and Rio Grande rivers, and countless miles of trails.
The city may be known primarily for hiking and skiing, but those hardly scratch the surface of Durango's possible outdoor pursuits. Living in Durango, CO means climbing, hunting, camping, snowshoeing, water sports, and much more are also available – and it's not even necessary to leave town to do them. However one prefers to experience The Great Outdoors, Durango has opportunities for it in abundance. Here are some of the best outdoor activities in Durango.
Whitewater Rafting in the Animas River
Whitewater Rafting Services
Mountain Waters Rafting
Durango Rivertrippers & Adventure Tours
4 Corners Whitewater
Mid to Wild Rafting & Jeep Tours
Durango Rafting Company
People who have a bit of an adventurous streak will love whitewater rafting, as it's an excellent way for them to experience the Animas River in a totally new way. They should be warned, though, that they'll be put to work – paddling through the rapids is nothing like floating down the river on a scenic float trip!
The Animas River begins near Silverton, about 50 miles north of Durango. It eventually makes its way to New Mexico's San Juan River, but it flows directly through downtown Durango along the way. The stretch that's accessible in town is the renowned Lower Animas River, featuring primarily Class III rapids. Several reputable local companies offer guided whitewater rafting trips that are suitable for all experience levels. Mountain Waters Rafting has been in the business since 1981 and offers a wide variety of packages, including an introductory option. Durango Rivertrippers & Adventure Tours has also been in business for well over 30 years.
For those who want to raft the river on their own, there are multiple put-in points throughout Durango, plus the Whitewater Park. There's also the Upper Animas River, but it has more challenging Class V rapids and should only be attempted by experienced rafters.
Zipline Tours Over the San Juan Mountains
Zipline Features
12 ziplines
Guides control brakes
Beautiful scenery
Close to downtown
ACCT-inspected and certified courses
Address: Durango Adventures, 20673 US-160 Durango, CO 81303
People who love whitewater rafting but still want more should consider a zipline tour in Durango. There's a lot to take in here, from the San Juan Mountains and the Animas River to the national forest that stretches on as far as the eye can see and through the picturesque city itself. What better way to see it all than from several stories off the ground? People are treated to a literal birds-eye view of the city and the surrounding area, and they'll make unforgettable memories in the process.
A few companies provide zipline tours in Durango, but one standout is Durango Adventures. There are 12 unique ziplines and a 45-foot Adventure Tower, and the facility is in a nature park in the San Juan Mountains just one mile or so from downtown. The company uses state-of-the-art equipment and professional guides who help people along the entire course, providing tips and bringing people to a stop at the end. Durango Adventures is open year-round, barring inclement weather, and offers zipline tours at least twice daily.
Horseback Riding Through the San Juan Mountains
Trips Offered
One-hour trail ride
Two-hour trail ride
Cave ride
Old Wagon Road and cave
Miners Trace
Hermosa Cliffs
Address: 51 Haviland Lake Rd, Durango, CO 81301
Not to take anything away from hiking or cycling, but there's just something extra special about going on a horseback ride in the mountains. Not only is horseback riding serene, but it allows people to connect with nature uniquely. It's also an excellent outdoor activity in Durango because riders don't need any special skills, and it can be done year-round. Although it's certainly chillier in the winter months, there's nothing like riding through a snow-blanketed forest.
Whether someone is a novice or an advanced rider, there are numerous Durango companies offering lessons, guided trail rides, and longer overnight or multi-day expeditions. Rapp Corral is family-owned and operated and has been serving the Durango community since 1981. The ranch is located about 20 miles north of Durango near Haviland Lake, and offers trail rides through the San Juan Mountains daily from May through October. There are options ranging from one hour to five hours, as well as cave rides and lesson and trail ride combinations. From mid-December to mid-January each year, Rapp Corral also offers horse-drawn sleigh rides. At the end of the ride, there's a warming corral with a campfire and hot cocoa waiting for participants.
Hiking Through the Animas River Trail
Animas River Trail Activities
Biking
Roller skating
Walking
Cross country skiing
Fishing
Address:
In many places, people have to head several miles outside their city to access hiking trails. That's not the case in Durango, as there are several trailheads that are accessible from right in town, and the Animas River Trail (ART) is one of them. The ART is actually not just for hiking; it's a 9.4-mile paved trail that's also bike- and even e-bike-friendly. It features multiple access points, so people can make it as short or long of a "hike" as they wish. Because of that, the Animas River Trail is appropriate for virtually all ages and experience levels.
The trail runs alongside the Animas River and traverses through several of Durango's best neighborhoods, including downtown. People who complete the entire loop will pass through several parks and the Durango Community Recreation Center, cross over eight bridges, and go through a tunnel. At some points, the trail even runs right next to the Durango and Silverton Narrow Gauge Railroad tracks. There are also multiple places along the trail to stop and fish or go kayaking. For those who would prefer to venture out of Durango and into the San Juan Mountains, there are thousands of miles of trails nearby.
Fishing in the Rio Grande
Fishing Trips Offered
Float trips
Wade trips
Guided trips
Classes and clinics
It's no secret that some of the best trout fishing in the world is right here in Colorado's rivers, streams, and lakes. According to the Colorado Wildlife Commission, "Fishing destinations of the highest quality are awarded the 'Gold Medal' distinction when the waters are able to produce at least 60 pounds of trout per acre, as well as a minimum of 14" or larger trout per acre." Both the Animas River and the Rio Grande have stretches of Gold Medal waters, and the best part is that they're both accessible from Durango.
There are several options for fishing the Rio Grande, including shore fishing, taking out a private kayak or other small boat, or hiring a professional guide. In order for people to get the most out of a Durango fishing experience, it is highly recommended they go the guide route. The Rio Grande really is mighty, and its flow can be unpredictable. There is also private land along the river anglers must be aware of, as well as a number of regulations and general fisherman's etiquette. Rio Epic is one guide option, a family-owned outfitter that's been operating in Durango for over 20 years. The company offers year-round guided trips for both fishing rookies and veterans.
Snowbiking on Purgatory Mountain
Purgatory Mountain Activities
Skiing
Snowboarding
Snowbiking
Tubing
Snowshoeing
Sleigh rides
Snowmobiling
Address: Purgatory Resort, 1 Skier Pl, Durango, CO 81301
A snow bike is exactly what it sounds like, only even cooler. The frame and body look like a standard dirt bike, but instead of wheels, snow bikes have a single ski. Some models also have a snowmobile-style track on the back to enhance traction and stability.
Snowbiking is a wonderful change of pace from traditional winter sports like skiing and snowboarding, and it's easy to learn. It's especially easy for people who already ski or snowboard, because the techniques are very similar. However, snowbiking is simple, and even people who have no experience often pick it up within a matter of a couple of hours.
For the best snowbiking experience in Durango, people should check out The Snowbike Experience at Purgatory Resort. The resort offers full-day rentals, in addition to lesson and rental combination packages. The instructors have been teaching Durango residents and visitors how to snowbike for nearly a decade, and they enjoy it as a hobby themselves.
For those who consider themselves outdoorsy, Durango is an ideal fit to call home. The city's active outdoor lifestyle is boundless, with different activities depending on the season—although plenty are doable year-round, like hiking, fishing, and biking. Learn more about Durango's abundance of outdoor pursuits by getting outside and exploring the city today.
If Durango sounds like the perfect place for you, contact Colorado Property Group of RE/MAX with Durango Homes for Sale at (970) 946-0601 to get in touch with a Durango real estate agent and get ready to call this beautiful mountain town home.